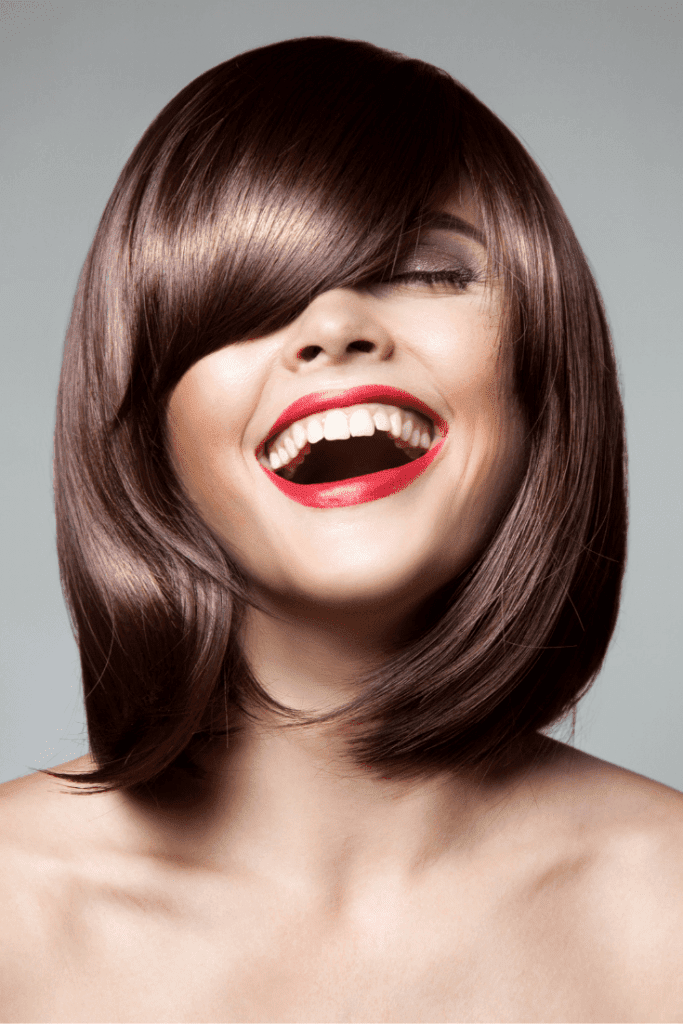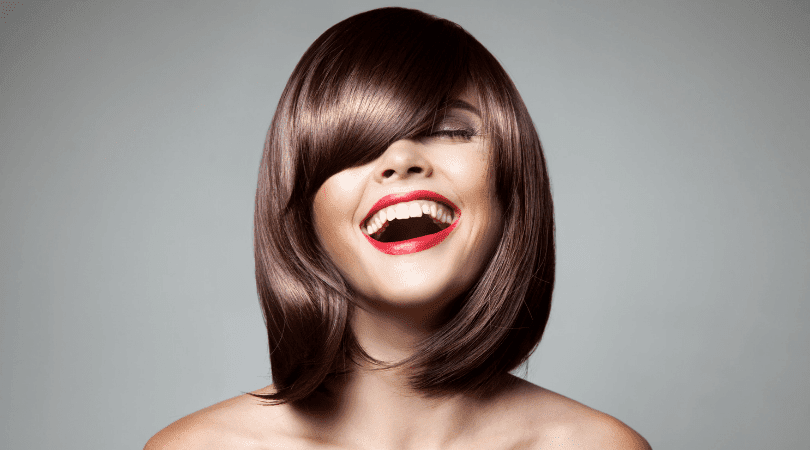 Do you start getting the short hair itch as soon as the temps rise?
Even though I know that I prefer hair long enough to ponytail or throw in a messy bun, I still love the idea and the look of a super chic, chopped short hairstyle.
Plus, the edgy confidence of a woman who says – my hair doesn't define me – is as good as it gets.
Check out these hawt hawt hawt short celebrity haircuts that'll send you running to your hair stylist if you are even slightly considering jumping aboard The Chop Train.
The Best Short Haircuts for Girls:
1. Sarah Paulson
Sarah Paulson is ultra fab in this blonde blunt cut.
Her fierce makeup and ultra-cool girl styling only adds to the overall vibe.
And this is a vibe.
2. Cherize Theron
Curly haired girls – don't let them tell you that you shouldn't cut your hair off!
Cherize is wearing hers a little longer than she has in the past, but she's letting the natural curl have its way and it is SO SO GOOD.
She is still a total babe and gives all the rest of us moms inspiration for how to rock our look at all ages.
3. Naomi Watts
Alright, this look is GOOD. Both effortless and sophisticated at the same time.
Just a classic, almost 50s chic bob with a bit of a beachy wave to it.
Get that great texture with a great dry shampoo or sea salt spray.
4. Meagan Good
Meagan Good is a real chamelion when it comes to her hair. She rocks so many different looks, from bleached out pixie cuts to long, gorgeous braids.
This one, right here, this brunette Marilyn Monroe, is my favorite.
And, all of the sudden, I want to die my hair dark again.
5. Kate Hudson
Kate Hudson is one of my favorite actresses. Her style is also always on point and she reminds me so much of her mom, Goldie Hawn, whose movies I grew up watching.
Guess gorgeous good looks, beautiful hair and excellent comedic timing run in the family.
This sleek, parted, laidback short cut has all the cool girl vibes that suit her personality perfectly.
6. Jasmine Savoy Brown
When I first saw the show For The People, I could not stop staring at Jasmine Savoy Brown's incredible hair.
Sure, her bone structure is also jaw-droppingly gorgeous, but her hair – my god – her HAIR.
I realize her hair is longer than what most would consider "short" here, but it is above her shoulders when curly, it's stunning, and it's my list – so it's GOING IN.
If only there were a product on the market that could give me hair like THIS.
#JEALOUS
7. Julianne Hough
Another chamelion, Julianna Hough changes her hair almost as often as her dance routines.
But, can you blame her? With blazing blue eyes that steal the show, she could go bald and nobody would care.
Or, actually, everyone would care and suddenly start shaving their own heads in solidarity.
Seriously, though, how cool is this short, slicked back look? It's #GIRLPOWER all the way.
8. Karen Gillan
Karen Gillan has played some of the coolest characters in Hollywood lately. In fact, even my husband knows who she is, because of her roles in big-time action movies like Avengers.
So, it should surprise no one that she fearlessly chops of all her hair and dies it many colors, often red, but other times even pink.
This short, red style is my favorite and seems to be a fitting example of her fiery personality.
Plus, I just think we need more redheads in the world. Don't you?
9. Alanna Arrington
In a past life, I must've had curly hair, because here's another example of bold, curly hair that I am just obsessed with.
Her short, curly hair is awesome, but doesn't outshine her gorgeous eyes – and both help her stand out on any runway where she struts her stuff.
10. Scarlett Johansson
You didn't think I'd write a list about short celebrity hairstyles and NOT include ScarJo did you?
Good.
Because, she's rocked several short hairstyles, in red, brunette and blonde, with unstoppable confidence.
This one, right here, this dark, almost pixie with length on top, is my favorite of her short looks, but any would make excellent inspo for your next big chop.
11. Tyra Banks
This woman just owns every look, every time, without question.
While I always love Tyra with her super long, wavy locks, this short, funky style is vey cool, too.
12. Lana Condor
One of Lana's many chopped looks – but this dark, piecey, blunt cut bob is my favorite.
But, it's her overall fashion sense that is really mind-blowing. Just check out this dress she wore to the Met Gala:
Embed from Getty Images
13. Nina Dobrev
Yowza! Nina is owning this deeply-parted bob and I am HERE. FOR. IT.
CHIC AF.
14. Gabrielle Union
I will forever remember Gabrielle Union as the cheerleader in Bring It On.
#SorryNotSorry
Of course, she has been in a lot of films, and had a lot of hairstyles, since then. This one, right here, is bold and unique – with the short cut with jagged lengths.
I'm not sure that I have the confidence to pull this one off, but Gabrielle can do anything she wants.
15. Chrissy Tiegen
Like every person in the world, I love Chrissy Tiegen.
She's funny, she cooks, and she's a supermodel.
I mean, that's as close to perfection as it's gonna get, people.
Then, she went and cut her hair off, and we all took notes.
This shoulder length, slightly wavy bob is everything.
****
We're going to finish on the high note with Chrissy and call it a day.
I think this gives you a whole range of inspo for short haircuts of different lengths, styles, and cuts, and what they look like on different facial shapes and skin tones.
Celebrities have access to the most talented stylists and makeup artists in the world, so they are a great resource for getting ideas for your next beauty move.
Before You Cut Your Hair:
Just remember to be realistic about what you're starting with and where you'd like to go. Take pictures to your stylist and discuss what might work best for you.
And, don't forget to consider your lifestyle, how much time or energy you want to spend on hair products and styling, and how to maximize your own unique hair type.
Have a fabulous day,
E