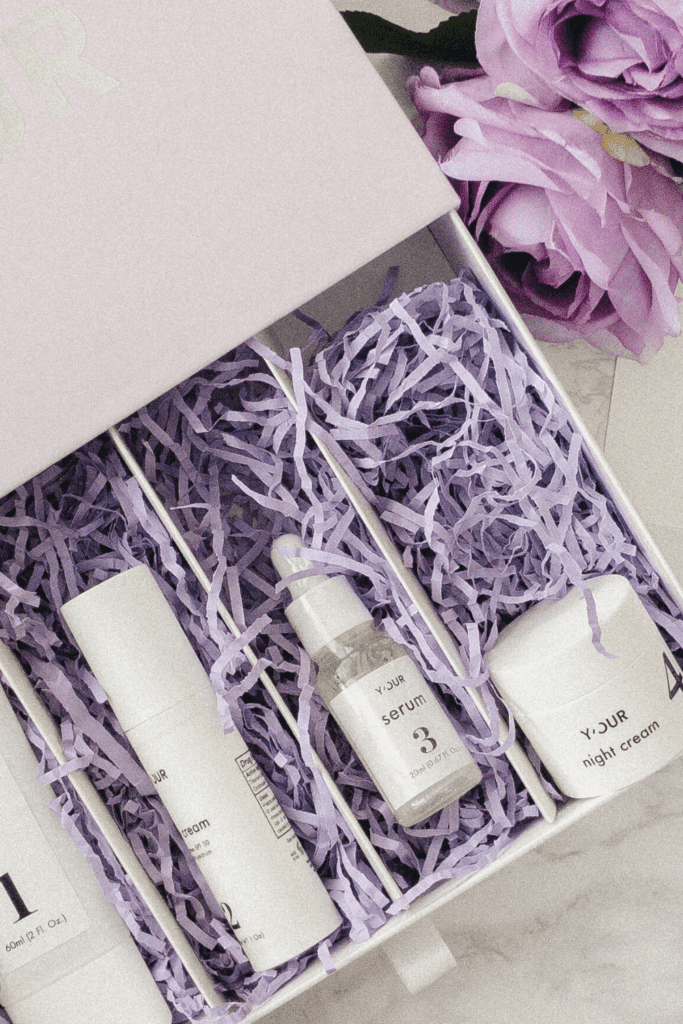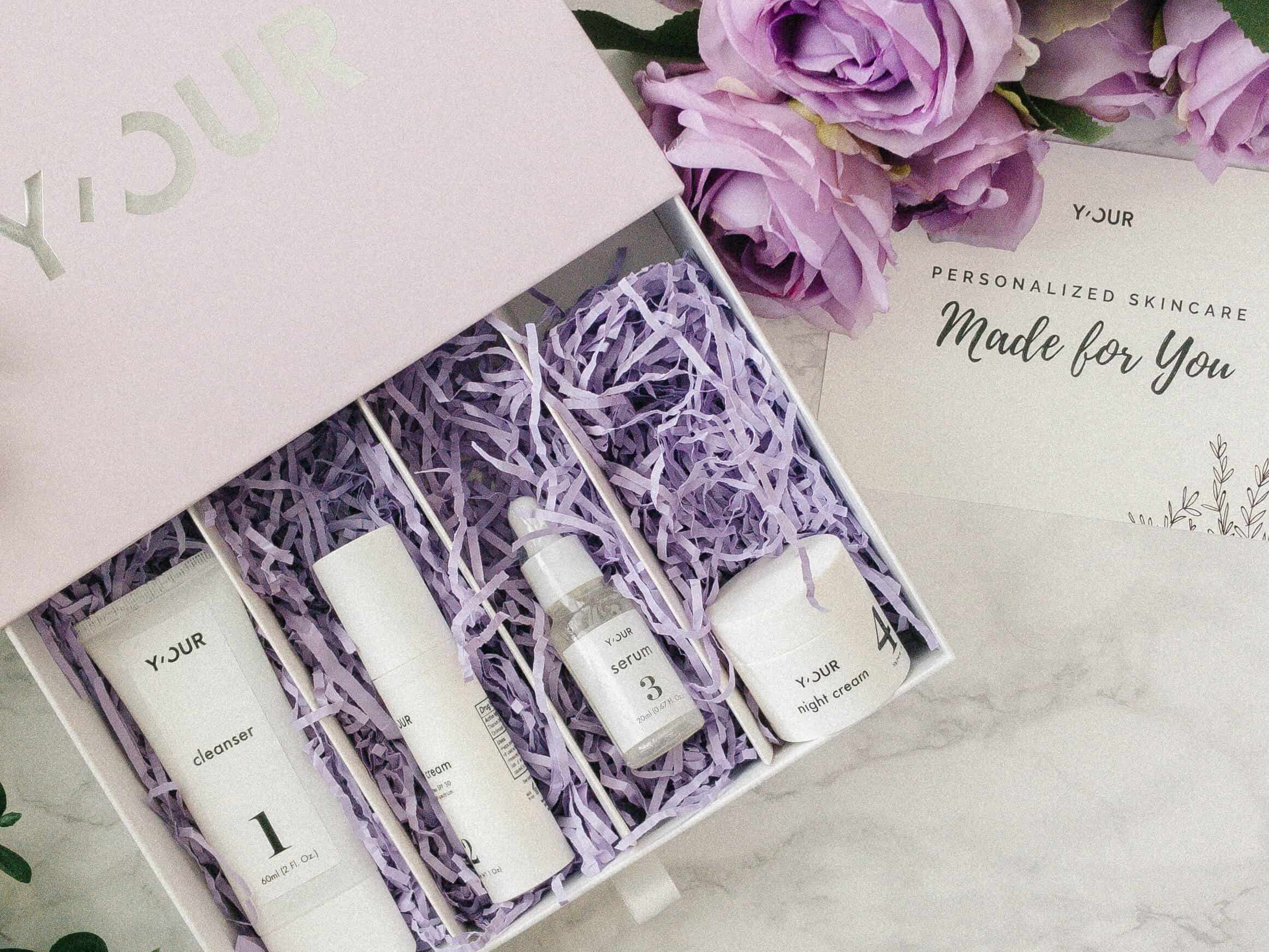 If you find yourself getting vertigo from the dizzying array of bottles, tubs and jars in the skincare aisle, then this is the post for you.
I recently had the opportunity to test out my first custom skincare set and it has become the skincare I never knew I've been needing. Because, even with my rather obsessive approach to cosmetics, there is something to be said about personalized and perfectly fit together skin care shipped in a luxurious lavender box straight to my door.
With such a simplified, customized skincare routine, I could, in theory, close all of these open tabs in my brain that are constantly being lured by claims of miracle tinctures designed to remove years from my face.
Imagine what I could accomplish with just a fraction of that focus returned.
Of course, the skincare has to actually work first. So, let's talk a little bit about Y'OUR Skincare and how they figure out what your skin needs anyway:
How Personalized Y'OUR Skin Works: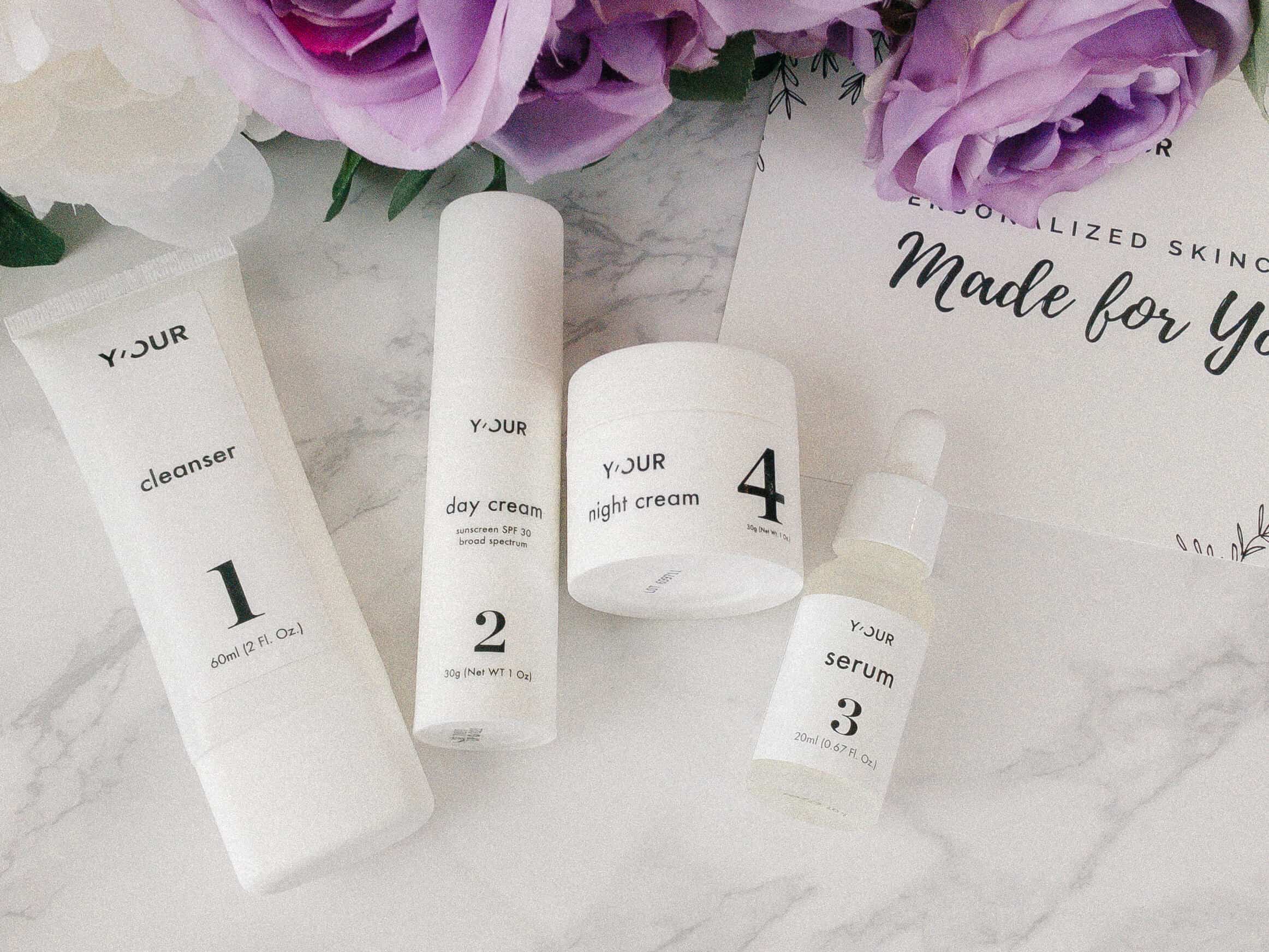 The Y'OUR Skin site is as easy to navigate as possible, especially considering their custom skincare is the brainchild of an MIT data scientist who uses proprietary skin AI technology to take your quiz results and thousands of data points to somehow give your skin exactly what it needs.
In fact, as soon as you get on the site, you'll see a link right away to take the quiz. After answering what feels like a pretty comprehensive life and skin analysis (my life was categorized as "stressful" – who knew), you'll receive a diagnostic. It looks a little something like this:

Wow. Spot. On.
Then, the skincare recommendations follow – also, eerily spot on:

Okay, at this point I was starting to really buy in to this little skincare experiment. Then, they hit me with the detailed 4-product personalized set that would be coming my way.
1. The Cleanser:
I'm really picky with cleansers. I get annoyed if they get too sudsy or don't get sudsy enough, if they're too thick or too runny, if they are too fragranced or so natural they separate. You know what I mean. I use a cleanser at least 2x a day and 3x if I workout, so they have to be good.
This cleanser is good. I do prefer it in the mornings, because it makes my skin squeaky clean, but doesn't always remove all of my makeup if I use waterproof eyeliner or mascara. I find very few cleaners can take those things off without over-drying the skin, so I stay pretty firmly rooted in my evening cleansers. But, since I like to mix things up – I enjoyed having this cleanser in the mornings and after workouts.
2. The Daily Moisturizer with SPF: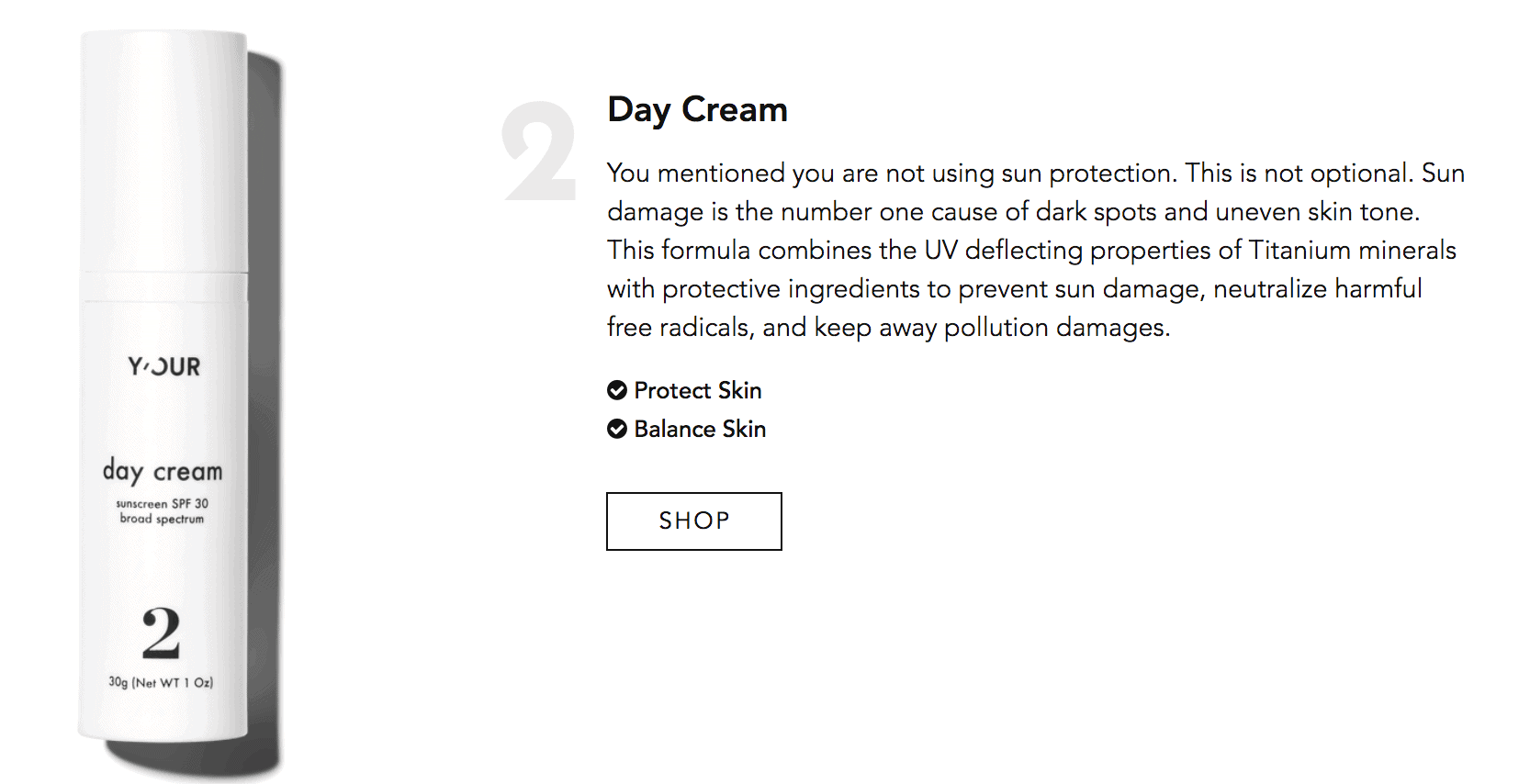 Y'all know I wear my daily SPF. I wrote a whole post on my favorite day sunscreens. They make excellent blank canvases for underneath makeup, too.
But, because I have firm favorites in this category – I am hard to impress. A daily SPF must moisturize more like a moisturizer than an SPF, which means without turning my skin white, getting sticky, or doing funny things to my foundation. But, I also expect SPF protection of 30 or more, because this mama burns.
This moisturizer is excellent. Although, the assessment does chide me for not using sun protection, so I'm not sure how that message got crossed. I've been lathering myself in daily sunscreen since puberty.
3. The Serum: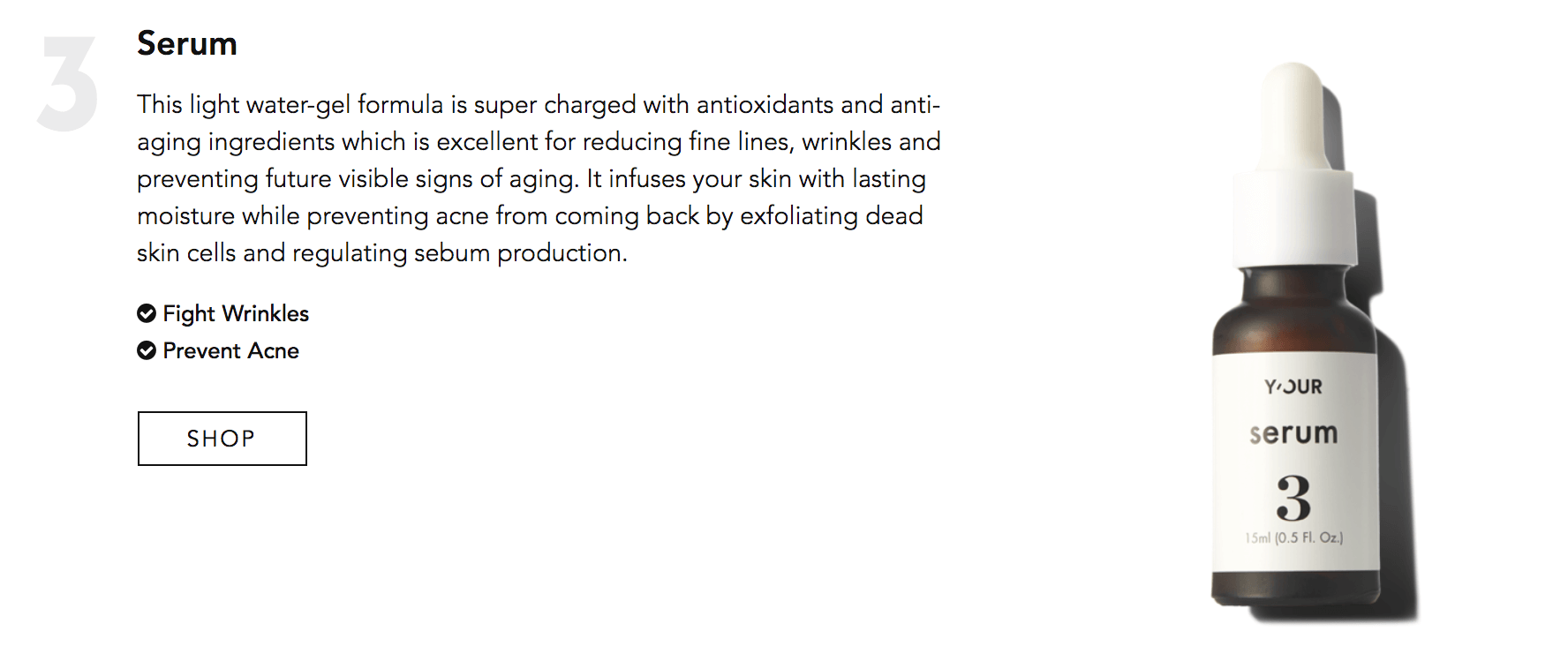 You know I love me some serums. They are the skincare product with the highest concentration of active ingredients, so when you think serums – think RESULTS. I wrote an entire post that goes in-depth on skin serums, so feel free to read that if you're new to them.
The trick to serums is finding one that agrees with your skin and also has the right consistency. Seriously – consistency of the product is key. If it's too runny, you'll have to use too much, because it'll drip all over your fingers and soak in before you can get it on your face. If it's too thick, it won't sink in enough before you go to sleep and make your face feel a little goopy.
This serum has a great consistency. It is thick enough to be easy to use without wasting product, doesn't have a ton of fillers (read: more active ingredients, woohoo), and soaks right in. You won't have to wait long at all before being able to layer on your night moisturizer and catch some zzzs.
4. The Night Moisturizer: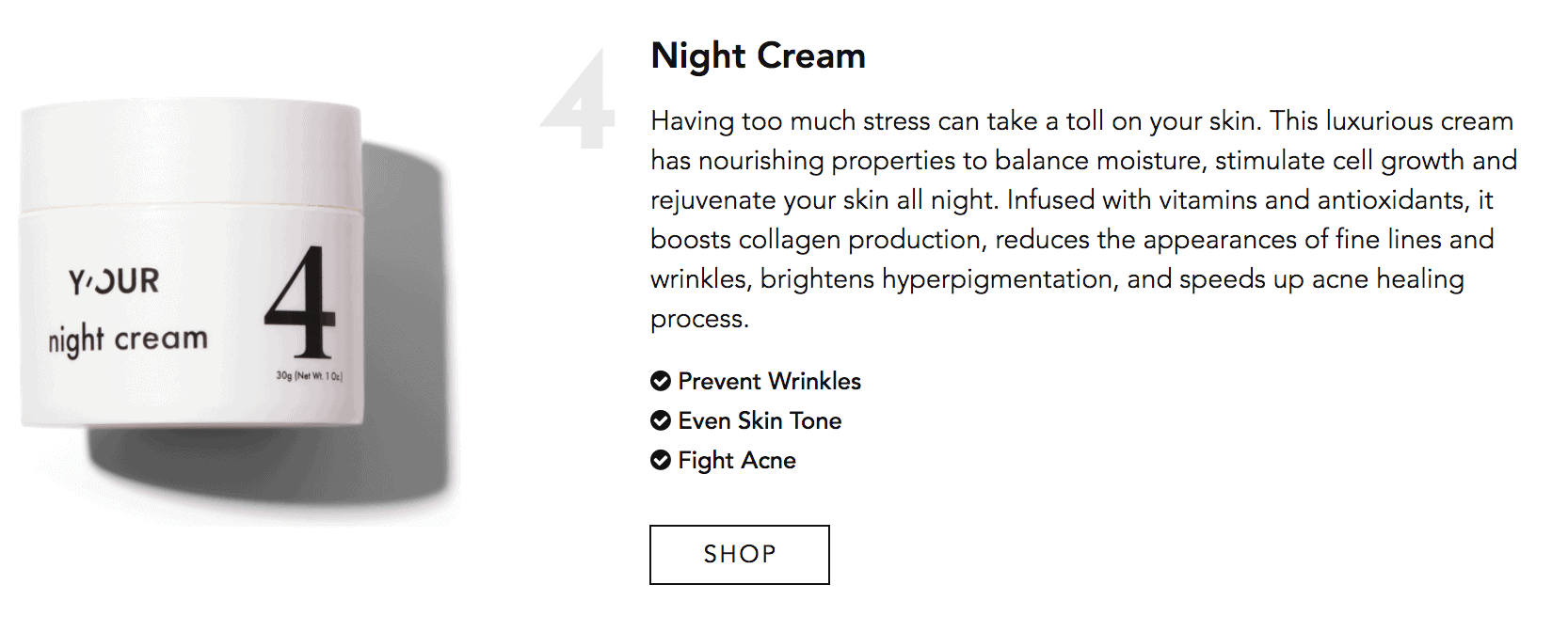 Yes. This night moisturizer is good. Really good. I like it as much as higher priced products and I love that it is fragrance free. Plus, with promises like the ability to prevent wrinkles, even skin ton and fight acne – I'll rub this all over my face and neck with a smile.
It's cooling and soothing, like a lovely little nightcap for your skin.
If you're interested in knowing about more moisturizers I love, you might like my posts on drugstore moisturizers to try and a Beauty Pie night cream that is fab.
The Fine Print:
So, maybe now you're sold – you can't wait to get on the Y'OUR Skin site and order your own personalized skincare. What's it going to cost you?
Surprisingly – not as much as you might think. The 4-piece set is just $65 a month for three months and designed to last 3 months.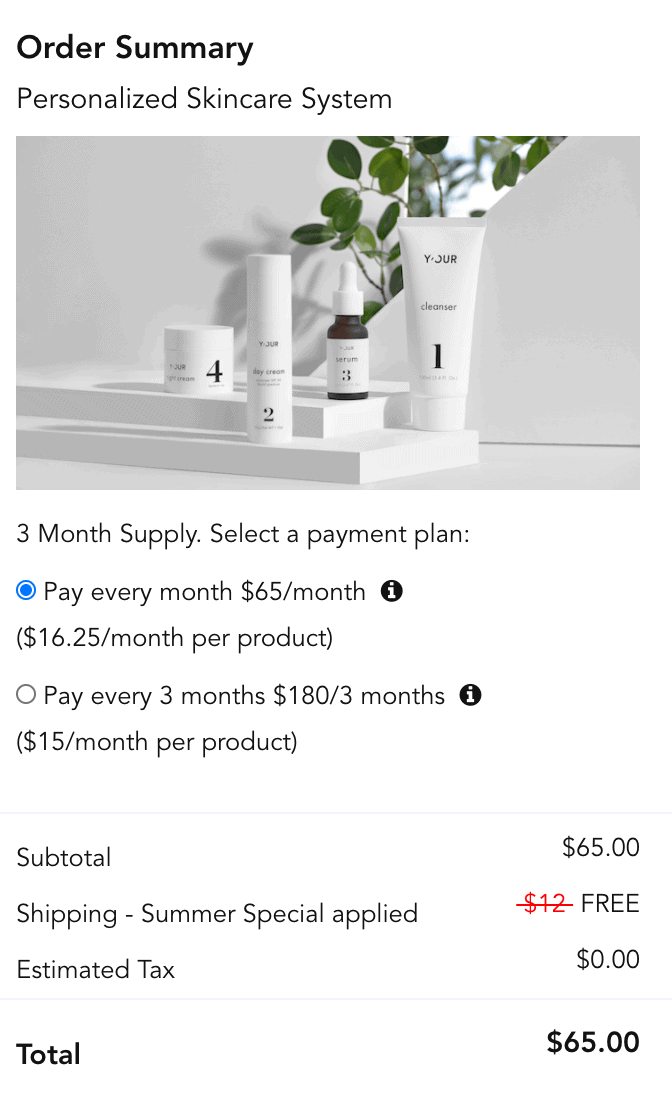 If you do run out of a product or a product does not agree with your skin, they will send you a new product to get you to the end of 3 months. Then, after the end of 3 months with your products, you do another skincare evaluation, because skin changes, and new formulas will be created for your next shipment.
Easy.
Y'OUR Skin is custom skincare for the minimalist.
Plus, if clean beauty is your jam – you'll be happy to hear that Y'OUR is cruelty free, 100% vegan, paraben free, and can even be fragrance free.
****
All in all, I really enjoyed the entire process of trying my very first personalized skincare program. My skin really responded well to all of the products and I would definitely use them all again.
I do wish they had an eye cream option, because that's an important part of skincare to me. I even wrote a post on my favorite eye creams for sensitive skin.
I can totally see the value of this program for someone who wants really high-performing, custom skincare for a super affordable price shipped straight to your door. No gimmicks – just good skincare.
Imagine the savings from all those miracle creams you buy and then don't finish. You know what I mean? Not to mention the time spent trying to figure out what to buy, how to use it, and how to put a comprehensive skincare routine together. At $16 a product – you're under drugstore prices, but for custom skincare.
That's kind of a no-brainer.
Have you ever tried custom skincare? I'd love to hear what you thought below.
Have a fabulous day,
E