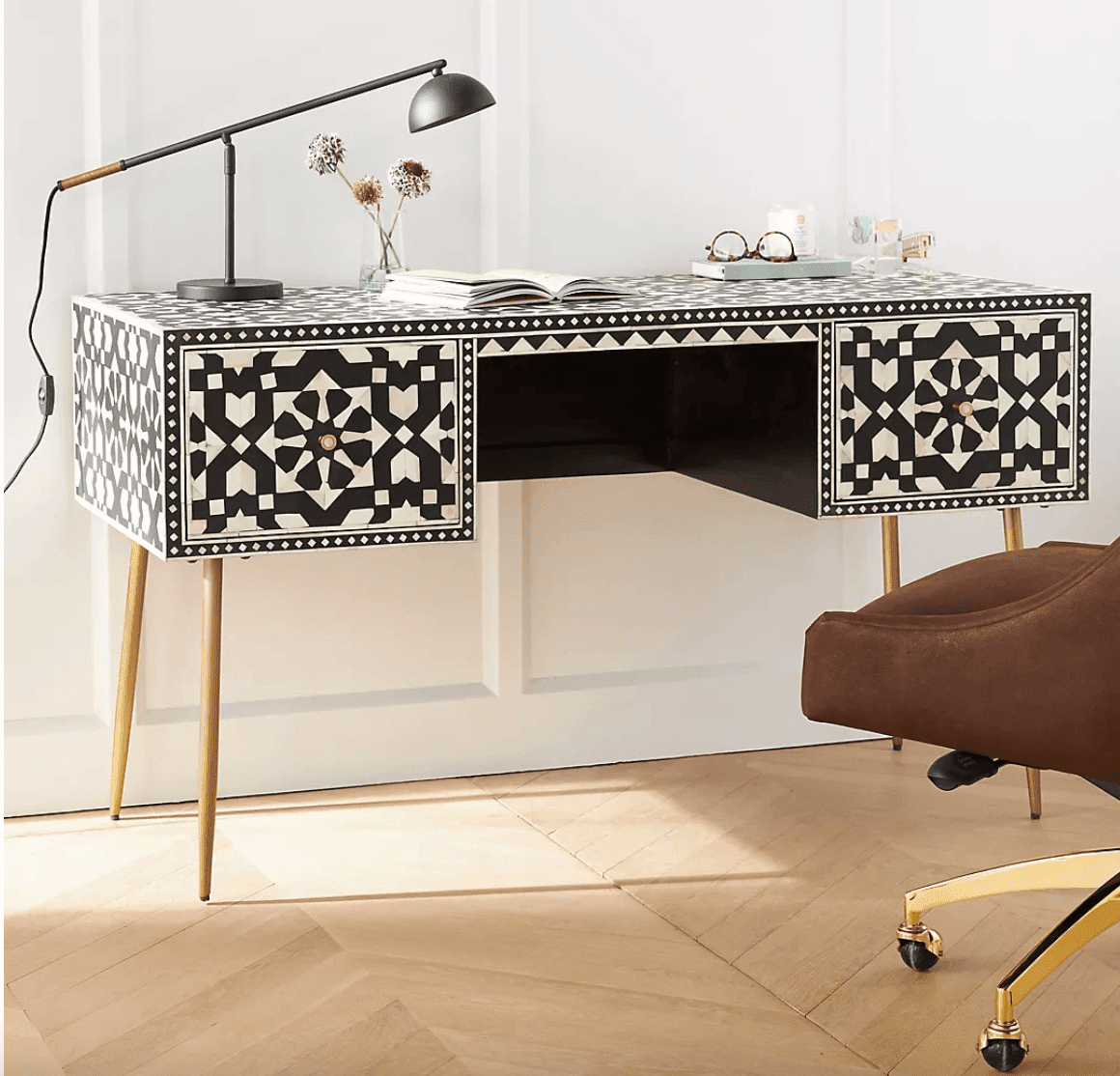 One of my best friends just crossed a huge goal off her bucket list: she bought a house! It's been a nail-biting process watching her make offers on homes and navigate the ultra-competitive real estate market in California, but she finally scored her own home and it's adorable. I'll be helping her with some of the design choices and several of my recent post have been written by her request – such as pretty ceiling fans and the best capiz chandeliers.
Today, I'm sharing another one inspired by her new home – because she'll be setting up a little home office on one side of her bedroom and that means: she needs a desk! She's not alone, more people are working from home than ever before and so you might be in the market, too, for that perfect desk. I've felt fortunate to work from home for years and love my own desk that I purchased five years ago. The right desk can really shape your whole work space, so it's an important investment for your home office.
Let's take a look at the best places to grab that perfect desk:
11 Best Places to Buy a Desk:
These are the stores I check first when I'm looking for a desk or helping someone else pick out a desk. The reasons I shop these stores first is because they have a great selection, high quality items, and great customer service. There is always the possibility that something will get damaged in shipping or simply won't work in person. You need to shop a store that is going to assist you in returning it for a refund or to exchange it for something else.
You can click the links below to go straight to the desks on any of these sites or scroll down for specific desk recommendations from each of these stores!
*These are affiliate links, which means at no cost to you, I may receive a small commission if you make a purchase through my link. Cheers!
11 Best Desks for Your Home Office:
While each of these stores has an incredible range of options for your next desk, I've narrowed it down to one desk from each store that I truly loved. I think my friend will be choosing one of these for her new home office and I can't wait to share which one she picks!
1. Cost Plus World Market: Sloan Desk
Here you go – a great desk for under $300 dollars. Amazing. The acacia wood top is solid with enough space for all your stuff and the legs are metal with an antique gold finish.
There she is! This is my desk and I looooove it. It has a great layout of drawers and plenty of space on top for all of my stuff. Like I mentioned above, it's really well made beautiful. Comes in a gray color now, which I totally would've ordered! The white is also really pretty, too.
Gotta love a campaign style desk, especially when it's black with gold legs! This is so chic, it could double as a makeup vanity, too! You won't believe the price – it's under $300!
I was thinking about getting a standing desk awhile ago and then tossing around the idea of getting a workstation desk, but this one has the best of both worlds, with a desk that has options! You have an L-shape for lots of storage and less unused space and then a desk that lifts for a standing option to keep that blood flowing. The price is great, too.
I love this mid-century modern take on a desk. The textured drawers add charm and the metal legs keep it sturdy and modern. There are several desk types in this collection, several of them available in a stunning white with gold hardware combination that is also so good. This one is a bit more gender neutral and would also look great as a pair if you have a work buddy. It's also on sale, so snatch it up!
I adore this chic design from Studio McGee and Target. The price is amazing – currently on sale for $280 and the design is so classic, it would never go out of style, IMO.
Green is everywhere and a desk is a great way to incorporate the color without committing to something like paint or kitchen cabinets. The emerald green is so refreshing; I can imagine it would be a very invigorating color to see when you start working. I love the design as well as the price – currently under $270!
I mean….can you even? This is a work of art. The carved marble has some shelves on the side and plenty of space on top for all your things, including a carved pen holder. Genius. This is so beautiful and each piece will be unique, so no two will ever be the same. Yes, please.
This large desk has a marbled top and gold legs that give you tons of options! It can be used as an L-shape in either direction, thanks to the reversible panels. In the example photos, they have it set up for all types of work, with plenty of space for several monitors. Very affordable, too.
This stunner is available in 3 colors, but I'm partial to this combo with gray and gold. So good. Grasscloth-inspired texture meets brass hardware and rounded edges for a piece that is a design triumph. Adore.
No one will know you got it at Home Depot. This polar white executive desk looks hefty and solid – nice enough for a boss babe, that's for sure. The price, though, won't drain your business account, at only $545. Outfitted with file storage and a drawer for your keyboard, you'll have a place for everything.
More Shopping Guides:
Shopping for more than a desk? Here are some of the most popular shopping guides on the blog:
****
Thanks for reading. I hope this helped you find the best desk for YOUR home office. I'll be back soon with more shopping guides.
Have a fabulous day,
E