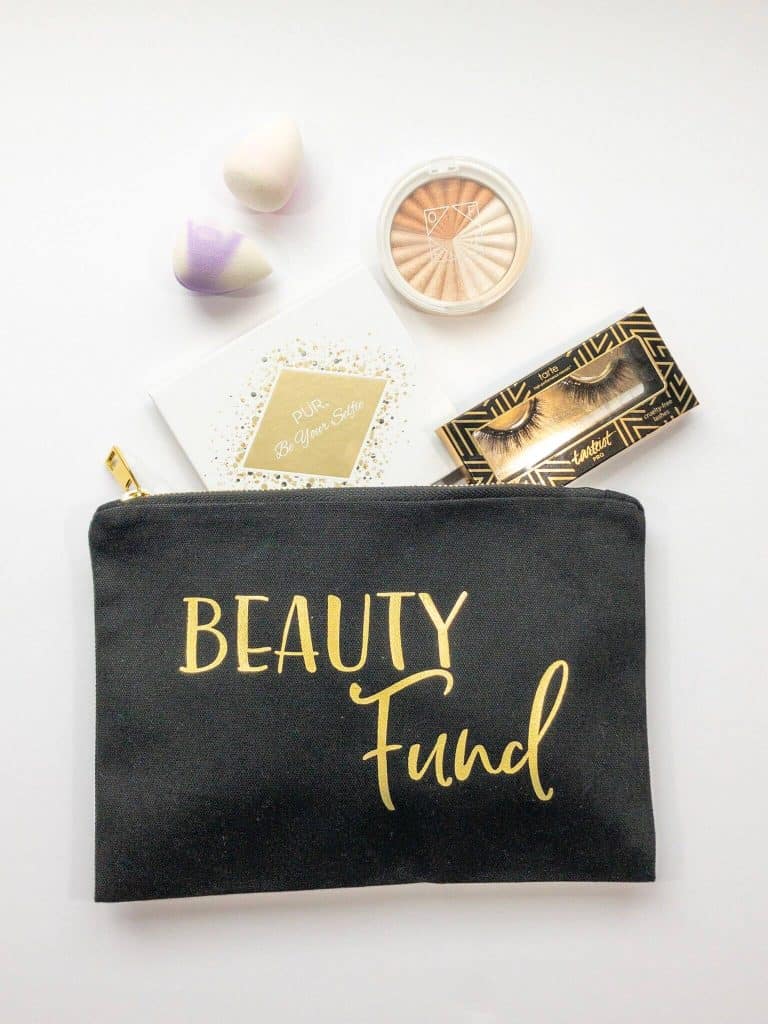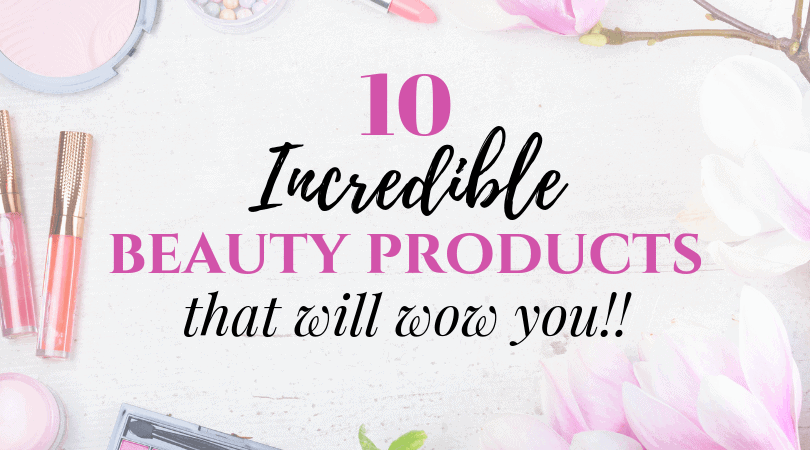 Who's down for a beauty chat?
If you're anything like me, you love trying new products and finding new faves – but you hate wasting money on makeup or skin care that doesn't come as advertised.
I may try more new products than most, thanks to a couple of my favorite beauty subscriptions that always keep me glowing and on the cutting edge of beauty.
The two monthly beauty boxes that keep me in the know are my fave, the Allure Beauty Box that I get on Amazon for $15 a month and never, never, never disappoints, and the quarterly FabFitFun lifestyle box that comes with 8 full-size products for under $50 (get $10 off the spring box now with code SPRINGLOVE).
Between these two boxes and my occasional jaunt down the Sephora aisles, I would say I keep a decent finger on the pulse of the happs in the beauty world.
Since the beginning of the year, I have landed on a few new faves that are already in the regular rotation and I wanted to share them with you today.
Nothing like some solid reviews to help you decide what's worth spending your hard earned money on. Am I right?
Let's get glowing: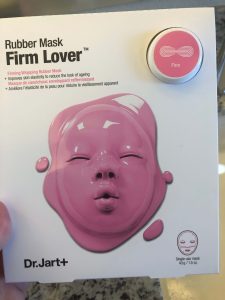 These are legit, folks. I know I've already written about my love for masks – okay more than once – but especially here in this post. I still love those masks.
But, I was checking out the new local Sephora when the girl baited me with the line, "We can't keep these in stock," while holding up a box of the Dr. Jart rubber masks.
Um. #AddToCart
It took me awhile to try them – and now I regret it – because these puppies WORK.
I mean, WOW.
Sure, you look like an extra from Silence of the Lambs for a little while – but after, my god. You shine bright like a diamond, girl.
Highly recommend.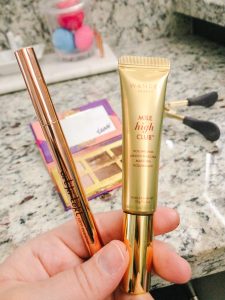 I am supper picky with my mascara. Since being diagnosed with an autoimmune disease that causes my eyes to be super dry, sensitive and itchy, I really shouldn't be wearing any eye makeup at all.
Yeah. Right.
That just means I have to try a little harder to find products that won't make me weep. Literally.
I've been using Burt's Bees mascara for awhile, which is good, but not the best ever, and then I got the Wander Beauty Mile High Club in an Allure Beauty Box (there it is again). We're talking the full-size version, too, and YES. YES. YES.
I am ALL ABOUT this mascara right now. Clean beauty – so no scary stuff near my eyes. Makes my lashes nice and long and thick. Has a deep, rich black. Stays on with no flaking.
YUP.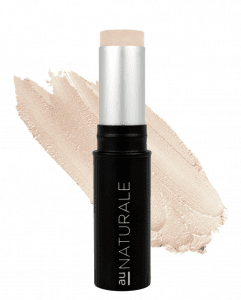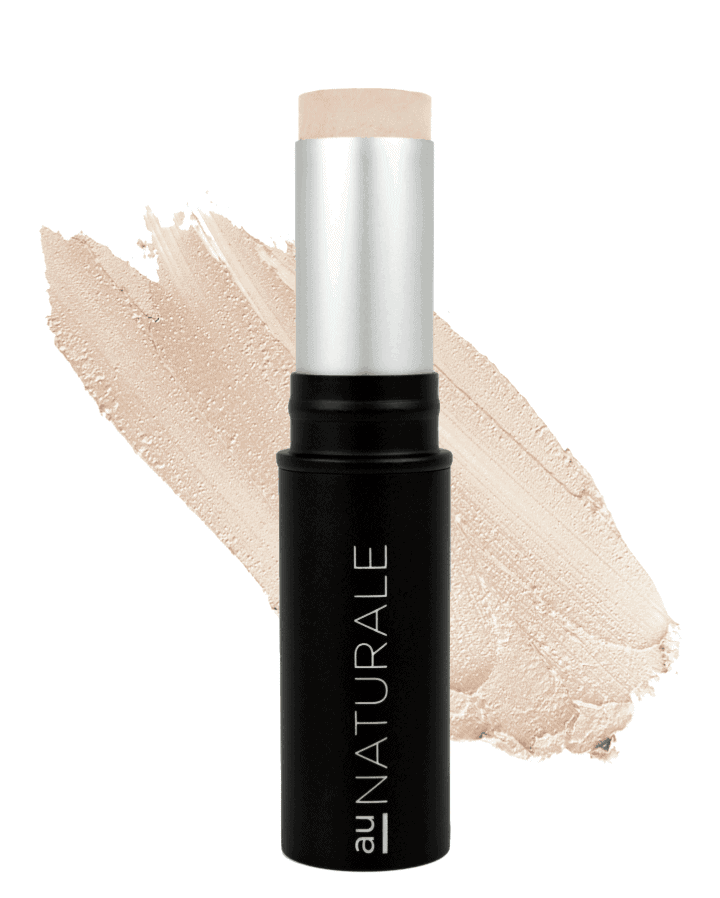 I first used this years ago. Then, I forgot about it and moved on to other things.
Lately, I haven't been getting the results I wanted from my foundations, so I went back to it.
And – yep – totally in love. Again.
If you're not super familiar with how to apply a stick foundation – you use it like a crayon to draw lines around your face from inside out. Then, a strip down the nose and a few strokes on the forehead.
Then, you use a beauty blender sponge that has been wet and rung out or you can use a foundation blender brush like this one here to start blending it in to your skin, always working from the middle of your face out (train that skin, baby).
Once you've worked it in, you can use your fingers to really blend and help it sink in. Come back to that blender sponge and use that too to really get a porcelain canvas.
Then, just dust with your favorite powder and use blush or bronzer or whatever else you do after that.
Voila.
Sounds more complicated than it is. I promise this is faster and less messy than a pump foundation any day. And with a high quality, super non-toxic, clean beauty option like this – your skin will be better for it.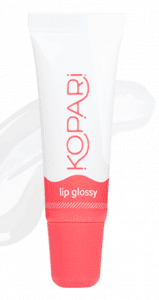 I've written before about how much I love the Kopari Coconut Deodorant, but the surprise was really the Kopari Lip Gloss.
This goes on so smooth, keeps your pout super moisturized, but never gets sticky or messy. There are some lightly tinted colors, too, if you want to go that route.
I haven't regularly worn lip gloss for awhile, not since I had kids, but I wear this every day now.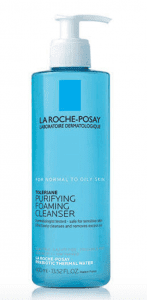 My deep love for the LRP Toleriane Face Lotion with SPF 30 is uncontested. I even wrote a whole post about my top 3 favorite facial sunscreens here.
So, when I wanted to mix up my face wash game – just for fun – I picked this one up to give it a go and it's superb.
Very gentle, suds up really well, doesn't strip or your skin or leave it super dry and really gets all your makeup off, too.
You can grab this at any drugstore or if you buy online, you'll usually get some great deals or freebies. LRP runs a lot of deals.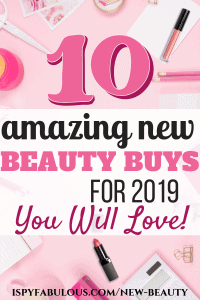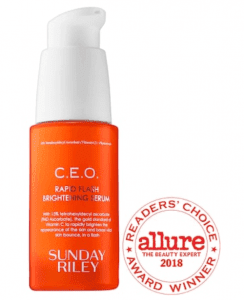 Wowza! This orange-hued powerhouse of a skin serum is legit. A powerhouse concoction with 15% Vitamin C for brightening and skin evening, glycolic acid for exfoliation and renewal, and antioxidants for some serious glow – this is one skin treatment that will make you feel like the boss.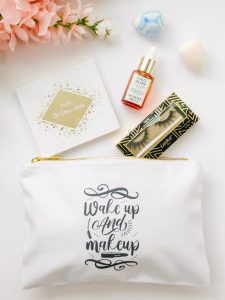 Sunday is not known for tame products. The line really delivers with powerful products for people who want results. The CEO Glow is the new baby and she's not going to stay in a corner.
I even used the bottle in a photo op for one of my new cosmetic bags in the shop. These makeup bags are so gorgeous. Generously sized, a heavyweight canvas fabric, wipeable insides, and a gold zipper. I can't believe I lived without them so long. And the CEO Glow bottle is so chic, she was the perfect accessory for the best cosmetic bag. You can shop them here.
NOTE: Just use CEO at night so your skin has time before any sun exposure.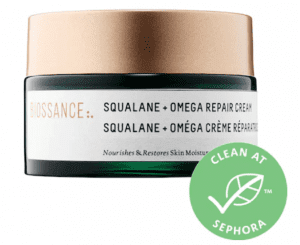 I have not been shy about my love for Biossance. I discovered them last year in a clean beauty box I received as a gift and immediately had to know more.
I've since tried several of their products, including: Squalane + Peptide Eye Gel, Squalane + Probiotic gel Moisturizer, Squalane + Antioxidant Cleansing Oil, Squalane + Phyto-Retinol Serum, and more.
They're all absolutely phenomenal.
But this cream. This cream is amazing. It's cooling and goes on so smooth, but sinks right in. I am prone to breakouts and haven't had any issues. I also get very sensitive to new products and my skin just drinks this up. I love it so much, it's bumped all other night creams and it's what I've been using consistently since I started it.
That almost never happens.
In fact, it's almost gone and I am very sad about it.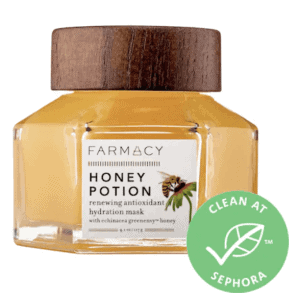 Wow, that's a name.
But call this whatever you want, I'd still buy it.
I got this as as a deluxe sample in a beauty box I received as a gift. My expectations were pretty average that it would be like most of the masks I use a couple times and move on from.
Something about this mask is different. It goes on easily, but then starts warming right after application and turning white. Warm in a super soothing, comforting, relaxing way – not in an ohmigod get this off kind of way.
Then, you rinse it clean and you see it right away – soft, supple, rosier skin.
With a lot of masks, you don't really see the full results immediately. With this one, you do.
It's one of those self-love rituals you'll really enjoy.

Am I allowed to talk about this one again?
Sure I am, it's my blog.
Plus, it's worth it.
Clocking in at well under $20 and absolutely smoking the competition in the higher priced categories – if you are a liquid eyeliner lover or are just curious about trying and have never been very good at it – this one is for you.
Truth be told, I never liked liquid eyeliner much (I know, all the makeup artists #GASP), and I am proud to say I am a convert.
Art-Ki-Tekt saved me.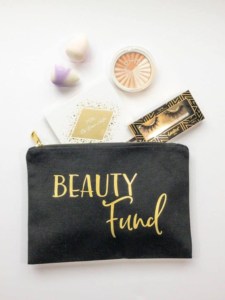 I'm not even a huge fan of highlighter. What can I say, I don't like to look like a disco ball.
Plus, I feel like with small kids, my time is limited, and that's one of those extras I can drop when I need to get ready fast.
So, when this highlighter came in an Allure Beauty Box, I just set it aside and ignored it for awhile.
Then, I actually had time to get ready for once and I thought – hey, why not.
And now I love it.
It's subtle, but gives you lots of options for layering and gives your skin this sort of lit-from-within glow – which let's be honest – is really the whole goal of makeup.
It doesn't have glitter, which is a major pet peeve for me, and it leaves a natural flush.
With 3 colors to work with, it's a pretty universally flattering palette that would work for many purposes and skin tones.
And, it's gorgeous, which made it another fantastic photo prop for my Beauty Fund makeup bag. Get it here.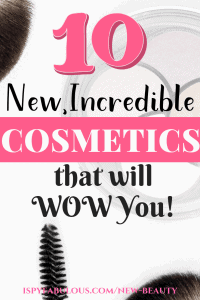 ****
Boom, there it is! My favorite beauty and skin care products so far for 2019.
I have some really exciting projects coming up in the next few months and it will probably load me up with another round of faves to post in the future.
Have you tried any of these products? What did you think? Tell us all in the comments below.
Have a fabulous day,
E