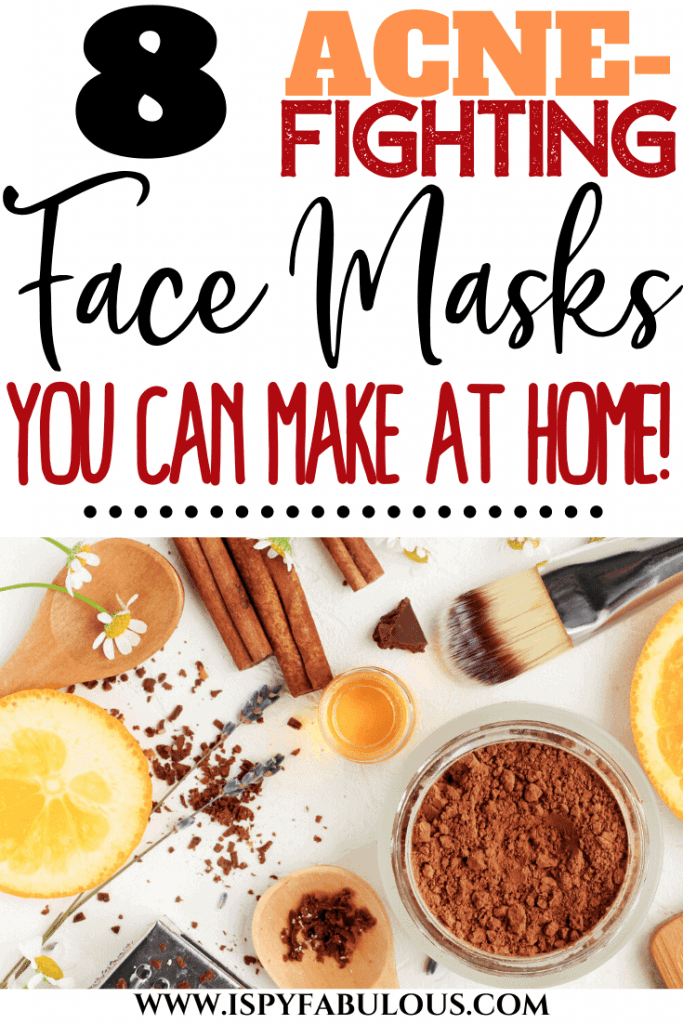 I love a good face mask.
There's nothing like lathering on a thick, cooling face mask designed to leave you with the skin of your youth to get you to relax, lay down for a minute, and indulge in some self-care.
And, even though some sheet masks make you look like an extra in Silence of the Lambs for about 20 minutes, it's well worth it when smoother, plumper, softer skin is revealed.
But, you do not have to spend a fortune – or anything at all – to get results from a face mask.
The Benefits of Homemade Face Masks:
Homemade face masks can be just as effective and use ingredients you probably already have in your kitchen.
And, you get the added benefit of ingredients so clean and so safe, you could eat them (but don't… please).
When it comes to breakouts, sometimes less chemicals is more – because a lot of the ingredients in conventional acne-care products are just going to dry your skin out, resulting in more oil production, and then more breakouts.
It's a vicious cycle.
Been there. Popped that.
That's why these 8 simple homemade masks use safe, affordable ingredients that will restore balance to skin that is breaking out, heal skin, reduce visible scarring and much more.
Let's talk about the main ingredients in these masks and why they work – or you can scroll down to the infographic with all of the recipes! Please know that affiliate links may be used below. I only recommend products we use and love.
Turmeric is a powerful anti-inflammatory! Used in drinks like golden milk and anti-inflammatory smoothies to reduce inflammation, kill bacteria, restore gut health and more, turmeric is a known natural powerhouse.
The same results can be had when you put turmeric on your skin. With antioxidant, anti-microbial and anti-inflammatory benefits, a turmeric face mask can help skin heal, help reduce scarring, brighten skin, improve skin conditions like eczema and psoriasis, and slow hair growth.
Here's a great brand you can Amazon prime if you don't already have some at home.
Short on time? Grab this honey and turmeric face mask that is affordable and effective:

Grab turmeric powder for your face masks here.
2. Honey for Clear Skin:
I love honey. I love putting honey in my bedtime tea and I love honey in my face masks.
Some new skin care lines incorporating honey have become very big recently, and for good reason, honey has a plethora of health benefits for your skin.
The reasons are clear: honey is as incredible for your skin as it is for your insides. Naturally antibacterial, anti-inflammatory, and maintaining a very low pH, it's perfect for balancing out acne prone skin.
In fact, here's one woman's account of using straight honey on her skin and seeing incredible results.
Personally, I like to mix it in to avoid some of the stickier situations you can get in with raw honey. Plus, when combined with other ingredients, honey gives the masks the perfect texture and a naturally warming sensation that is hard not to love.
Too lazy? Or wondering – does honey ever go bad? Keep it easy and try this amazing honey mask. It is hands-down one of my all-time faves:
Grab raw honey here for your face masks here.
Baking soda is not just for baking, y'all! A great exfoliator and pore shrinker, baking soda compounds have been used in skin care for ages.
But, if used in large quantities, it can start to lighten skin – so don't overdo it. Stick to the recipes 😉
There are so many skin benefits to using baking soda, but here are the ways it helps with breakouts:
Anti-microbial, which helps fight skin infections
Anti-fungal, which helps reduce yeast
Balances pH, which helps with over or under oil production
Who knew baking soda wasn't just for baking cookies?
Wanna take the easy way out? This affordable face wash uses baking soda to fight acne:
Grab baking soda for your face masks here.
4. Avocado to Nourish Skin:
Believe it or not, your favorite ingredient for chip dip has a treasure-trove of benefits for your skin.
Avocados and avocado oil is plentiful in fatty acids, which provide necessary moisture to skin. Plus, with vitamin E, known for helping reverse signs of aging and other nutrients like potassium and lecithin, it's understandable why avocado is a popular ingredient in both skin and hair care.
While these recipes use fresh avocado, you can also experiment with avocado oil, which we always have on hand around here as an alternative to olive oil in cooking.
Want to take the easier road? Check out these skin care and hair care products harnessing the many benefits of avocado.
5. Coconut Oil To Clean & Moisturize Skin:
I love me some coconut oil. From using it to mix with essential oils to replacing vegetable oil with it in recipes, coconut oil has a plethora of health benefits.
So, you better believe it's amazing for your skin and hair, too.
Back when I was pregnant with my son, I got hit with a horrible case of pregnancy acne. Trying to avoid ingredients that were unsafe during pregnancy, I was struggling to get it under control.
Then, I read about oil cleansing – which sounds so counterintuitive for acne prone skin – and coconut oil was one of the oils I used.
It worked, folks. It really worked.
But, I would NOT use coconut oil alone, or in excess, it needs to be mixed with other ingredients, or it can cause oily skin to become more oily.
The reason it works in these face masks is because coconut oil is high in lauric acid, which helps kill the bacteria causing acne. And, coconut oil can bind with impurities, pulling them out of your pores and skin. Plus, vitamin E and omega-3 fatty acids help nourish inflamed skin and encourage faster cell turnover.
Count me in.
Grab this version for lazy days:
Or, grab the real thing to make your face masks here.
8 Easy, Homemade Face Masks for Acne:
Get ready for 8 face masks you can whip up at home in less time than it would take you to drive to the store and buy one.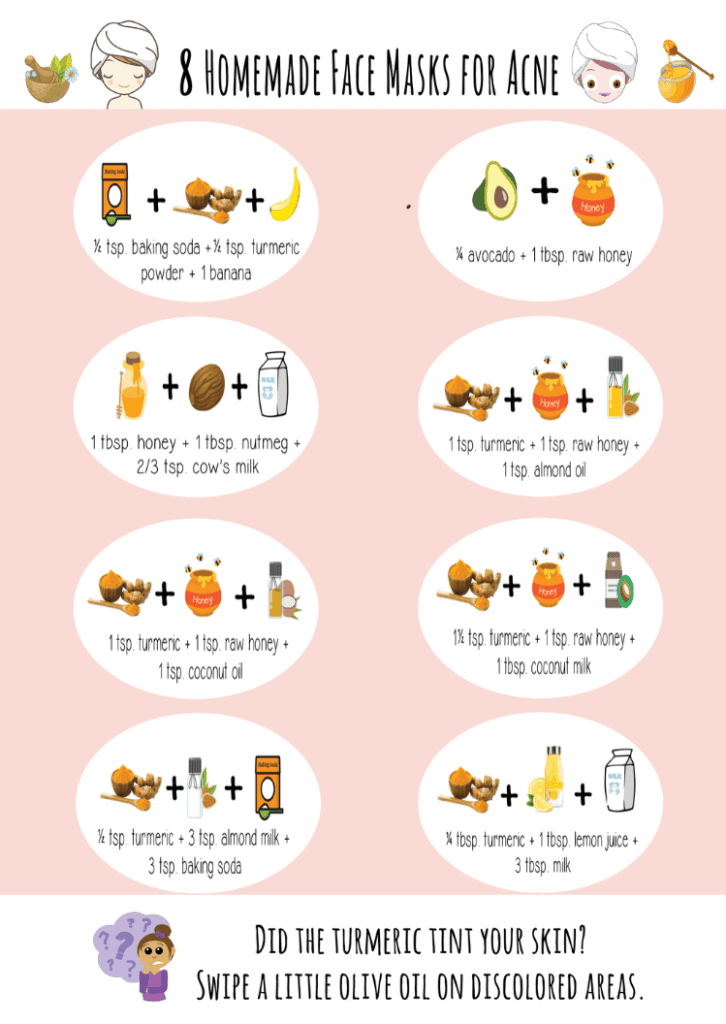 I had this cute little infographic made to make the recipes easier to follow. I love using Fiverr to outsource small blogging tasks. So much faster and more affordable than having to find and hire designers for projects. You can save 20% on your first Fiverr order by using my link.
****
How fun is that? Did you find a mask you're going to make?
If you love making your own skin and body care products, check out my post on how to make your own rose water for a facial spritzer or to use in other rose skin care and also 21 body scrub recipes you can make at home!
When you try any of these recipes, make sure you tag me on social media at @ISpyFabulous.
If you love clean beauty or want more acne-fighting ideas, check out these posts:
Have a fabulous day,
E