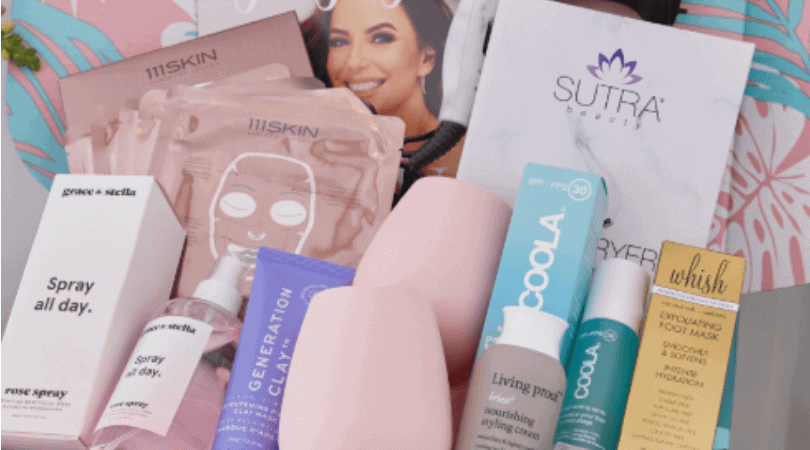 Get ready for it. The summer FabFitFun is HERE and it is GOOOOOOOD.
I think this is my favorite box yet, and not just because there are blue tie-dye bowls from West Elm that fit my kitchen decor perfectly, or because there's a full size of the hair cream I was dying to get…
but because EVERY. SINGLE. ITEM. is something I would buy.
I still can't believe I got this for $40. And I did, because I buy this box, baby.
I do get a small comish if you buy from my link, which doesn't change your cost at all  – in fact, you're going to SAVE $10 with code BEACHBABE. So, #WINWIN
Is The FabFitFun Box Really Worth It?!
Many people are selling this box. I get it. It is actually why I didn't buy it for awhile. I thought a box that had to try so hard to market itself couldn't be worth it.
I'm here to show you why I buy this box and what a great value it is.
Out of all the boxes I get, this one is top 2 of my favorites. The products, the value, it's all there, and I'm going to share it all with you.
Check it out – the first ever I Spy Fabulous VIDEO:
Boom. Can you even stand it?
Even my husband said, "Wow, you got all of that for $40?"
Yes, I did.
But, don't forget, you can customize your own as long as products are available.
Go to my post on Summer Box Customizations to prep for your choices.
Just don't forget to use code: BEACHBABE to get $10 off. 
Make it hap'n capt'n!
Have a fabulous day,
E