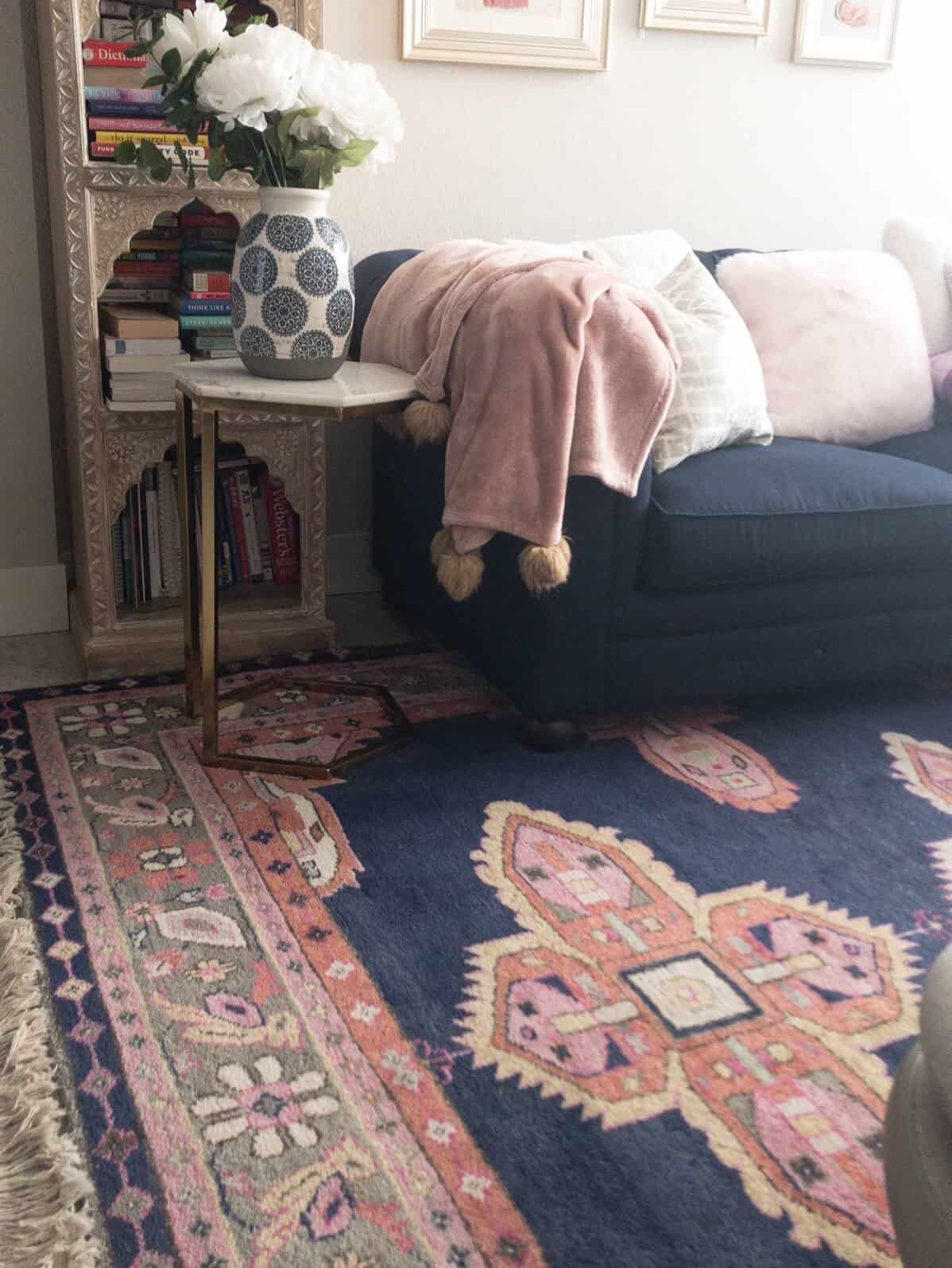 I still remember when I saw a picture of the Caitlin Wilson Kismet rug for the first time. It was both fresh and new, but still rooted in more traditional designs. I immediately saved it and thought, "One day I'll have that rug."
Not too long after, we found out we would need to sell our home and move three hours away. After we closed on our new house, we decided that each of us would get one splurge item for the house and I knew right away what mine was going to be.
Today, four years later, I'm going to share my honest opinion of what I think of the Caitlin Wilson rugs I've bought, including how they last over time and much more.
*Also, know that affiliate links are used in this post, which means at no cost to you, I may receive a commission if you make a purchase through my links. Thank you!
Caitlin Wilson Design Rugs: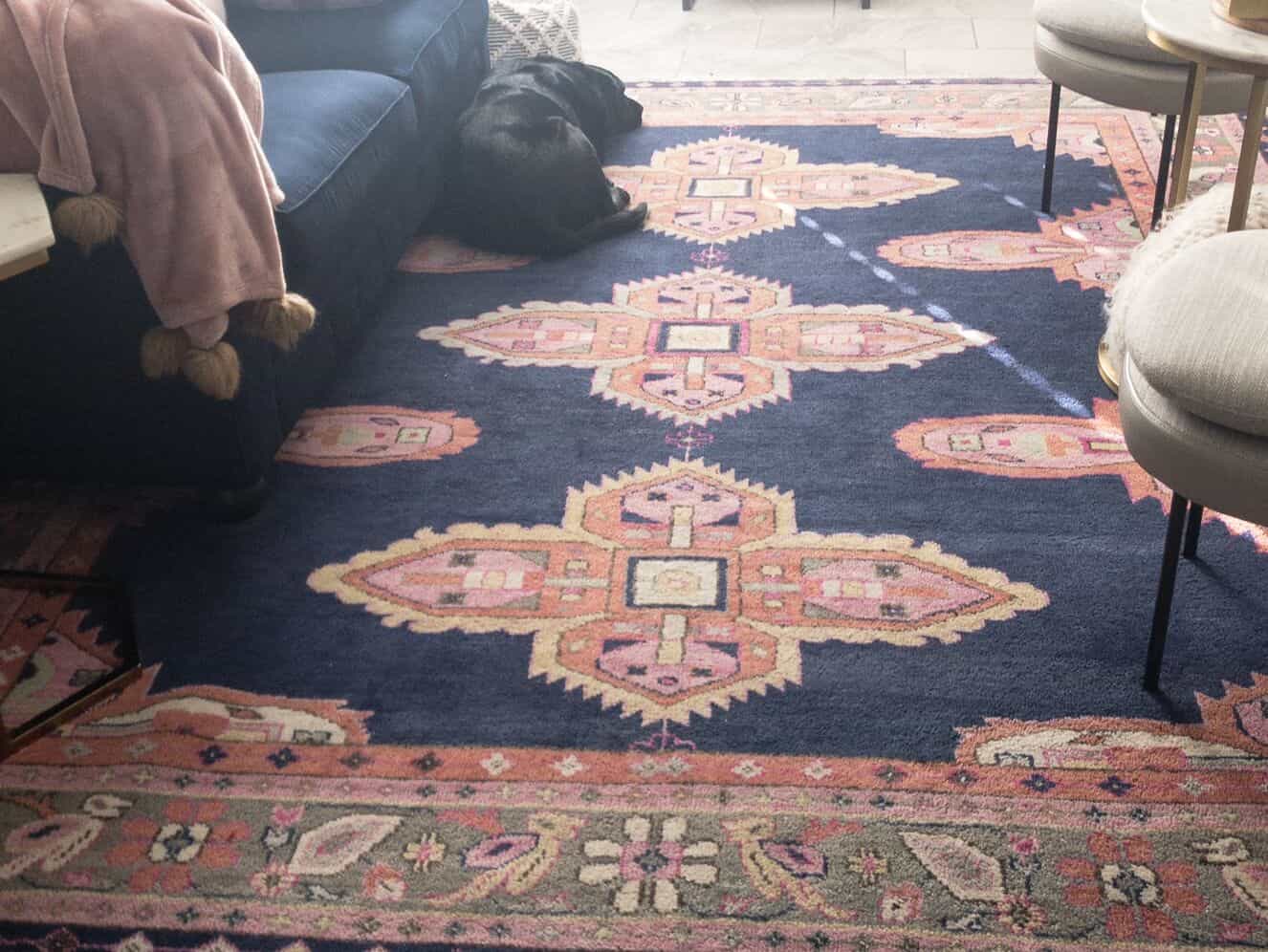 Once we put down a deposit on our new house, I sat down and ordered samples from Caitlin Wilson. If I was going to spend more money on a rug than I ever imagined – it had to be perfect. I definitely recommend doing this if you're considering one of these rugs, because some of them did read differently in person than on the screen, plus the lighting of your space is going to impact how it looks.
Once I looked at all the color options for the Kismet rug, I decided to go with the first color way I fell in love with and designed the entire room around the beautiful navy rug.
Just like the website says, shipping took awhile, but the rug arrived well packaged and in perfect condition. Like anything else in life, it was worth the wait.
How is the quality of Caitlin Wilson rugs?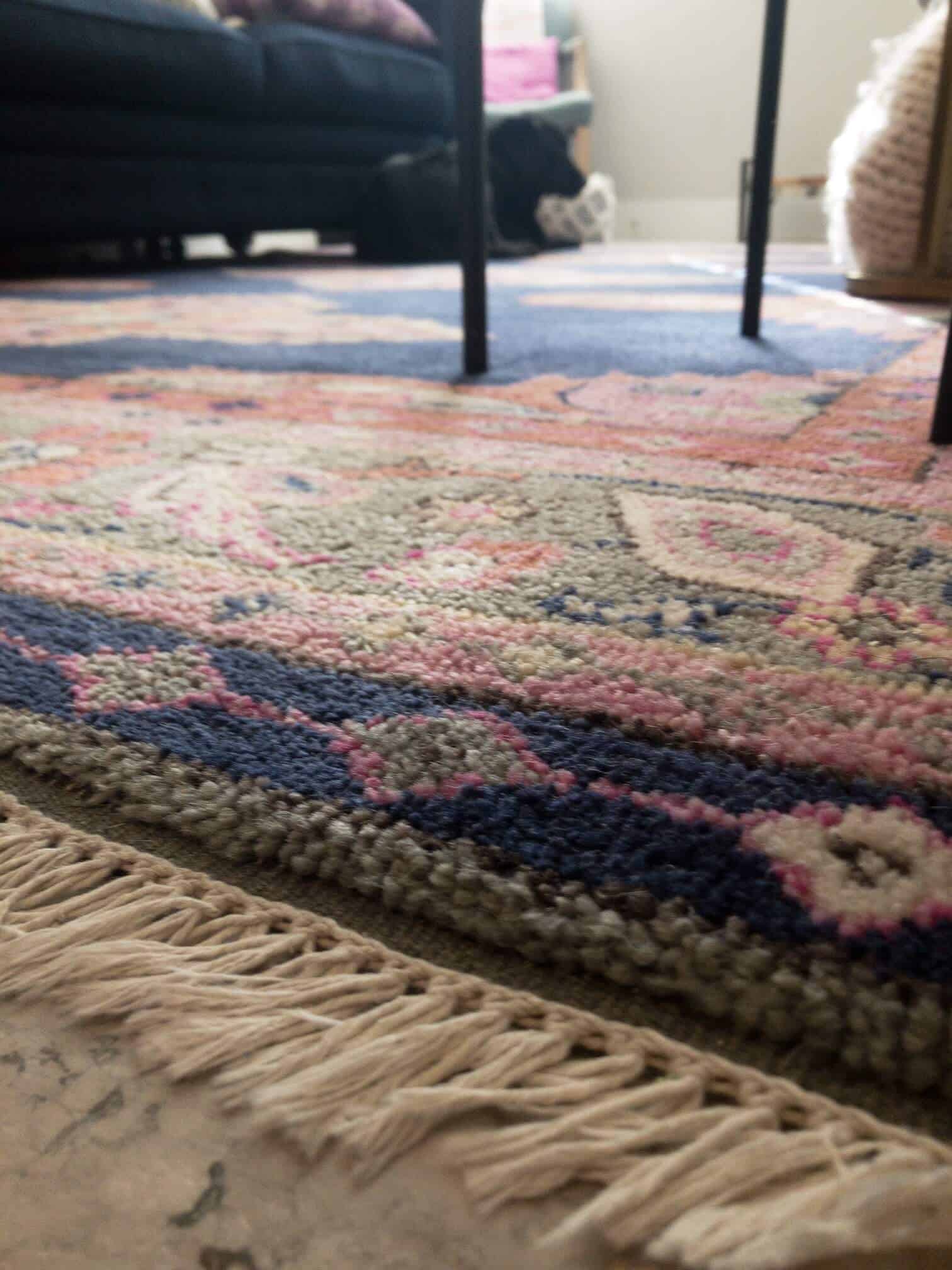 I've bought plenty of affordable rugs, that looked great but fell apart pretty quickly. Caitlin Wilson rugs are not like that. They are investment pieces, and they are made to last. Unlike printed rugs, these are hand-knotted wool made to order in India. The craftsmanship is really beautiful.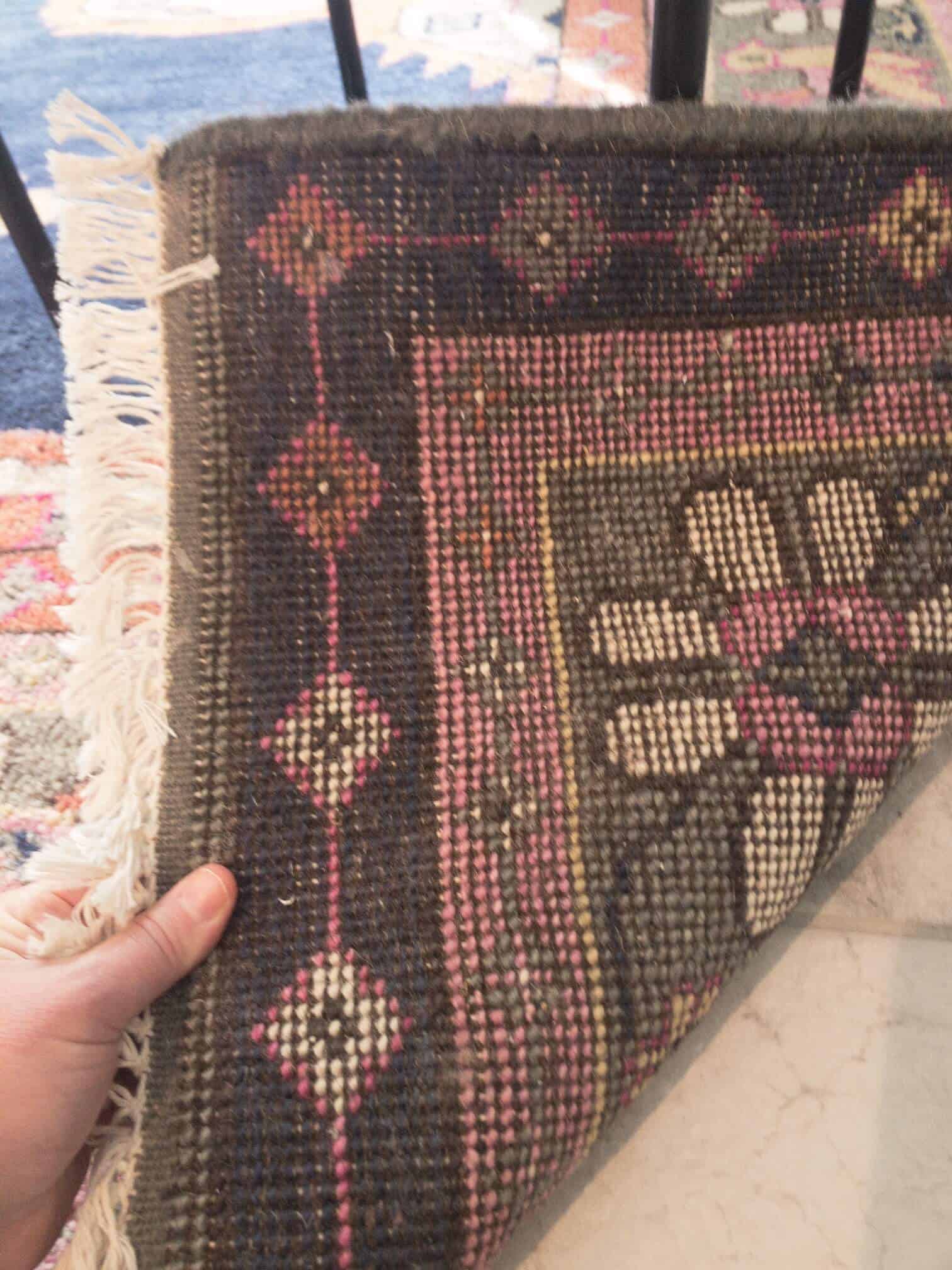 They are holding up extremely well, show very little signs of wear and tear, and the pile is still high and soft. I have been really impressed with how well-made they are. In fact, after four years, I have yet to see any obvious signs of wear on the Kismet rug.
In fact, the pile height seems the same. It hasn't gotten matted down at all.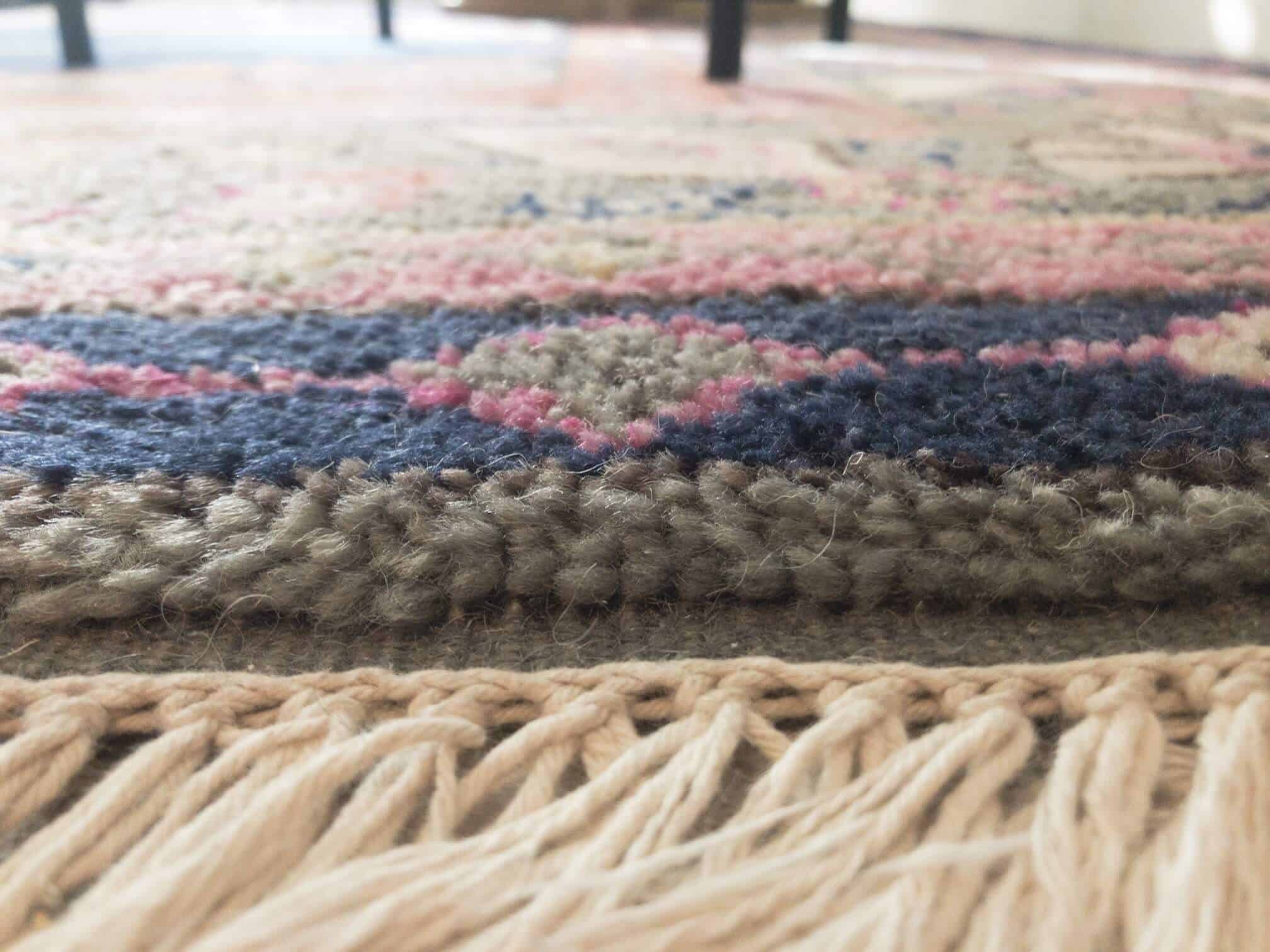 After falling in love with the Kismet, I did also buy this rug, which has shown wear and tear a bit more, simply because it is a much lighter color and it has been underneath my kids' art desk.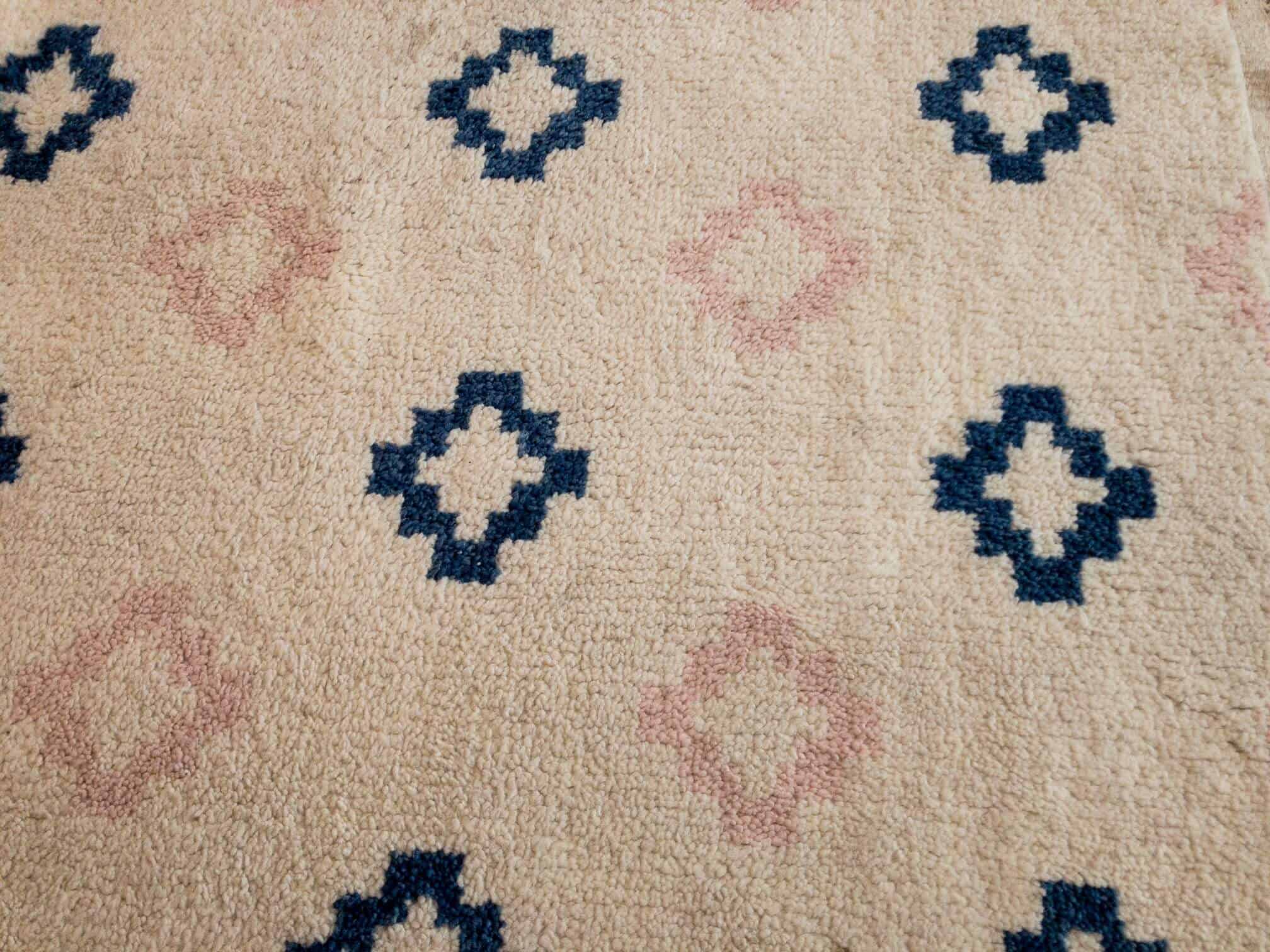 This was also the rug that we used when the art area became a classroom during homeschool. Considering how it's been used, it's aged incredibly well and it's still super soft.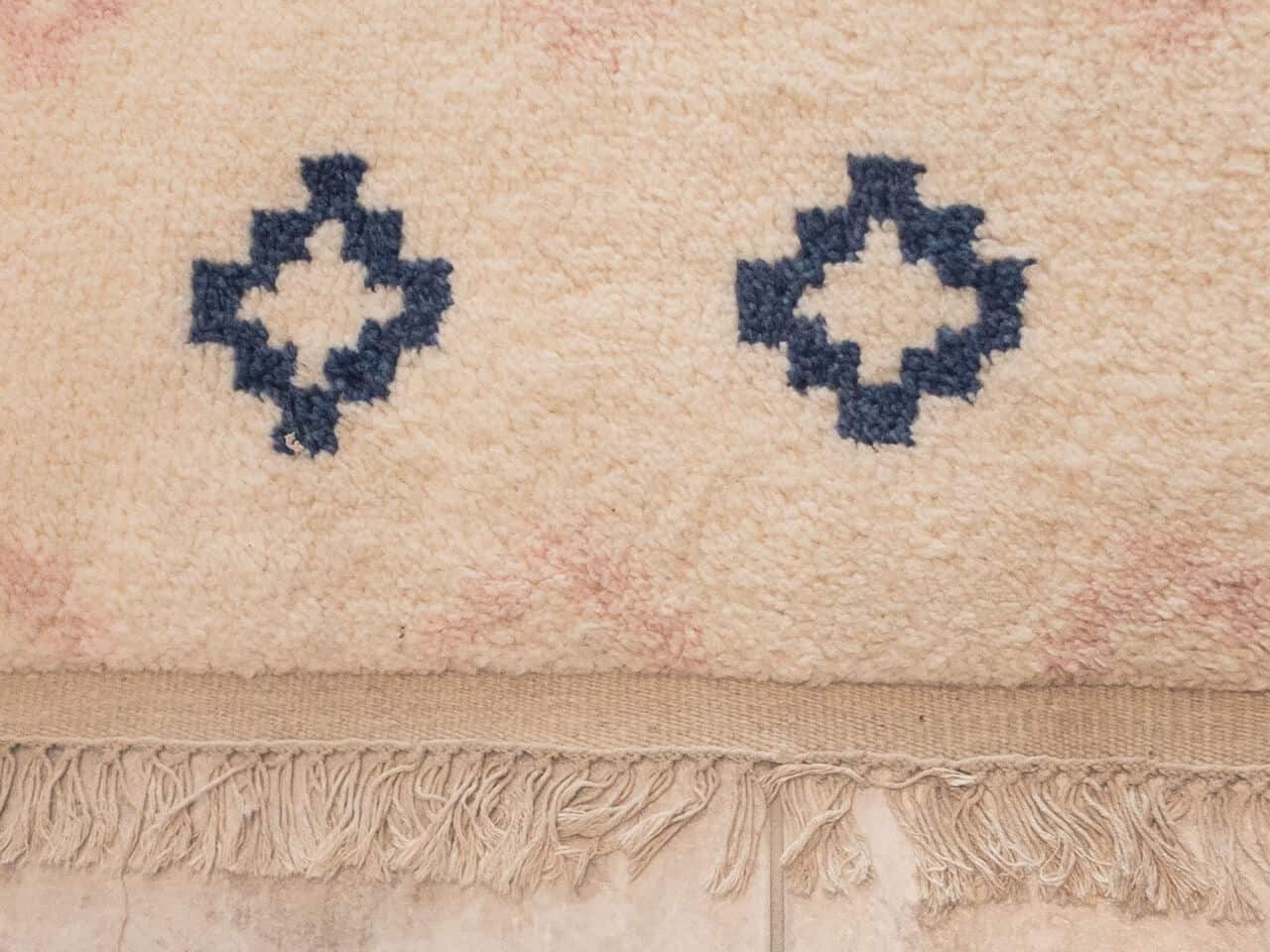 These rugs remind me of one other rug that we have – a very old Persian rug that never seems to age and looks more beautiful as time goes on. Like that one, the Caitlin Wilson rugs are not just pretty to look at – they are crafted to be used, to be lived on and to last. This is a really important thing to know when you're committing a significant amount of money to one piece, so I hope that if you're considering one, this gives you confidence that you're investing in something that you will enjoy for a long time.
How To Clean a Caitlin Wilson Rugs:
The recommendations say professional cleaning and low vacuum. Of course, with kids and dogs, that does not always get the job done. So, I'll be honest here with what I've done and how the rugs have held up.
I have used the same carpet cleaners I use in other area and just avoided anything with bleach, which means my Dyson Animal vacuum, various pet cleaner products like this one and this one, and my beloved handheld carpet cleaner.
The only cleaner I've seen cause any discoloration is one of the pet cleaners that turned the cream of the Moroccan rug a bit more of a white.
Personally, I think these rugs are very family and pet friendly, but if you have a busy house, steer towards the darker colored rugs.
Tips for Ordering a Caitlin Wilson Rug: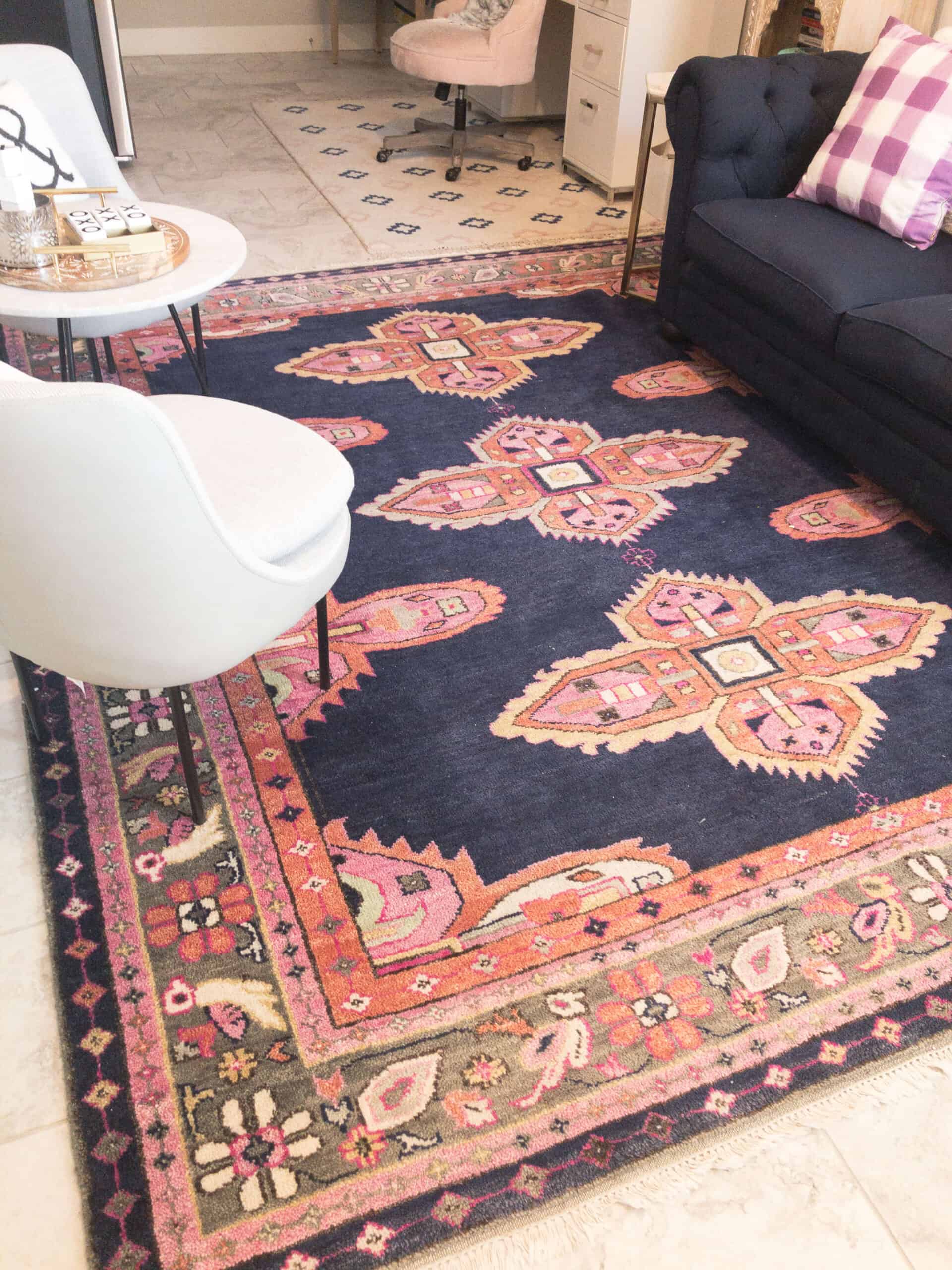 Considering a Caitlin Wilson rug? Here are some tips before you order:
Measure your area carefully and make sure you are ordering the right size for your space. You want the rug to be anchored underneath furniture by at least a few inches, so if there are chairs and a couch, make sure the rug will be large enough to go under at least the front legs of all the furniture.
The pile height on the rugs is accurate, so check to make sure doors will comfortably open and close if near the rug.
Order rug samples first. That will really help you decide what is best in your space.
Does Caitlin Wilson Ever Have Sales?
Yes, she does. There is a sales section on the site with discounted items. Plus, there is the occasional sample sale. I ordered a few pillow covers from a sample sale years ago and got a great discount on them.
Also, a couple of times a year the whole site will have a sale, such as 10% off, which can really be helpful when you're ordering larger pieces like a rug or furniture. With one of my purchases, a sale launched within a day of my purchase and I actually wrote a nice email asking if they would honor the sale, since the rug hadn't even been cut yet. They wrote back a very nice email letting me know they would honor the sale price and credited me the difference that day. I think this kind of customer service is such a big part of winning customer loyalty and has always given me a very positive feeling about the brand.
Does Caitlin Wilson Only Make Rugs?
Nope! The Kismet rug and the buffalo plaid pattern might be what made her famous, but she has a complete line of home decor, including lamps, pillows, beds, tables, chairs, rugs, wallpaper, and even charcuterie boards. Here are a few of my favorite pieces from her collection:

More Gorgeous Caitlin Wilson Rugs:
If you haven't seen more of her designs, here are just a few of my favorite rugs from her collection. I've seen samples of most of these in person and I wish I could have one of each. I hope to pick up this one in the future for my bathroom, which is currently being remodeled.

More Caitlin Wilson Products: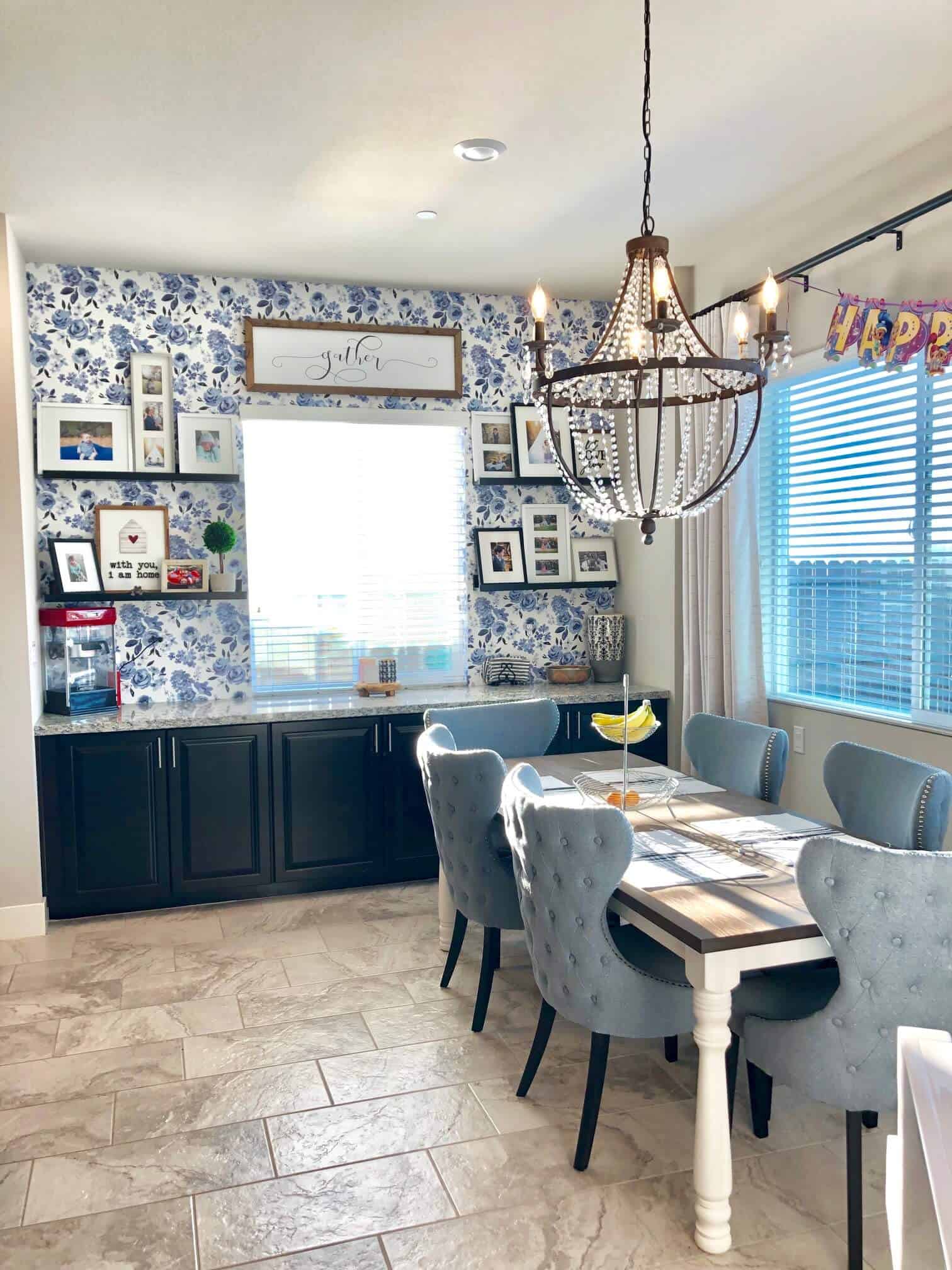 After falling in love with the Caitlin Wilson rugs I ordered, I also ended up picking up a couple pillow cases on a sample sale. They are so beautifully made and there are special touches, like gold zippers, that really set them apart. They make for great accent pillows and we love them.
I also used the Caitlin Wilson Highland Floral Wallpaper in a small nook in my kitchen and it snapped my kitchen right out of the bachelor pad vibe it had. The wallpaper looks amazing four years later and even the wallpaper pros commented on how well made the paper was. I share that wallpaper in this post.
In my opinion, Caitlin Wilson understands design and aims to make high quality products that will last. She's not making trendy pieces for a season, but legacy pieces you'll enjoy for a long time to come. I can't afford for my whole house to be Caitlin Wilson, but if I could… I sure would. But, a little touch of her designs here and there become beautiful statement pieces that add so much beauty to a space.
Caitlin Wilson Dupes:
I know we can't always afford the high costs of high style, but we can still get the look and feel. I have found some incredible lookalikes for her whimsical, yet chic, style and shared them here. Check out these posts if you're interested:
More Design Posts:
For even more home decor posts, you might also love these:
****
Are you a fan of Caitlin Wilson's design style? I'd love to know if you've tried any of her designs and what you think!
Have a fabulous day,
E