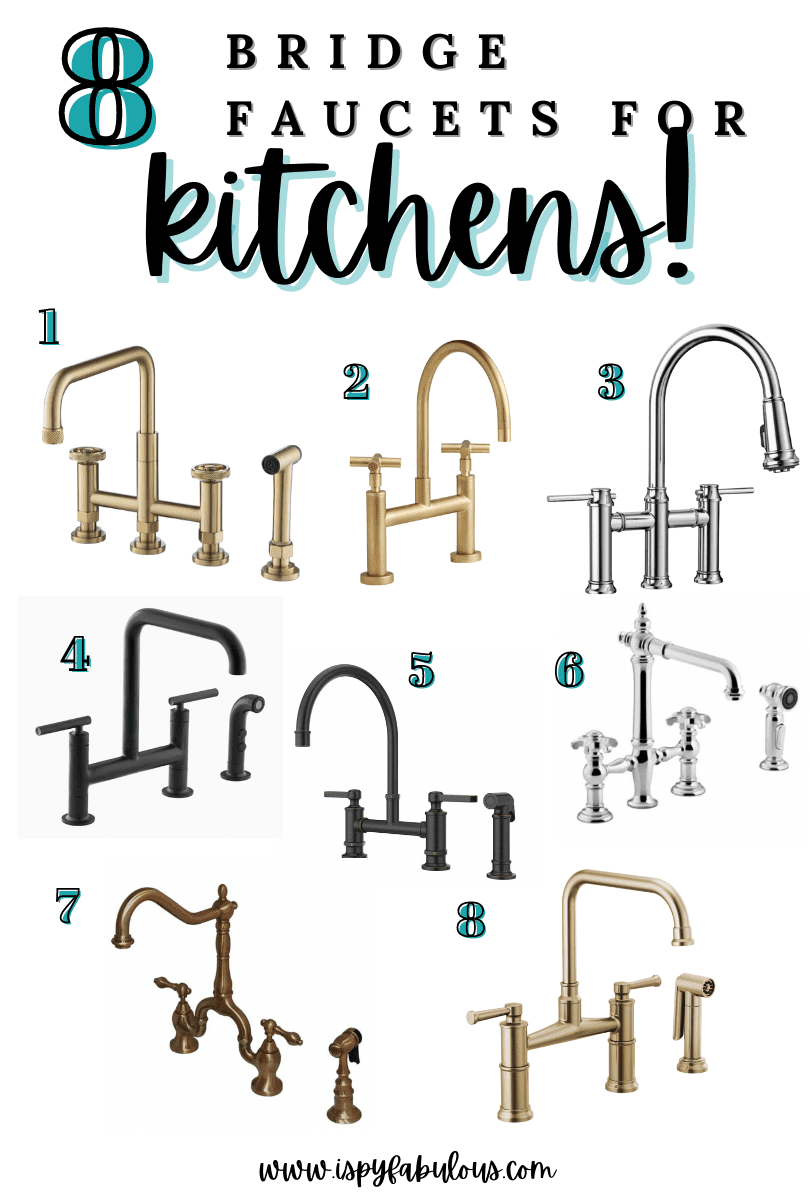 So, I've been keeping a secret from you. We have a very big project starting soon and I am so excited. After years of living with counters we knew we didn't love the day we bought the house, we are finally going to rip them out and replace them.
That also means we have an opportunity to replace our leaking, broken kitchen faucet and get a new, bigger sink. It's a dream come true and we are so excited. When I started looking at kitchen faucets, I was immediately drawn to the bridge faucet style for a few reasons I'll share in a bit. But, then as I started looking, I was torn between so many gorgeous designs and colors. Did I want to go more modern? Traditional? Farmhouse? The sky was the limit! So, I thought I would share the final 8 contenders with you, including the one we ultimately chose!
What is a bridge faucet?
Unlike a faucet that only has a single hole, the bridge can have from 2 to 5! The faucet itself will have 2 or 3 points, which gives the faucet its bridged look. I also was drawn to the idea that the faucet would be balanced and more secure, as we have had issues with every single faucet we have had. Then, if you want a pull out sprayer or other add-ons, you could go up to 5 different cuts in your counters.
For that reason, I wanted a double bridge faucet with a side sprayer, for a total of 3 cuts in the counter. I wanted to make sure that if our new faucet needs to be replaced someday, I can find other options to replace it that I will like.
8 Best Kitchen Bridget Faucets
I really loved this one and we almost picked it. Priced at $450, it was also half the price of most bridge faucets that I found, had great reviews and comes with a side sprayer. I can see this working in a lot of spaces. Our kitchen already veers really modern, so I was trying to warm it up a bit and that's the reason I went with another faucet, but I love this one. Available in several colors, but I feel the brushed gold really shows off the details and softens the look. Although, the matte black is also very, very chic.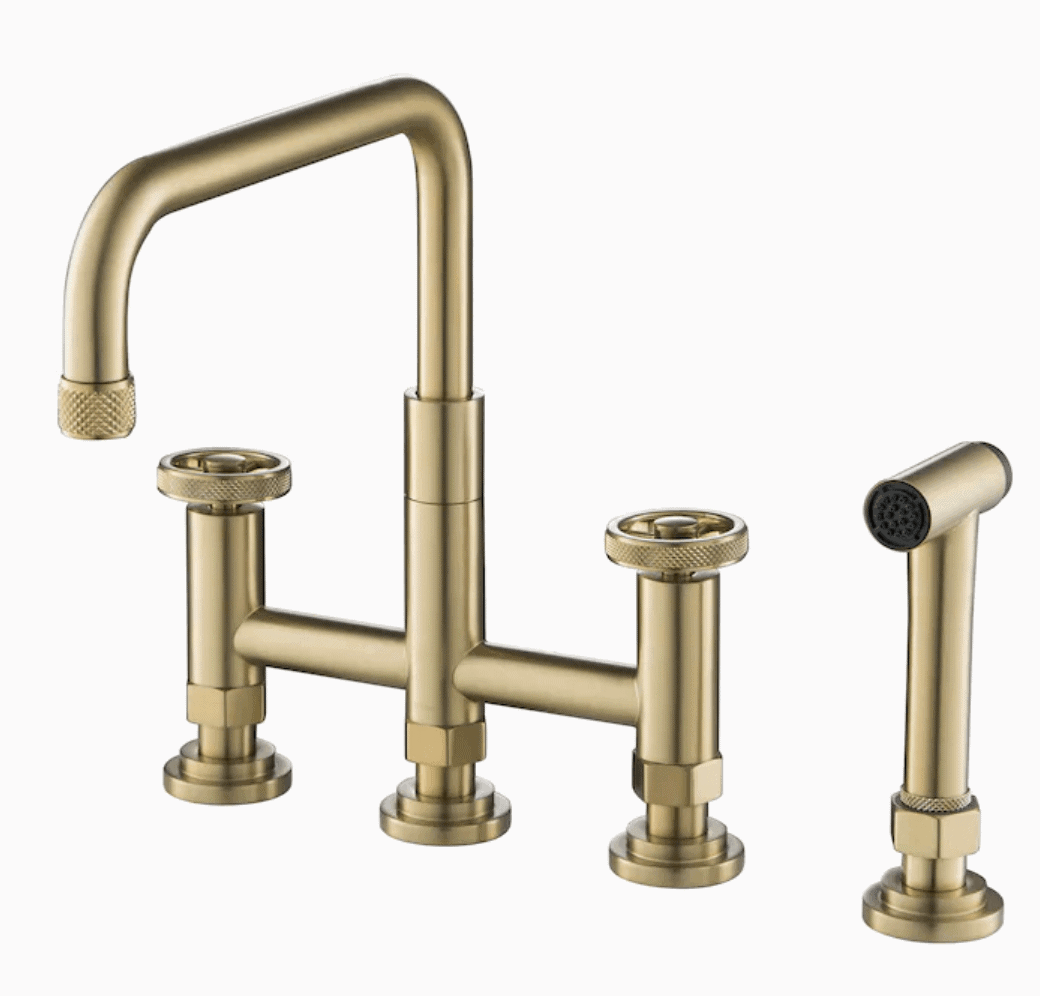 Kraus is a serious contender in the kitchen/bath space. They have a single, pull-down faucet that is seriously so stunning. I am obsessed with it. If we were going with another pull-down faucet, it would 1000% be this one: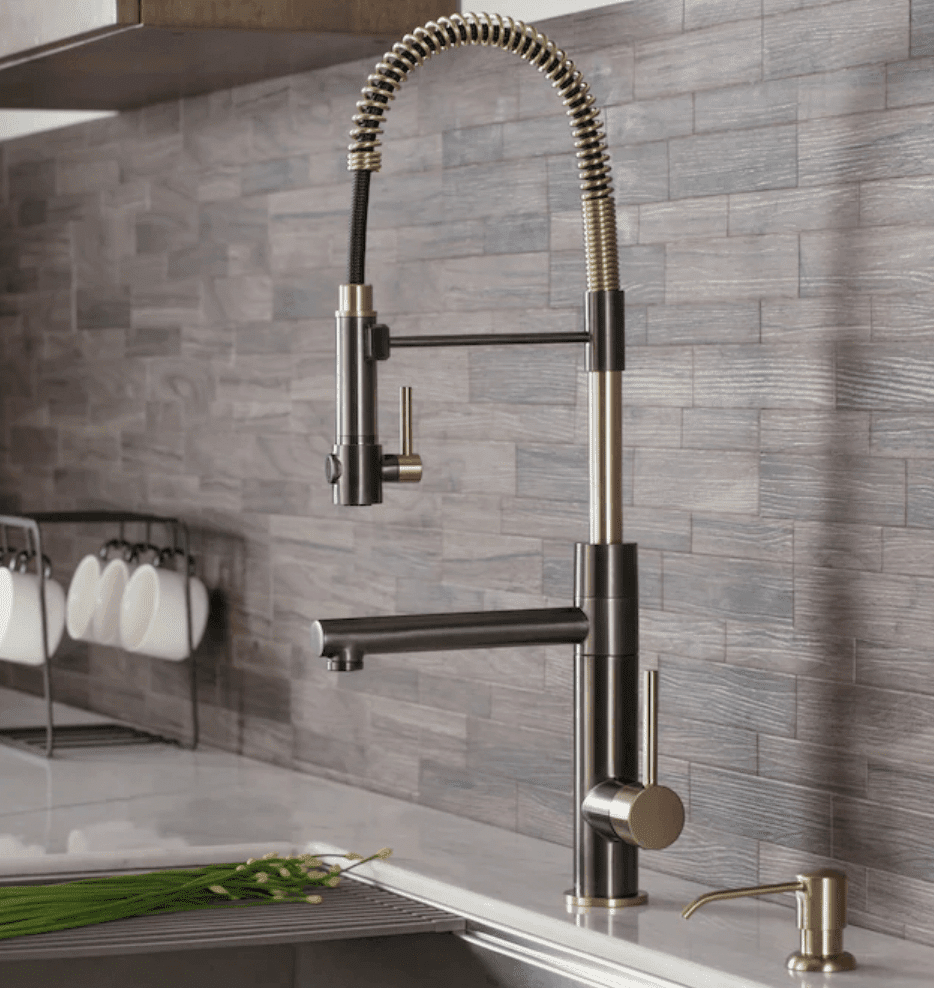 The benefit of a faucet like this, besides less holes in your counter, is the cost is usually lower. This one is $399.
STUNNING.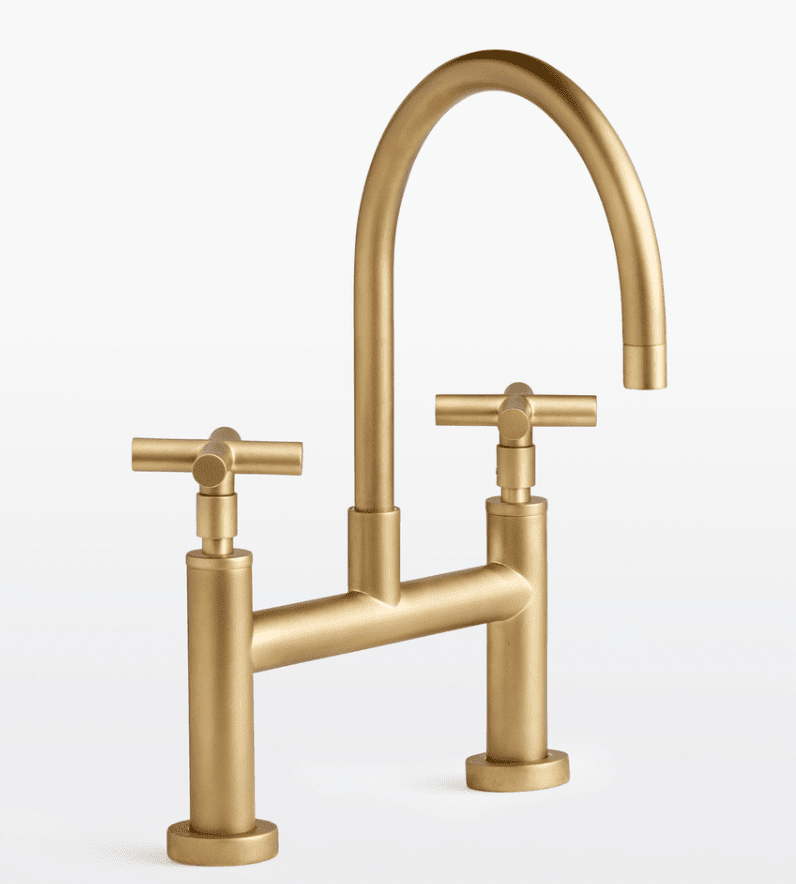 I loved this one. The price was high for us, but if you can swing it – get this gorgeous faucet and send me a picture of how great it looks. I've bought some products from Rejuvenation over the years and they are shipped very well and are super, super high quality. Absolutely love this company and this faucet is gorgeous. Available in 5 colors for $1899.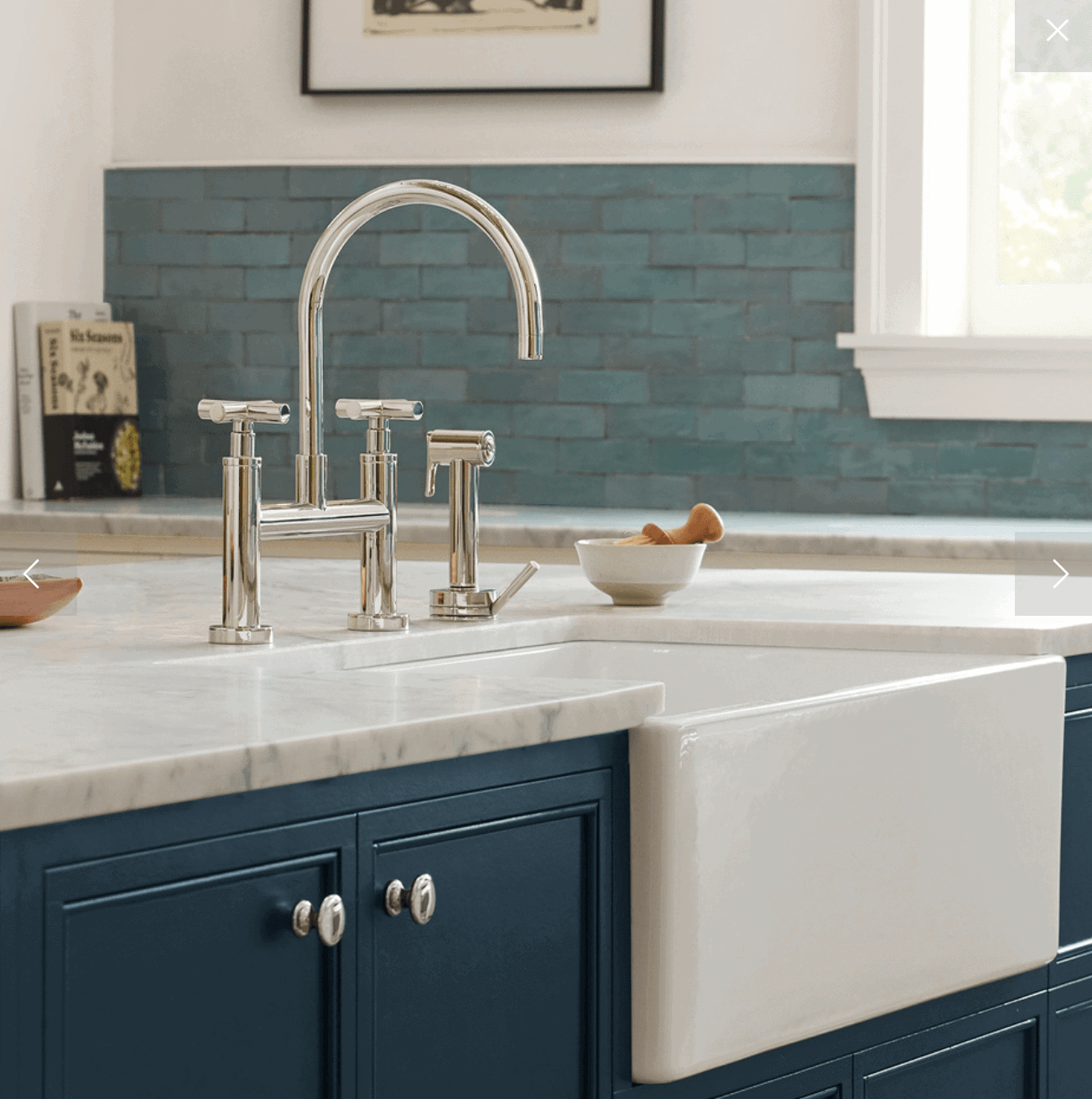 The Blanco Empressa has incredible lines and looks like a dupe of the Rejuvenation Waterhouse, but for much less. At $626, it's on the more affordable side and has 4 color options. This polished chrome is just so good, though, and would work in so many spaces.
This one also has 3 cuts, which is what I was looking for with our faucet, too. Just a minimalistic, clean, non-intrusive design that will blend with any kitchen decor.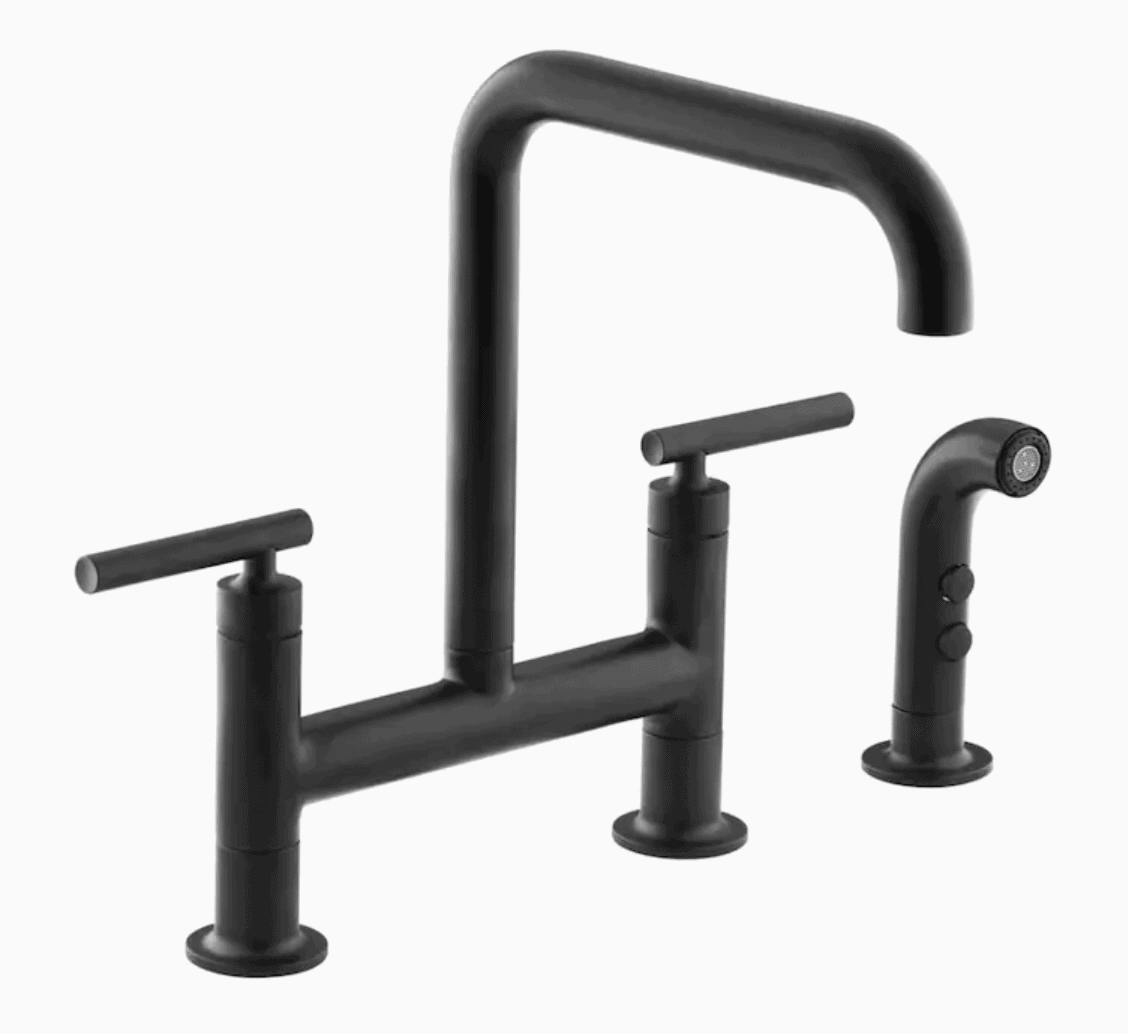 This one is a fan favorite, farmhouse chic faucet at its finest. It sells out all the time, so stick with it, keep checking and grab it when it's in stock. It comes in 4 colors, but this matte black was my favorite.
Kohler makes great faucets, too, so you're looking at a high quality item made to last. We almost bought this one, but wanted to spend a little less. I loved hte clean lines of this one. Priced at $1100, it's an investment piece for your kitchen.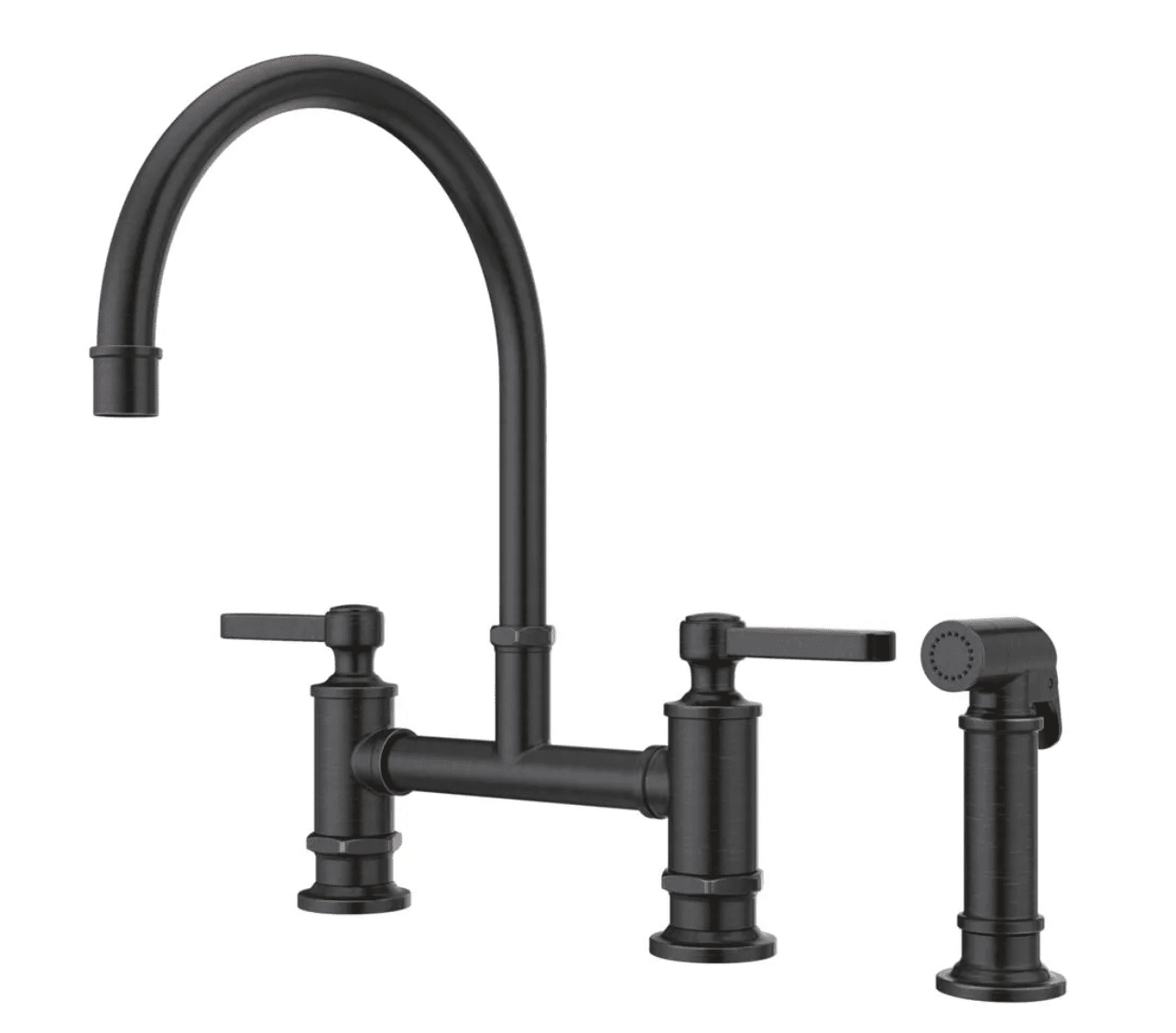 Originally bought this one. It was really beautiful. I just felt the faucet part came up too high in my space, because the sink is in the island which is in the middle of the room. I wanted a faucet that was lower. But, if my faucet was up against a window or something, I would've kept it. It's one of the more affordable, high quality bridge faucets and still beautiful. Priced at $574, comes in 5 colors and includes the side sprayer.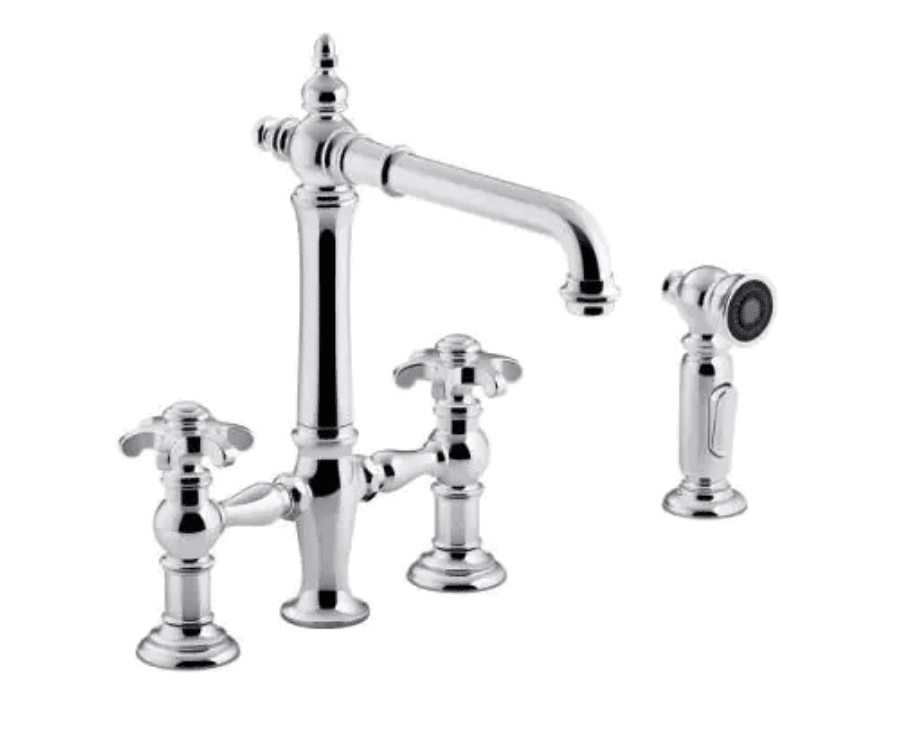 This Instagram favorite is chic, traditional, and a bit vintage. It's priced at $846 and creates a little art vignette in your kitchen. I've seen this in kitchens and it really becomes a beautiful focal point. Your eyes go straight to it.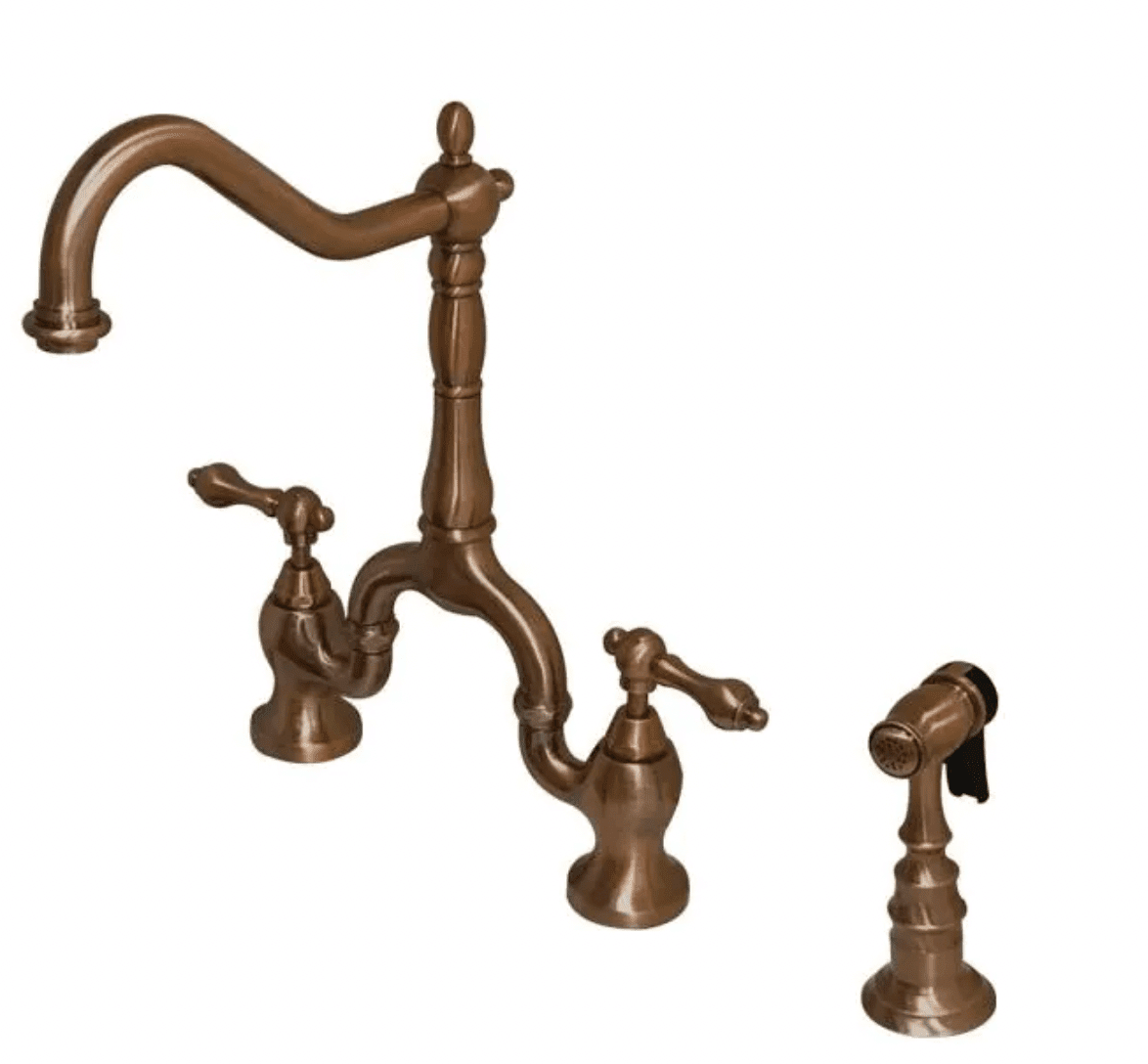 If you love the antique look, but need something more affordable, this Kingston Brass version is for you. At only $380, it's a great deal and comes in 7 colors. Seven!! This copper color was so unique and really stood out.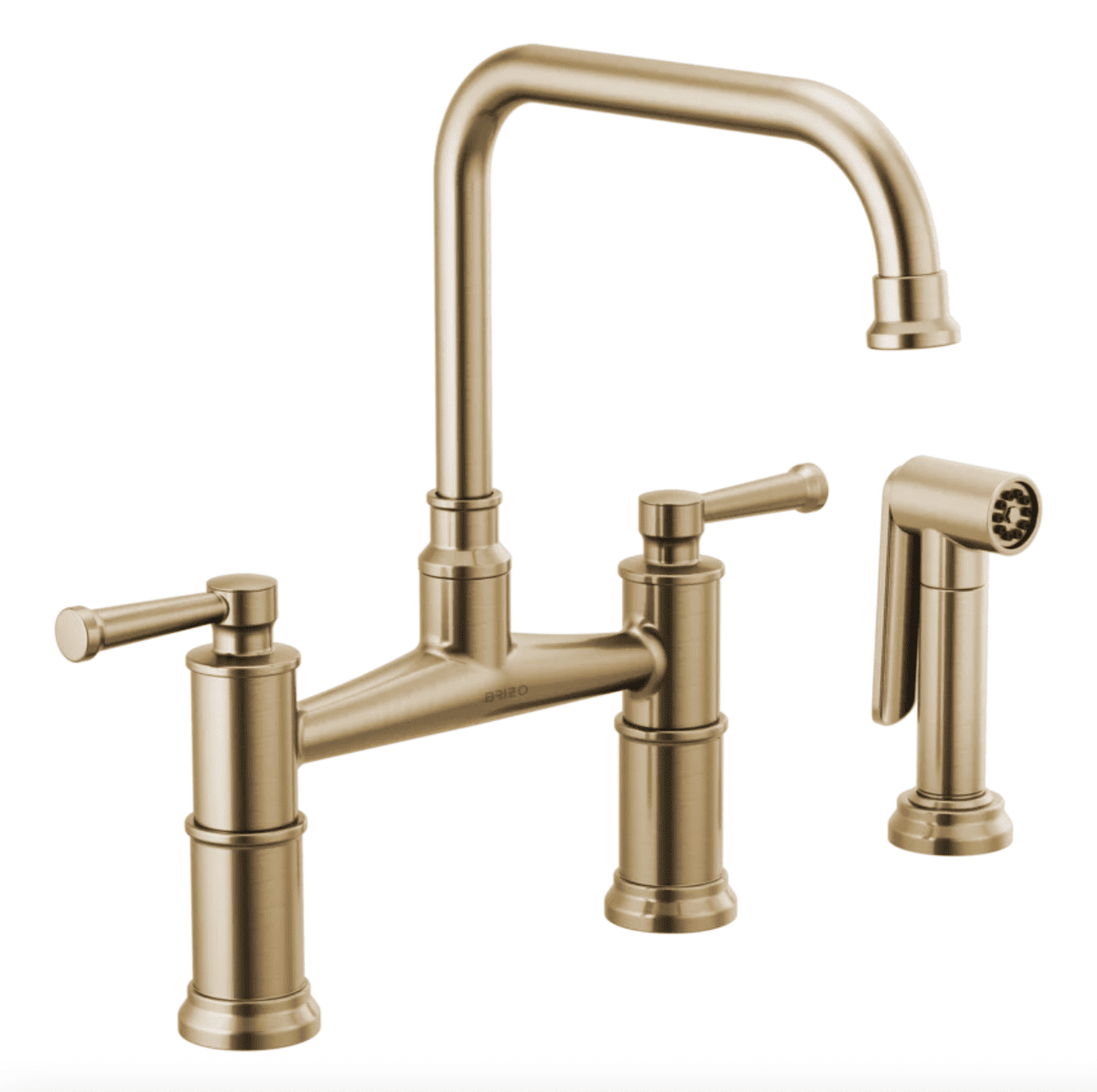 This stunner is the one we ultimately went with int he luxe gold. It's a special order, so plan 8-12 weeks for delivery. Some of the other colors (5 total options) are in stock now and ship faster. Brizo is the premium brand owned by Delta, so I felt good about a well-known brand. Also, they do go in and out of stock, so if there's a color you want, keep looking, you'll probably find it restocked soon.
To me, this faucet bridged the gap between traditional and modern (pardon the pun).
*****
Can I design 8 kitchens, so I can use them all? What do you think of the bridge faucet?
I'll be back with updates on our kitchen project, including the sink we chose, our backsplash tile selections, our counter choice and much more.
For more home decor posts, check these out:
Have a fabulous day,
E