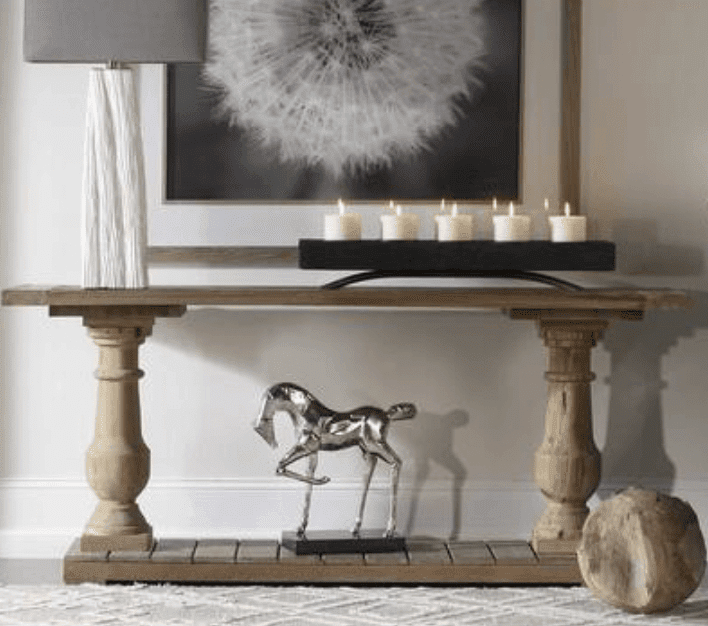 Restoration Hardware has amassed a cult following for their luxurious designs that ooze opulence while still being insanely comfortable and functional. Finally – you can have your dream house while still enjoying living in it – except for many, the price of such a desirable lifestyle comes at too high a price.
As a long-time fan of the RH brand – I am with you. There have been times that I could not find a dupe and saved up to shell out the cash for the RH product and times when I found a dupe that I was just as happy with. Both times the goal was the same: channel their vibe into my own home aesthetic.
If you're a huge fan of RH too, I've got good news for you – I've created a collection of 6 console tables that have a design style that are inspired by the RH collections, past and current. Know that affiliate links are used below, which means at no cost to you, I may receive a commission if y0u make a purchase through my links. Cheers!
Restoration Hardware Console Dupes:
All of these pieces had something that reminded me of a Restoration Hardware design. Either it was the use of reclaimed wood (big in RH), or paneled doors (hello St. James collection!), these pieces each had something RH inspired, without the RH price tag.
First up, this Safavieh chevron TV console is large and in charge with a gorgeous chevron design that adds a lot of visual depth and interest. This really reminded me of the newer RH collections that use Chevron paneling. Of course, this one is thousands of dollars less. I've shopped Safavieh products in the past and always been really happy with this, so it's probably a really well-made console, despite the affordable price tag of $639.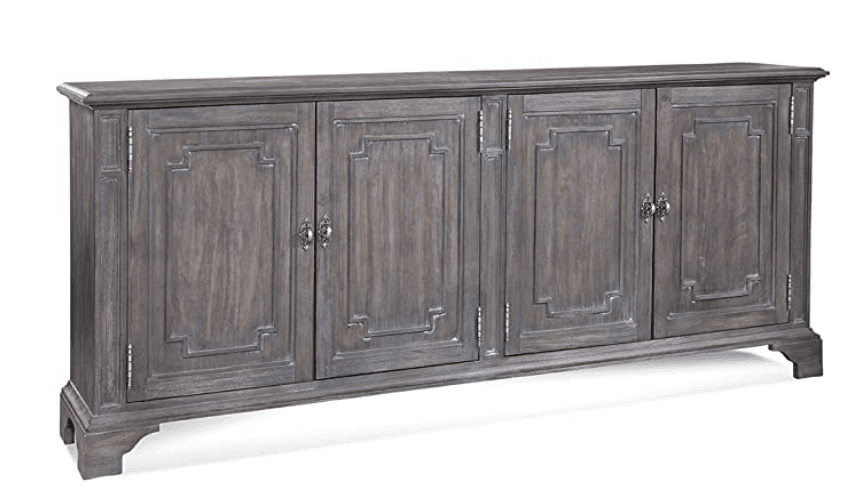 This gorgeous paneled console with a nutmeg finish is a really good lookalike for the Restoration Hardware St. James collection. When I think of Restoration Hardware consoles, the St. James collection is what I immediately flash on. It's burned into my brain, because when they first released them – there was nothing like that on the market and they were the most beautiful pieces of furniture I'd ever seen. This one gets you the look for much less. Currently under $1000.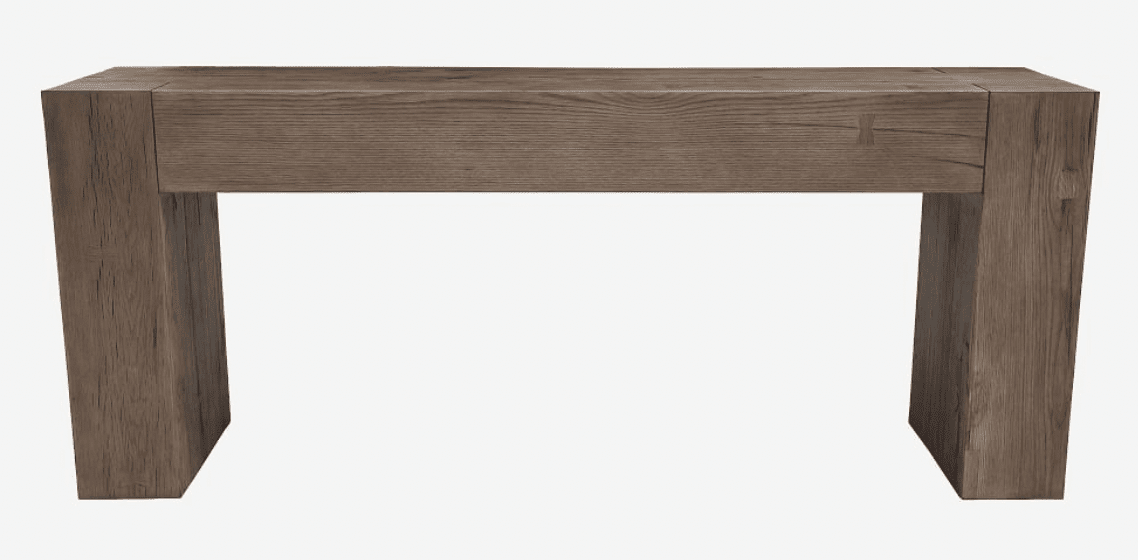 It's funny to think of Pottery Barn as a potential lookalike for the Restoration Hardware English Beam Console Table, because it's still a bit of a splurge and they are a massive design house in their own right. Still, this substantial reclaimed wood console piece really does remind me of the work by Restoration Hardware. They ushered in the reclaimed wood era and now Pottery Barn has taken note.
$1899 is still a lot for a console. Here's a slightly smaller version with a more modern feel from West Elm for under $500.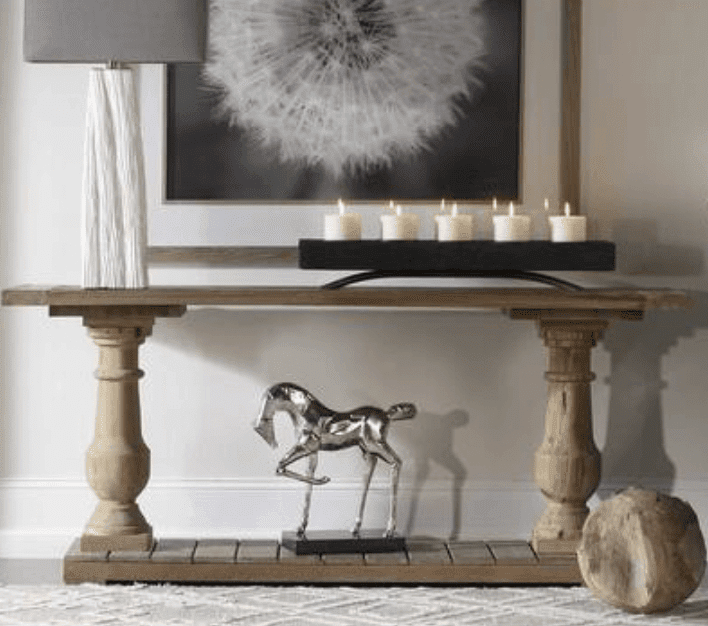 The name here is strange, but the table is gorgeous. The pillared legs with the paneled bottom shelf is really a match made in heaven. This would be glorious in an entryway and give off major Restoration Hardware vibes. This has a very similar design tot he gorgeous Balustrade Salvaged Wood Console Table. They use a similar look in the legs of their dining tables and coffee tables, too. See 5 great dupes of the Balustrade Coffee Table here.
Around $1000, which is more affordable than similar Restoration Hardware styles that average double the price or more.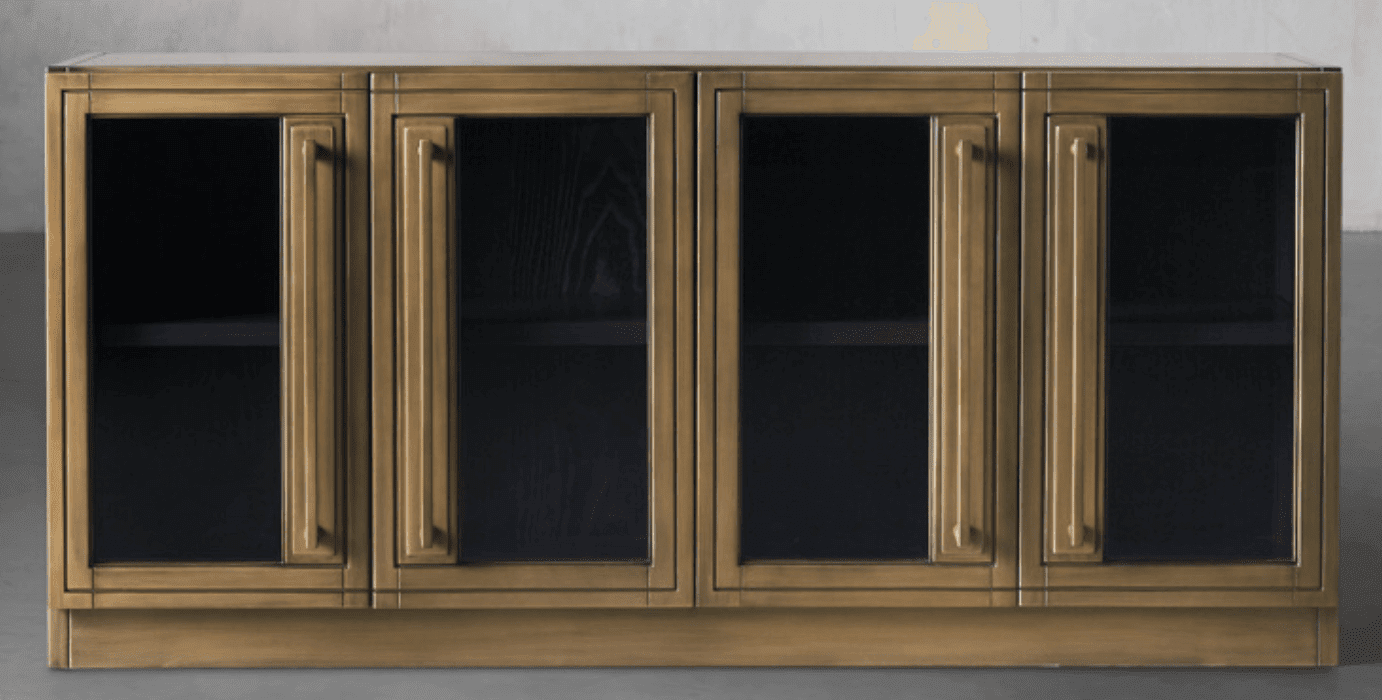 Wow wow wow, is this a statement piece! This really reminded me of the more modern, sexy pieces that Restoration Hardware has been producing, many with the incorporation of metals. This comes in both black and bronze, as well as three size options, so you can get a really large 100 inch wide console for that super huge TV room and not pay the RH prices.
The 60 inch bronze is currently on sale for $1599, too. Run, don't walk.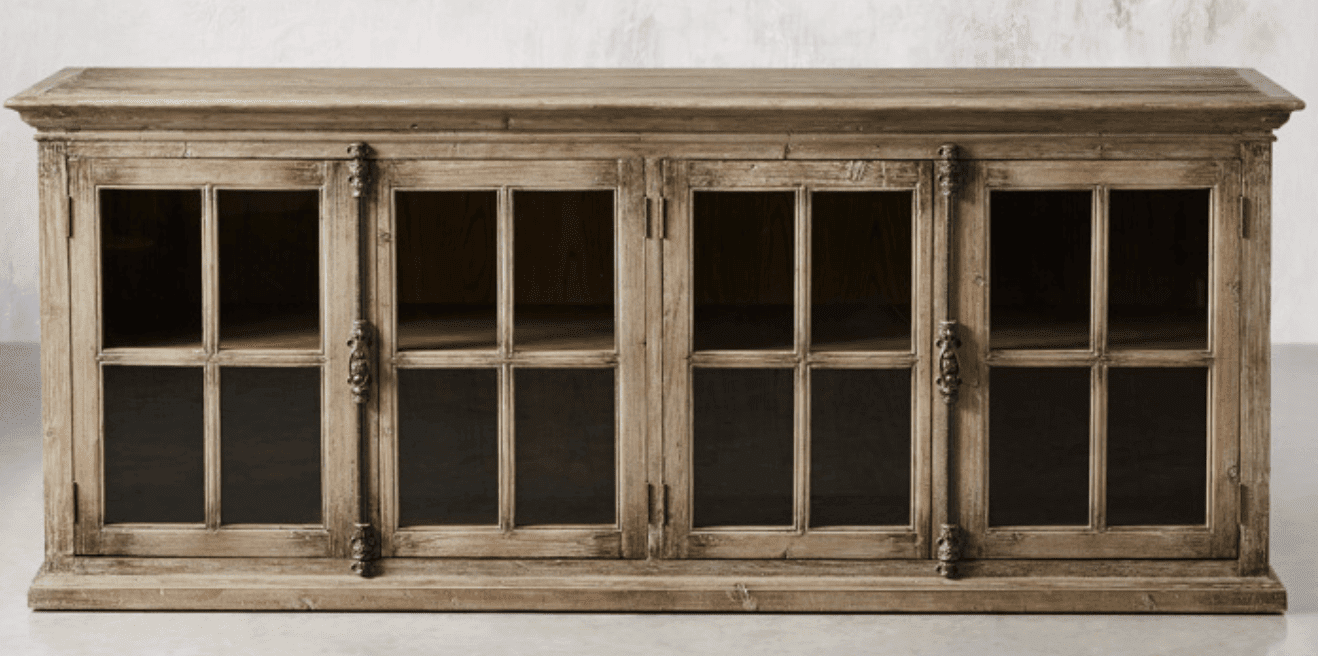 This stunner really nails the RH look on the head. BAM! Plus, it's available in four finishes and very much has the styling and look of the Restoration Hardware French Casement Consoles. Priced at $2499, it's not cheap, but it is still more affordable than similarly sized consoles at RH.
Arhaus is another line that I am seriously loving. I've shared their wishbone bar stool in this post and one of their cabinets in this post. I want them all.
*****
I hope you love this collection of Restoration Hardware console dupes. Maybe you found the perfect one for you – or maybe you're still on the hunt. Either way, maybe check out the Restoration Hardware cloud sofa dupes for something comfy to sit on while you decide.
Have a fabulous day,
E