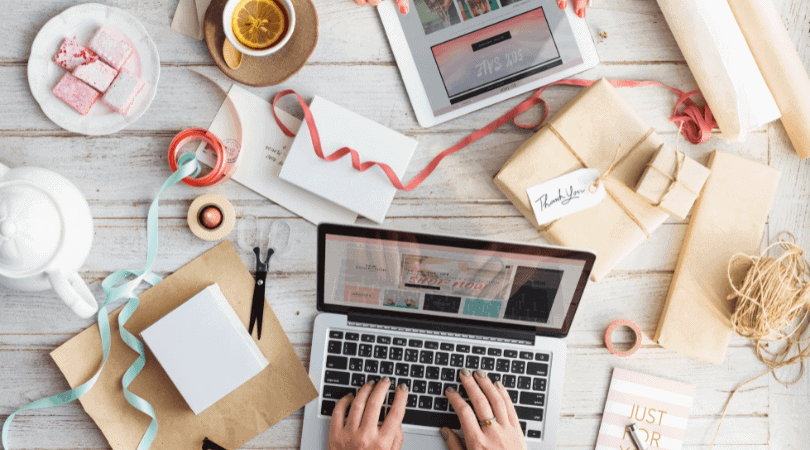 I am the ultimate side hustler. I've got side hustles for my side hustles. From Etsy to self-publishing under different pen names, I've done it and tried it all. And, usually, I've made money doing it.
Sure, some ideas are more profitable than others. Not every idea is a huge win and some are complete flops. I see failure as an opportunity to pivot – hey, now I know what NOT to do. If you have the right mindset and enough gumption, you can honestly make money doing almost anything.
Usually I stay pretty quiet about my side hustles. When people find out that I make a full-time living working from home while taking care of my kiddos, the first questions is, "How do you do it?"
Because, really, I think we'd all be willing to hustle if we knew it would make us some money and give us a productive way to use our free time. I mean, think about it – how would an extra $1000 month make a difference for you? What about $2000 or $3000 or… $7000? Exactly.
So, today I thought I would share a bunch of side hustles that can be great ways to use your skills, creativity and extra time to side hustle your way into more money – which usually means a little less stress and more freedom to do things you want to do (or be able to offer new opportunities to your kids). Some of these are ideas that I have used and others are ideas I've seen other people make money with.
How To Choose a Side Hustle: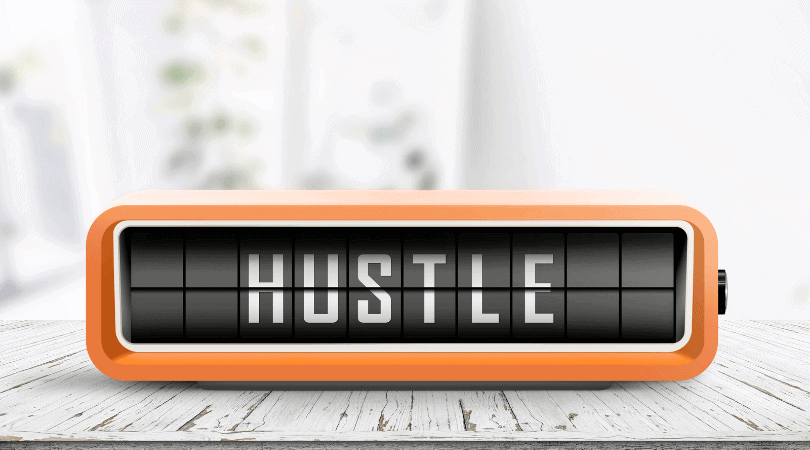 When choosing a new side hustle, keep in mind a few things:
What are you naturally good at? You want the side hustle to be less stressful than a day job. What's something you do for fun that people compliment you about?
How fast do you want to make money? If you need it fast – stay away from slow build options (that can be great long-term passive income) like blogging.
How much do you want to invest? If you have a little nest egg to invest in your business, consider that. If you need to bootstrap this for as little as possible, consider that, too. There are side hustles for everything. Sometimes your side hustle can be the side hustle that gets you to the side hustle you really want to do, but don't have the money for.
With this in mind, let's check out the list!
51 Lucrative Side Hustles:
Service Based:
Are you handy and good with DIY projects? Offer your services on a site like TaskRabbit. You can offer any type of service there. I once hired a guy who specialized in hanging drapes.
Are you great with pets? Sign up to be a pet walker, pet sitter on Rover or Wag.
Do you have access to a reliable car? Run errands for people with Instacart.
Don't want to shop for people? Drive food deliveries. See my post on the highest paying delivery sites.
Great with kids? Offer babysitting services. Promote yourself on sites like Nextdoor to find local families in need.
Love being outside? Start offering landscaping services. People will pay you to weed, clean up yards, and you can invest in lawn equipment and start offering landscaping services.
Great at cleaning? Offer housecleaning services.
Love to drive? Sign up to drive for Uber.
Can you sew? Offer to teach classes in your community. Or, teach private sewing lessons.
Or, everybody needs a tailor/seamstress. Make money sewing for others.
Love to housesit? People get paid $50 a day here to housesit.
Have an area of expertise? Offer 1:1 tutoring services. I tutored as a side job for years and made thousands of dollars.
Play a musical instrument? Offer 1:1 music lessons. Average rates are $120 a month for 4 30-minute lessons. I taught piano lessons for 20 years, even on the side when I was a classroom teacher, and it was a huge blessing in my life. I loved it.
Great at YouTube? Teach businesses how to set up and optimize their YouTube channels.
Love to organize? Start a local business offering home organization services.
Have a truck? Offer a haul-away service or delivery service for people who need a truck and price yourself lower than local delivery truck rentals.
Creative Types:
Are you crafty? Make videos of you creating crafts and post on YouTube for others to recreate. Eventually, you can monetize your channel on ads and make money.
Sell your crafts on a site like Etsy.
Can you paint? Make and sell items on Etsy.
Don't want to sell? Teach painting classes in your local community.
Can you write? Make money as a freelance writer. See the best paying freelance writer sites here.
Don't want clients? Start a money-making blog. This will take time to get going, though.
Can you make soap? A friend makes money creating soap and selling it to local small shops for wholesale prices. You can also sell on Etsy.
Can you do graphic design? Offer graphic design services to people who can't do their own or don't have time. Sell your services on sites like Fiverr and Upwork.
Create graphic design printables and sell on sites like Etsy. People make thousands selling printables on Etsy.
Create graphic design templates, for social media or businesses, that people can edit and sell on Etsy. Go after a certain niche, such as realtors or eyelash extension artists to really get the big sales.
Design graphics that you can have printed on shirts and dropshipped to buyers on sites like Etsy, Amazon Merch, Shopify and more.
Enjoy making jewelry? Accessories sell like wildfire online or sell at local farmer's markets.
Can you make candles? Candles are a big business online in shops like Etsy and in local shops for wholesale.
Culinary Skills:
Can you cook? Bake cookies and sell. Bake tamales and sell. Bake anything people like to eat and sell.
Love to cook, hate to sell? Offer cooking classes. Offer private chef date nights in people's homes.
Can you garden? Sell your fresh produce at local farmer's markets.
Or, teach people to garden, so they can create their own produce at home.
Love to bake? Sell your goodies at local farmer's markets and online.
Make a certain snack? Our neighbors perfected a toffee recipe and selling it on the side has exploded and now they have a full commercial kitchen where they pay people to make huge batches of their toffee.
Teach baking classes to people who want to learn to bake.
Make videos of you cooking recipes and post on YouTube with the recipe. Over time, YouTube channels can be monetized for big bucks.
Tech Savvy:
Offer computer services in your area to people who are not as tech savvy.
Offer website support services online with a monthly membership option. People do this for specific niches, such as just for bloggers who use WordPress. Hone in on your special expertise and maximize it.
Many people buy smart homes and can't figure out how to use them properly. Offer a service to teach people how to use all of their smart home features. Market yourself in new build neighborhoods where people are moving in to smart homes for the first time.
Learn a Skill:
It takes 6 months to get a real estate license and you can sell on the side of your job and make tons of extra income, eventually replacing your job.
Take a transcription course to learn how to transcribe for businesses and then make hundreds from home. You can take a free course from the most respected transcription training program to check out if it is right for you!
Learn social media and offer social media services to businesses. Great for recurring monthly income!
Learn how to manage Pinterest accounts for businesses and bloggers and offer Pinterest VA services.
Learn to create and monetize blogs and then flip them for income. Takes 6 months to 1 year to make a site profitable and can sell for tens of thousands of dollars each!
Learn how to groom pets and offer on-site pet grooming at people's homes who can't make it to a groomer.
Rentals:
Have something people need occasionally? Rent it out. You can even rent out baby gear on sites for traveling families.
Create a rental company. Some people I know have rented out wedding props and make great money.
Invest in a rental property and rent on AirBnb. I know a couple who started renting out their spare bedroom and worked up to buying properties to rent. They made tons of money.
People need to stage homes. Start collecting home decor and rent out to home stagers.
Love throwing parties? Offer party rentals. Add to your collection of offerings over time.
Sell:
Sell old clothes and handbags on sites like Poshmark.
Sell old baby gear on local Facebook selling groups.
Buy stuff for sale for cheap and resell online for more (called retail arbitrage)
*****
Would you try any of these? If you're thinking of starting a side hustle, don't forget to set up your business to grow and look profesh. Here are some more posts sharing tips on how I've set up my businesses:
If you'd love more info on any of these, such as setting up shop on etsy or starting a freelance writing career, let me know! I'd love to go into more detail.
Have a fabulous day,
E