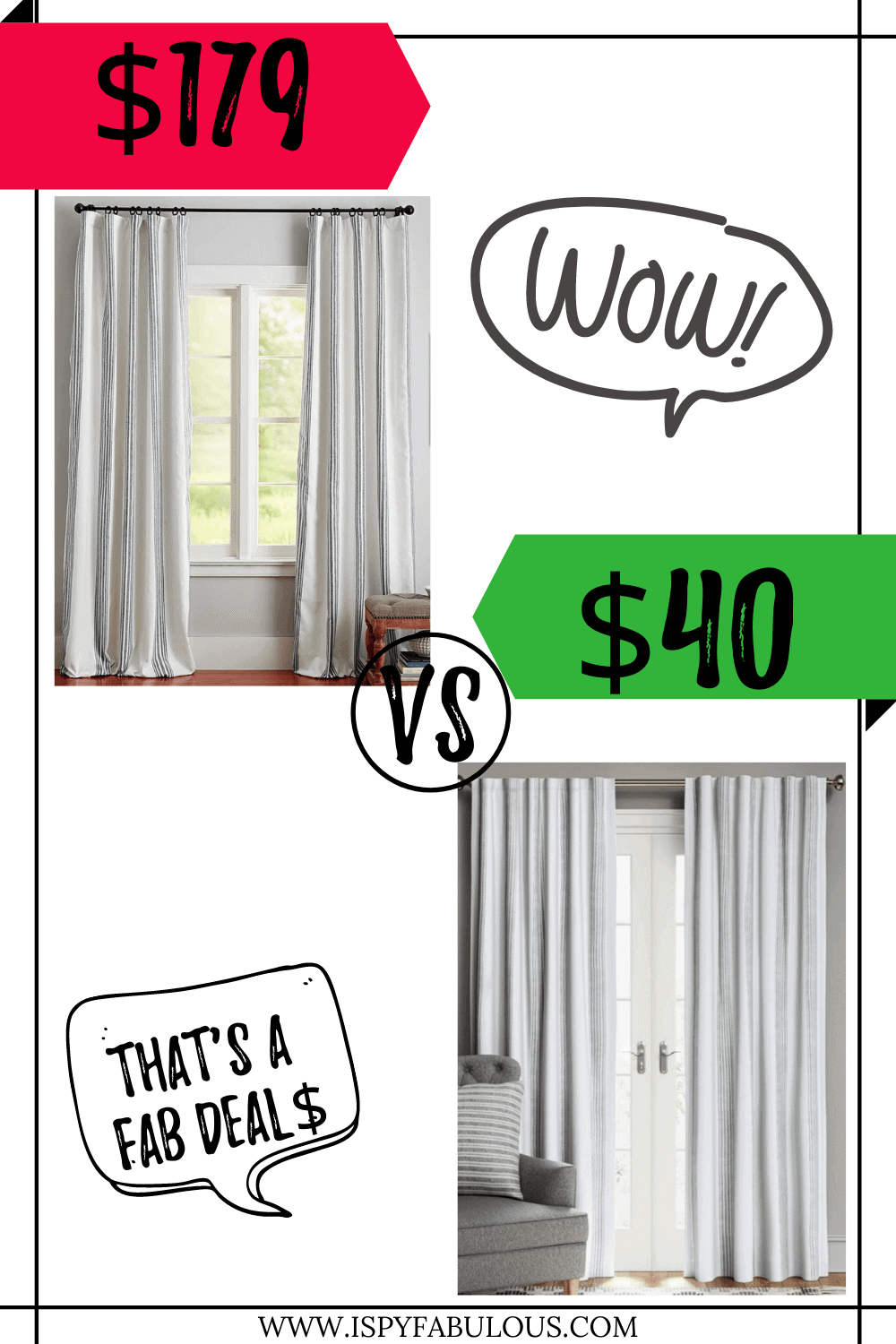 I've got such a good one, today, ohmigerd I am so excited. Seriously, when I found this lookalike, I literally gasped – and then clicked #addtocart. Now, these beauties are hangin' in my bedroom and I still can't believe how much I saved.
But, let me back up and tell you the story. A few years ago we bought a new house and it had the highest ceilings I've ever seen. I literally could NOT find drapes that were long enough without going custom and that was over our budget.
So, I sat down and taught myself how to properly measure and design custom drapes and then ordered them from a to-the-trades online shop. Yup. #TypeA
For the most part, those drapes have done really well. Except in our bedroom, which has been a totally different story. In that room, I decided to go with a gray velvet with blackout lining. We have a sliding door and window side-by-side, so it's a huge wall of velvet. And, when it's all closed – it literally looks like a movie theater. It's not cute, y'all. But, after what we spent on it – how can you justify ripping it down?
You don't. So, we lived with it. Over time, the weight of the velvet has started ripping the anchors out of the walls, ruining the drywall. We've had to replace the anchors with larger anchors, so the holes are getting bigger and bigger. Plus, the weight of the velvet makes them difficult to open and close and they have to be yanked – hard – to move around.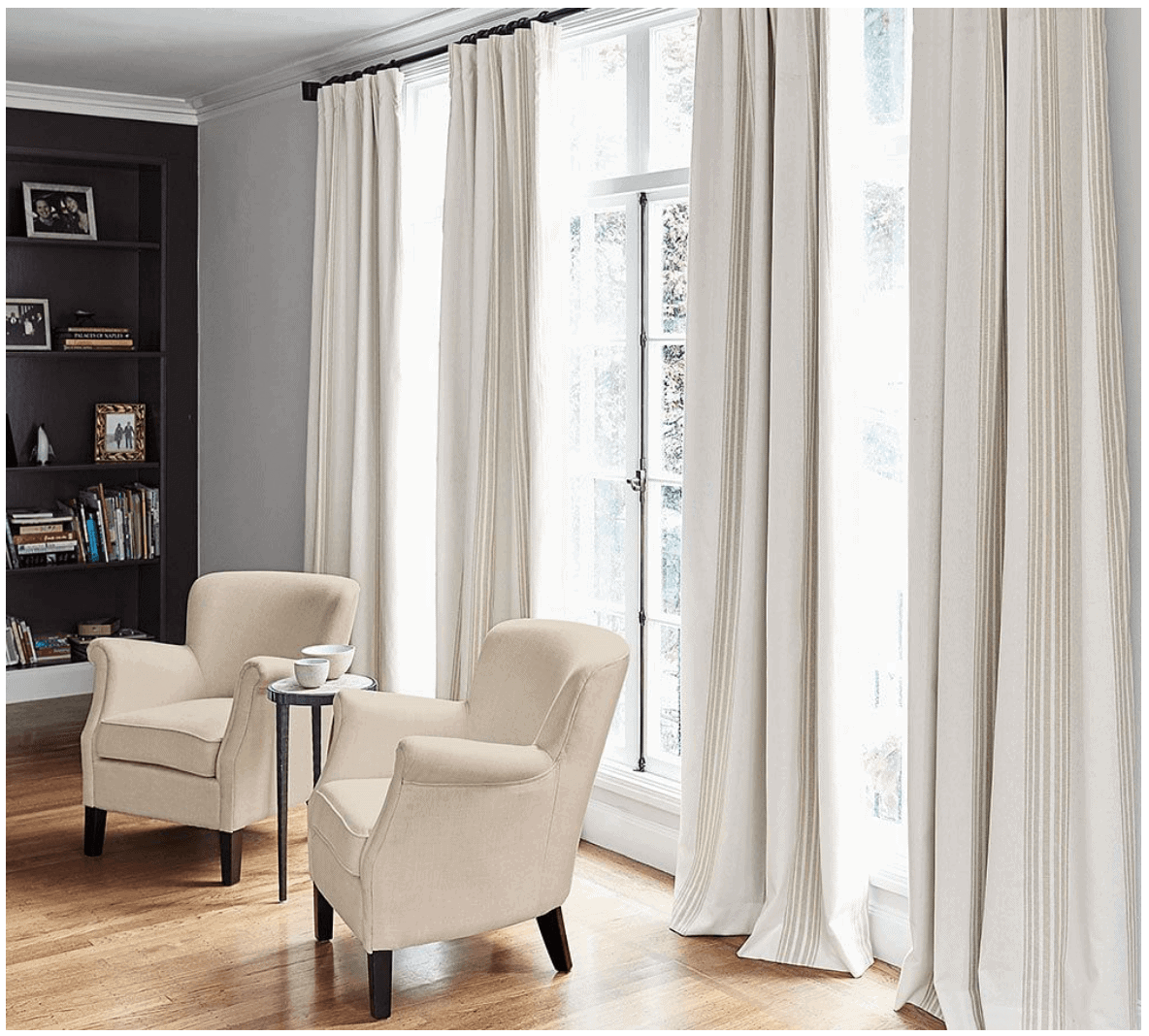 When I started seeing the brackets starting to come out – AGAIN – I knew I had to figure something out. That's when I realized that some stores, like Pottery Barn, were selling drapes that were long enough at 108′! I couldn't believe it! This was exactly what we needed! Plus, these gorgeous striped drapes had a lightweight linen/cotton look, but with a blackout lining. Perfect!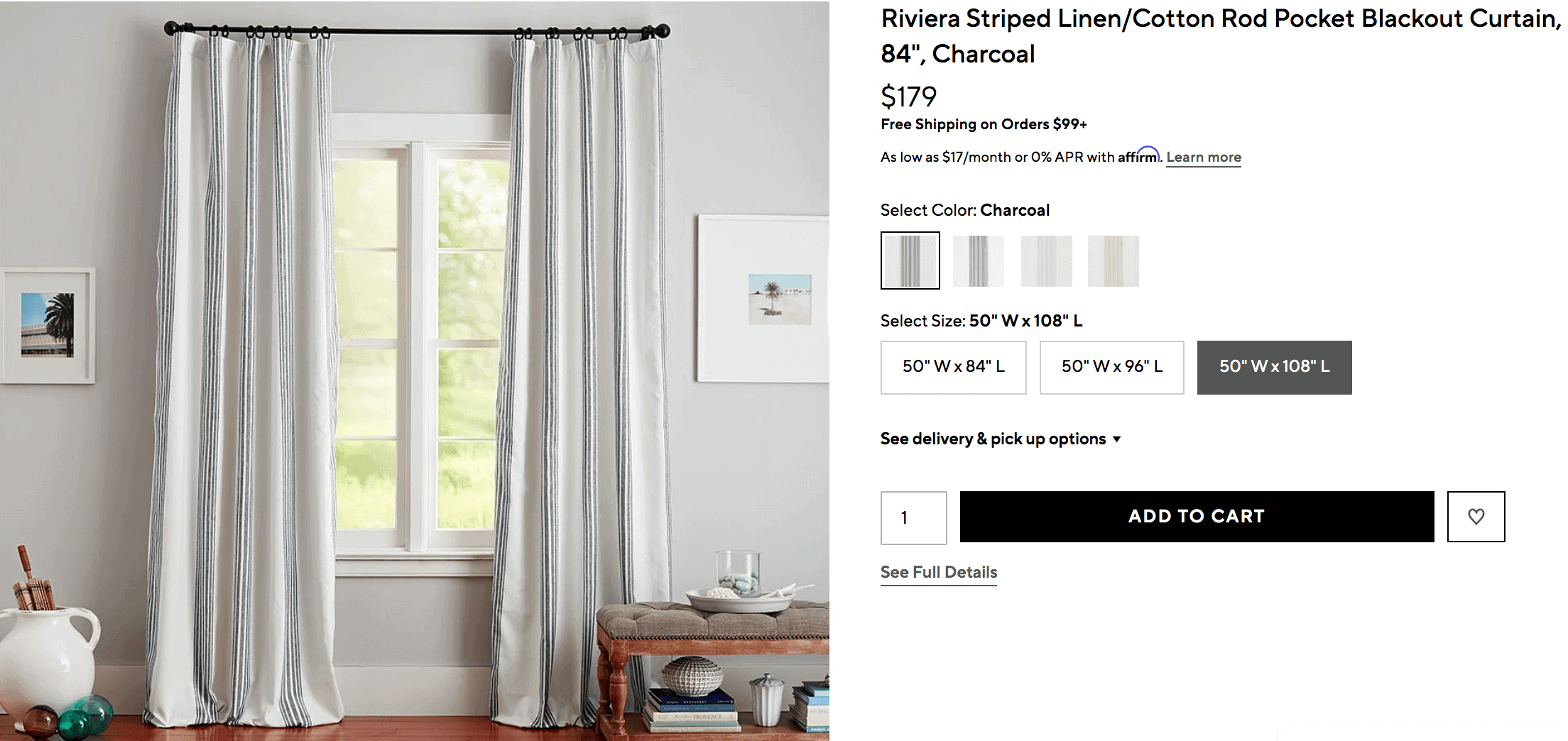 I was in drapery heaven! Plus, I've heard from so many people that have bought drapes from PB that they are excellent quality. At $179 a panel and needing 4 panels – I was going to spend close to $1000 delivered. So, I decided to wait for a sale. I waited, and waited, and waited. Here's a picture of me waiting: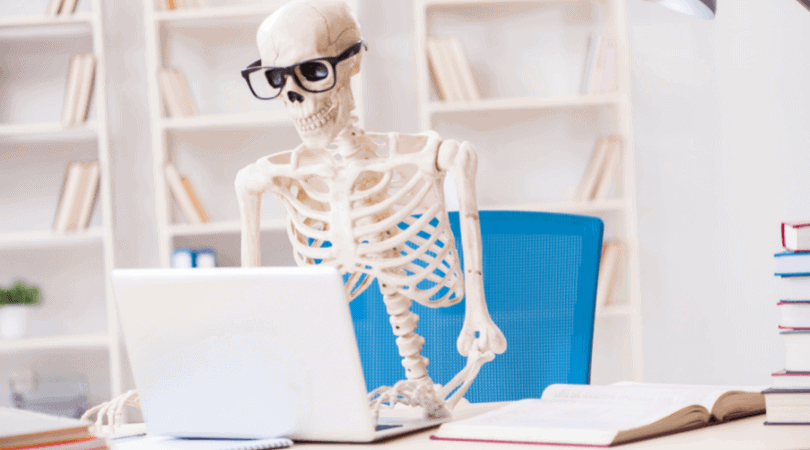 I kept going back and forth between the different colors: navy, cream, gray and light blue….which one was a girl to choose? I was finally tired of waiting and about to order when I stopped these (drumroll please):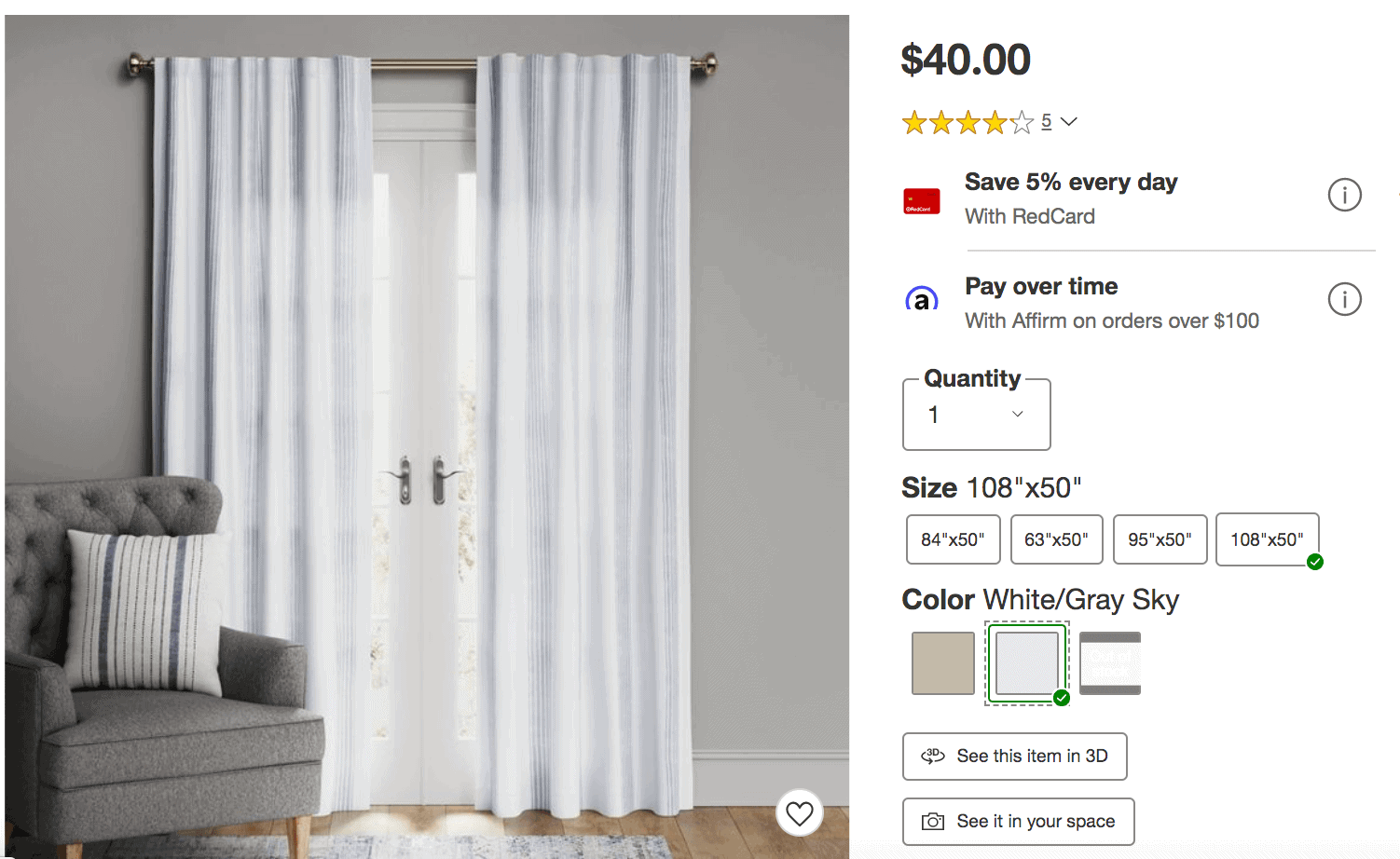 Ummmm…..WHAT! With the same length options, similar colorways and the blackout lining, were these beautiful cotton drapes the perfect copycat? Could it be?
Well, at only $40 a panel – you bet I was going to find out! These pretties were coming home with me – STAT!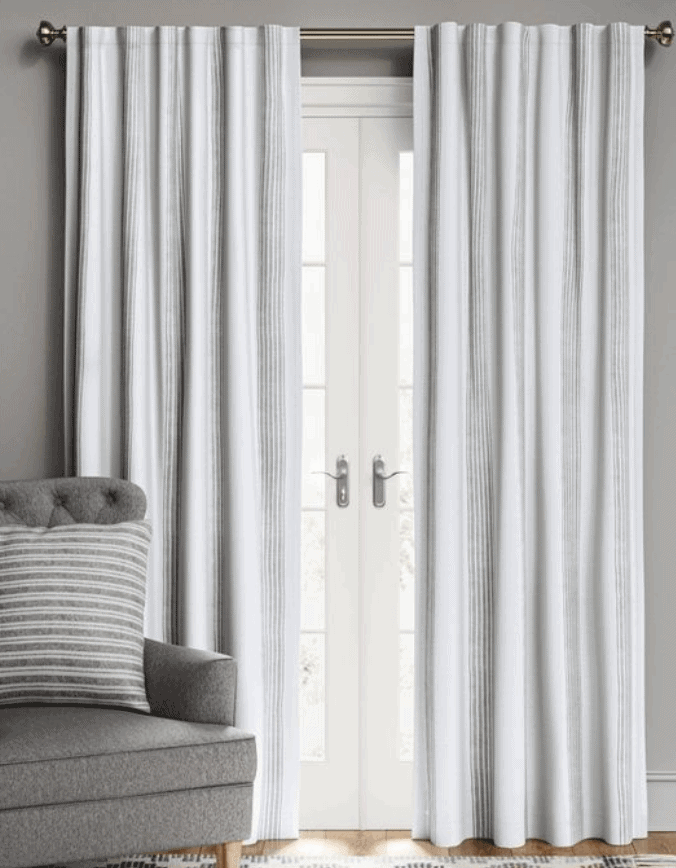 So, I ordered them, crossed my fingers, and prayed to the copycat gods that they would meet my expectations.
Spoiler alert: they totally did. I love these drapes. The material is substantial and well-made, without being heavy. The stripes add interest and texture. And, the best part, they open and close easily – since it's such lighter material. The blackout is also just right. I see a tiny bit more light than my heavyweight velvet curtains, which I prefer, because I actually didn't like how dark the other drapes made my room.
Overall, for under $200 – this was the steal of the DECADE. Also, hot tip on drapes – hang them first and let them sit for a few days or a week before steaming. The weight will get a lot of the wrinkles out and it's easy to steam when it's up.
Curtain Rod Dupe:
I think these curtains would look so fab with one of these dupes for the Anthropologie Kamala Carved Wood Curtain Rod! Check out the whole post here for links: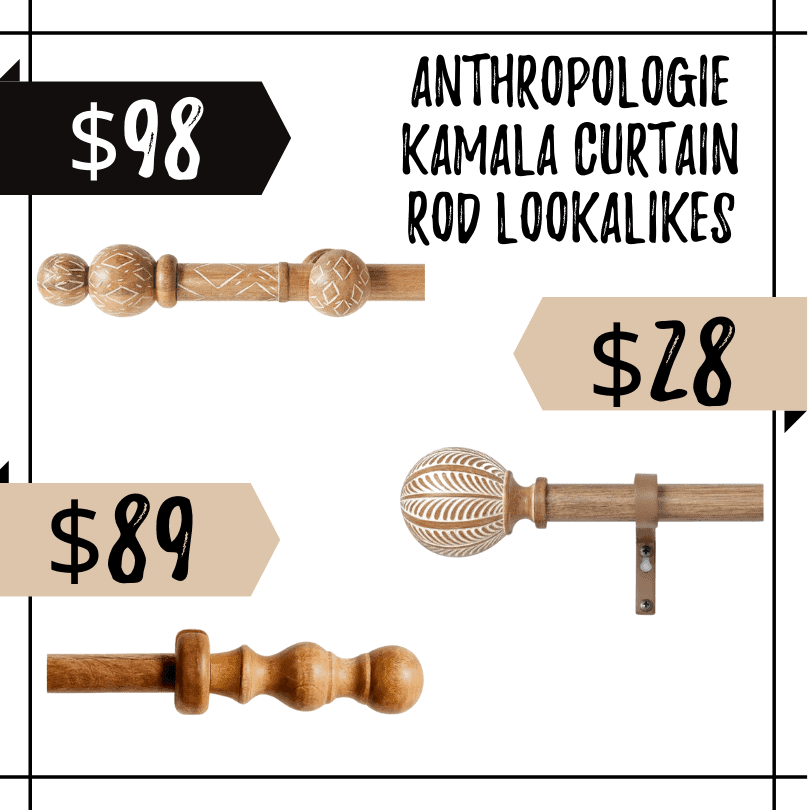 More Pottery Barn Dupes:
I love PB style. Sometimes, I find a dupe for the PB product and sometimes PB IS the dupe for an even more expensive piece! Either way, it's a great way to see if you want to splurge on that one thing you really love or if you'll be just as happy with a look for less.
*****
So, what do you think? Would you try these dupe curtains? What color would you get? If you grab them – let me know what you think! I really believe we can have the look we want for the price we can afford.
For more fab deals, check out these posts:
Have a fabulous day,
E