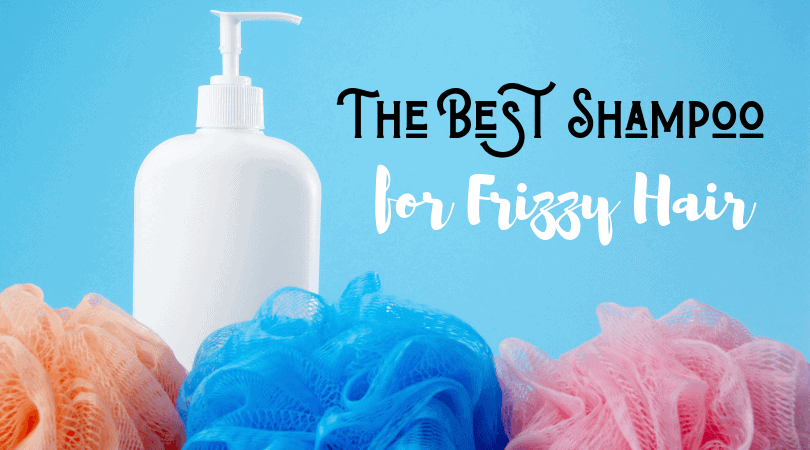 Do you spend the better part of the summer looking like an electrocuted chia pet?
Same, girl, same.
Luckily, I have had the opportunity to try a lot of products over the years and have found some powerful frizz fighting formulas that can help tame the tresses.
Shampoos That Fight Frizz:
These shampoos are the best at giving frizzy hair it's best shot at looking smooth and sleek.
Designed with different ingredients, all claiming to give hair the hydration and weight that it needs to stay down, there should be a frizz fighting shampoo in here that seems meant for you.
Pair it with the matching conditioner and grab some frizz-fighting products from my post on how to air dry your hair and you'll be ushering in a new you – sans frizz.
Let's give that frizz the fight of its life, right?
Get ready to suds up with these humidity-proof formulas:
Drugstore Shampoo for Frizzy Hair:
The entire Frizz-Ease line is a mainstay when it comes to frizzy hair care.
This shampoo is said to reverse 75% of surface dryness causing the frizz to reveal hydrated, softer hair. Plus, silk proteins create a barrier around the hair that makes it less likely to react to humidity – giving you the humidity-proof hair you've been dreaming of.
At this super affordable price – it's certainly worth a try.
Increase your chances of success with their extra-strength-no-frizz serum:
Yeah, baby.
I love this line and I've used it off and on since it came out. That's why I included it in my top Drugstore Hair Care Products post.
This Frizz-Defy formula is one of their newer additions to the line and it's a good one.
As with all the EverPure products, it's also sulfate free, color safe, dye free, paraben free, gluten free and vegan.
Infused with marula oil, this formula will definite hydrate and create a nice barrier against humidity, resulting in shinier, healthier looking hair.
Sign. Me. Up.
I could not believe the reviews on this one! Review after review saying how this had transformed their hair!
Apple Cider Vinegar has been used as a base for DIY shampoo and hair rinses with great success. Apple Cider Vinegar is said to balance the pH level of the hair, allowing the scalp to detox, and return hair to it's silkiest, softest, shiniest state.
WOW Shampoo is also supposedly great for reducing hair breakage, which over time will thicken hair and allow it to grow longer. For men experiencing male pattern baldness, WOW is said to slow breakage and reduce speed of fallout.
All of this in a hypoallergenic, cruelty free, sulfate and paraben free formula.
Impressive, no?

OGX is a beloved, affordable hair care line that uses natural ingredients like shea butter, agave nectar and coconut oil to moisturizer and protect hair from reacting to moisture in the air.
Plus, OGX Frizz Defy is silicone free, defrizzing strands instead with a super creamy blend that smooths and softens even coarse, brittle hair.
The result is healthy, silky, shiny hair.
Bonus points for a super affordable price tag and a scent that'll feel like a mini-vacation each time you use it.
Salon Quality Shampoos for Frizzy Hair:
I hate to play favorites, but this is the frizz-fighting shampoo I've had the most success with.
In fact, I grabbed the whole system and even use the nourishing styling cream on the reg.
While I don't love to spend this much on hair care usually, so I often go back to the EverPure or other affordable choices, I will say that this one was worth every penny.
This one is also sulfate and silicone free, safe for color or chemically treated, and said to be powered by the brand's Healthy Hair Molecule OFPMA, which helps block humidity, smooth hair and repel dirt and oil.
What I personally experienced is smoother, shinier hair that lasted longer than normal.
Here's another cult favorite shampoo that people go gaga over.
I've personally tried this one, too, in sample form, and will agree that it is pretty fantastic.
Designed for medium to thick hair types and even works well for curly hair, Caviar Anti-Frizz Shampoo "tames frizz and protects against humidity while improving shine and softness."
I think we can all get on board with that.
One of the more expensive options on this list, you'll need to be ready to invest in your hair care – but, you often get what you pay for.

Aveda products harness the power of nature and rely on essential oils and powerful natural ingredients to give you salon quality results at home.
You can find Aveda products at Aveda-licensed salons and at stores like Nordstrom.
This Smooth Infusion Shampoo is designed to moisturize hair with an exclusive plan infusion blend incorporating organic aloe, maize and guar bean.
This added moisture helps hair to soften, stay smooth, and have a barrier from humidity.
Plus, this line also protects from heat styling.
#BONUS
Another Alterna fan favorite, this Bamboo Smooth Anti-Frizz Shampoo strengthens hair with pure organic bamboo extract and smoothes with organic kendi oil. This added moisture leaves hair stronger, smoother, and frizz-free.
Their Color Hold technology protects hair color to the max, making this the safest choice for colored hair on the list.
Plus, Bamboo Smooth contains eco-certified, fair-trade, and certified organic ingredients, while a portion of sales is donated to support the development of local communities.
Paraben-free, sulfate-free, phthalate-free, DEA-free, TEA-free, petrochemical-free, synthetic color free and dye free, Bamboo Smooth proves you don't have to compromise to tame the frizz.
I'm such a huge fan of Kiehl's products, with their minimalistic packaging, potent formulations, and affordable pricing.
You just always get value from their products and this Oil-Infused Shampoo has my name on it.
Using rich, nourishing oils, this formula won't strip your hair's natural oils as many shampoos do, and argan and babassu oils will strengthen and fortify hair, while protecting against humidity.
The earthy, woodsy scent is a nice departure from the overly perfumed and floral shampoos out there, and the paraben-free, sulfate-free, silicone-free formula made in the USA will delight other senses, too.
This is one of those shampoos I have heard about for years. People RAVE about this shampoo.
And, while they don't specifically market it to fight frizz, that's exactly what it does – which is probably why so many people love it.
Said to increase the moisture of your hair by 15% with their exclusive RCT Protein Complex, your hair just could be the manageable, soft, silky hair you've always wanted.
I didn't find great deals for Redken Soft Shampoo on Amazon, but Ulta is known for having the best deals on Redken anyway. So, feel free to check it out here.
****
Did you know there were so many shampoos that specifically target frizz?
If you paired with the accompanying conditioner and then finished with styling products known to smooth hair, you'd get the trifecta of hair care that no humidity could get through.
With so many products out there, there's no reason to settle for hair you don't love.
And, if you're having a bad hair day anyway, you can also do one of these easy updos or messy buns to just get it out of the way.
Have a fabulous day,
E