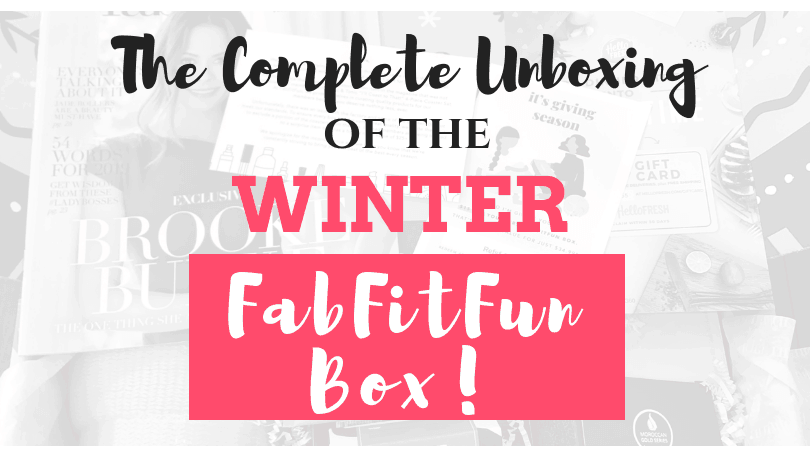 The FabFitFun subscription box is a hard one to miss. The online marketing is everywhere and then there are the bloggers and influencers who are talking it up all over the place.
To be honest, all of the publicity is precisely why it took me so long to buy it. I thought, can it really be that great?
Then, the summer box reveal was just too good to pass up – so I bought it for my mom as a gift. She LOVED it.
That's when I knew – I was going to have to get the winter box.
And, since you already know my obsession for subscription boxes – heck, I even wrote a gift guide devoted to the subscription box as a gift – then you should also know that I only talk about the ones that are the absolute best.
The FabFitFun Box 100% lives up to the hype – and at just $40, with a boxed value of over $200 (and $10 off with code SOCOLD) – there's no buyer remorse here.
What Makes The FabFitFun Box So Great?
That's a very good question. Since I have now bought two of them with my own cold, hard cash, I can say objectively that the features I love most are:
It's somewhat customizable. If you're just buying the one box, without paying any upgrades, you'll get 3 customizations. I love having a little control over what I get.
There are full-size products here. I cannot believe the winter box came with a full-size Oribe Gold Dust Dry Shampoo – which retails at around $44.
Offers a wide variety of products. It's not just beauty or hair or home. It's ALL of them! My mom's box had a little tea kettle and an umbrella, along with makeup brushes and all sorts of products. The winter box had an equal assortment of goodies. Talk about the one-size fits all box!
So, What's In The Winter Box?
I thought you'd never ask! Get ready for the FULL REVEAL of everything in the winter FFF box with the retail value of the item!
This one was of the customization options. I knew right away I had to have it.
Oribe is one of those cult favorite hair care lines. They have so many products that are on the IT LIST of hair care.
Their fragrances are also off-the-charts. Just that kind of head-turning, wearable-yet-sexy, smell-you-after-you're-gone, kind of fragrance.
Now, I'll be honest, I'm very sensitive to fragrances – and to dry shampoo. It gets all stuck in my sinuses and causes issues.
But, for some reason I can use this Oribe styling cream every day to smooth frizzies – with no issue. I know the price is a jaw-dropper ($42) for us babes on a budget – but I bought this over a year ago, use one to two pumps a day, and I still haven't had to replace this bottle. That's a good value, friends. A good value.
The Gold Dust Dry Shampoo is constantly heralded as the best of the best. I don't even really use dry shampoo that often. My chemically treated hair just doesn't get super oily anymore, but this one is, really, GOLD! A name well-deserved. And a real treat to get the full size in the box.
Seriously, this one product alone equals the amount I paid for the box.
2. Moroccan Gold Hair Mask
Another FULL SIZE product! This hair mask is LEGIT. I color my hair every 8 weeks – like clockwork. #BookItBaby
That also means my hair can get really dry and needs a little extra T.L.C. I've been using this really great, clean beauty hair mask from Honest Beauty (and wrote about it more here) for a couple years now. I still really like it.
But, it's nice to mix it up with this moroccan oil masterpiece. It's just this tub of goodness. You dig right in and smooth it all over your hair. No bottle to squeeze or mess around with.
Then, loop back around a few minutes to wash it out and – voila!- you feel like this right out of the shower:
Yassssss, Queeeeen!
Truth be told, I already had this. But, I also use it often, so I was excited to see that I will not have to spend another $24 to replace it when it's gone! #winning
I am not a huge concealer fan, even though I need it #kids #mombie. But, I do like using this little brightening stick to catch the worst of it.
My morning routine for the 'ol eye bags goes a little something like this:
Mama is AWAKE.
This comes in two colors, I got the gray – which is right up my alley, since I love gray.
While this was rolled up really cute –  and it looks really cute on the arm of our sofa – I kind of wish I hadn't opened it and had saved it to give as a gift. It's on the thinner side and we prefer a softer, snugglier blanket. Here are some of our favorites in my Blanket Gift Guide.
With a retail price of around $40 – it's another big win for the FFF winter box.
So, I actually really wanted to try one of these! Since I recently splurged on the PMD – more on that later – I wasn't feeling like I could really dive in to the whole face rolling fad just yet.
But, since it was a customization option in the FFF box – I'm all in! #gimme
This was my first experience with the face roller, and I had to look up some Pinterest tutorials on how exactly I was supposed to do this. You can read more about the benefits here. 
The Verdict: It felt….nice. Not totally unlike rolling one of my son's hot wheels over my face, but hey, that's not so bad, either.
I did feel like it relieved some congestion and tightness in my sinuses – so, there's a plus. Was my skin totally transformed? No, not really. Would I do it again? Yeah, actually, I would, particularly if I'm feeling a little under the weather. It's sort of a nice massage for the lymph nodes and sinuses.
With a retail price of $45 – it was a nice addition to the box.
 Another full-size product, y'all! Personally, I hate those mini mascaras. Those tiny brushes are just a hassle. So, when I see a full-size mascara like this? Now we're talkin'!
I was excited to see a brand I haven' tried – and with 45 almost perfect reviews on Amazon and a purchase price around $20-25 – it was right in my wheelhouse.
The pros: the brush shape is perfect, the bristles are soft enough where they won't irritate your eyes, good color transfer and color stays put
The cons: over the day, little bits of it did get in my eyes (a constant problem I have with mascaras) and I am super sensitive to it.
I would definitely recommend this mascara to people who do not struggle with most mascaras or have super sensitive eyes.
If you're in the unlucky minority, like me, you'll probably prefer my go-to mascara: Burt's Bees 100% Natural Nourishing Mascara – which is only around $10.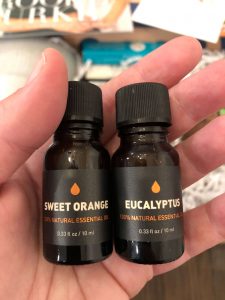 I love me some essential oils! My diffuser is on constant rotation or I'll put a few drops in my kid's humidifiers when they're feeling sick. These Elevate oils are 100% natural with organic jojoba and coconut fractionated oil – so you don't have to pre-mix if you're applying on skin. The set retails for $31, so it sure was nice to get them in the FFF box.
Both of these were great additions to my growing collection.
We've already talked about how great hyaluronic acid is for plumping and adding moisture to your skin in my recent Beauty Class post, Everything You Need to Know About Serums.
So, you can imagine I was pretty excited to see these in the box. They have a nice cooling effect on the skin and while I didn't see a dramatic change in my undereye bags, I would say that they felt nice.
If you're already doing a mask, why not throw on some undereye gels like these and R.E.L.A.X.
This is the 2018 version of cucumber slices 😉 #embrace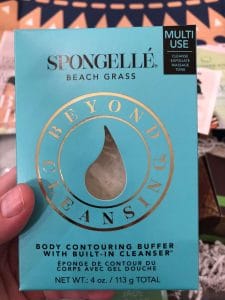 This is such a cute idea. Would make such a great addition to a spa or bath-themed gift basket. The buffer is infused with a soap, so all you do is wet it, buff and go.
Because I am so sensitive to fragrances, I decided to add this to a lovely little gift basket I am making for a relative who just bought a new house (with a giant bath tub – yeah!).
If you've tried these – let me know in the comments below what you thought!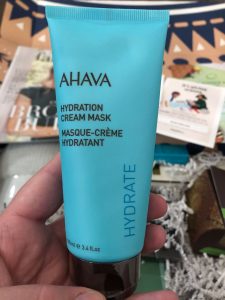 Ahava masks get great reviews and this one is a limited edition of the popular Ahava Cream Mask – which retails for around $30.
My obsession with face masks has already been documented – but that won't stop me from talking about them even more.
The Ahava mask uses Dead Sea minerals, mud, shea butter, and more nourishing ingredients to boost hydration and gentle exfoliate.
I've read about the skin transforming benefits of the Dead Sea before, so this particularly piqued my interest. Plus, I love a good mud mask.
I did enjoy this one and look forward to using it again, which I can because it's another full-size product.
However, I may be rotating it with another one I just grabbed – the coveted Dr. Jart Mask Heroes for Face Savers set (no longer available at Sephora)- at the Sephora artist's extreme recommendation – and I am totally weirded out by the strange-looking rubber masks. I can't imagine I am the only one who feels reticent to look like I'm in a strange horror movie, so they must be good to get such amazing reviews. I'll report back after trying all of them. #wishmeluck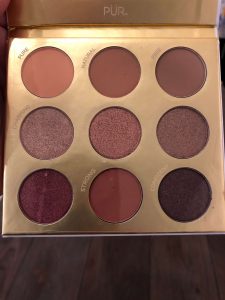 I paid $10 to add on this 9-color eyeshadow palette from PUR. I felt like this was a good deal, since it's not often you can get this kind of highly-pigmented, clean beauty, full-size palette for just $10.  In fact, this one retails for $36 here on their site. 
The colors are saturated and pretty, they go on smooth and don't crease, don't flake down into my eyes, and are free of the chemicals I am allergic to.
And, with names like Alluring and Gorgeous, you'll get a little ego boost, too. #score
Love PUR and would love to try more of their products. Worth it.
****
So, the bottom line – you get a really incredible value with the FabFitFun box. Retailing at $40, and you can get $10 off with code SOCOLD. There's just no way you aren't getting your money's worth.
With a great combination of new brands and old faithfuls, you'll have enough goodies to try and share.
And, if you're a stickler for the same product, you can always give a gift card as a gift for someone in your life. With a wide range of products, they'll be sure to find something in the box they love, too.
Have you tried the FabFitFun box yet? Tell me what you thought in the comments below.
Have a fabulous day,
E