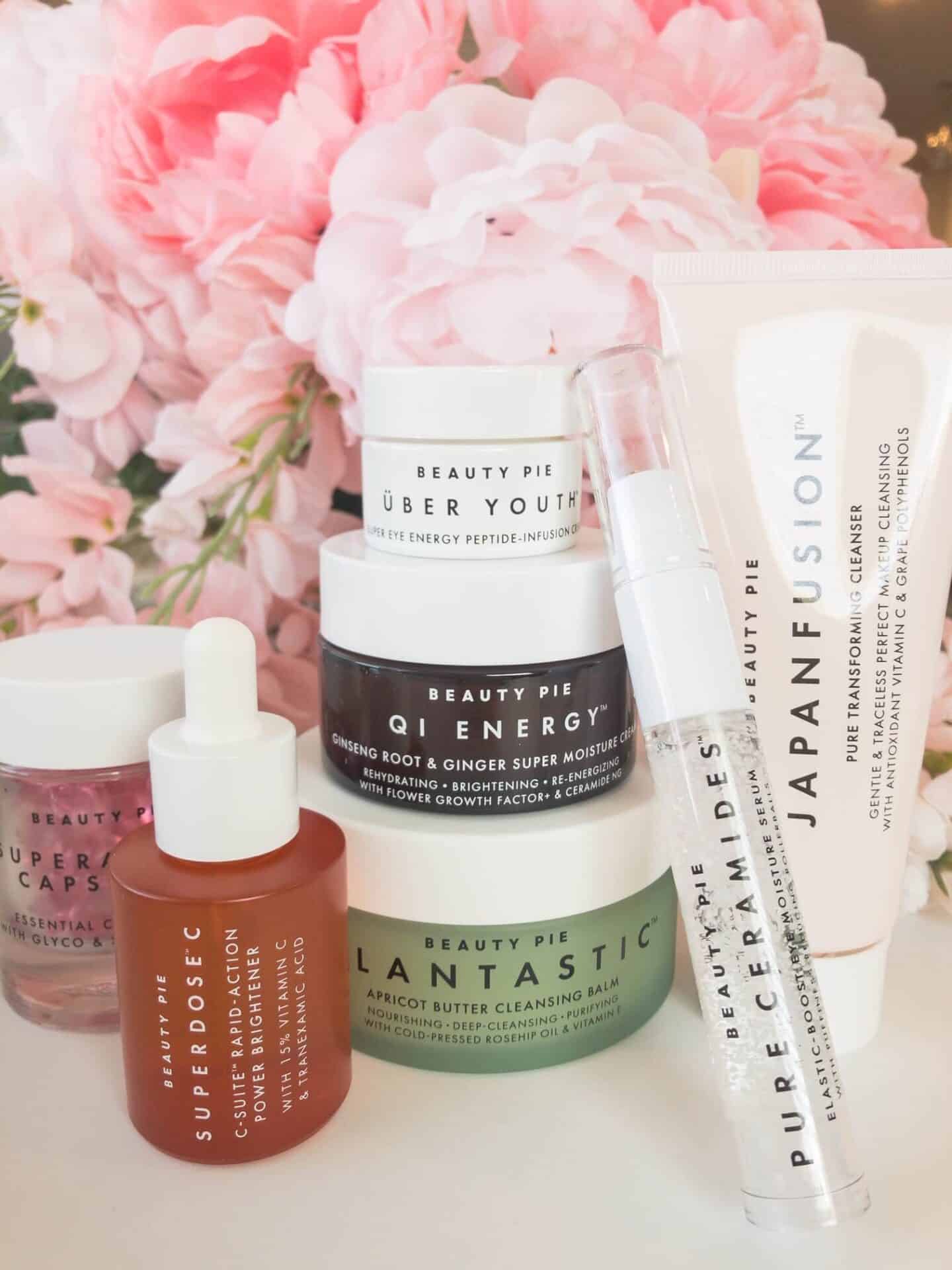 After months of scoring incredible deals on beauty and skin care from Beauty Pie, I placed an order for my largest box yet.
With so many new and incredible products in the line-up, I knew my typical $100 spending wasn't going to be enough. So, I saved up two months and added a top-up reward from a referral to max out my spending at a $250 spending limit.
It was time to party, baby.
Since I've already tried quite a few of the skin care lines available at Beauty Pie, I've started to figure out that there are certain ones that work best for my skin.
While I have seen results with all of the products I've tried, I have noticed that a good deal of BP products are loaded with fragrances – which is typically a no-no for me.
So, after some trial and error, I have learned that some of the lines are a bit more natural than others – such as the incredible Qi Energy and Plantastic lines.
With this order, I focused on eye creams, since I've run out of all my favorites and wanted to try some more, as well as some highly rated ceramide capsules, a couple face creams and two different face cleansers.
Let's check the out! Also, if you decide to try Beauty Pie from one of my links – you'll get a one month membership free and I'll receive a referral top-up (which you can get, too, by sharing your own link).
1. Pure Ceramide Eye Serum: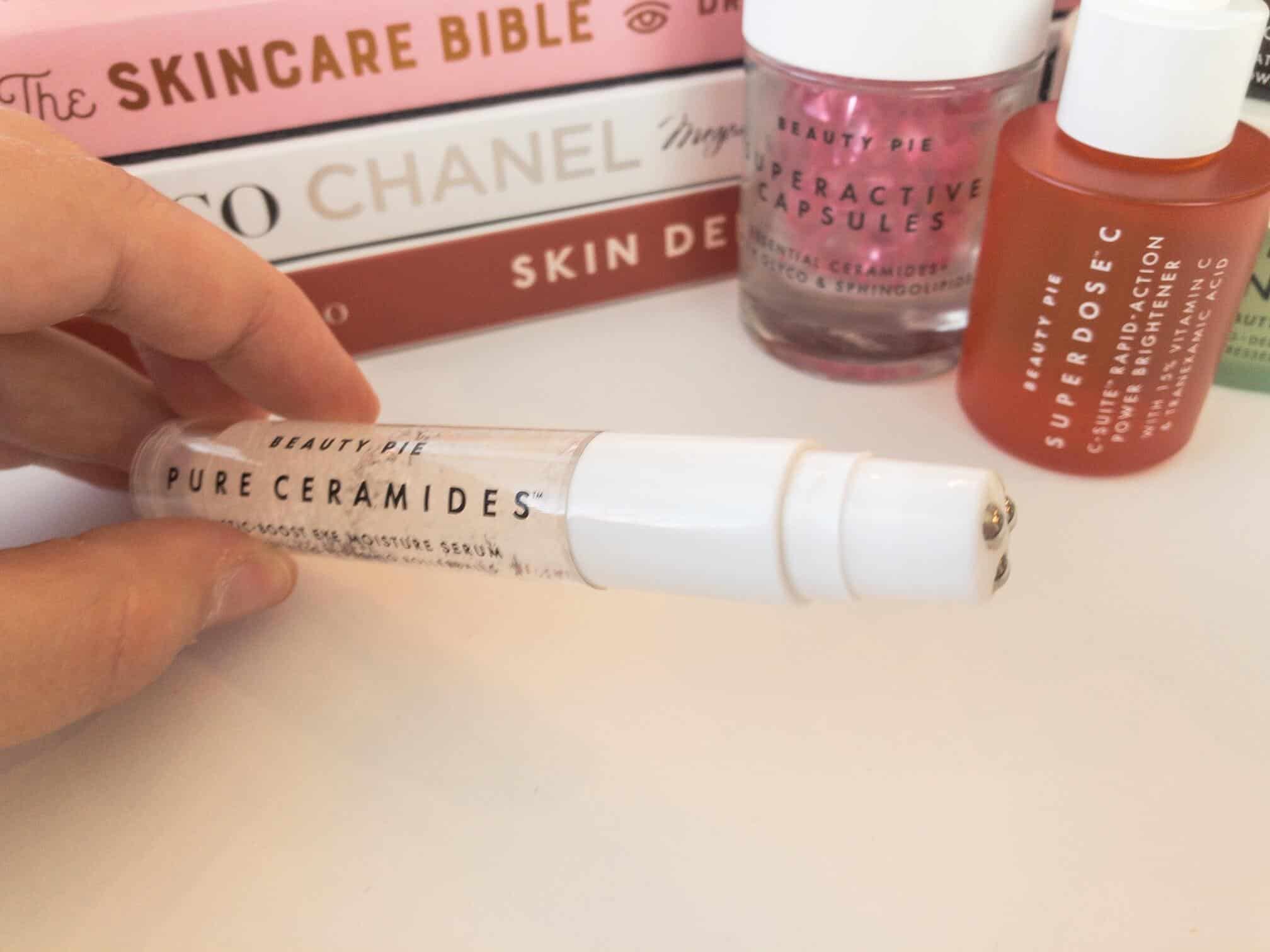 This is a product I've wanted to try for awhile now, but it kept selling out. The rollerball tip combined with a ceramide serum just screamed at me. I knew the rollerball would help with puffiness, while the serum would help combat hydration, signs of aging and dark circles.
This eye serum is definitely worth the wait. I love it. It feels like a little massage under my eyes – very similar to what a face roller does for my face.
Plus, the ceramide serum is cooling and moisturizing, without getting tacky. I stick it in my beauty fridge and use it in the morning before applying my makeup.
Voila! More youthful, less puffy, eyes. #MamaMustHave
2. Uber Youth Super Eye Energy Peptide Infusion Cream: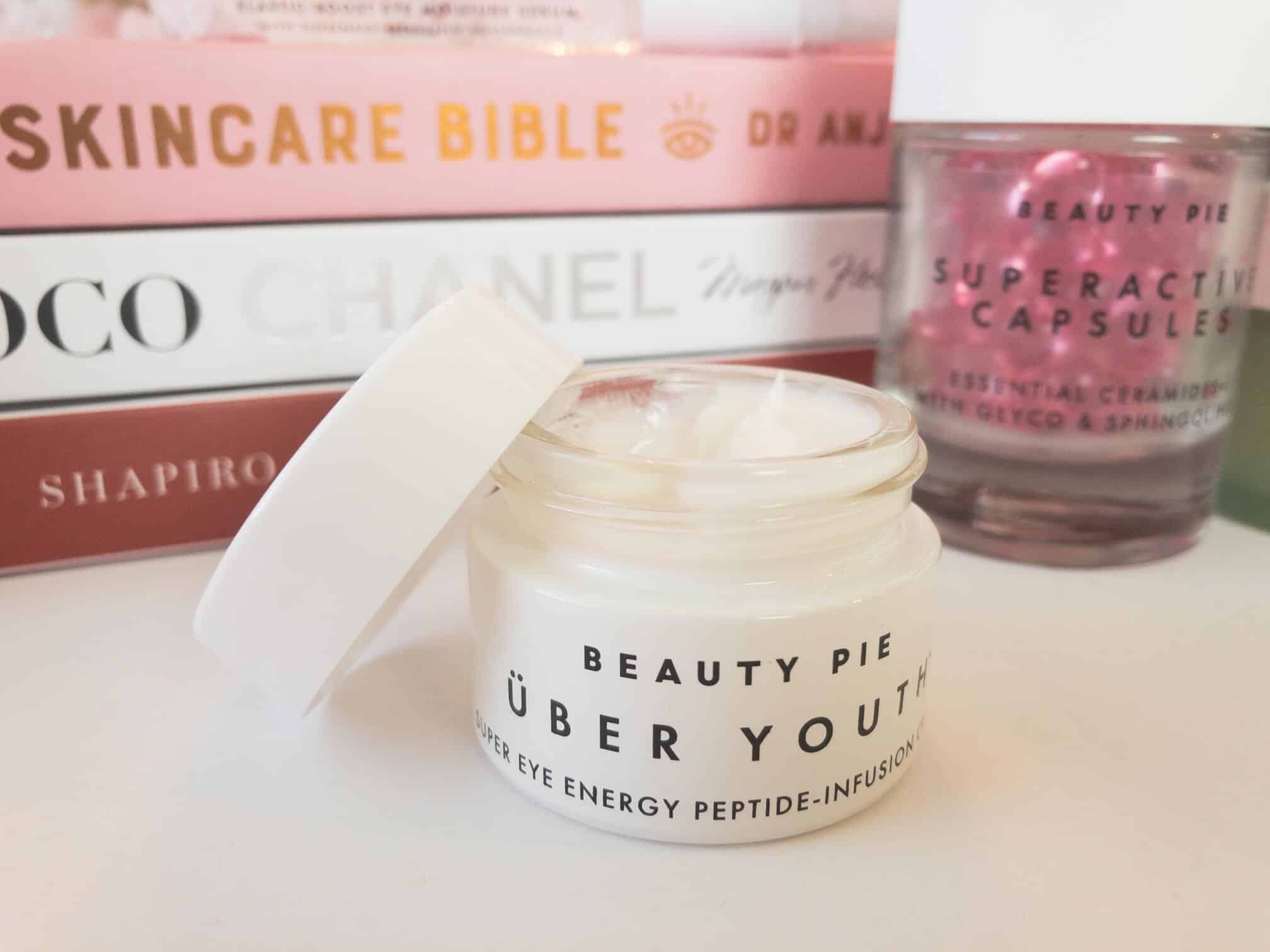 I was super obsessed with the Qi Energy eye cream and almost bought it again – but resisted in favor of this new one I hadn't tried yet.
If set side-by-side, I'm not sure which one I would choose. Okay, I've decided: I want them both.
This one has a really creamy texture, without being too thick or too runny, and is so moisturizing as soon as it hits the skin. I really love how it feels and how my undereyes instantly look smoother and fresher.
I'm not sure what kind of magic they've put in this eye cream, but I like it, I love it, I want some more of it.
3. Superdose C Suite Rapid Action Power Brightener: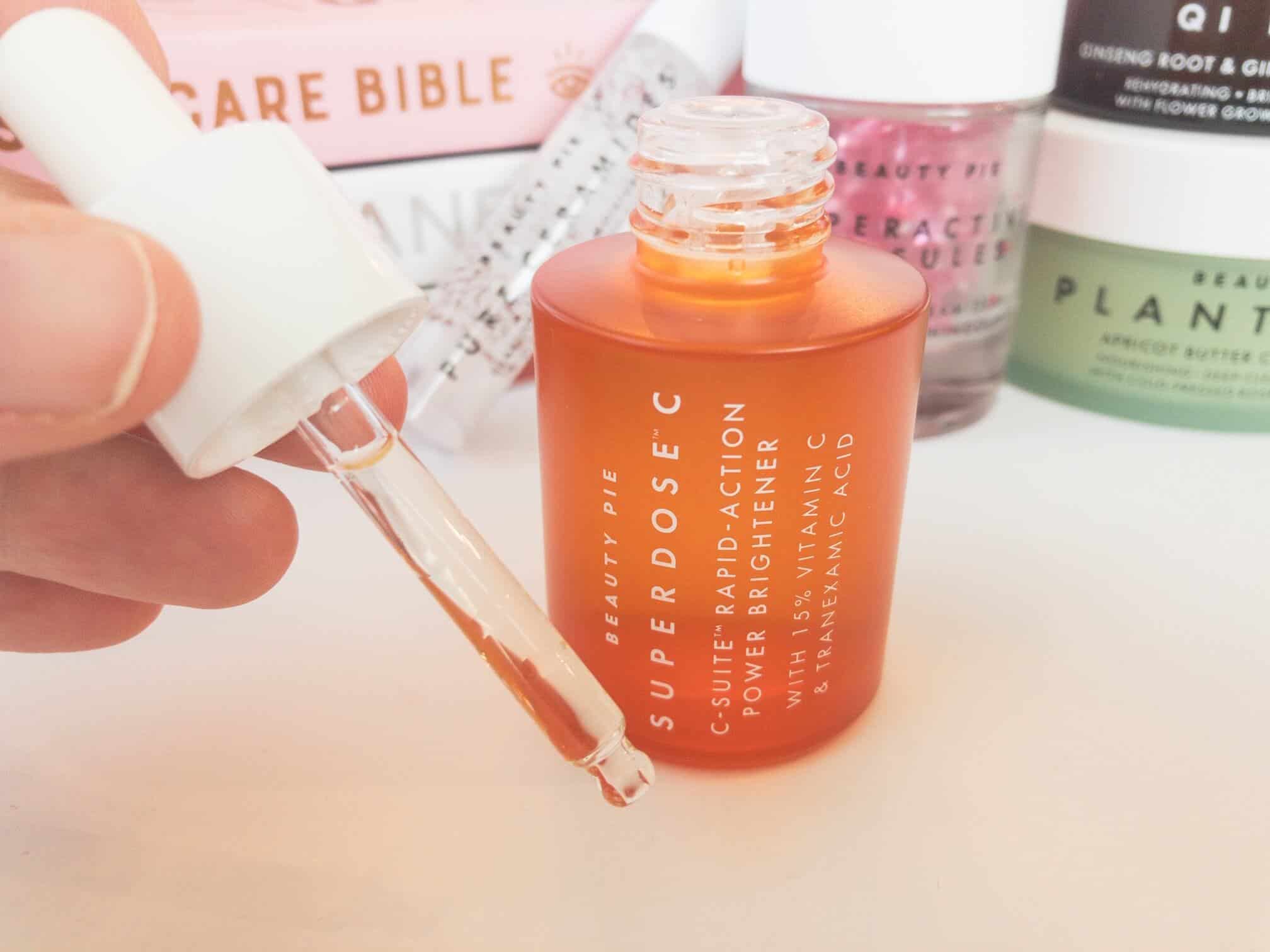 I'm all about Vitamin C right now. I am working towards getting rid of the last traces of summer on my skin, so I can go into winter with that perfect, poreless, glassy canvas – or at least as close as I can get.
Vitamin C is one of those must-have ingredients for great skin and I regularly work it into my routine. However, this superdose C stood out to me because it also has Ferulic Acid and Tranexamic Acid, which together, create a powerhouse for brightening skin – while still being gentle on sensitive skin.
Overall, I really like this one. It is definitely a serum and it watery, so you can easily overdose and waste product. But, there is a cool design to the bottle that tries to cut back on that. I stick this in my fridge too and it creates an incredibly cooling effect when I put it on at night before my face cream.
I haven't noticed a tremendous difference in the week I have been using it, but I love that it's gentle and fragrance-free. Results TBD.
4. Qi Energy Ginseng & Ginger Face Cream: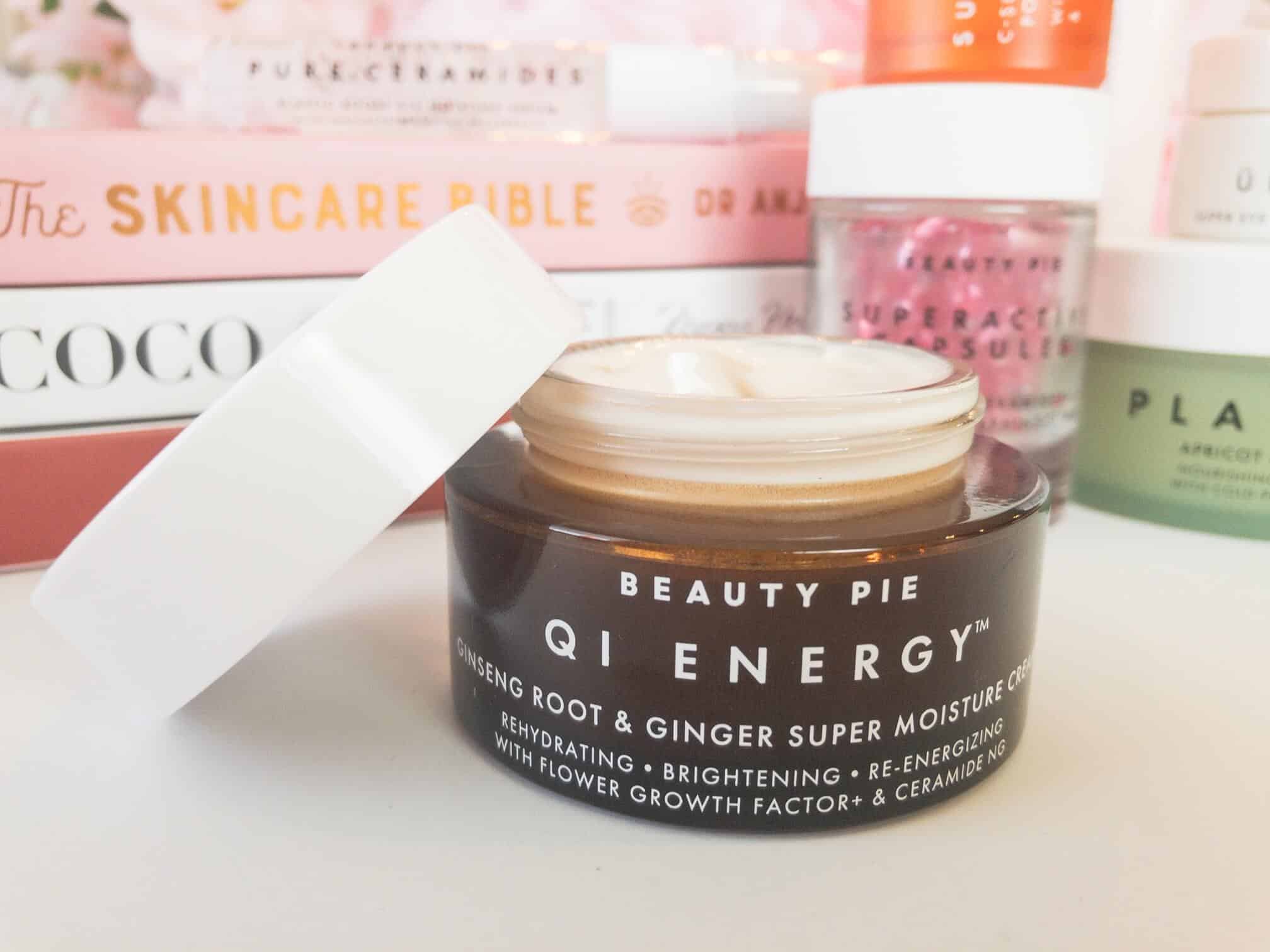 OBSESSED. WITH. THIS. Qi Energy is OFFICIALLY my favorite line at Beauty Pie. The eye cream also blew me away – which I think I already mentioned, but it's so good – I don't even care!
This face cream just has a very similar vibe to the eye cream and rubbing it all over my face is a pleasure. The description says it's like "liquid acupuncture for your stressed out face" and that is pretty much the most perfect description that you could come up with for this product.
Your skin just drinks it right up and then thanks you for it by giving you glowing, softer, younger-looking skin.
5. Superactive Capsules Essential Ceramides: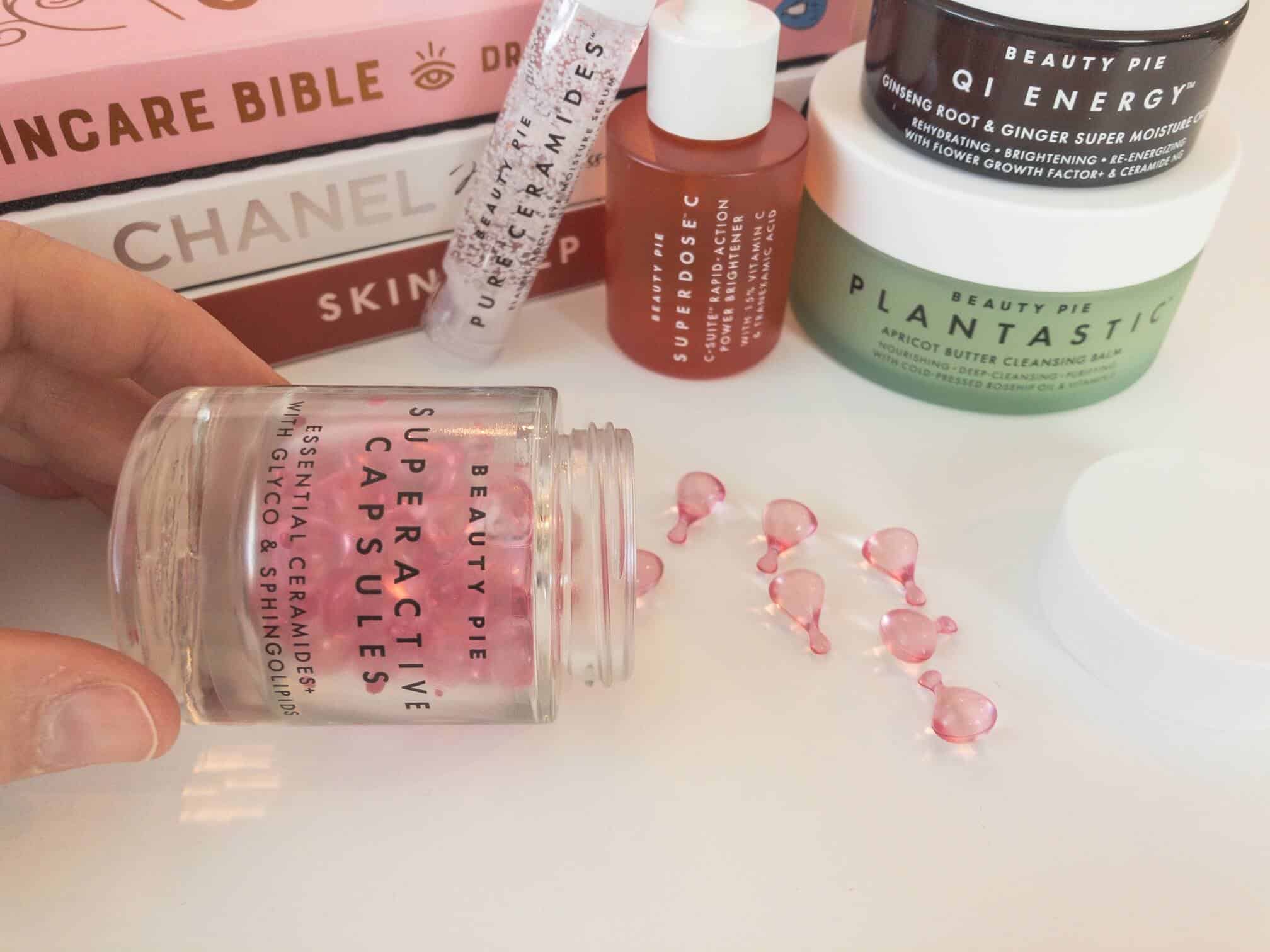 I have wanted to try something from their capsule essentials line for months. After awhile, I settled on the superactive ceramides, because I am really feeling the benefits of ceramide skin care right now.
These single use capsules are perfectly portioned to make it easy to get the right amount of ceramides on to your skin ASAP. Also excellent for travel (but who's really traveling right now?), these ceramide capsules are packed full of "Sphingo-and-Glycolipids, which help support your natural Ceramide production, for longer-lasting moisture and dewier, glowier skin."
Ultimately designed to support the skin's natural barrier, so other products can actually penetrate more deeply and give you better, longer lasting results, they also deliver on their promise of turning back the clock. Because, after all, more hydration is the key to smoother, younger looking skin.
I just love how fun it is to crack open the little pink capsules before rubbing this pure magic all over my skin.
6. Japanfusion Pure Transforming Cleanser: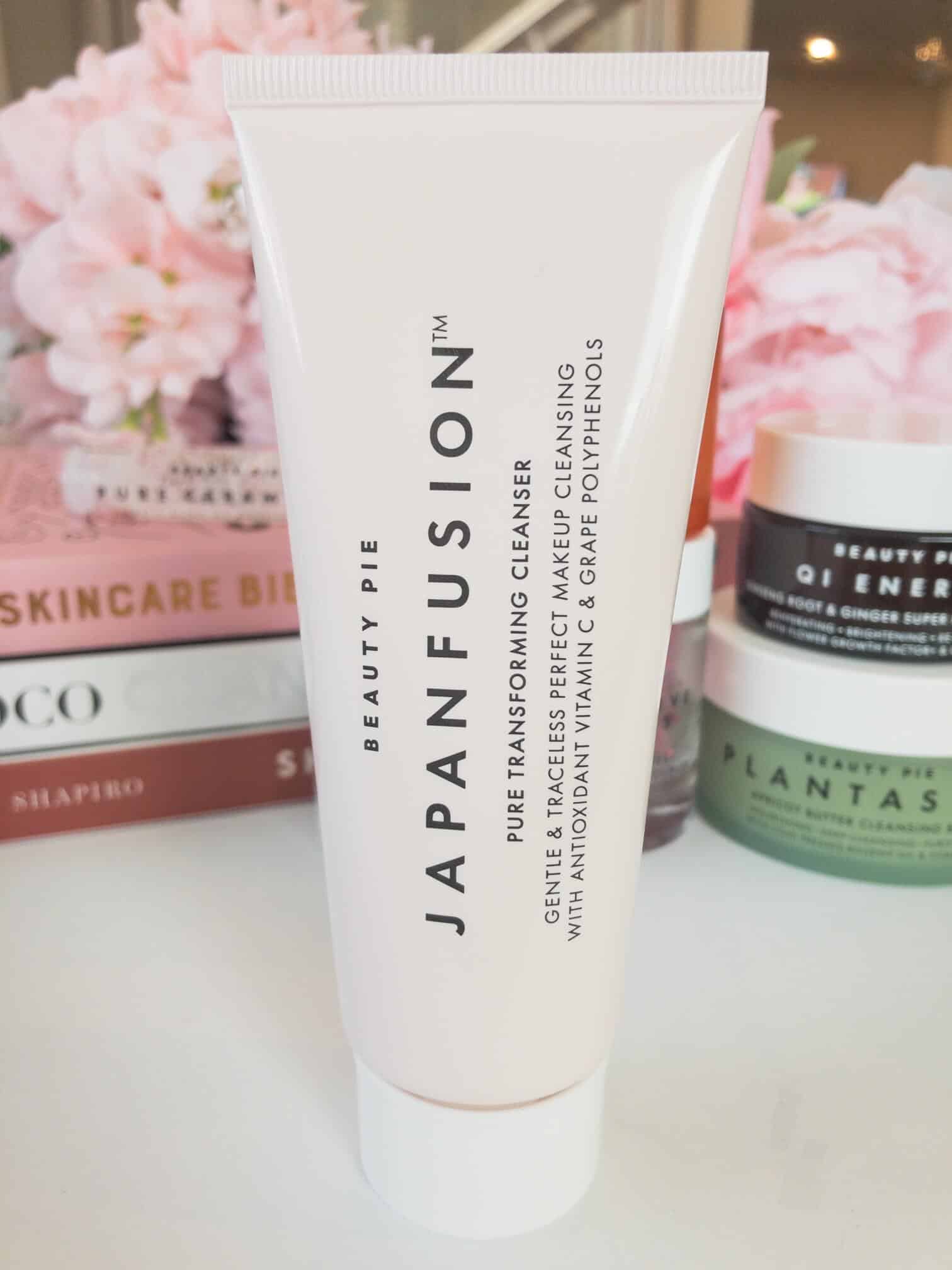 I haven't tried any cleansers from BP for awhile. I recently shared my favorite face cleansers in this post and have been systematically working through my rather large face cleanser collection.
Now that I am nearing the end – it was time to ramp up my cleanser shopping and this one had reviews that stopped me in my tracks.
But, as much as this super soft, luxuriously calming cleanser feels amazing on my skin – and then leaves me with a lightly fragranced face so soft a baby would be jealous – it does a very poor job of removing makeup. This is sort of a must for me, as I am far too lazy to double cleanse every day.
So, I would say – it's a great cleanser for after workouts or to use in the morning, but don't expect it to do much more than leave your skin super soft.
7. Plantastic Apricot Butter Cleansing Balm: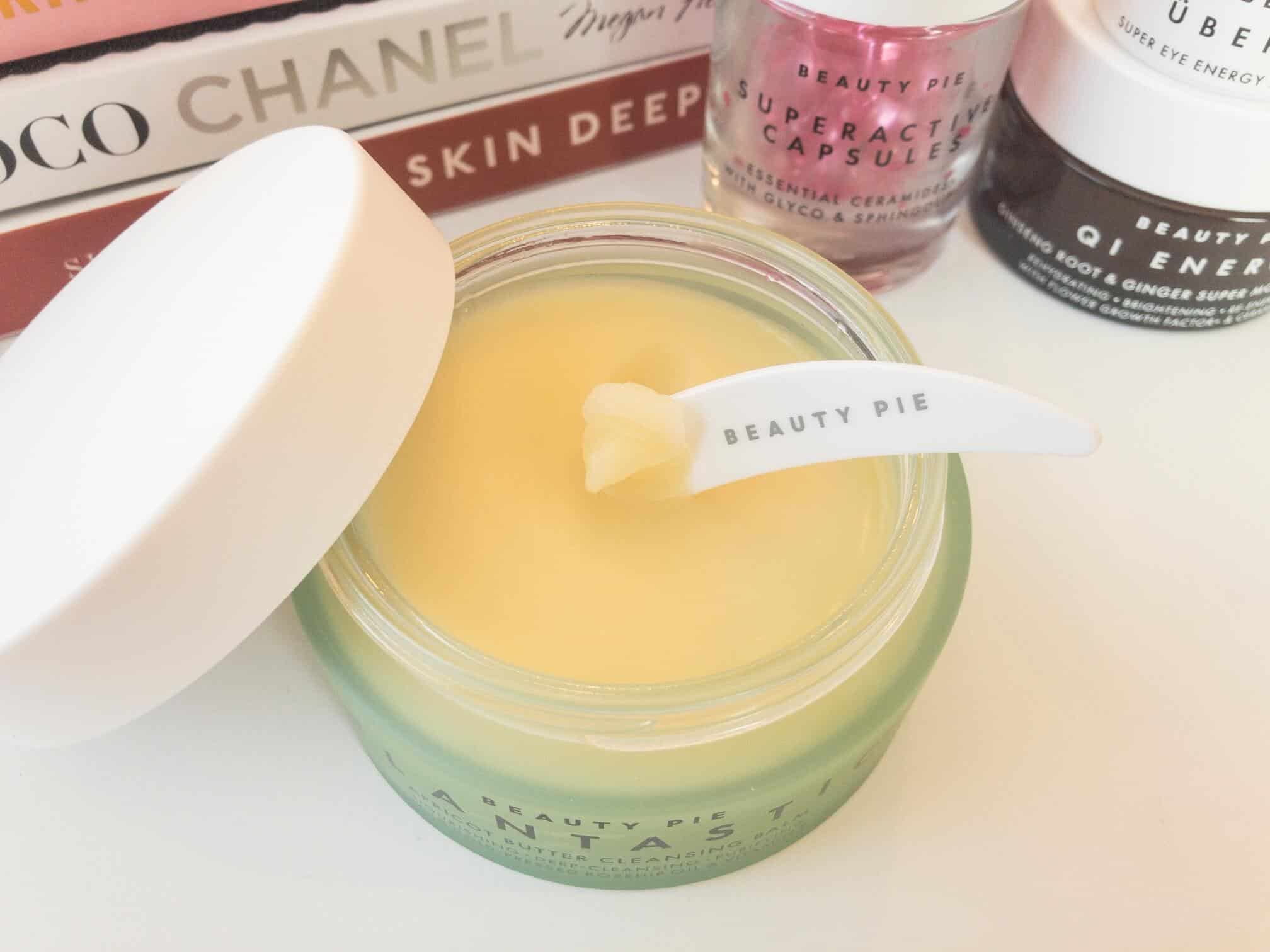 If you read my post on face washes, you know I sing the praises of the cleansing balm several times. I agree they are a little bit higher maintenance than other types of cleansers, but the pay-off is usually so worth it, I don't even care.
I was really excited to try this cleanser, because the size is generous and the ingredient list is impressive. Just maybe, I thought, this could end my addiction to the Farmacy cleansing balms that cost an arm and a leg.
But, alas, this is one product I won't be reordering. The balm is a little tiny bit grainy, which isn't terrible for exfoliation, but it's great when rubbing it around your eyes to remove makeup. And, unlike other cleansing balms that rinse clean, this one leaves a bit of a film on my skin that takes a bit too much effort to get rid of.
It's not bad – but it's not great. If you're looking for a BP cleanser, skip this one and go straight to the Jeju Daily Purifying Cleansing Milk, which is still my favorite one from BP.
*****
So, how much did this little pink box of skin care goodies cost? Let's break it down:
I had a $200 spending limit, from two months of membership, plus a $50 rewards from someone using my referral link. This gave me $250 for a spending limit.
Here's what I paid:
Membership: $20, for two months of $10 memberships combined
Products: $79.82
Shipping: $8.27
Total: $108.09
I ordered 7 products, so this breaks down to roughly $15 a product. Even if we are talking about a face wash, that is not significantly higher than drugstore pricing and certainly lower than Sephora. For the high-end skin care, $15 is lower than even a drugstore product and these are significantly better than drugstore quality.
Overall, I still think that Beauty Pie is a fun way to try new products and save money on them. They do have an extensive line of beauty products, too, which I have only tried a few so far. I think in my next box I will try more of those and let you know what I think.
For past Beauty Pie reviews, check out these posts:
Do you have a favorite Beauty Pie product? Share it in the comments below.
Have a fabulous day,
E