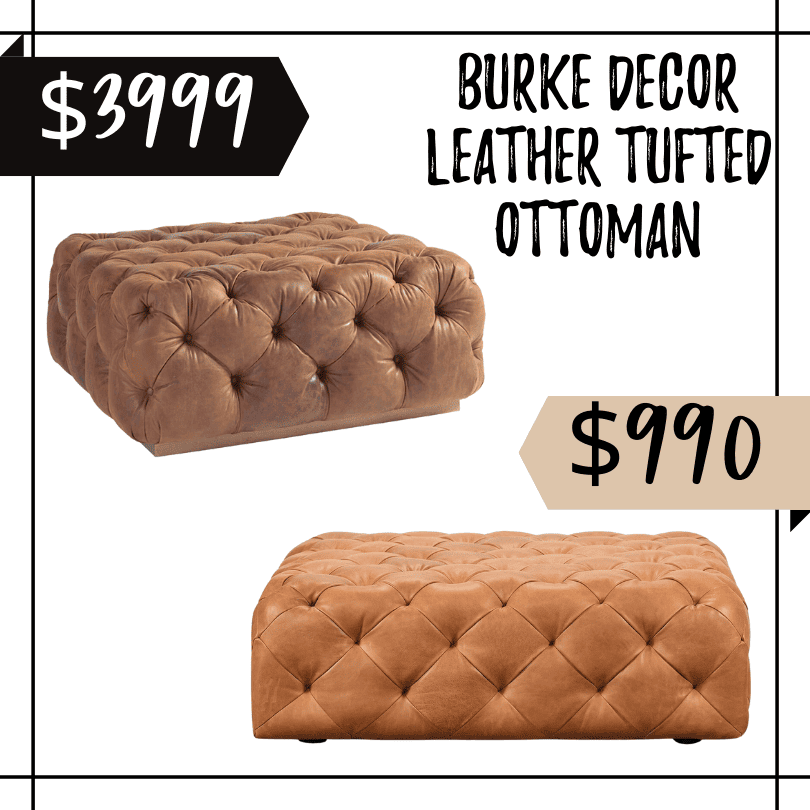 I'm working on updating our loft, which has been a bit of a dumping ground for old furniture and lots of toys, and turning it into something that fits our lifestyle now that the kids are older. Do we still need that old train table? No, we don't. And, since the couch and ottoman currently in the space are also quite old, I've been looking at what I want to replace it with and I've been drawn to these cognac colored tufted leather ottomans.
But, the price range has been surprising. That's why when I saw the beautiful Burke Decor Laurel Leather Cocktail Ottoman, I had a vision of what I was looking for, just at a price that I can afford (especially for a kids hang out).
So, here are a couple of gorgeous leather ottomans in two different price points, in case you've been in the market for the same thing.
Square Tufted Leather Ottomans:
These are both gorgeous options, just depends on what size and price you are looking for. Size is pretty close on these, but there are other details that differentiate them, such as the leg/base design.
This is a beauty, no doubt. A 42 inch square with what looks like a beautiful wood base at the bottom. I really love this one and I'm sure it would be extremely well made and last forever. And, at almost $4000 – it should.
For more info on this one, check it out here.
Here's a similar looking tufted leather ottoman. Made from full-grain pure-aniline dyed Italian tanned leather in cognac tan, for under $1000. This one is a 40 inch square, which is actually perfect for our space, and the base has four dark wood legs.
For more info on this one, check it out here.
*Affiliate links used here, which means these are commissionable links.
More Splurge or Save Deals:
Still looking for the perfect piece? I have tons of home decor posts on the blog to help you out! Here are just a few that you might like:
WANT TO SAVE $3O ON YOUR OTTOMAN?
Don't forget to use Rakuten for all of your online purchases. I got over $400 in cash back just last year alone from using Rakuten. I seriously don't know why everyone isn't using it, especially on big purchases like rugs and furniture. Click here to get a Rakuten account and get $30 in cash back after your first purchase of $30.
*******
Have a fabulous day,
E