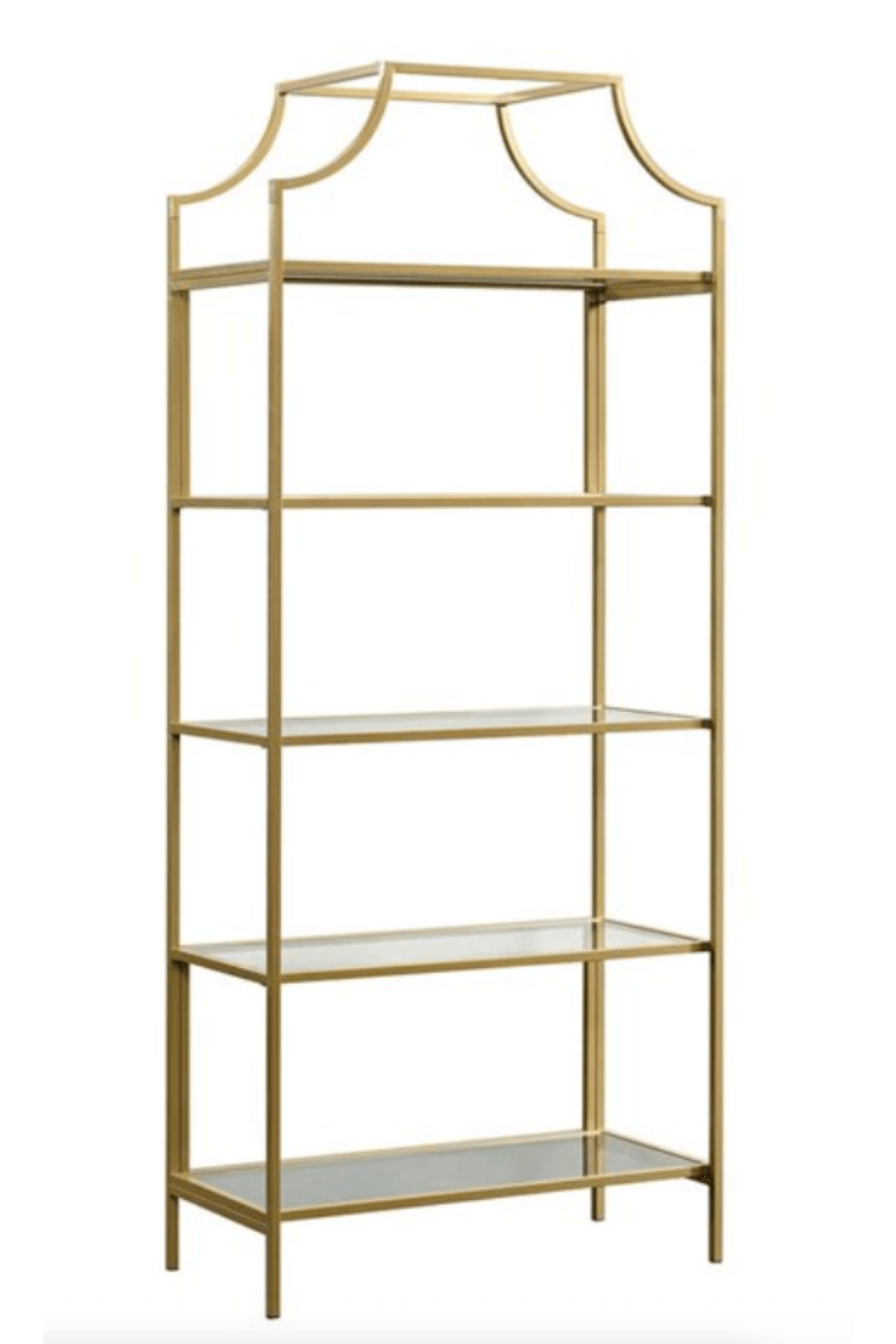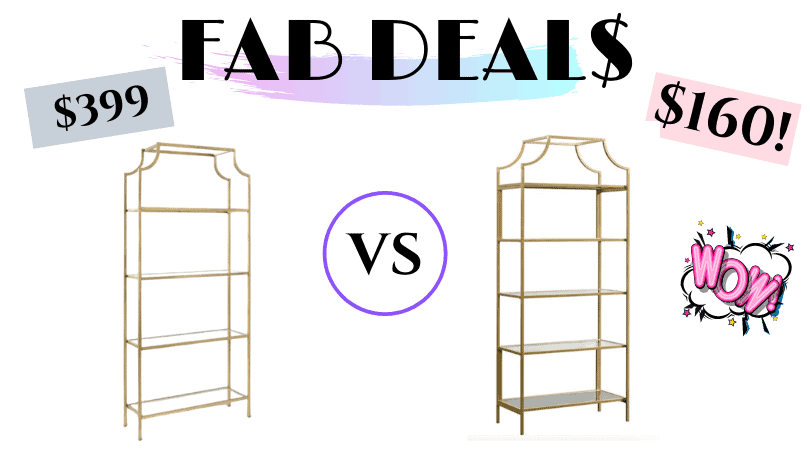 I love a gold etagere. I first spotted the look years ago when they began popping up in designer rooms everywhere. Suddenly, I had a gold etagere shaped hole in my life.
Of course, I didn't have a place to put a gold etagere then – and finally, years later, I have an office space to call my own and I have a big decision to make: to buy or not to buy a gold etagere.
I mean, is that even a question, though?
So, of course I went scouring the internet until the break of dawn to find the most affordable and gorgeous gold etagere.
I was super close to buying this one from my standby store – Cost Plus World Market (looooooove you!):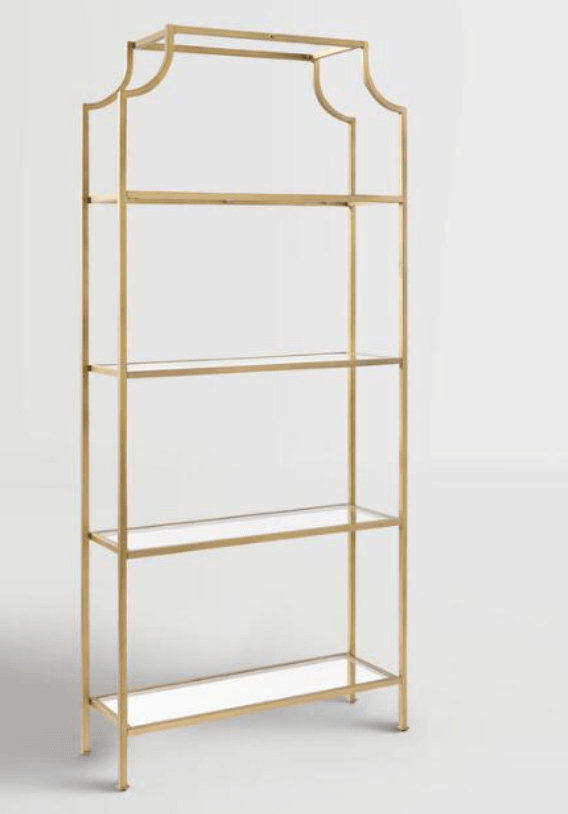 This one is a purty purty girl. Yes she is. Come to mama.
With a brushed gold frame and glass shelves, she's practical and aesthetically pleasing – which is my favorite kind of home decor.
Since this will be in my office, it doesn't matter that it's not exactly child friendly. I get at least one space to myself, right? Right?
Don't answer that. Instead, let's talk about size – this beauty measures 36″W x 12″D x 80″H and 54 lbs with 18 inches between shelves. That's a loooooot of storage, baby.
I think these look particularly good when symmetrical, such as two of them on either side of a settee or doorway. Very chic.
This is still more affordable at $399 than most I found, with some etageres clocking in at over $1000. WOW.
But, before I hit – add to cart – I looked even more and found this one: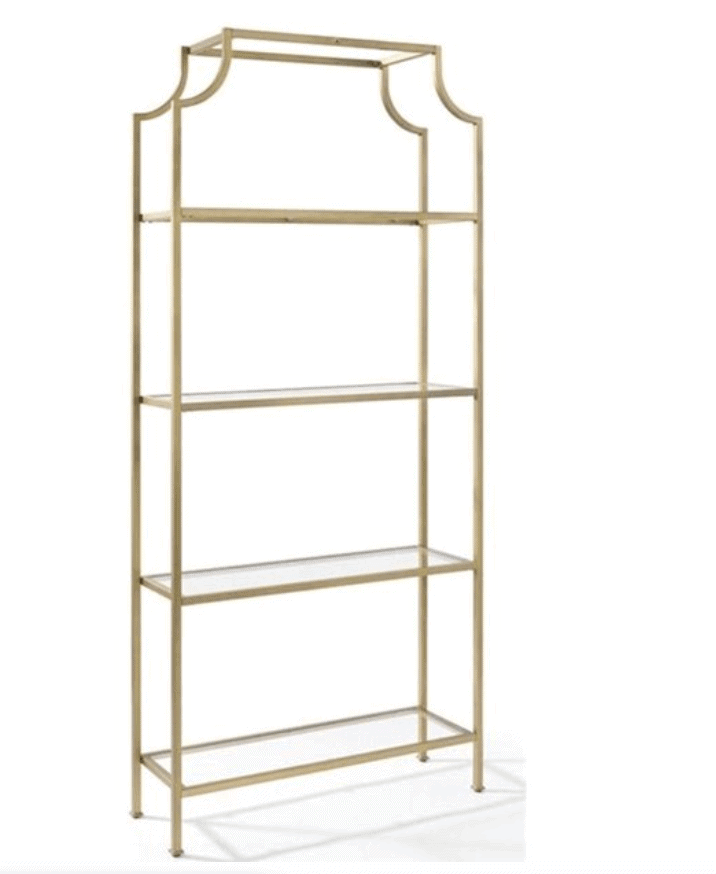 Um…are you thinking what I'm thinking?
This one will only cost you, wait for it, $160. Yes. You hear me. It measures slightly differently, though, so get out that measuring tape before you commit – with measurements of 70.87" H x 30" W x 14.49" D and 60 pounds.
Really, not much different – except for the price. You could get 2 of these for the price of one of the other ones. I call that a fab deal, friend.
Check out the Sauder gold shelf here.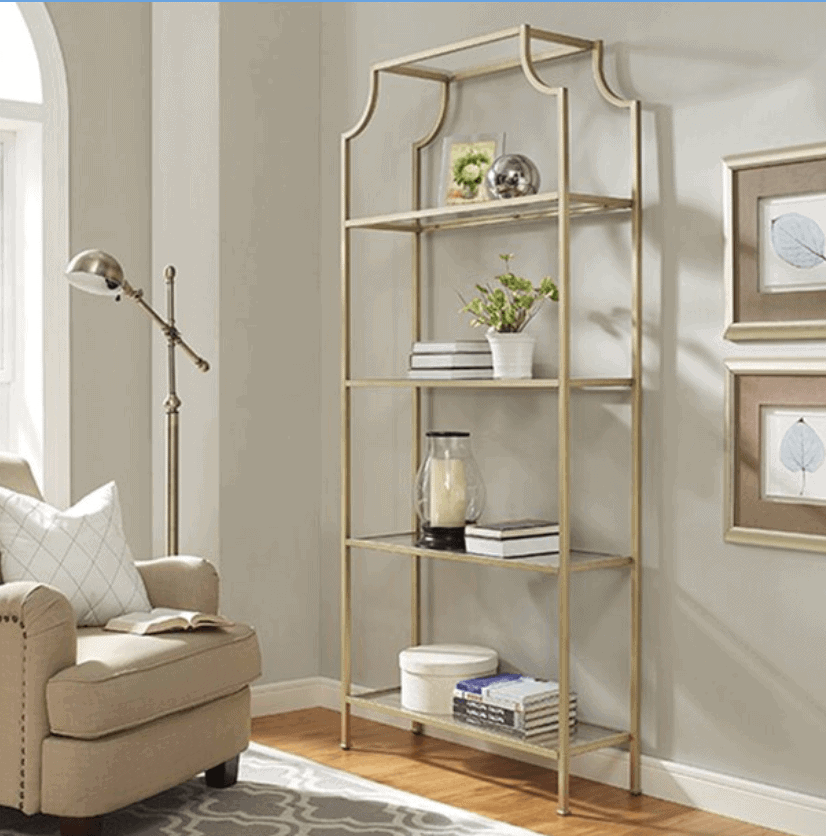 For only a little more, at $225 – this etagere is the EXACT SAME MEASUREMENTS as the World Market version! WHAT?!?!?
So – literally no compromise at all on size and you are saving over $100. I could buy a lot of coffees with $100 – you know what I mean?
*****
Anyway, I love decorating, designing and shopping for a bargain. I hope you love these Fab Deal$ as much as I do.
I also shared this Fab Deal$ where I offer you a killer lookalike for a popular blue wooden beaded chandelier.
And, if you want more great deals, check out these popular posts:
Stay tuned for more coming soon – I'm deep in designing mode for my office and have stumbled on several amaaaaaazing deals.
Have a fabulous day,
E