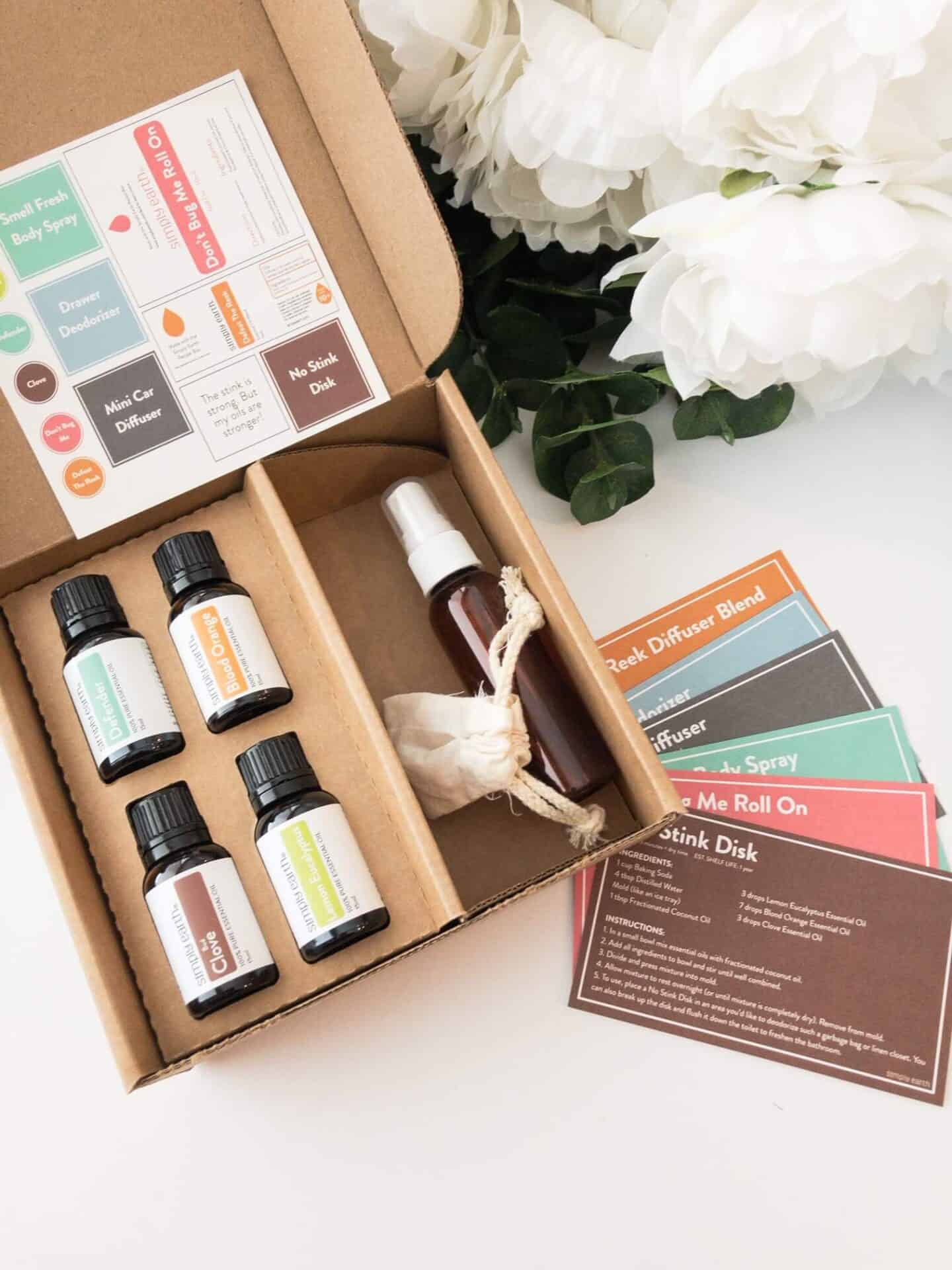 I really love all of the ways that we can detox our home, our body care and our diets – but I think we can all agree that it can be a little overwhelming and (sometimes) expensive to do. That's why I am always looking for easy hacks to making these lifestyle changes easier!
When I found out about the Simply Earth essential oil subscription box – I was all in! Talk about a super easy way to up your essential oil game and make super clean recipes for home and body care, all from the comfort of your own home.
So, when Simply Earth reached out about working together on a post and shared their mission to donate 13% of their proceeds to fight child trafficking – a cause I have been VERY passionate about for almost 20 years – I knew I had found my subscription box soul mate.
I want to share all the details of the Simply Earth box, as well as a crazy good incentive for you to check it out if it's right for you.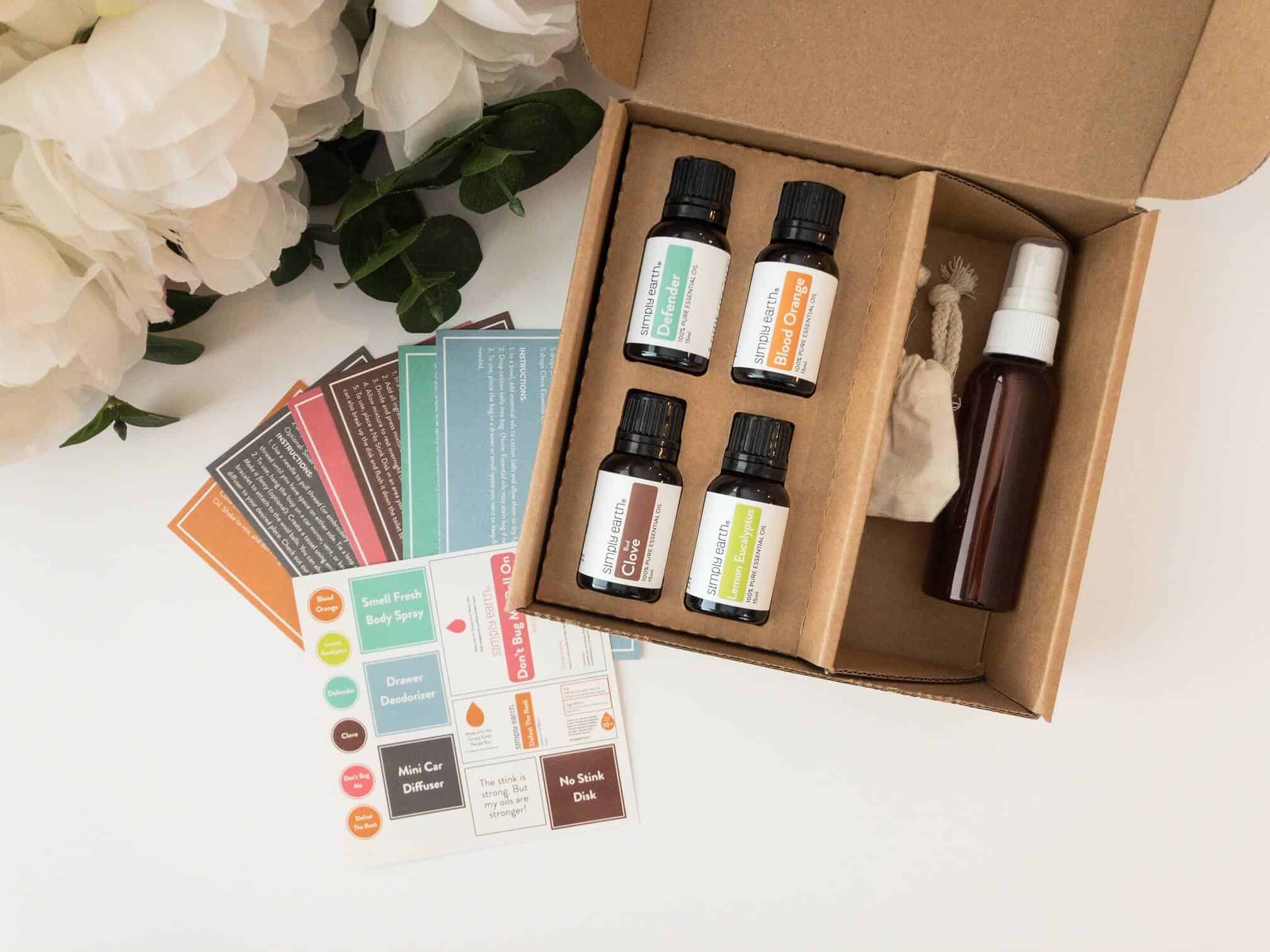 The mission of Simply Earth is to make it easier, and more affordable, to make essential oil based recipes for your home.
From natural deodorant sprays to home cleaners, each box comes complete with 6 recipe cards, essential oils (my first box had 4), stickers to label your new creations and every thing you'll need to make 6 recipes come to life.
With your first month, you also receive a BONUS BOX that is a crazy value. My bonus box came with a full-size coconut oil, almond oil and fractionated coconut oil – three things you'll need to whip up almost any essential oil recipe. The box also included 6 roll-on tubes and 6 essential oil containers, too.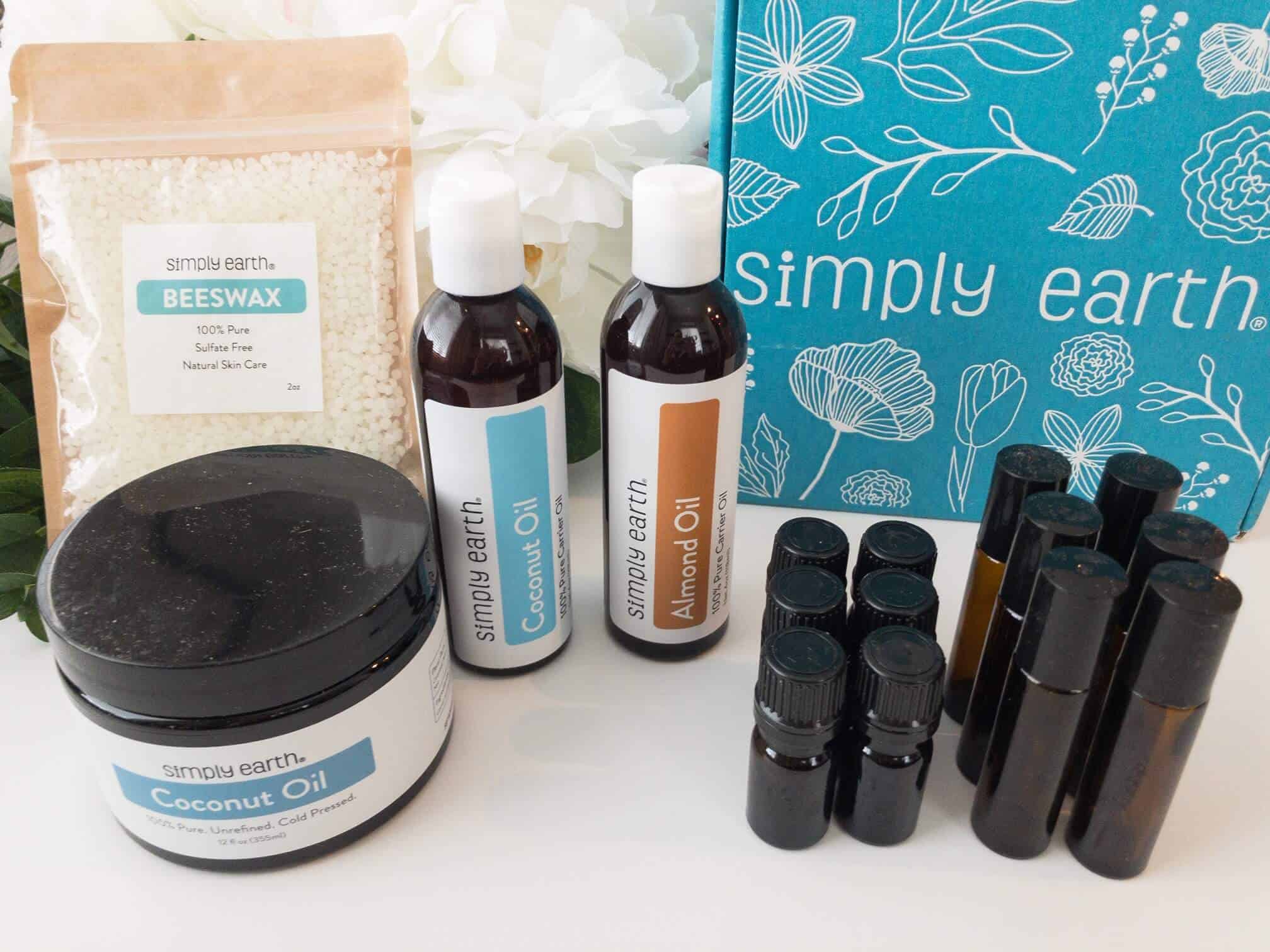 I am not seriously prepped to up my essential oil game in a big, big way. Because even though I've used essential oils for years – I've bounced around from brand to brand and often looked for recipes on the internet. Some of those turned out better than others #TrueStory.
I love that Simply Earth sends you everything you need, guides you to particular recipes each month, and makes it super easy to build my own home remedy kit. Plus, they are giving ambassadors like me a $40 gift card to anyone who signs up using my link and code ISPYFREE. You will receive the $40 gift card after purchasing your first box and bonus box and can use that gift card towards a future box, purchase in the shop, etc. That essentially means you can get 2 months of boxes, and the bonus box, for the price of one. #2for1
More About Simply Earth:
If you're a true EO enthusiast, you'll want to know more about the essential oils. You can find a lot of information on their site, but here's a quick rundown:
All essential oils are 100%, GC/MS tested to ensure purity, and ethically sourced from smaller, family-owned farms. They also have a generous return policy if they just don't work out for you.
Learn more about Simply Earth here. And, don't forget – use my code ISPYFREE for the special $40 gift card and bonus box deal.
Why Essential Oils?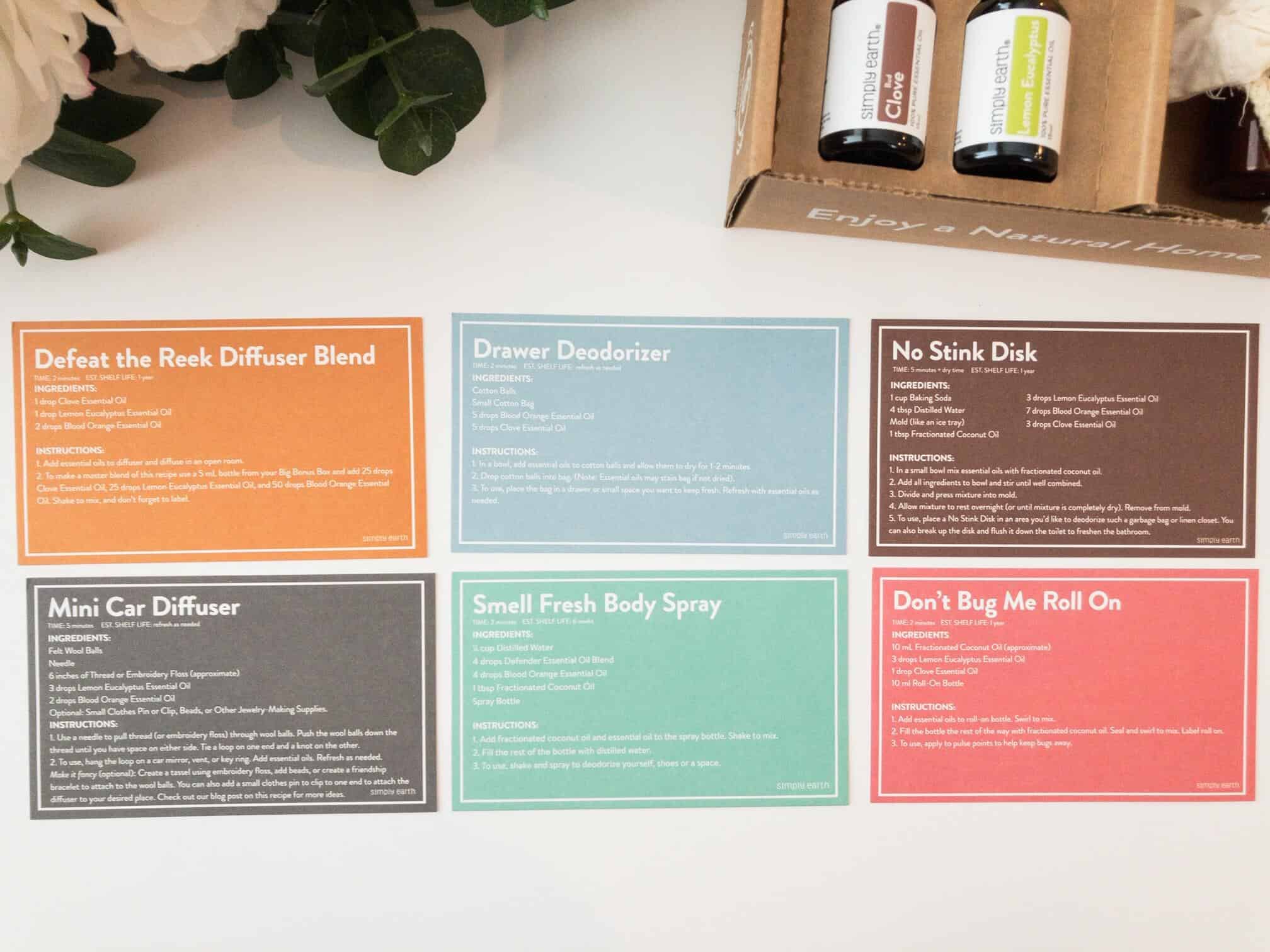 If you're new to EOs, I always like to mention what the big deal is with them. Essential oils use the power of aromatherapy – which has been used for centuries in many different cultures to treat a variety of health conditions and ailments. Over time, as western medicine has evolved, many have transitioned to a more clinical approach to health, which is typically more symptom management based using pharmaceuticals.
Aromatherapy goes back to the roots of overall wellness and harnessing the power of plants and the earth in the form of distilled tinctures that can help treat various symptoms before they progress. By smelling them, they stimulate the smell receptors in the nose, which then sends messages to the nervous system.
While I am not a person that will treat everything with just essential oils, and I personally never ingest them, I do believe in a well-rounded approach that takes advantage of all avenues for increased wellness – including essential oils. I also don't use essential oils straight on my skin or anyone else's – because I have super sensitive skin. I always dilute with a fractionated coconut or almond oil, which is what makes the Simply Earth bonus box so great – you won't need to hit the store for any other things!
*****
Are you a fan of essential oils? Would you ever try an essential oil subscription box? Share your thoughts in the comments below! If you love natural remedies, I write a ton of wellness content here you might like. Here are just a few:
I also have a bit of a subscription addiction. Here are a few more of my favorites:
Have a fabulous day,
E