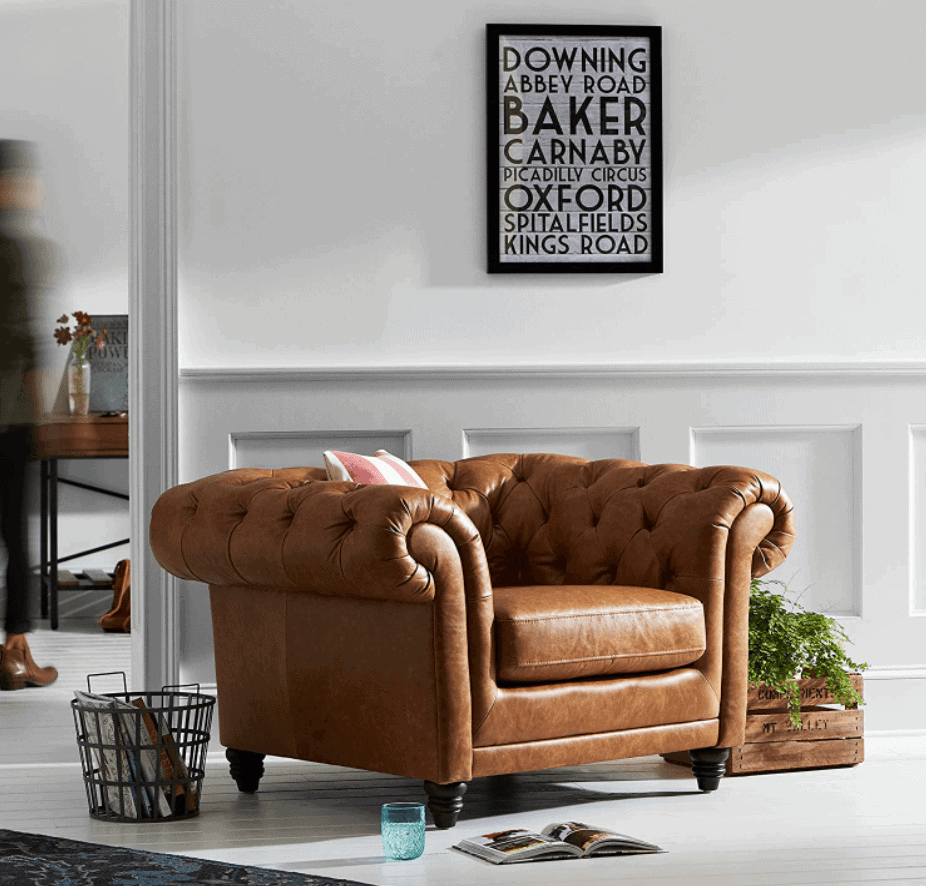 I love me some Pottery Barn. Every time a catalogue comes out, I think to myself – man, they did it again! Their chesterfield leather armchair is no exception. I love a good chesterfield, with the button tufting and the rolled arms. It's just such a chic classic design.
When we decorated our casita, I was drooling over a chesterfield love seat and ended up splurging on it. I wish it wasn't tucked in a side room, because it's definitely a piece that makes me smile every time I see it- and it's super comfortable, too.
Someday in the near future, I hope to pick up a chesterfield leather chair to replace a spot where we currently have a giant bean bag (not as cute, but the kids love it). Once they're done with this thing, it'll be another chesterfield for me.
But, like I normally do, I started looking for a more affordable dupe for the Pottery Barn chesterfield and, lo and behold, I found one. Let's take a look at both.
Pottery Barn Chesterfield Leather Armchair: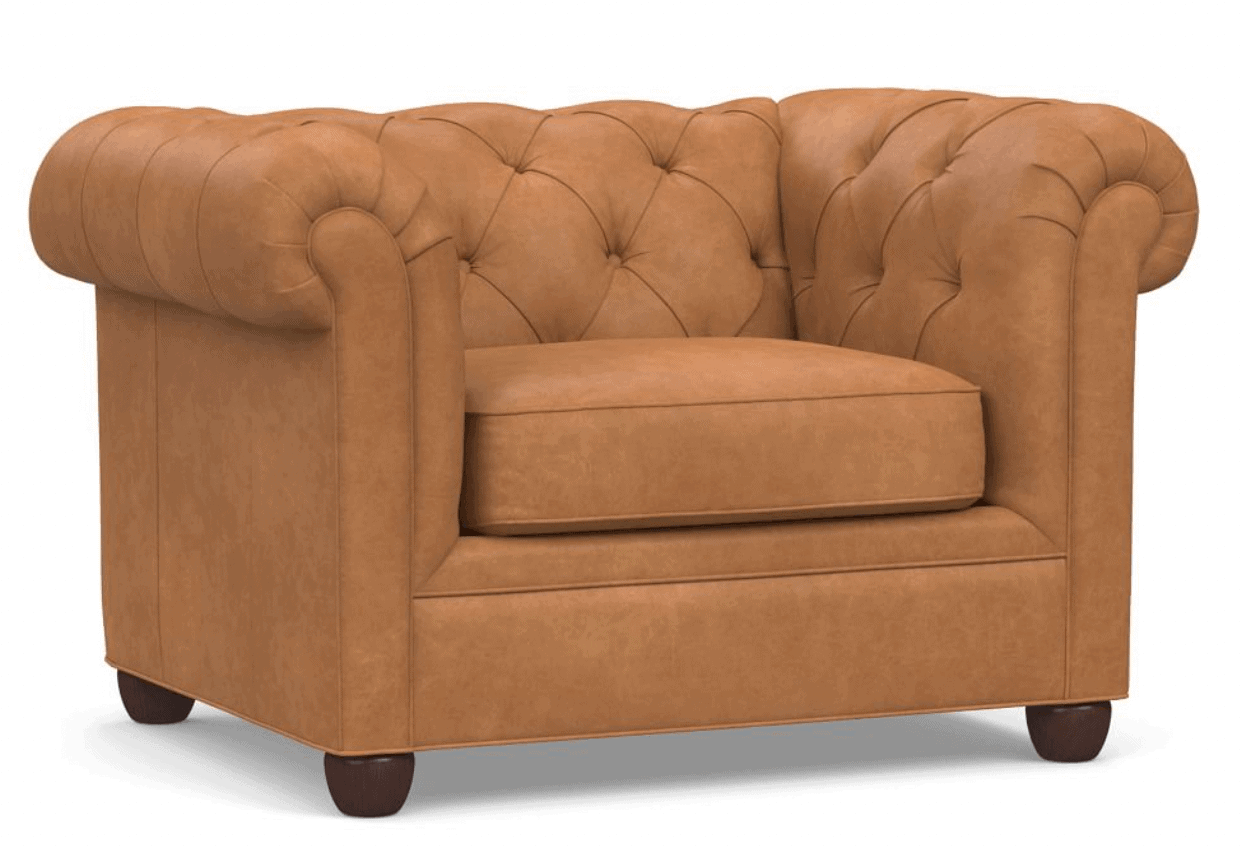 First, let's look at the original. Gorgeous leather with the classic chesterfield rolled arms and beautiful button tufting. A generously sized arm chair made for lounging, this is 50 inches wide. There is a 44 inch wide version if you wanted something smaller.
Available in 33 fabric options at time of posting, you can really get your chesterfield made to your home decor style. Just know that all but one of those fabrics are custom cut and shipped in about 17 plus weeks (ouch).
This color is my personal favorite and it's called Churchfield Camel. Delicious.
Priced at $1,999 for the 50 inch chair, it's a splurge, but one that is made to last. Still, sometimes, you just need to spend less on a chair….
*Affiliate links are used in this post, which means at no cost to you, I may receive a commission if you purchase through my links. Thank you!
Pottery Barn Chesterfield Leather Armchair Dupe: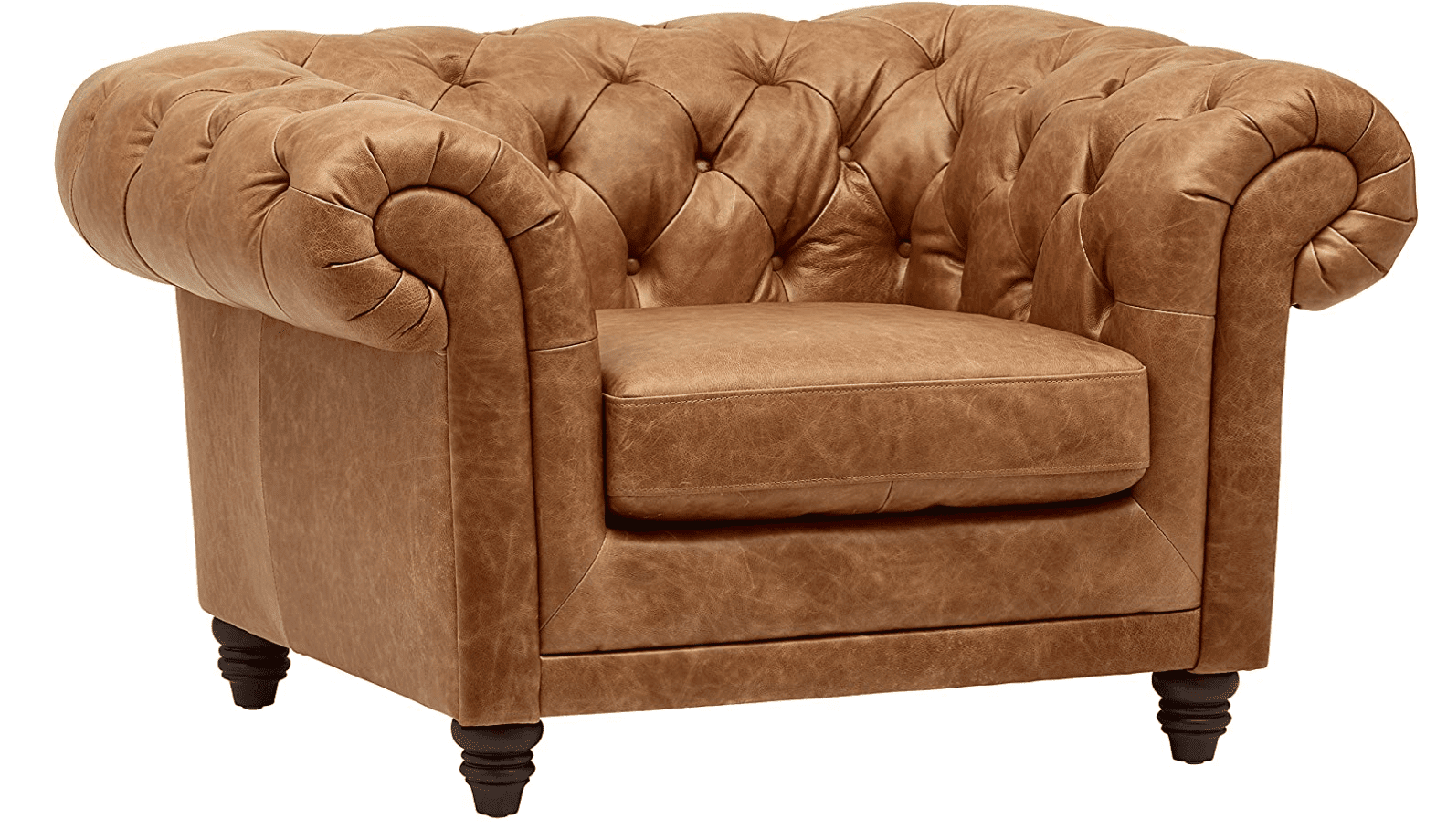 Wowa, baby, look at that! This chesterfield leather chair is made by Amazon's house line, Stone & Beam, which offers super on-trend and classic home decor that ships quick and more affordable.
This chesterfield is available in 7 colors, not all of them are leather, but this camel leather version stole my heart. Also sized around 50 inches wide, it's a generous armchair that anyone can lounge in.
I'm not sure if it's just the photography of the leather, but the Amazon camel leather has a bit of an aged, distressed look and I love it. That's what really gives it that warmth. Add a fluffy throw blanket, a chic lamp, and a soft rug underfoot and it's a nook that will beckon you to curl up with a good book and relax.
I am not allowed to share exact pricing for Amazon products, but I can tell you it's currently less than half of the PB chair price.
Designing a Reading Nook:
These chairs really inspired me to design a whole space around these chairs. Just check out these side-by-side reading nooks using save and splurge products: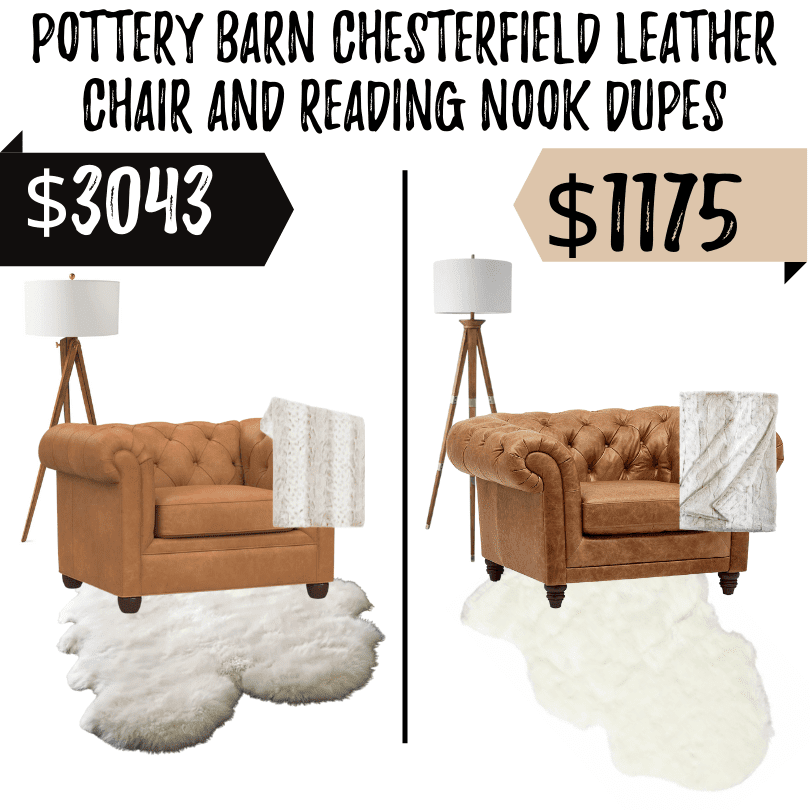 Save:
Splurge:
More Pottery Barn Finds:
I'm a big fan of PB. Sometimes Pottery Barn has a dupe and other times, Pottery Barn IS the dupe, but one thing is for sure – I love Pottery Barn. I have many of their items throughout my home and I've never regretted purchasing any of them. Their shipping and customer service is top notch. So, choose what works for you and love your home, friends.
*****
I hope you found something you love today!
Have a fabulous day,
E