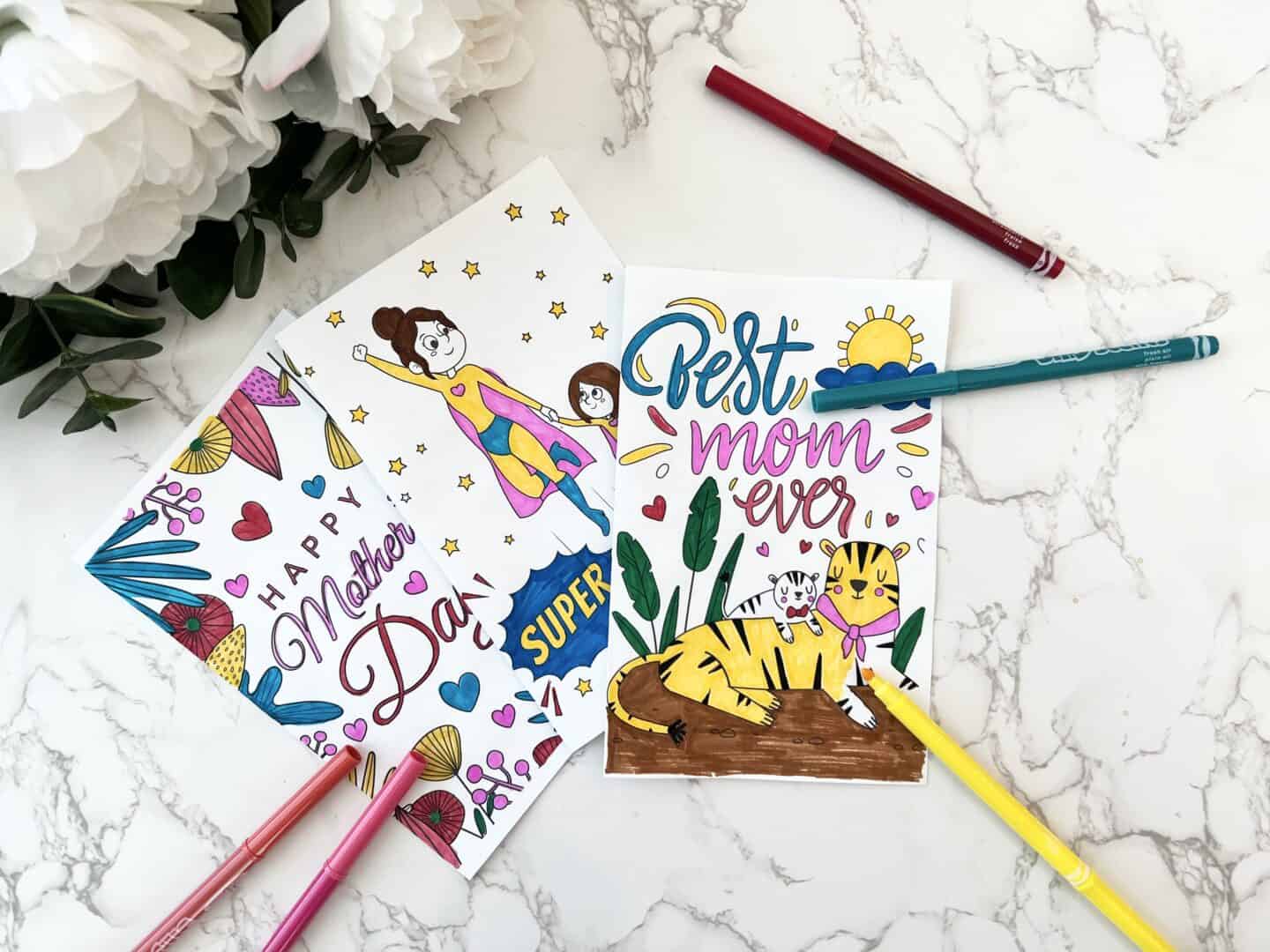 Who's ready for Mother's Day? JK, none of us are. I don't know about you, but we have at least 5 different women that we celebrate on Mother's Day. It equals a lot of cards and gifts and special gestures. It's worth it, of course, to honor the special women in our life, but I'm always looking for ways to help the kids make thoughtful gestures that don't cost a ton of money.
Last year, I spent an all-time high of $50 on just the cards alone. That got me thinking – isn't there a better way we can do this where the kids can participate, make something sweet, that will be just as (if not more) meaningful than store bought cards?
That's where the idea for these printable, colorable cards was born and I think they turned out pretty cute! Now, you can download them for free and use them, too.
Free Printable Cards for Moms: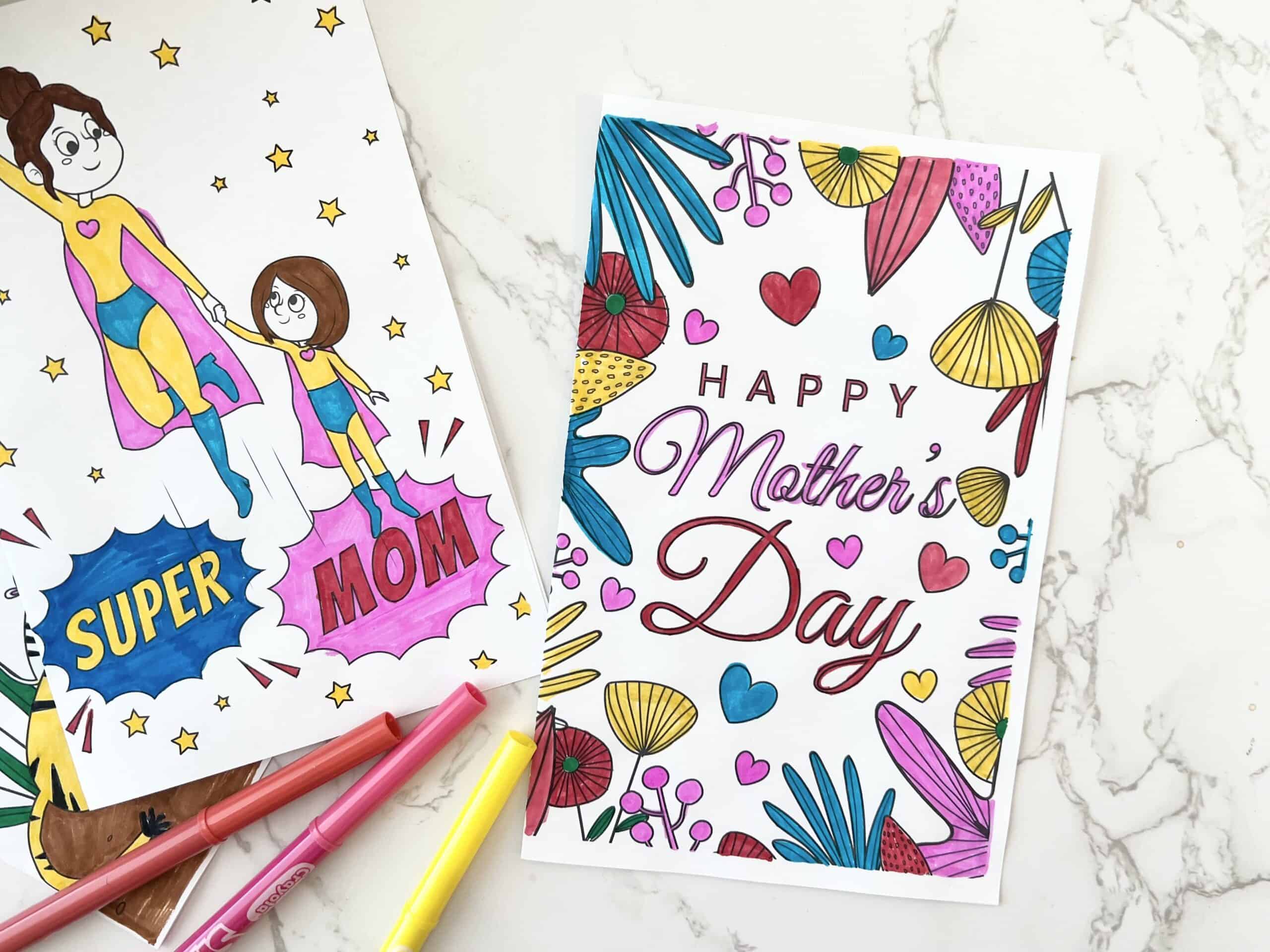 There are three different designs to choose from, all included when you download the free PDF to print. One of them just says, "Happy Mother's Day" with a pretty design. I know how each family unit looks different and it's important to have options that are inclusive to everyone. Not only does my own family not match the traditional model, but many of my former students came from homes where they might be raised by a grandma, an aunt, or a wonderful foster mom. These women deserve to be appreciated, too, so this card gives you the option to color and gift to any woman you appreciate on Mother's Day – or any day of the year.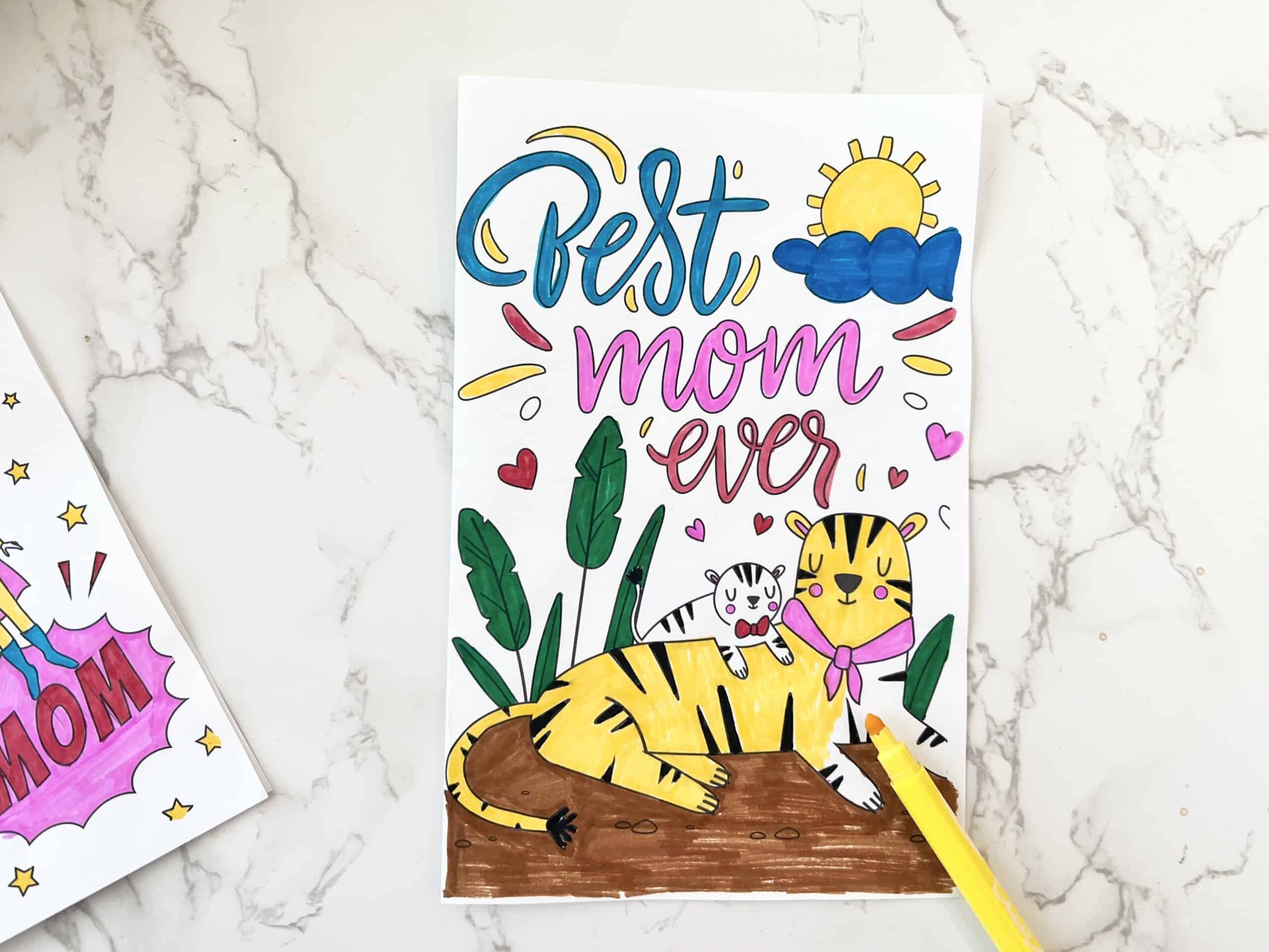 I'm a sucker for anything animal print, so this card is my personal favorite. "Best Mom Ever" is a simple, cute phrase that kids will love to color and gift to their favorite mom figure. I love the tigers and the little baby tiger could easily be any gender, which is perfect for all kids, too. This card would be great for a birthday, too, since it's not specific to Mother's Day.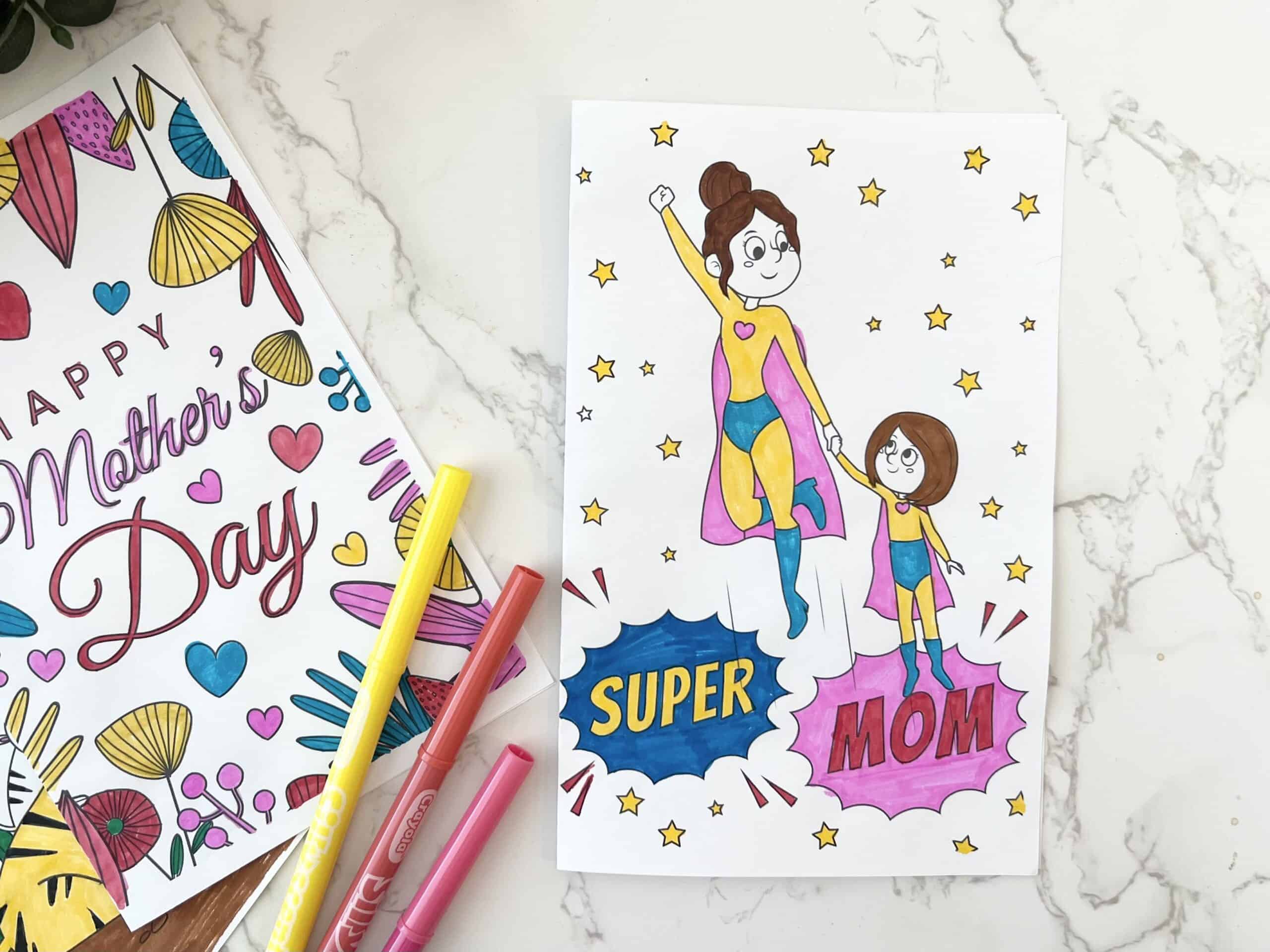 The third design is this Super Mom design. I loved this one, because so many of the women that take care of us seem like superheroes. Of course, when we become moms ourselves, we understand just how much this role requires and while we are happy to do it, we are also tired, haha. Let your favorite superhero know that you appreciate them with this downloadable PDF you can print and color.
How To Use The Free Printable Mother's Day Cards: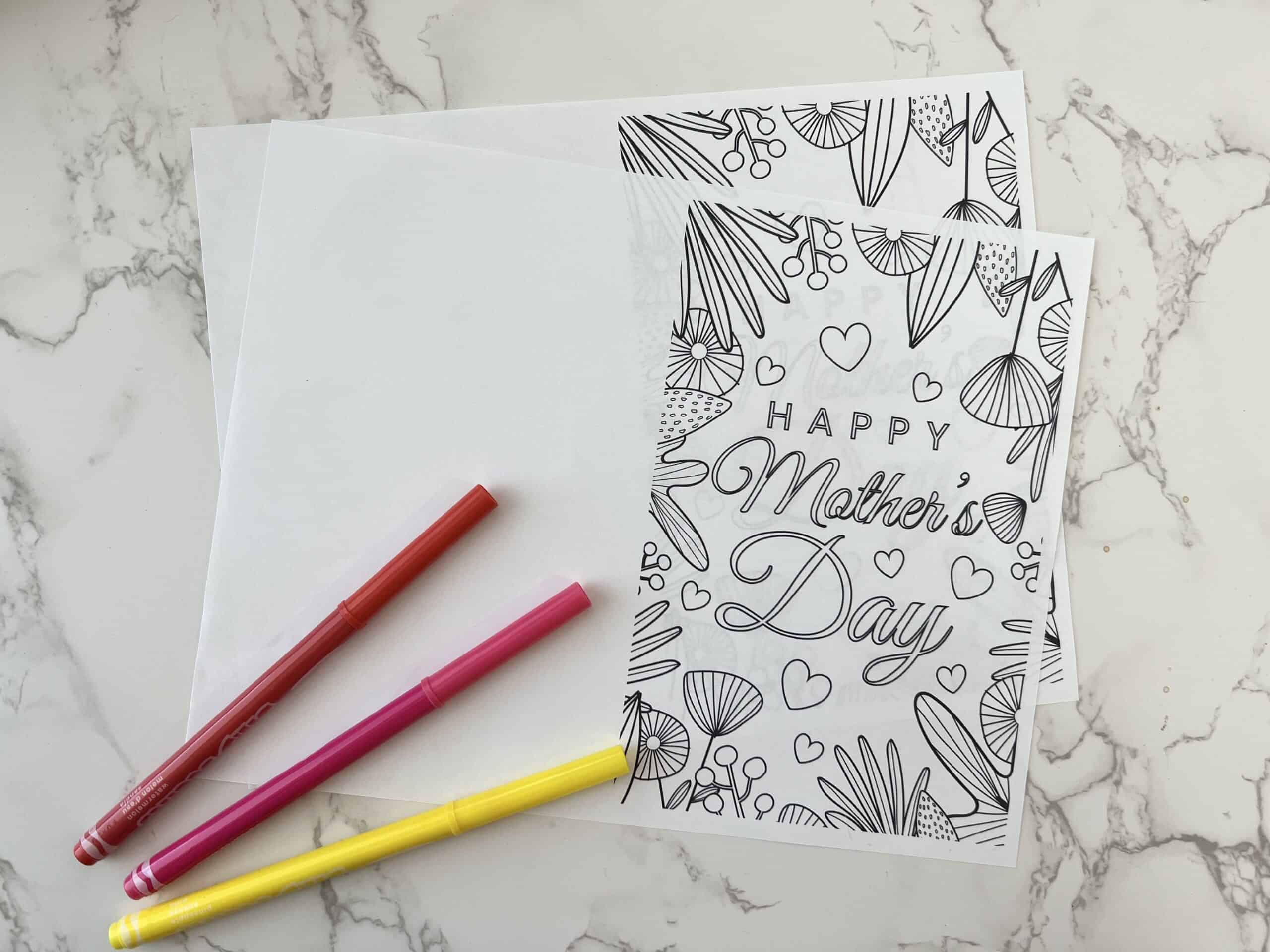 When you print them, they look like this. You can just color them, then fold them in half, write a sweet message inside and you're done.
My printer doesn't allow for me to print "borderless", so there's a small white margin all the way around (so annoying). If your printer allows for borderless printing, check that box before you print and your design will go all the way to the edge.
Download the Free Printable PDF:
To download your free Mother's Day printable cards, just click on the image below and it'll take you to my shop where I host the product. It is free (for now), so take advantage of it and use these cards! If you share them out, please link back to my site so I can get credit for them, too. I help you, you help me #teamwork.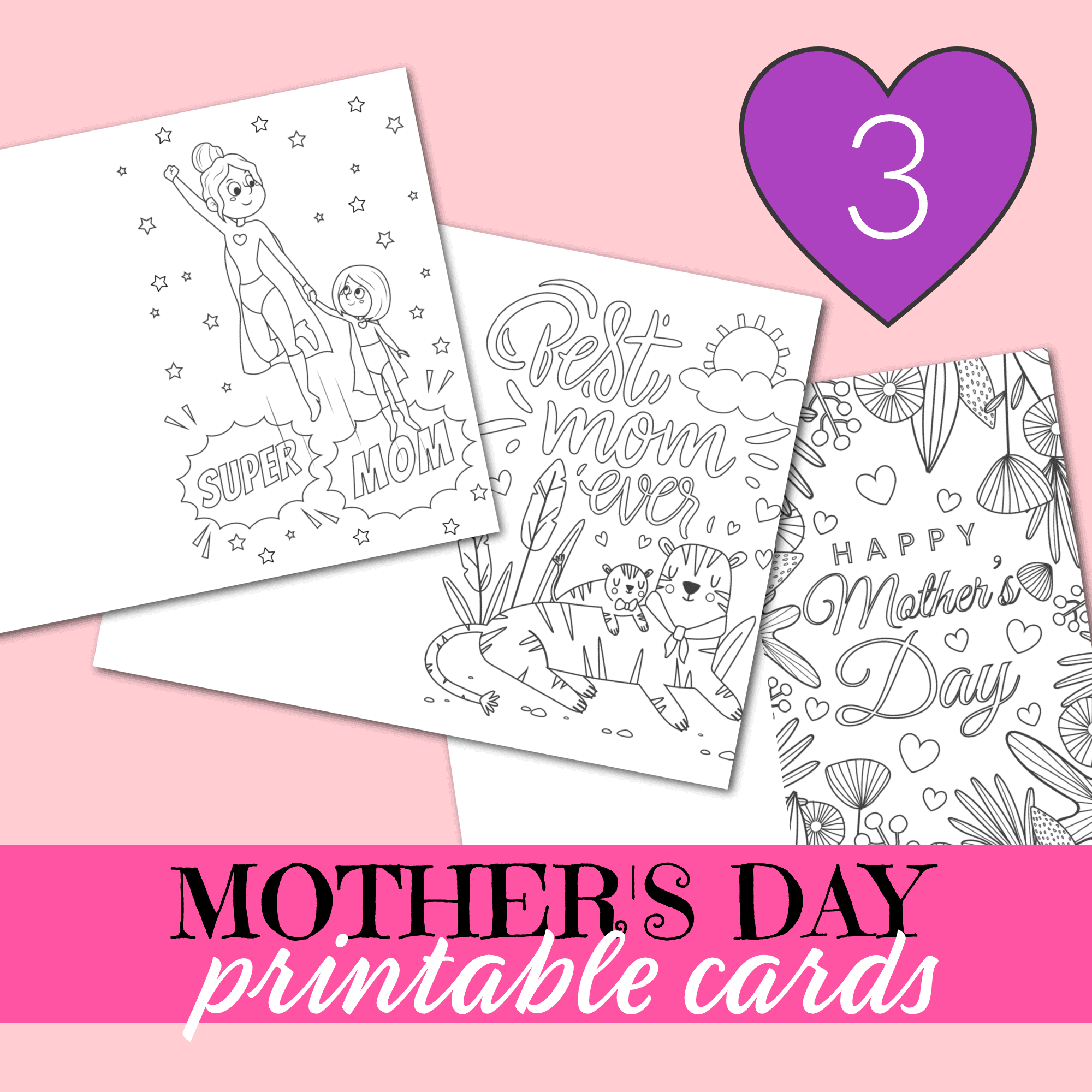 More Free Printables:
There are tons of printables on the site, some free, some for a small fee. I'll be sharing some cute coloring pages for moms and Mother's Day (and then Father's Day) soon, but here are just a few more of the others on the site:
Find even more printables by going here.
*****
I hope you love these free printable Mother's Day cards that you can download at home, print, color and gift! I'd love to see what your kiddos come up with!
Have a fabulous day,
E