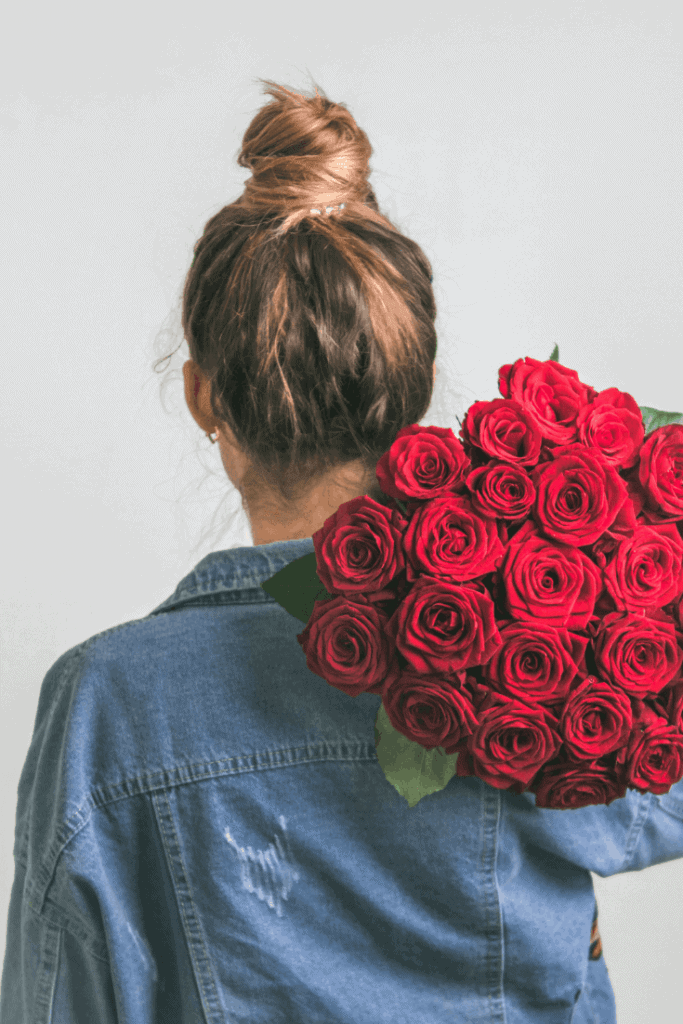 Ahhh, the perfect messy bun. It's like a unicorn at times, isn't it?
But, don't give up yet. The messy bun is the perfect solution on those late mornings when you're rushing around to get everyone else out the door on time and you have literally -2 seconds to get yourself looking moderately human.
Or, when you snooze that alarm too many times and now it is GO. TIME.
Messy bun to the rescue! Except… how can you make it work without looking like you just rolled out of bed?
Well, all good things…come to those who YouTube.
I am sharing my favorite hair tutorials for how to achieve that intentionally messy, perfectly imperfect bun.
The one that doesn't make you look like a homeless librarian.
The Art of the Messy Bun:
To achieve "the look", your hair should be dirty, maybe have some texture in it.
You can get some fake texture real quick with some of the products in these posts:
How To Get the Perfect Messy Bun:
Let's dive in to the best tutorials!
1. 5 Ways to Do a Messy Burn | Easy Hairstyles
5 ways to do a chic messy bun! Is that a thing? Can a messy bun be both messy and chic?
Well, I think this video proves that it can!
2. How To Do a Fast Messy Bun | Alexis Mae
Love Alexis Mae and this 1-minute bun.
Plus, what she start with looks like my hair most days, so I am feeling pretty great about trying this one out.
This one is so popular, I even included it in my new post with 31 fast and easy hairstyles for when you're running late!
3. Quick & Easy Messy Bun for Short-Medium Hair | Life With Lilly
First of all, I'm a sucker for a cute baby.
And no, I'm not talking about the girl with the bun.
Her little angel makes a cameo in this video and that just makes me feel 1000% better about this video, because I'm a big sucker for cute babies. And puppies. And kittens.
Sue me. But, first, watch this video, especially if you have shorter hair and still want that full messy bun look.
(and please don't sue me).
Here we go, friends. How to get the perfect messy bun without a million bobby pins.
Because, I don't know about you, but I feel like I buy bobby pins all the time and still can't find any.
#FirstWorldProblems
Well, not a problem anymore – get the messy bun of your dreams with no pins at all.
5. 3 Messy Bun Top Knots w NO Bobby Pins | Tessi Wood
If you're looking for some options to amp up your messy bun game, Tessi is your girl.
These 3 options are quick, easy, adorable, and also don't require any pins.
#SCORE
Wow, did you know that 10 messy bun styles even existed?
Well, we all just learned something new, thanks to Lilith and her amazing knowledge on the messy bun.
Boom. Book it.
7. Messy Bun Tutorial | Kathryn Ann
Over 1 million people have watched this video at time of posting.
ONE MILLION PEOPLE.
Like, WOW!
That's when you know your messy bun game is STRONG.
8. Two Quick & Easy Ways To Do a Big Messy Bun | Okevaaa
Two quick and easy messy bun tutorials in this video.
She has pretty long hair, so this is a good video if you're looking for a way to put a lot of hair up in a bun.
When she does something quickly, she will show it again in slow motion – helping out all those messy bun newbies.
Mikaela has such a great personality and is fun to watch. It's actually somewhat mesmerizing to watch her work on her hair, because she's just so good at it.
I'm not totally sure my messy bun would turn out like Mikaela's when I'm done, but she has me convinced it's worth a try.
9. 3 Messy Buns for SHORT Hair | Emily Orlando
The minute this video starts I am 100% SOLD.
She is blasting a song from my past and I am HERE. FOR. IT.
Plus, she has short hair – and I feel like a lot of styles don't work well for short hair, including the messy bun.
So, here you go – now you short hair gals can rock it.
We're finishing up today with a video that has millions of views.
Literally, millions.
Alli whips her gorgeous red hair into a topknot bun like a total pro.
Plus, her makeup is just killer. There's a tutorial for that, too, by the way.
Enjoy.
****
There it is, girls! More messy bun tutorials than you probably thought possible!
Have you tried any of these? Can you achieve the unicorn messy bun?
I'll admit I'll try it a few times and then feel like this:
I hope these tutorials can help us all!
If you like posts like this, be sure to check out my other hair posts:
Do you have a favorite hair YouTuber? Share it in the comments below!
Have a fabulous day,
E