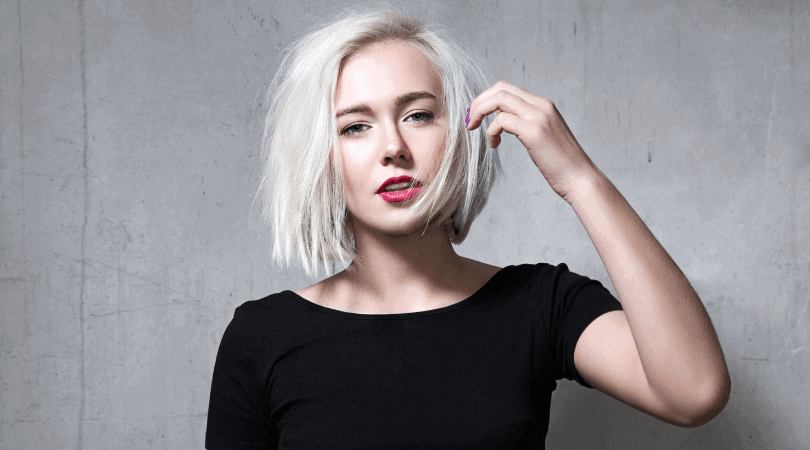 I'm not sure what it's like where you live – but lately I've been feeling like I live on the surface of the sun. Sometimes it's so hot, I can literally feel my skin sizzling. It's like a human rotisserie. When it gets like this, the first thing I want to do is cut my hair off and rock a chic bob or lob. Once upon a time, I even tried to rock the Lisa Rinna.
Don't worry, she wore it best.
But, here's the thing about short hair – it's not always any cooler when the temps are rising, because most short hairstyles still hit the back of your neck! So, you'll end up with shorter hair – that you may not have many ideas for how to style when it's so hot, you're melting.
Hairstyles for Short Hair
That's why today's post is all about hairstyles for short hair. These videos are shared from the creator's YouTube. They're embedded so the original creator gets credit and if you love a particular video, make sure to head to their channel, subscribe and show them some love. They're all amazing!
And, if you were hear looking for short haircuts – don't miss this post with the best lob and bob haircuts for summer.
1. 4 No Heat, Lazy Day Hairstyles:
I absolutely adore Sazan Hendrix and her gorgeous hair! I love the length and her creativity with styling it.
Check out more from her channel here.
2. Beach Waves for Short Hair:
Y'all love my beach waves tutorial post as much as I do, but you know what's missing from it? Beach waves for short hair!
This beach waves for short hair is so cute and she's even cuter! Check out her channel for more.
3. 10 Easy Hairstyles for Short Hair:
Chloe Brown is the queen of short hair. She has such great style and her hair tutorials are some of the best there are.
These 10 easy hairstyles are so cute. Definitely check out her channel for tons of great content.
4. 12 Easy Short Hairstyles:
Zoe Alexandra is absolutely stunning and has such a positive vibe. Her short hairstyles are perfect for straight and natural hair.
Check out her channel for a lot more inspiring content.
5. Adorable Short Hairstyles With & Without Heat:
I love seeing the difference that curly vs. straight styles can make on the same length.
Jordan Lipscombe really shows you a range of looks here and if you check out her channel, you'll see she is quite the chameleon. I find her style very inspiring – and you will, too, if you've been thinking about taking a risk with your hair and need a little encouragement.
6. 10 Easy Styles for Long Bobs:
I absolutely love some of the styles that she is able to achieve with her long bob. I will admit that I didn't even think some of these styles were possible with this length of hair.
Check out Tina Young's channel for even more adorable short hair looks.
*****
What do you think? Do you have short hair or would you ever consider a short hairstyle? I am super inspired by all of these adorable looks and I think it might be time for a big change.
If you love hairstyle posts, don't miss these ones:
Have a fabulous day,
E