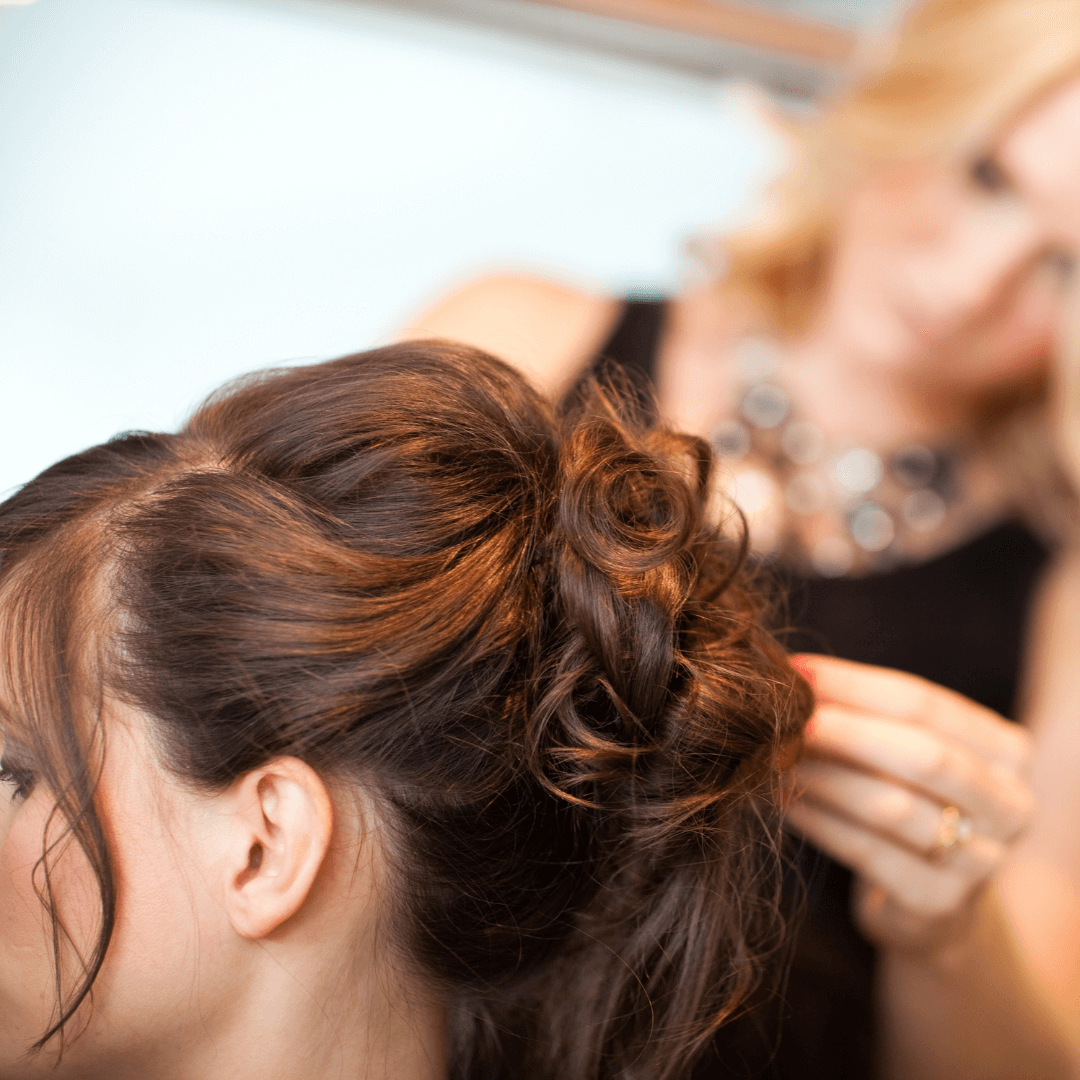 I can hardly believe this, but some of my nieces are now old enough to go to high school dances and even – eek- prom! Such an exciting time for young people, especially for girls, who spend so much time shopping and preparing for these events. In fact, I was in a local boutique the other day when some girls were prom dress shopping and the owner of the store said they kept a list of which dresses had been purchased to prevent two people at the same school from wearing the same dress. This blew my mind. Has prom become the Oscars?
With all this preparation, it makes sense that deciding how to wear your hair is also a big part of your whole look. So, I thought I would collect the prettiest prom hairstyles I could find to inspire my nieces and all the other beautiful girls out there looking for ways to style their hair.
While a lot of hairstyles marked for prom are actually created for brides, there are some looks that have a youthful sweetness to them and I worked hard to find these looks. So, here is a collection of hairstyles for prom or homecoming or school dances that range from sleek and chic to boho and wild. Find the one that inspires you and then recreate it at home or take the photo to a local hairdresser who specializes in event hair. They'll be able to figure out how to get a similar look on you.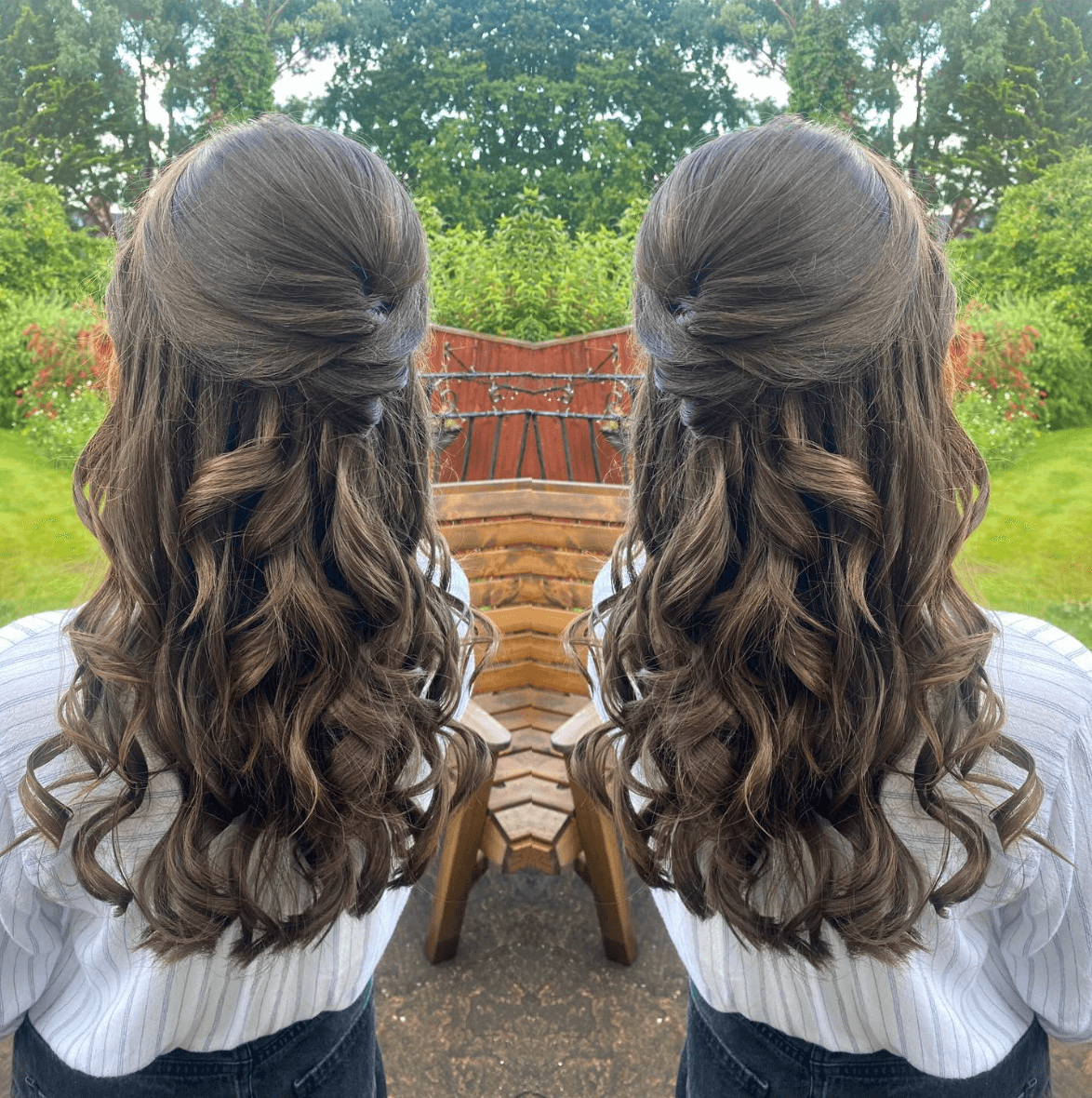 Love this one. The way the half-up style is done almost looks like a little chignon and then it flows into layers of curls. Soft, beautiful, and unique. A little refined and a little fun, too. She has so many more beautiful hairstyles, too, so make sure to check out her page (and if you're lucky, go see her if you live near her salon!)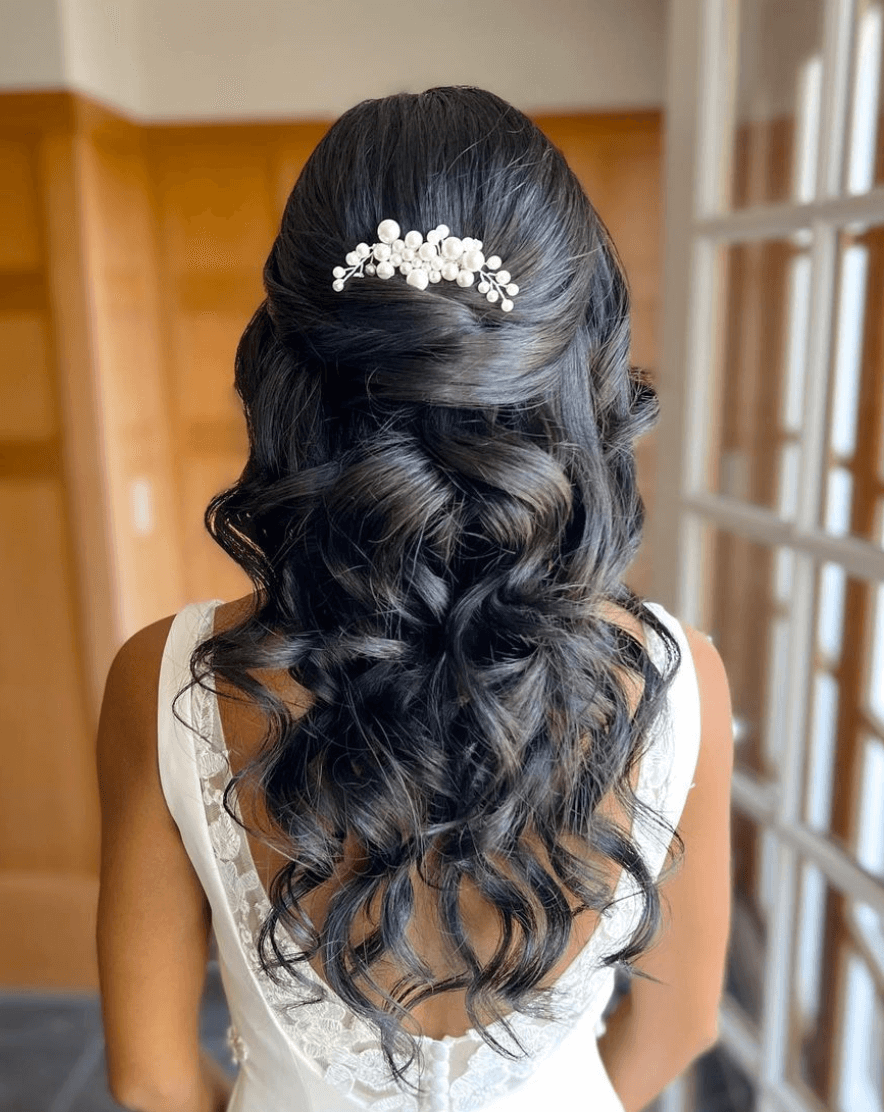 This is one of so many showstopping hairstyles by Rhianna, the genius behind @weddinghairbyrhianna. I love the placement of the comb on this one. I had a really difficult time picking a favorite here, so I'm including two!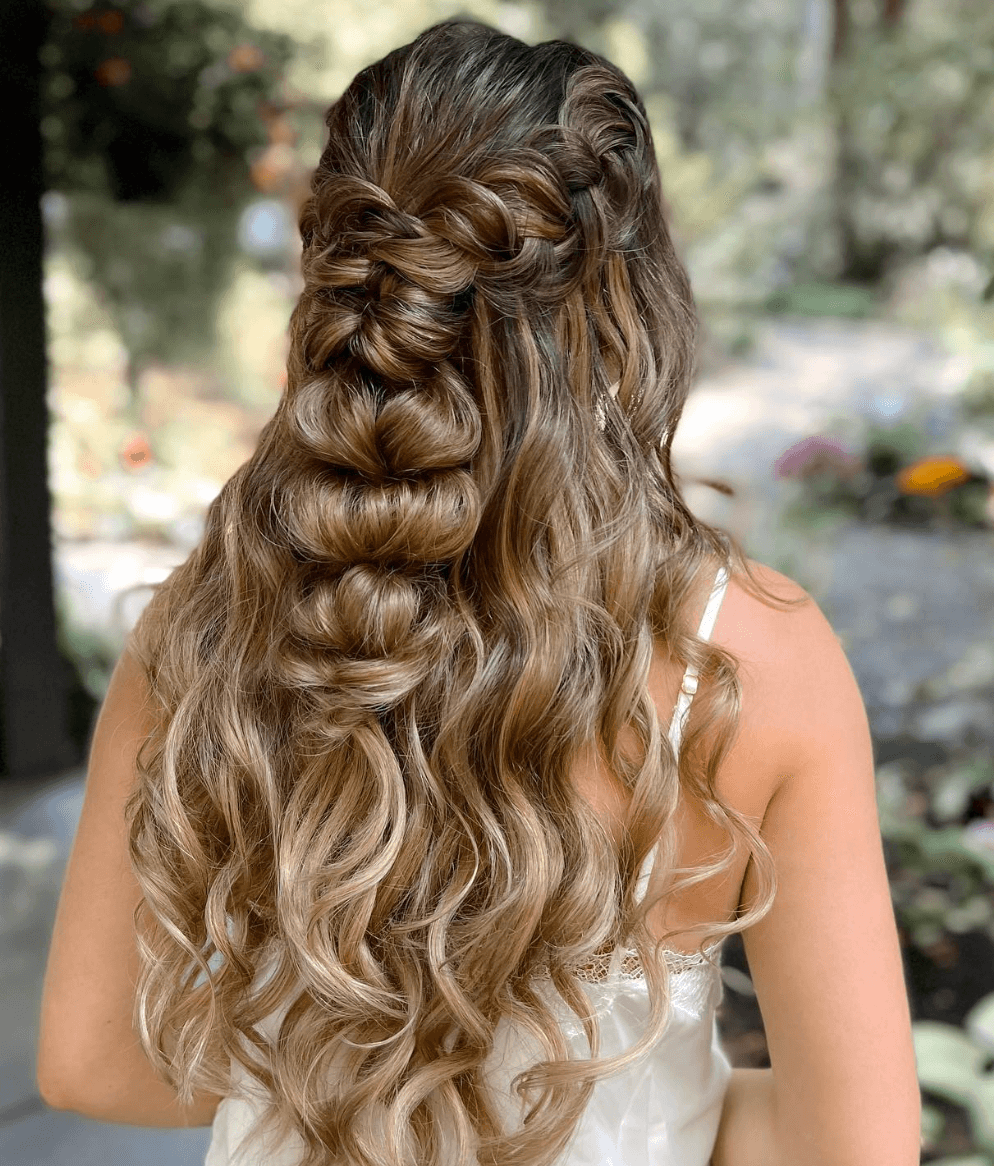 Masterpiece. Not going to lie, I've been staring at this one for awhile. I don't even know how she did this one. Gorgeous.
View this post on Instagram
Obsessed with this. The light tousling at the crown is so romantic and soft and the way he creates the full ponytail is magical. What a look.
By Ojoaguim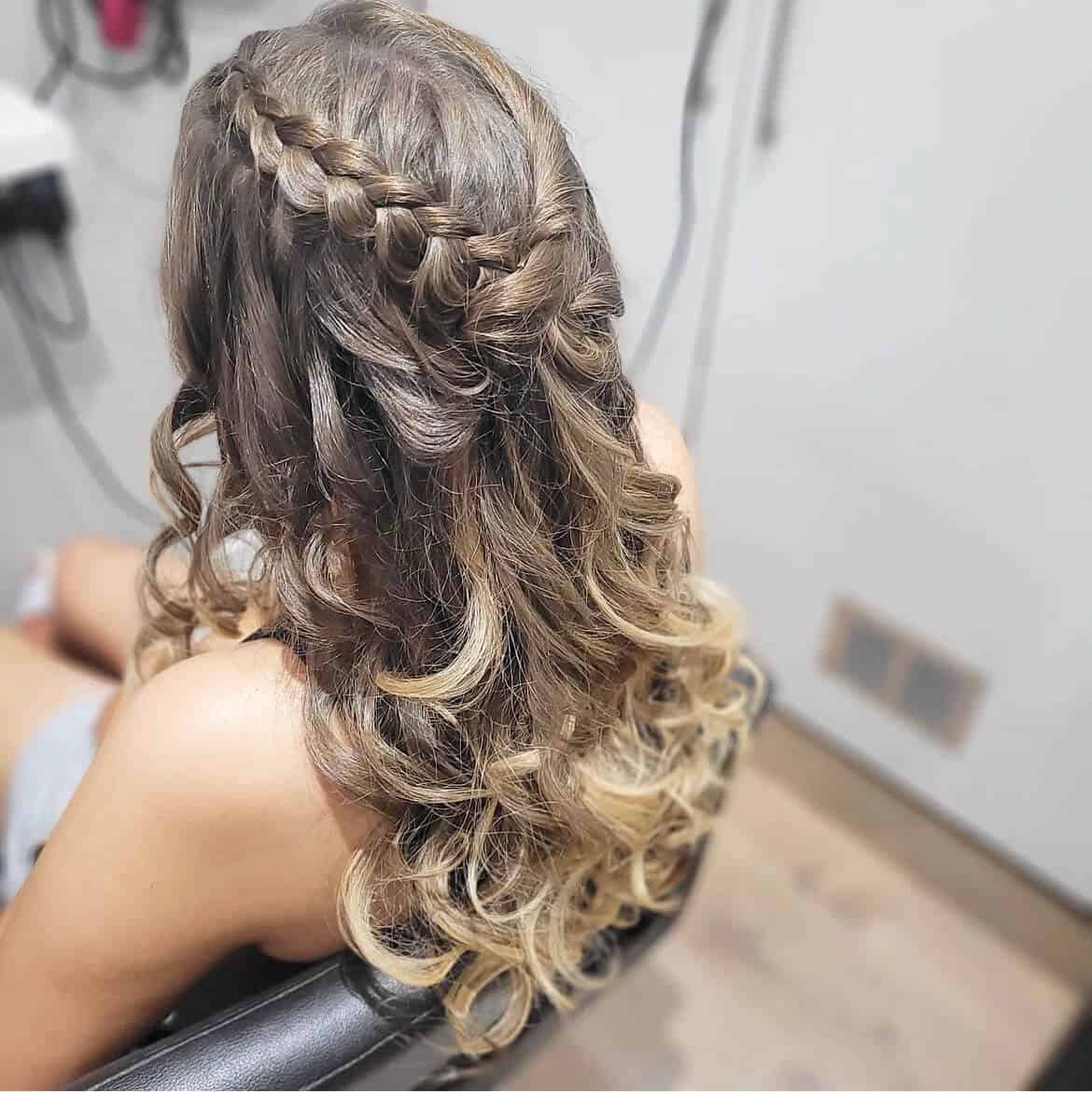 The criss-crossed braids create a little bit of a half-up, half-down hairstyle here and then blend into a pool of curls. So well done.
By Amy_scissors_sisters_dronfield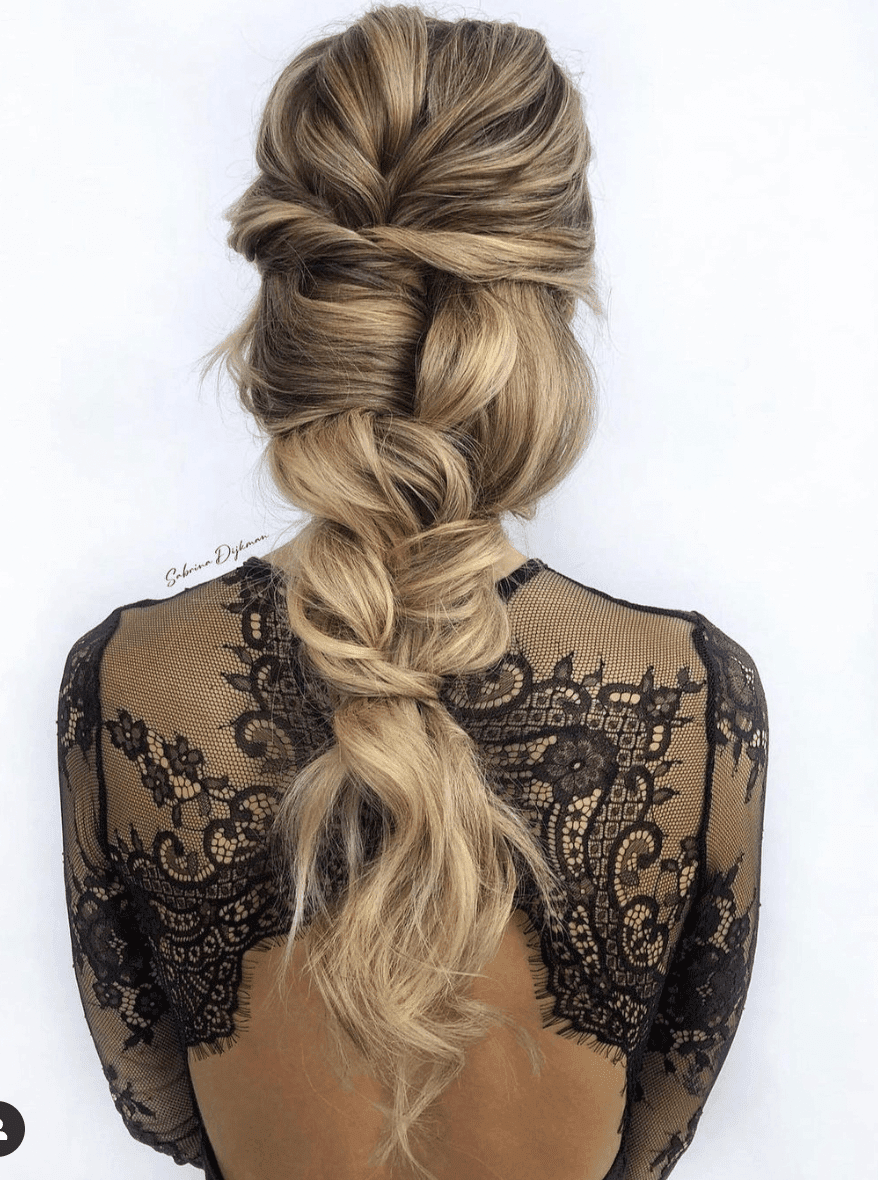 Wow! This one is a work of art. She explains in her Instagram post how she used extensions and other techniques to get this look, so definitely click over and check it out if you are thinking of recreating this one.
7. Soft Chignon: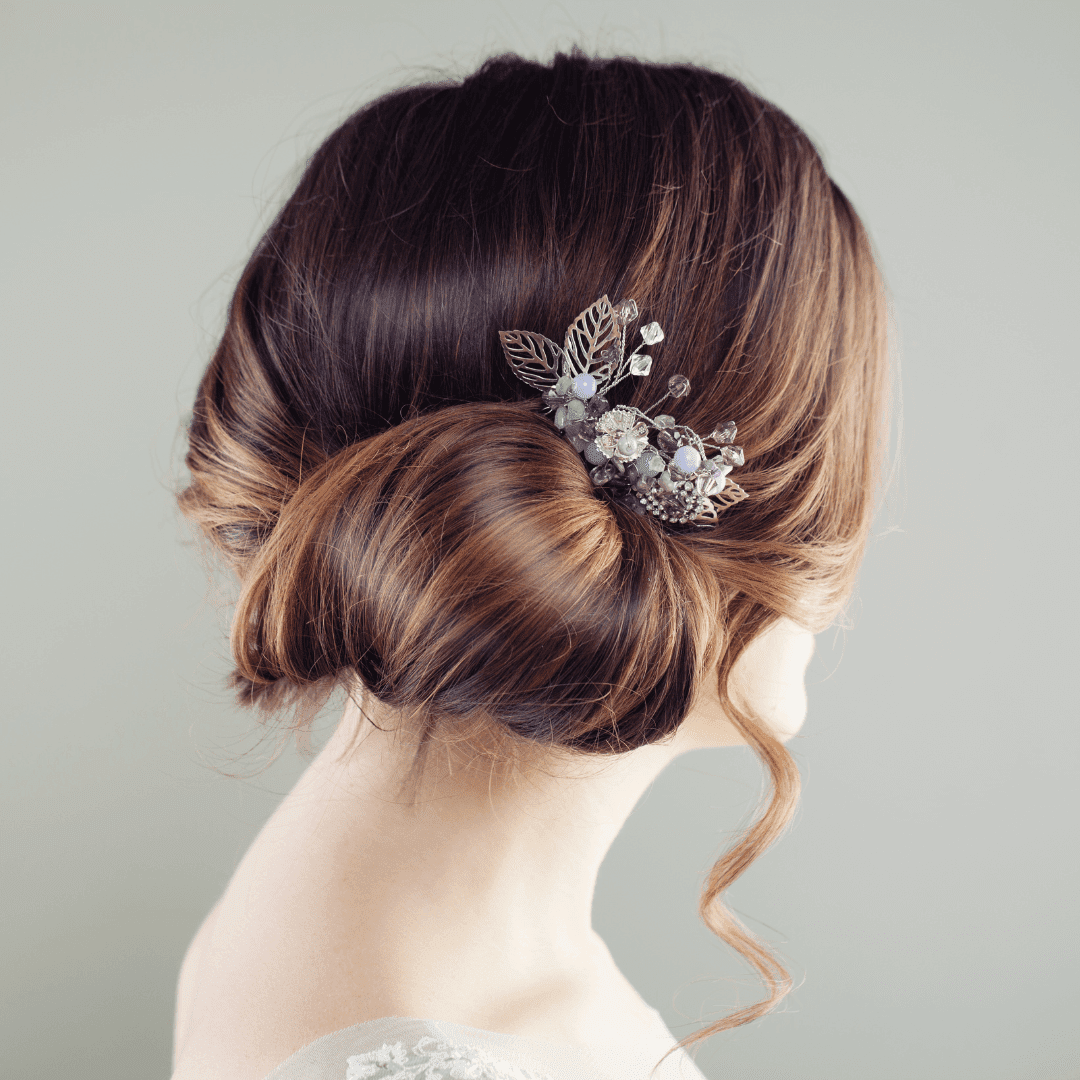 This one drew my eye because of the soft take on the chignon. It's more relaxed and has a beautiful vintage pin which adds some detail. I think this would look beautiful with a vintage style dress. It doesn't look overly done or fussy, either.
8. Sleek, Low Chignon with a Side Part: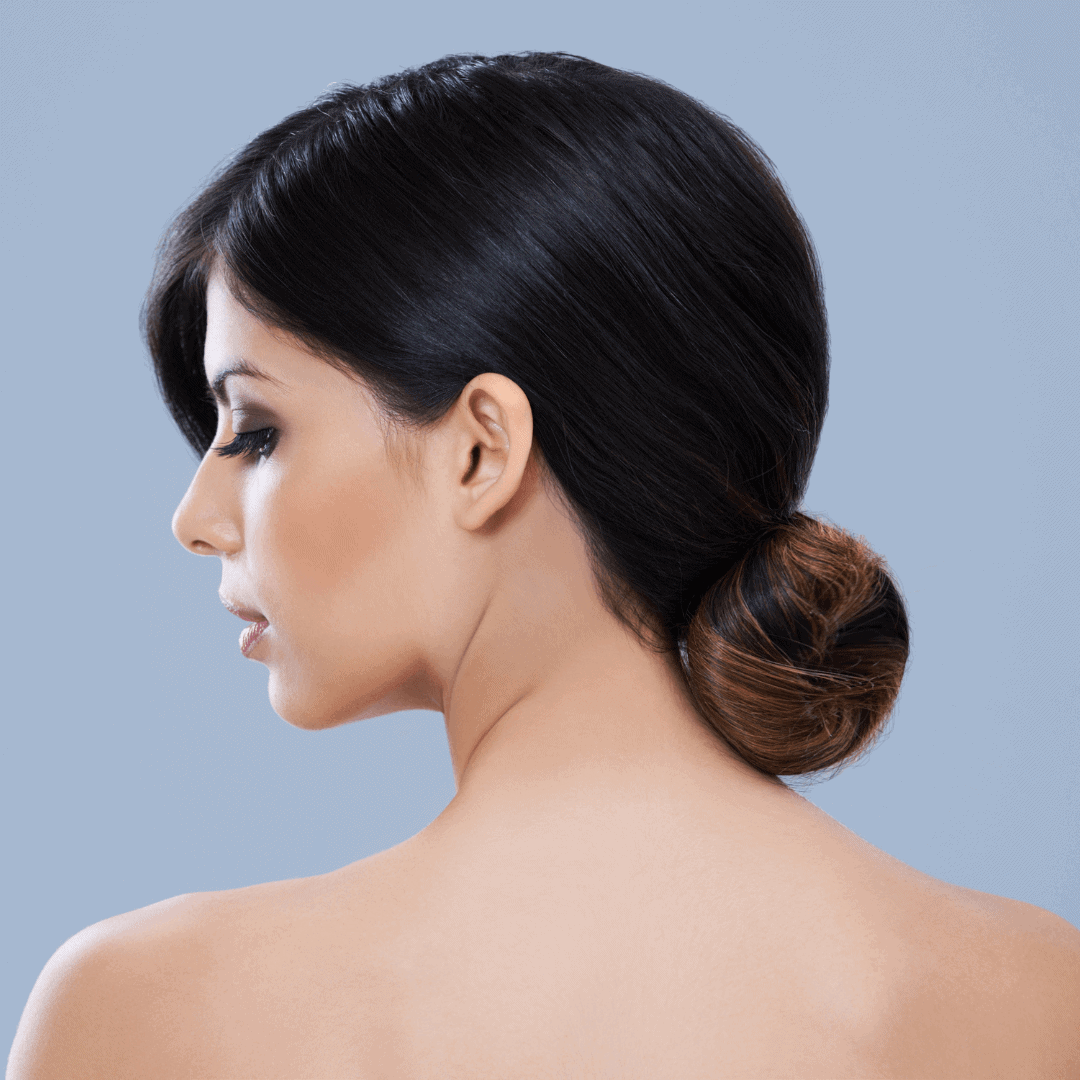 If you are wearing a more structured gown or something more old Hollywood, then this low chignon with a deep side part is gold. I love how smooth and shiny the hair looks here. Absolutely beautiful.
9. Soft, Pulled Over Low Bun: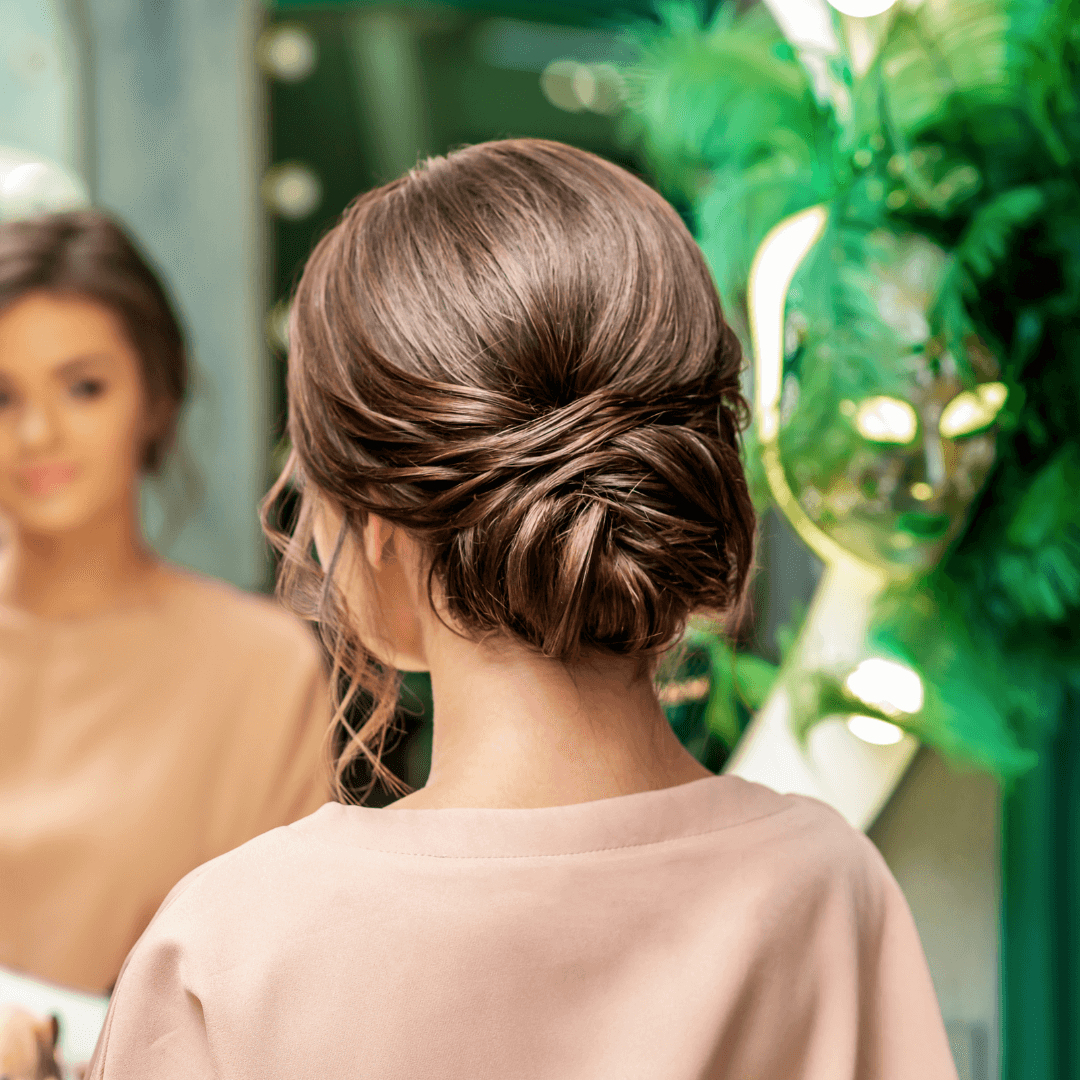 Stunning. The way the hair criss-crosses over a low bun with loose tendrils pulled out is perfection. So sweet and romantic. Would work with a variety of types of hair as well.
10. Soft Braid to Low Bun: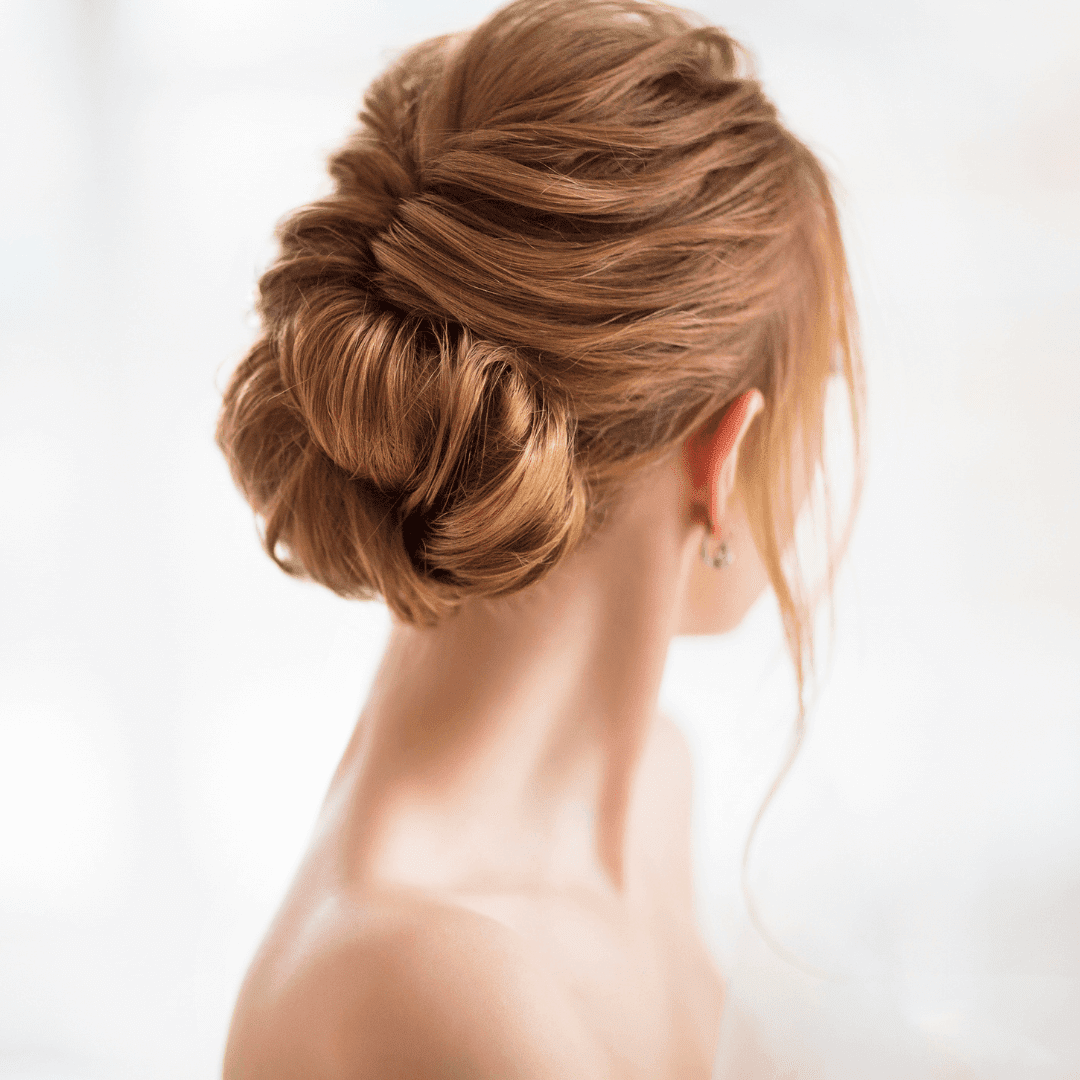 I'll admit, I don't even know how they created this one. It looks like a fishtail braid going into a low bun. It really just makes the hair catch the light. It's piecey and soft, while still having structure and interest.
11. Braid Chignon with Vintage Comb: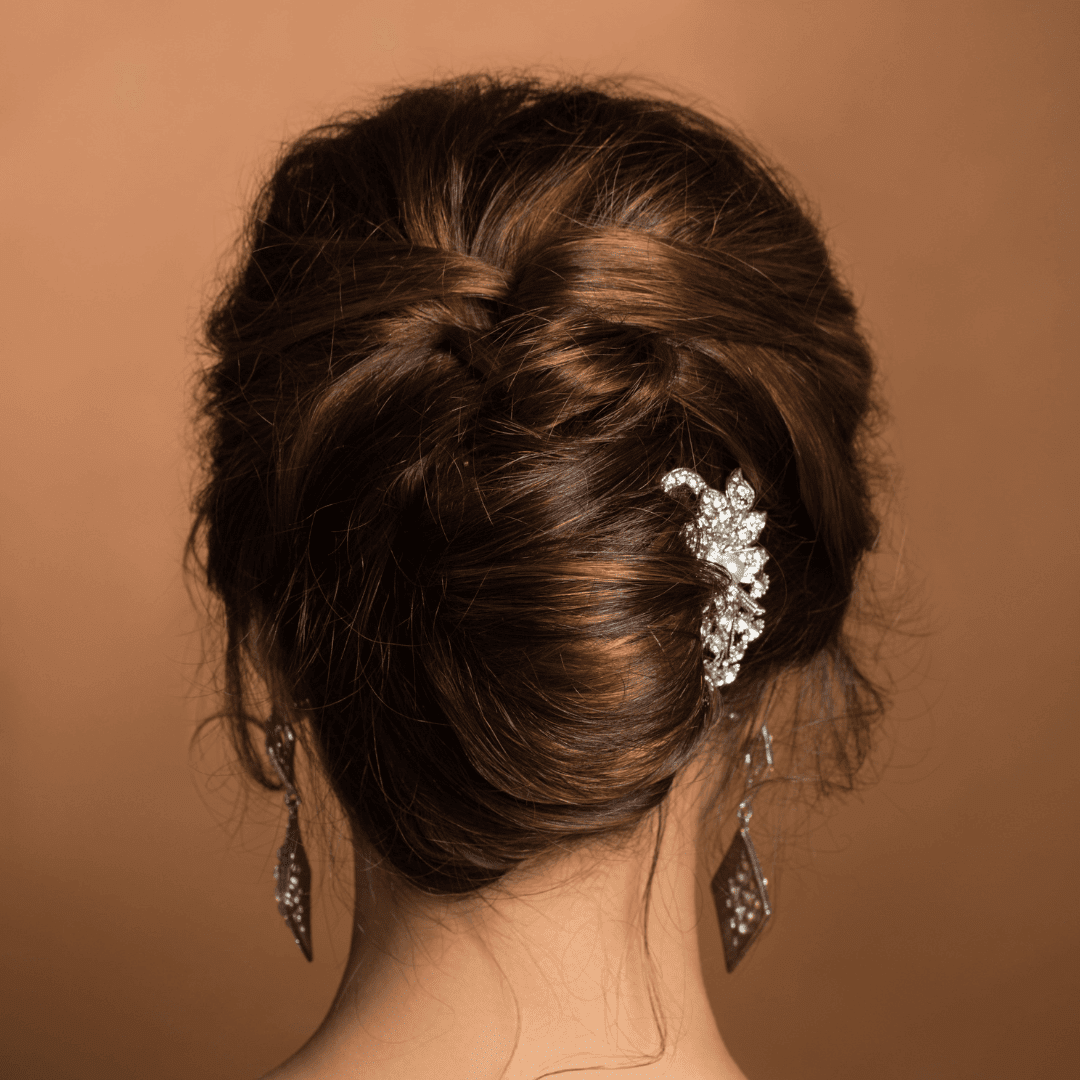 This soft braid to chignon look is finished with a gorgeous vintage hair piece. Absolutely love how this one brings out the lighter colors in her hair. Can picture this one working with many different types of dresses and styles, too.
If you're looking for hair pieces like this, I found some beautiful ones on Etsy when I was getting married. *affiliate link used here
12. Double Braids: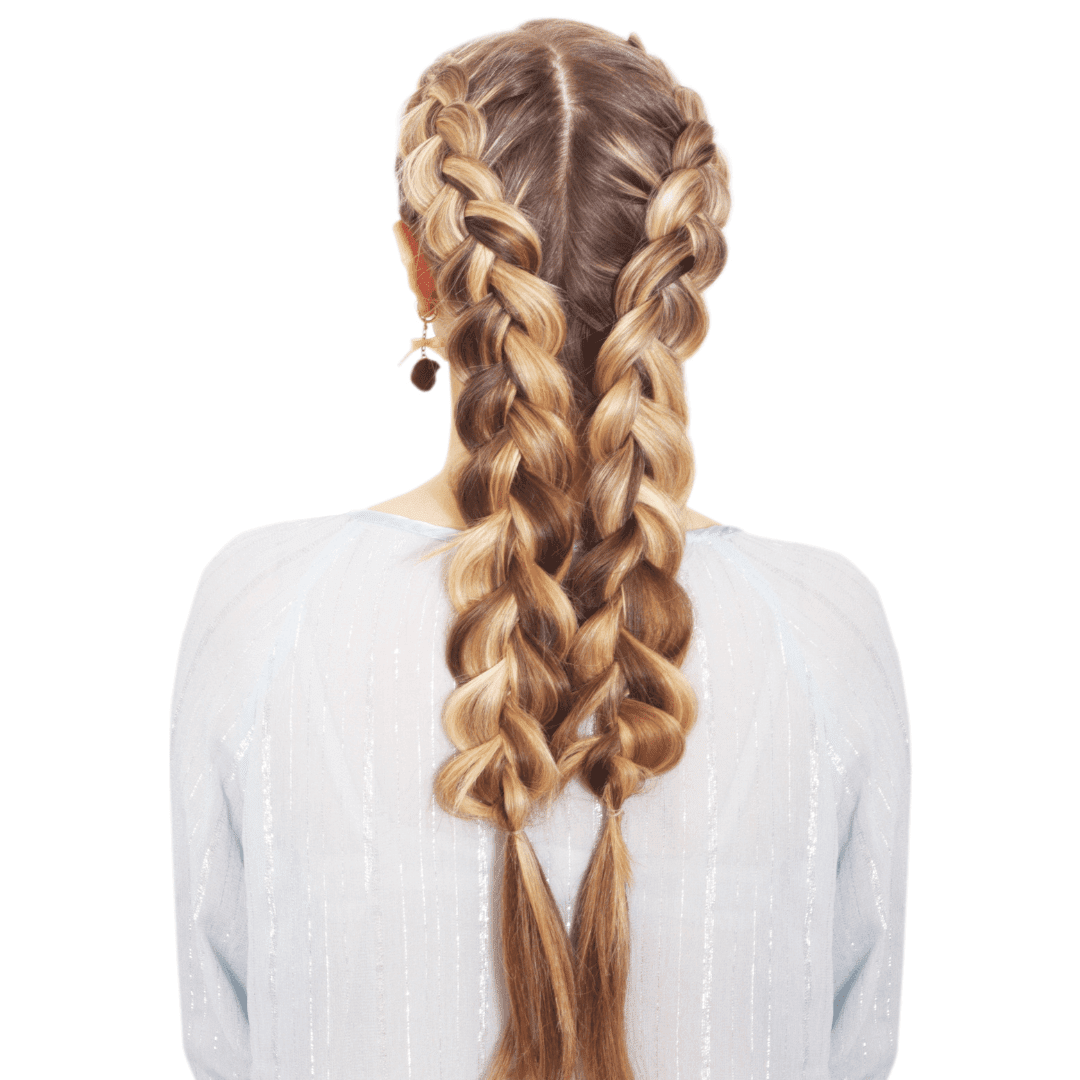 Do you have super long hair? You could rock this double braid look and it would be a showstopper. Absolutely love this one!
13. Side Braid:

I wish I could get a picture of this one top to bottom, because this one stopped me in my tracks. Try this side braid over the shoulder for an old world, breathtaking design that will show off the back of your dress.
14. Piecey Updo: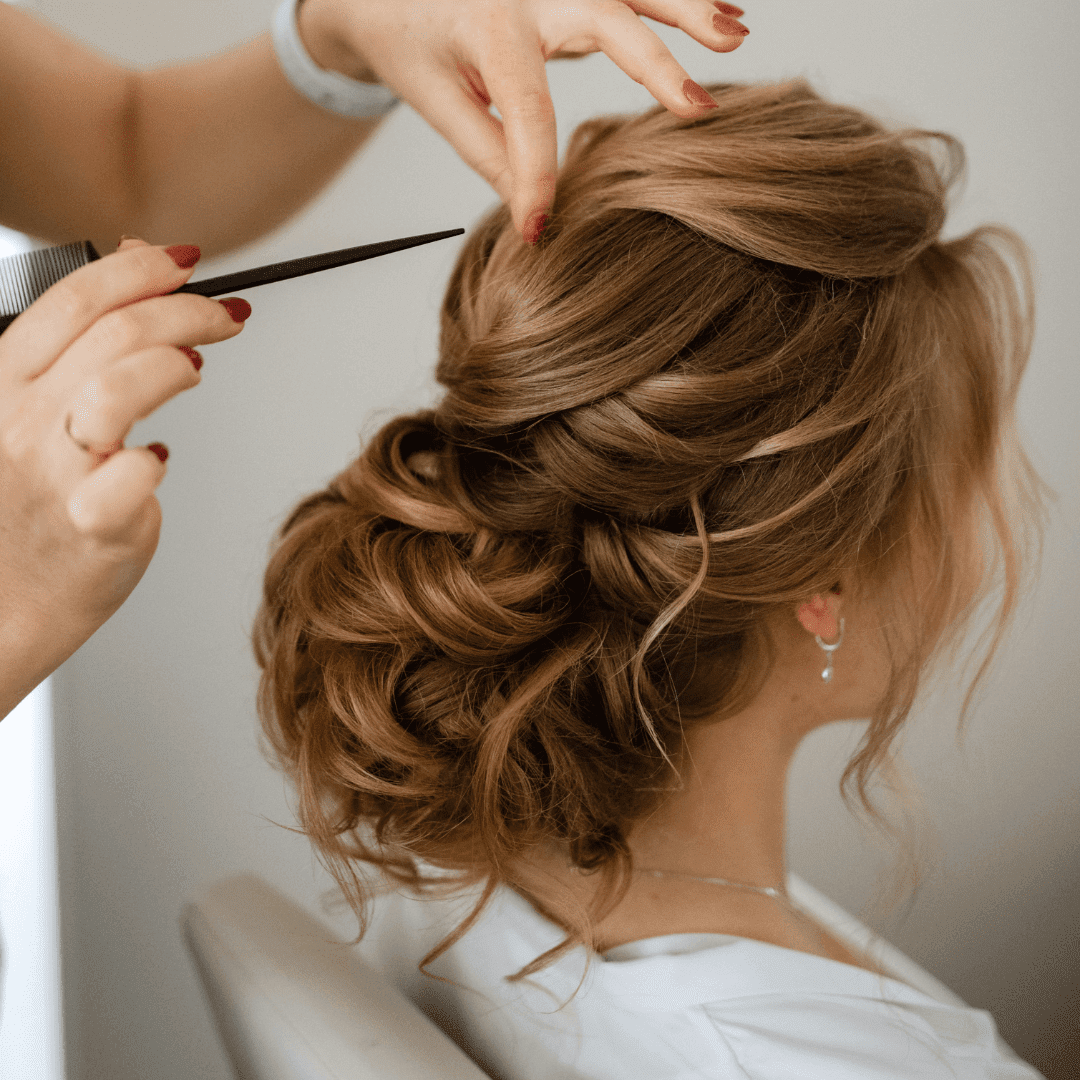 This is incredible. The way they've tousled the hair to create so much texture and separation just makes the hair cascade into the low, loose bun.
15. Braid Crown: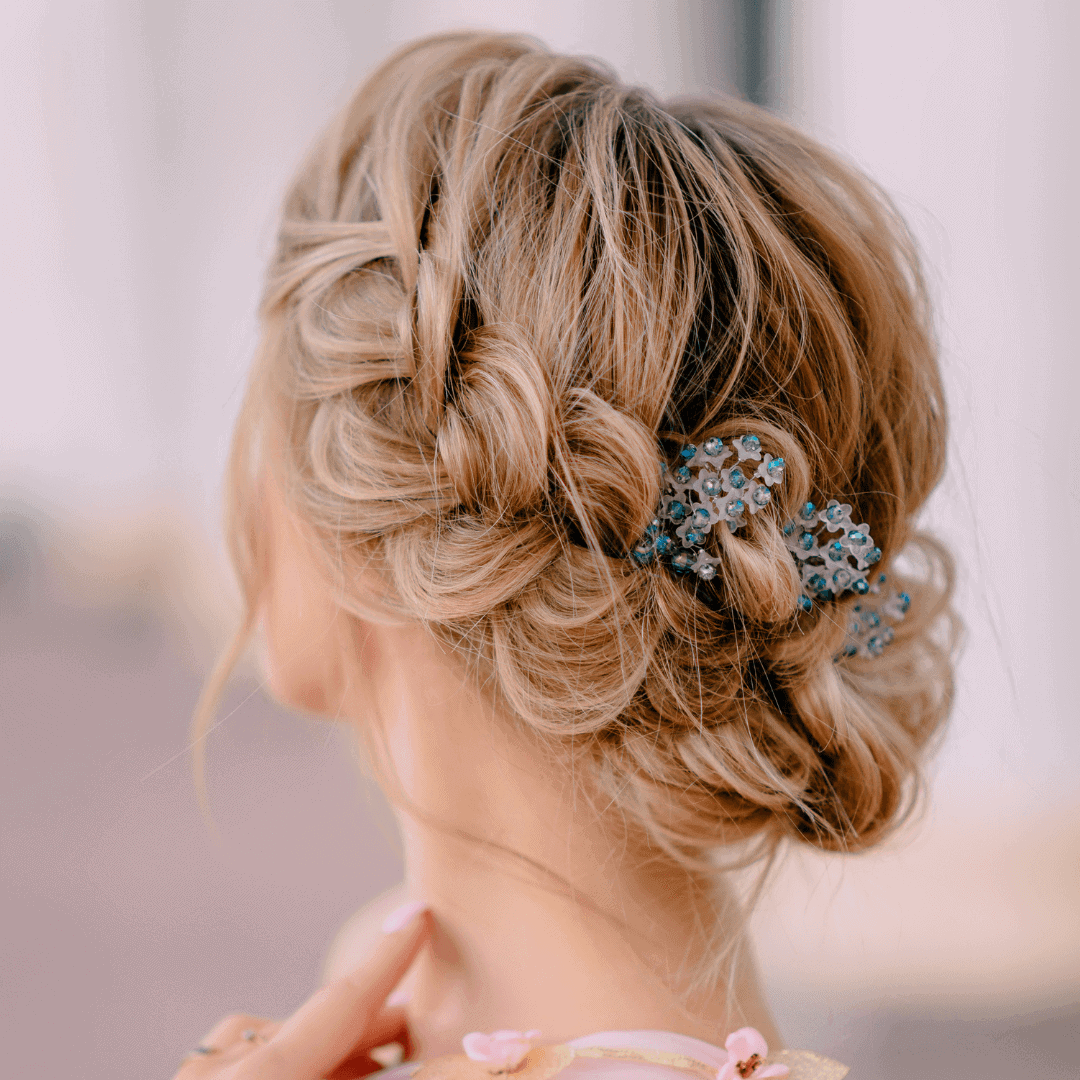 Love the idea of using the braid to wrap around the hair in a crown like shape. A hairstyle fit for a princess, for sure.
16. Curled Updo: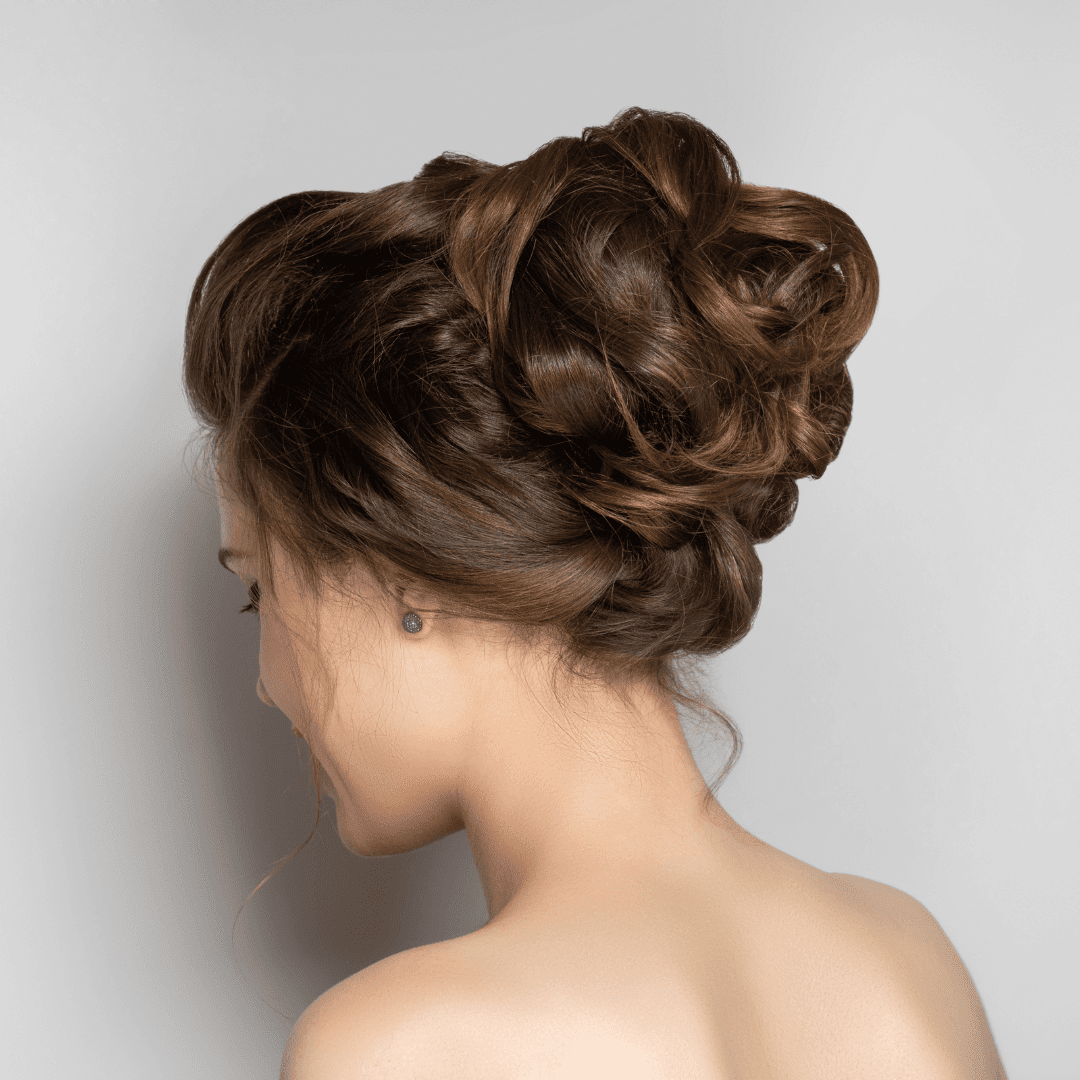 This updo is higher up on the head than most of the ones I've shown, which really draws attention to the neck and back area. Love how the curls really add drama, but it's not too mature for the age.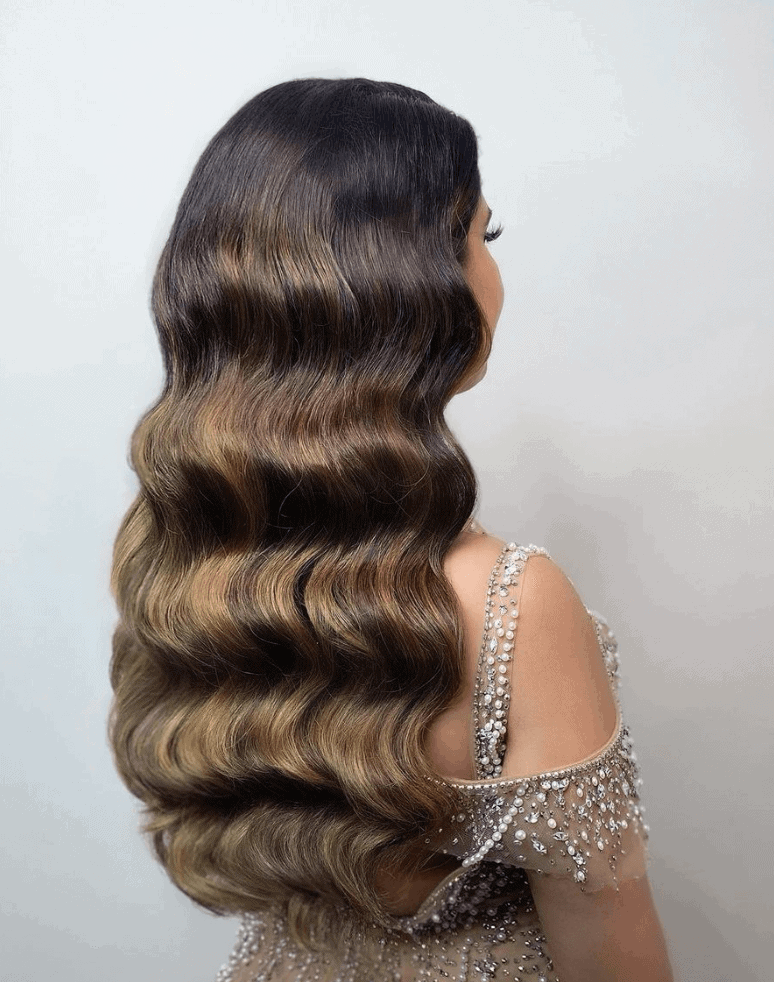 Not everybody wants their hair up for special events. I tend to prefer my hair down or at least some of my hair down when I go out as well. This long, wavy hairstyle called "Hollywood waves" is prom or special event ready. Absolutely love how the waves are all symmetrical.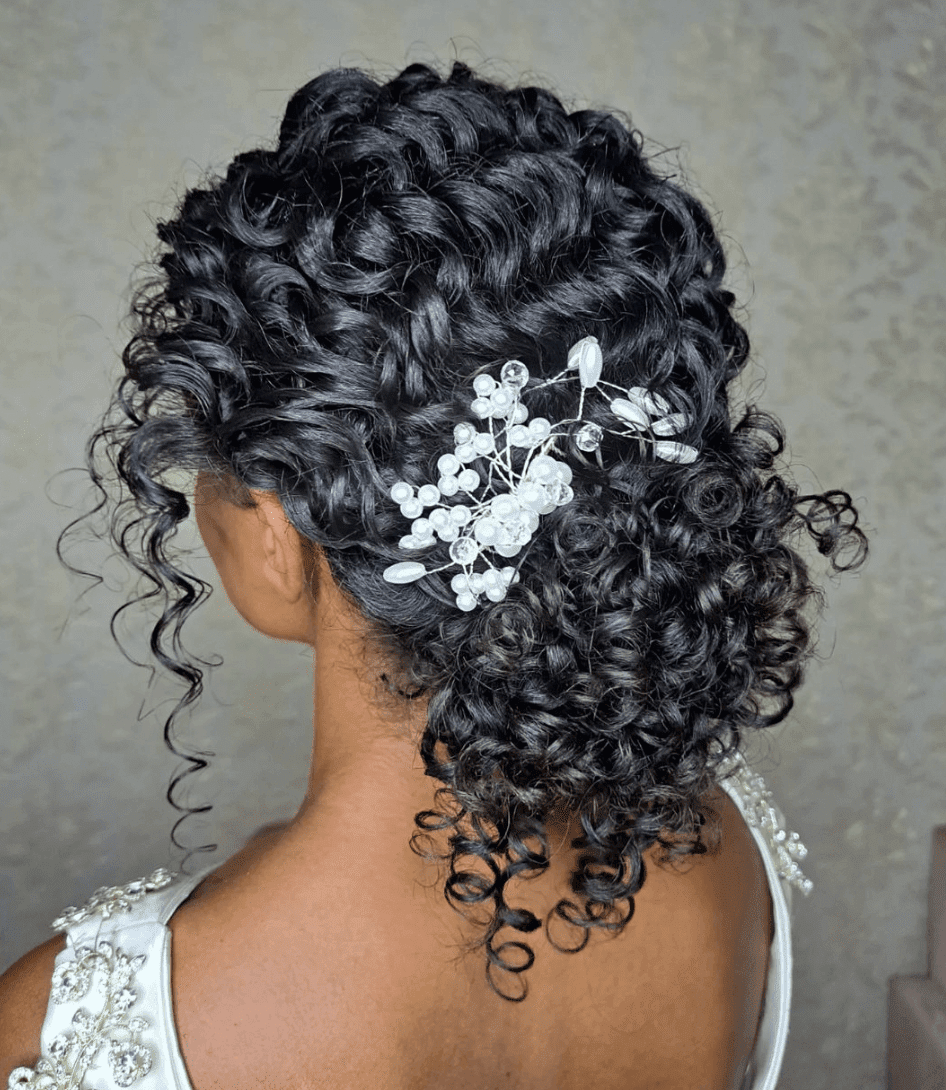 I have always wished I had curly hair like this. This curly updo is glorious. The shine and curl in the hair is so perfect. I love how you can't see the structure of the design or where the pins are. Beautiful with the added comb as well.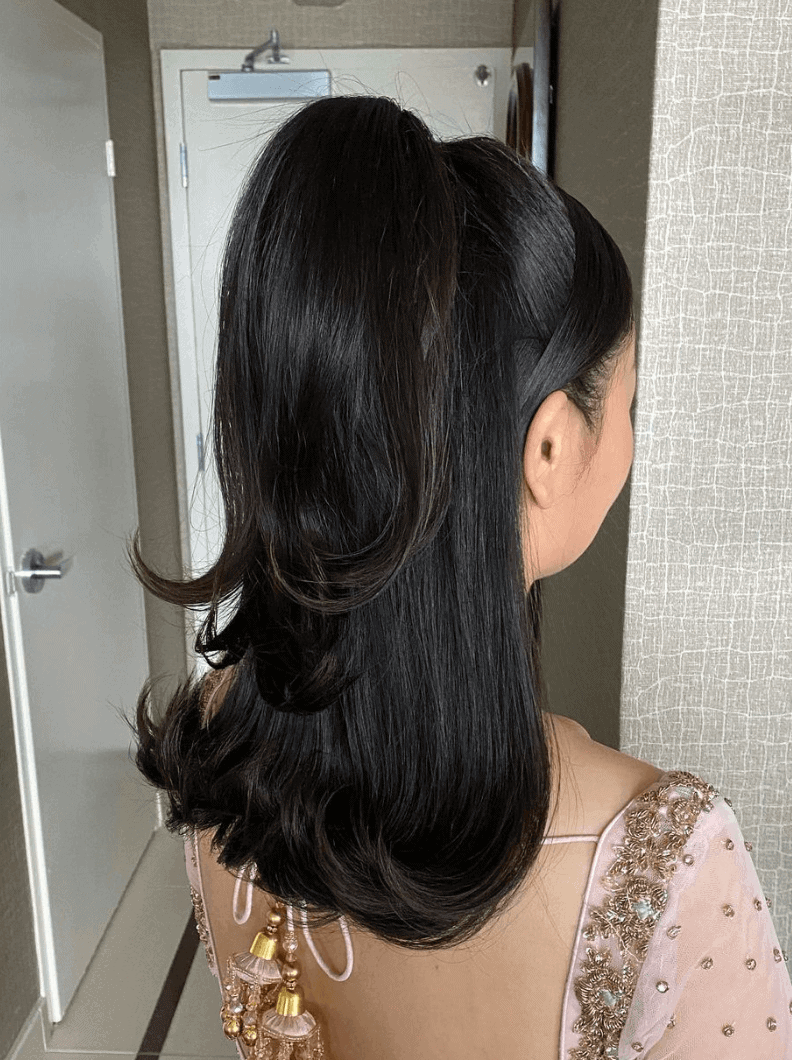 Talk abut playing to your strengths. This girl has the most beautiful, straight, shiny hair ever and this half-up hairstyle with flipped up edges shows it off in all its glory. Absolutely work with what you have, ladies.
By manebyanna
20. Updo for Short Hair:

You can have tons of fun with short hairstyles, too. This one shows how you can recreate a similar look to some of the lower updos previously shown using curls at the nape of the neck.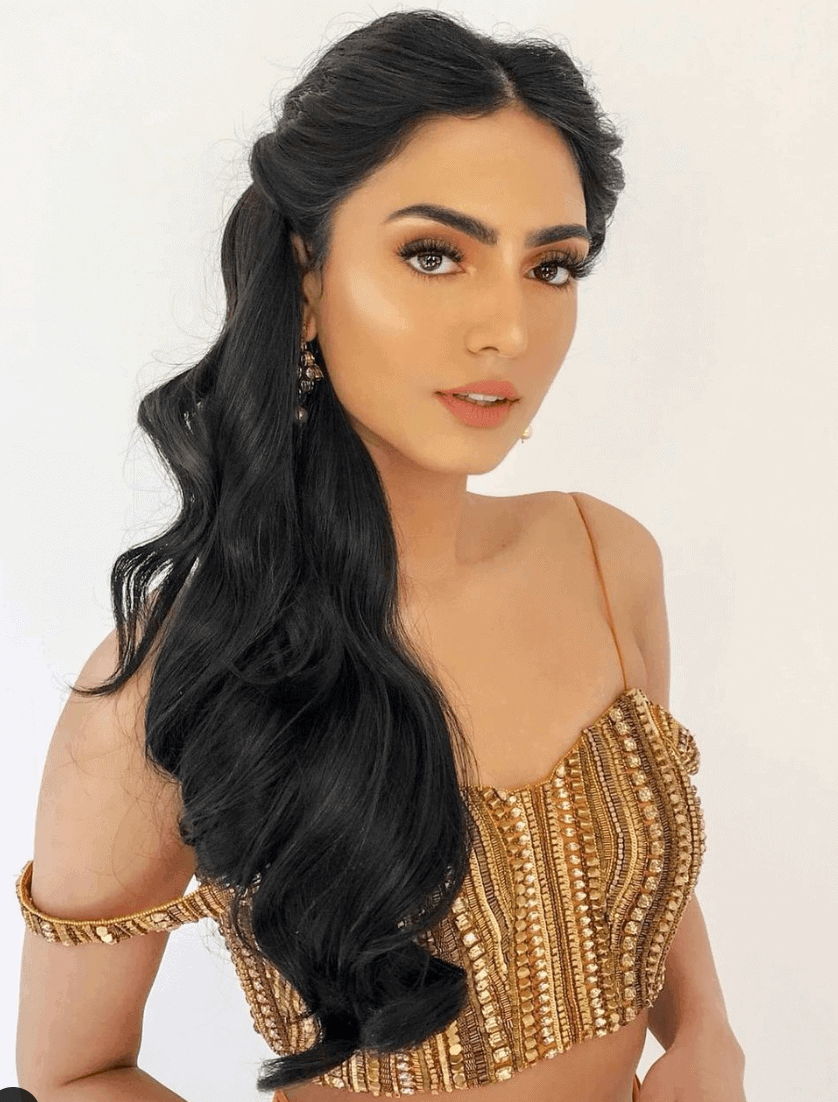 This girl looks like a Disney princess. Her long, thick hair is styled in loose waves with a middle part and front pieces pulled back into combs. It's soft, elegant, and romantic without looking like she tried too hard at all. Love it.
Loving this hairstyle and that it's featuring brown hair. A lot of these styles are modeled on lighter hair, simply because you can see the intricacy of the work in lighter or highlighted hair when photographed, but this rich brown is so stunning. The fullness in the half-up ponytail is such a flattering style and the consistency in the waves is *chef's kiss*.
23. Half-Up With Small Braid: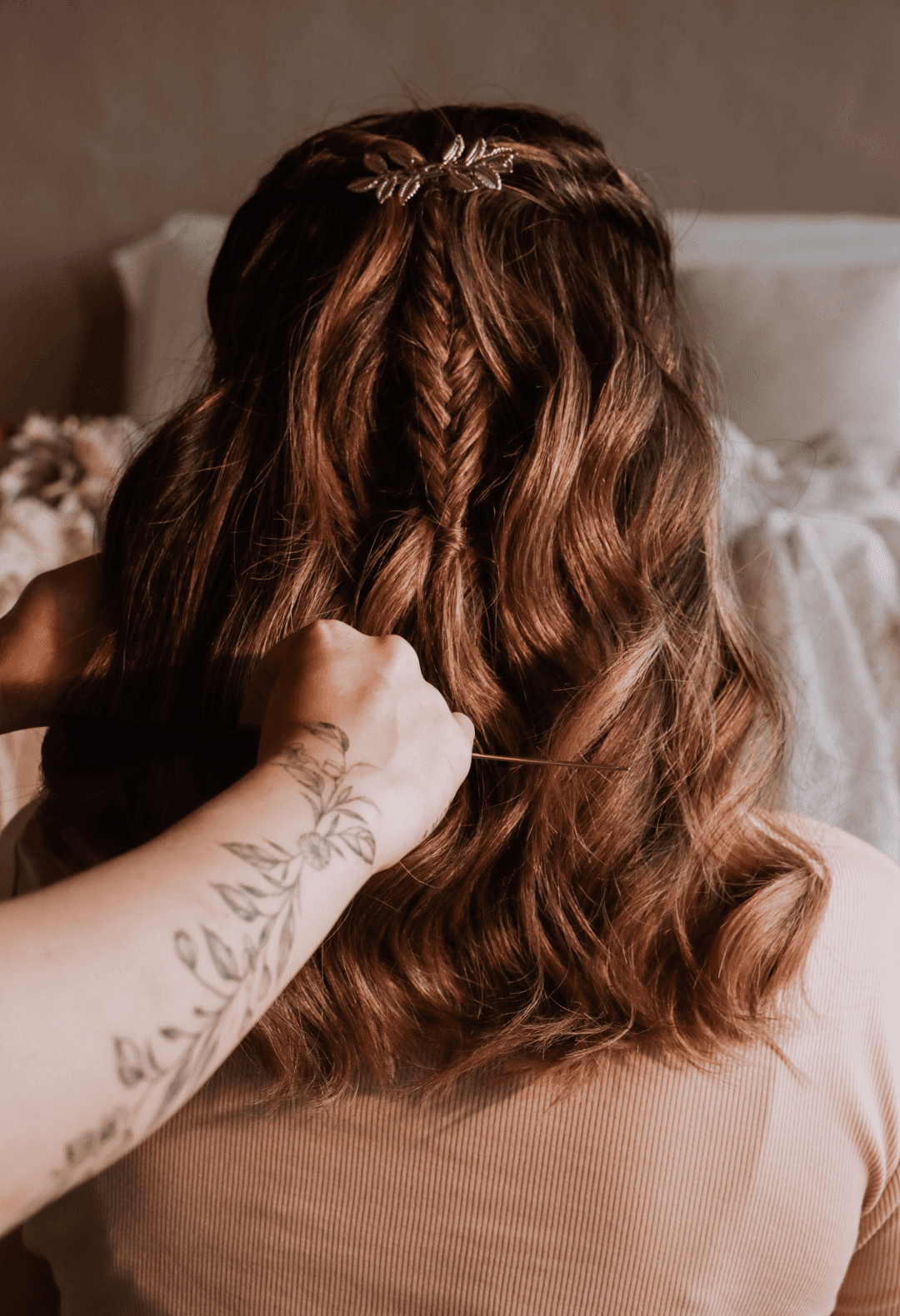 Such a sweet take on the half-up hairstyle. The braids from the sides come together into one braid down the middle. The red hair, too, is so beautiful here. A great look that could easily be recreated at home.
24. Half-Up Braided Hairstyle: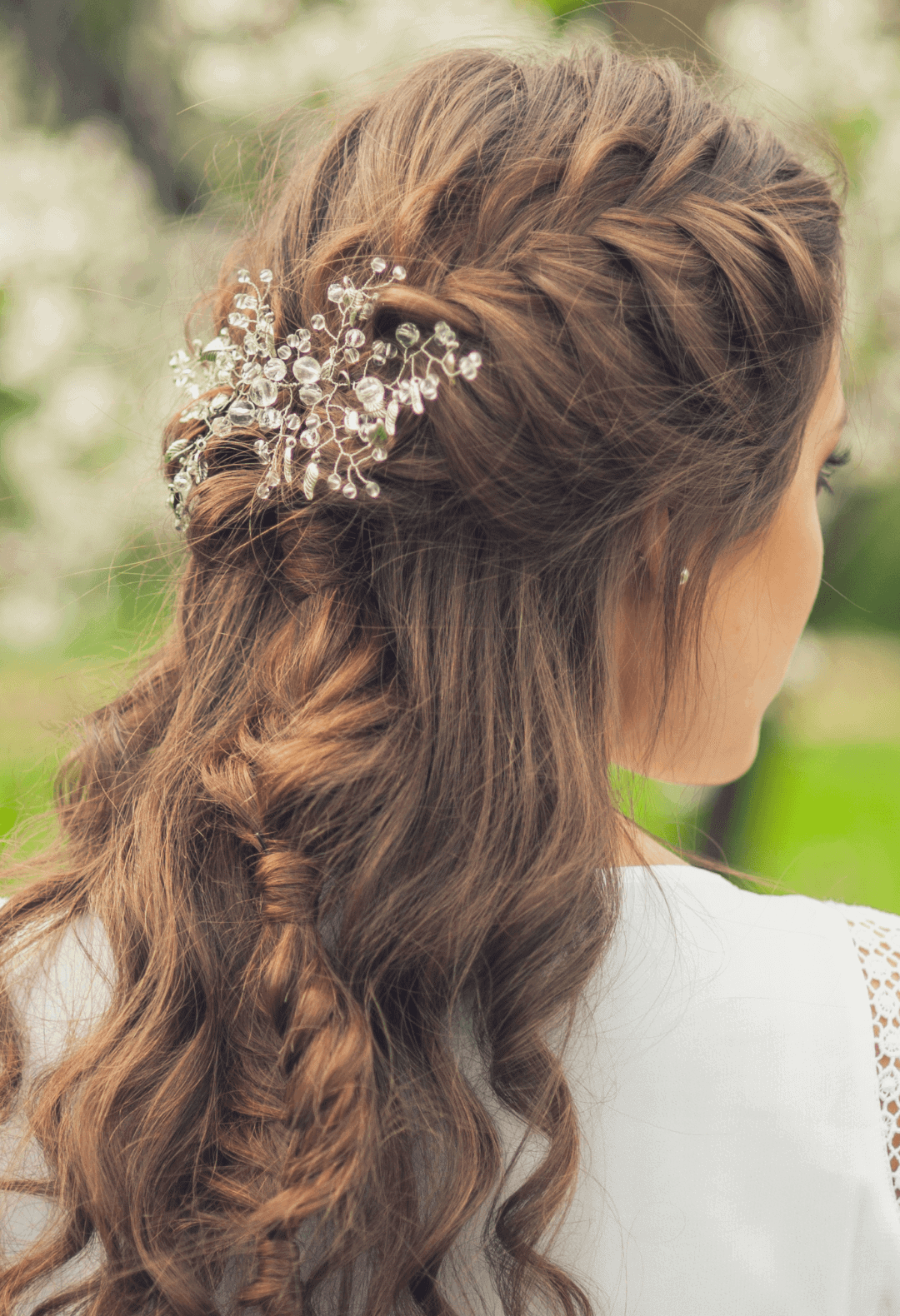 Another take on the same idea, this time with larger braids on the sides and then a really unique treatment on the ponytail. This might be hard to do at home, though.
25. Side-Swept Braid: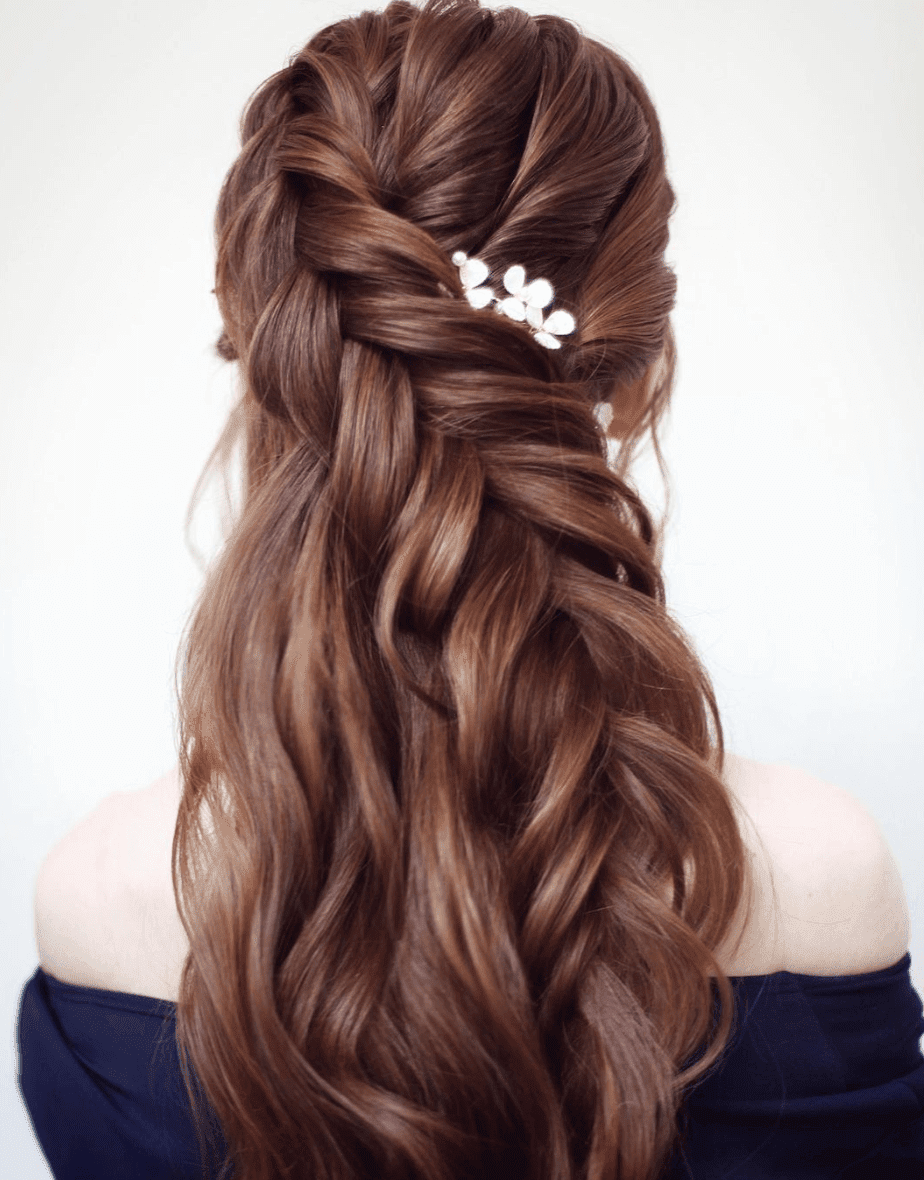 This one just blows my mind. The artistry here is stunning. Love this one so much. I don't understand how it's holding the shape without being tied at the bottom – it must be pinned in somewhere. It's amazing.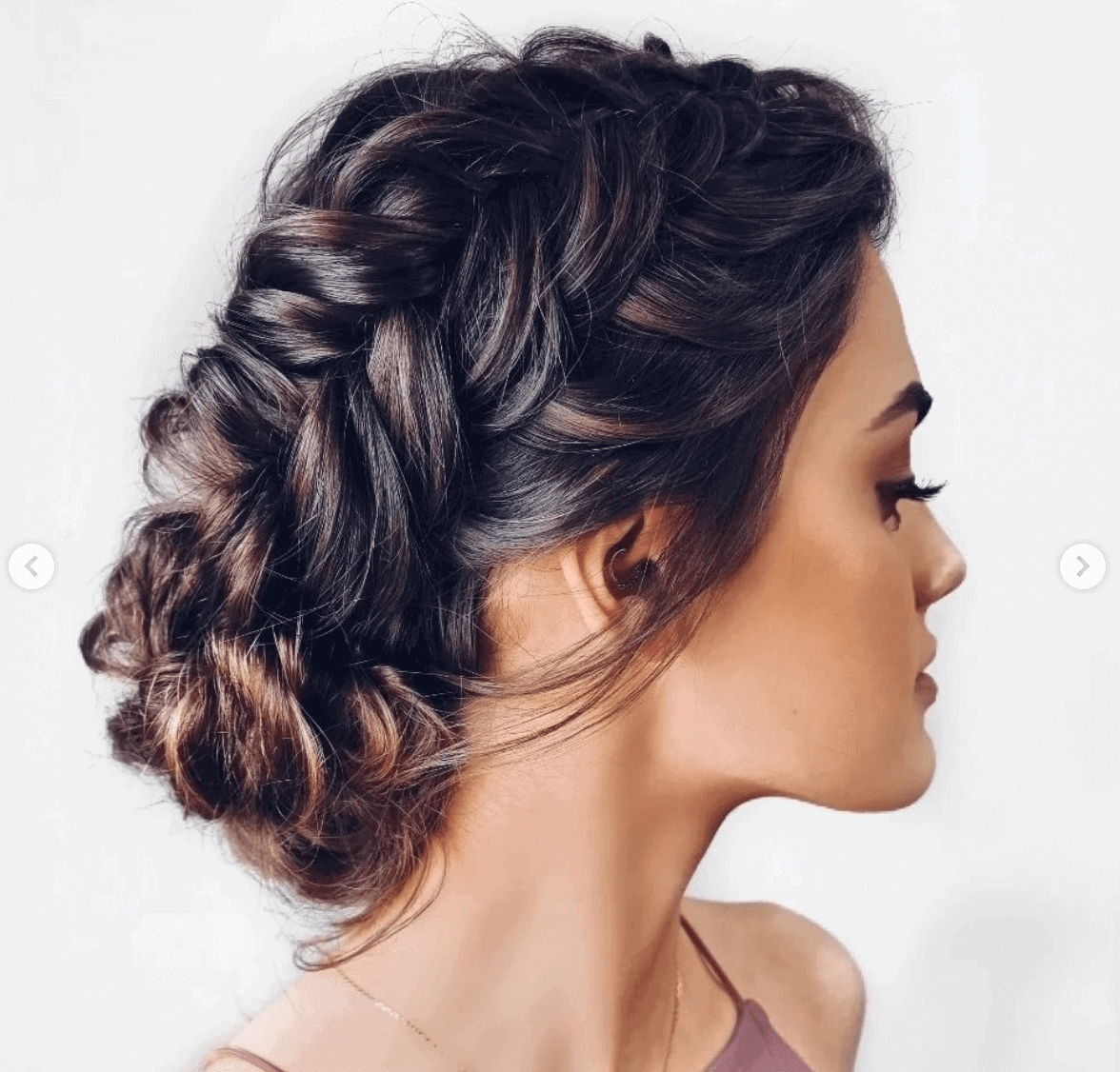 Another winner from @hairbyhannahtaylor. This one has such a soft, organic look to it, that it almost tricks you into thinking it was easy. It really shows off the various colors in her hair, too. Beautiful.
5 Tips for Prom Hair:
To get the best prom hair of your life, here are some simple tips to make the most of that hair appointment:
Start with dirty hair. Don't wash and style your hair the day of your event. You want hair to have a little grit to it to hold the style. In fact, if you wash and style your hair a couple days before, this would be perfect, because some of that product will help the hair stay put. Just make sure to style your hair similarly to how you want it for prom day. For example, if you want a loose, wavy style, then blow dry and curl your hair a couple days before. If you are going for smooth and sleek, then blow dry and straighten your hair a couple days before.
Bring your accessories with you. If you're hoping to use a beaded comb, bring that to your appointment so they can add it in and use bobby pins to secure it if needed. I found some gorgeous vintage beaded combs on Etsy that have a similar vibe to some of these pictures. Check them out here.
Wear clothes that unbutton or pull down. You don't want to pull anything over your head after styling your hair.
Match the style of your dress. Is your dress boho chic? Go with a boho style with your hair, too. Is your dress sleek and structured? Then let that go with your hair, too. Is there part of your dress that is incredible? Make sure your hair doesn't obstruct the view.
Work with your hair type, not against it. If you don't see hairstyles here that go with your particular style of hair, keep searching. Don't try to force your hair to do something that won't work. So, if you don't see something here with your length or style of hair, keep looking until you find it 🙂
*****
I hope you loved looking at these gorgeous hairstyles. There's a ton of hairstyle round-ups on the blog that might also have something perfect for you. Check these out:
Thanks for reading!
Have a fabulous day,
E