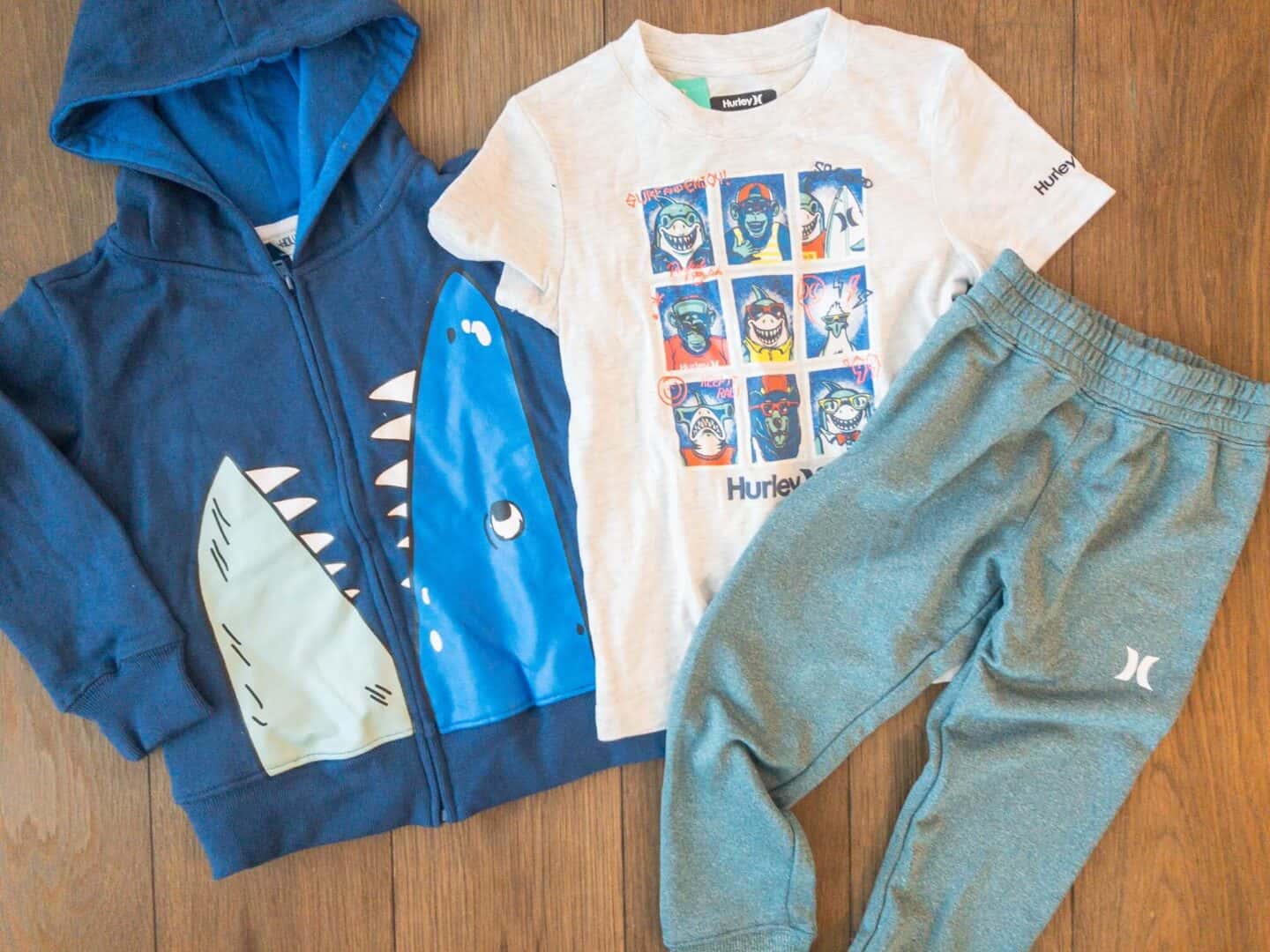 I'll admit I take full advantage of having hand-me-downs for my youngest. But, he's starting to get to an age where I don't have as many things that fit him just right. With the weather turning colder and the holidays coming, I needed some clothes for him – fast – without spending hours online ordering things.
Stitch Fix for toddlers to the rescue!
I've been getting fixes for myself on and off for years and absolutely LOVE the fixes they have sent my daughter (check it out here), so I logged on to see if they accommodated toddler sizes, too.
Spoiler alert: they totally do.
So, let's check out what they sent to my youngest. Also, I bought this box with my own money – but you're welcome to use my referral link, which will get you some money off your first box (it's usually around $25, but sometimes is more!).
Outfit 1:

Totally love this adorable outfit. The camo pants have a great style, while still being comfortable and easy to play in. The shirt is really soft with a fun space print.
He really loved it and it fit great.
Outfit 2: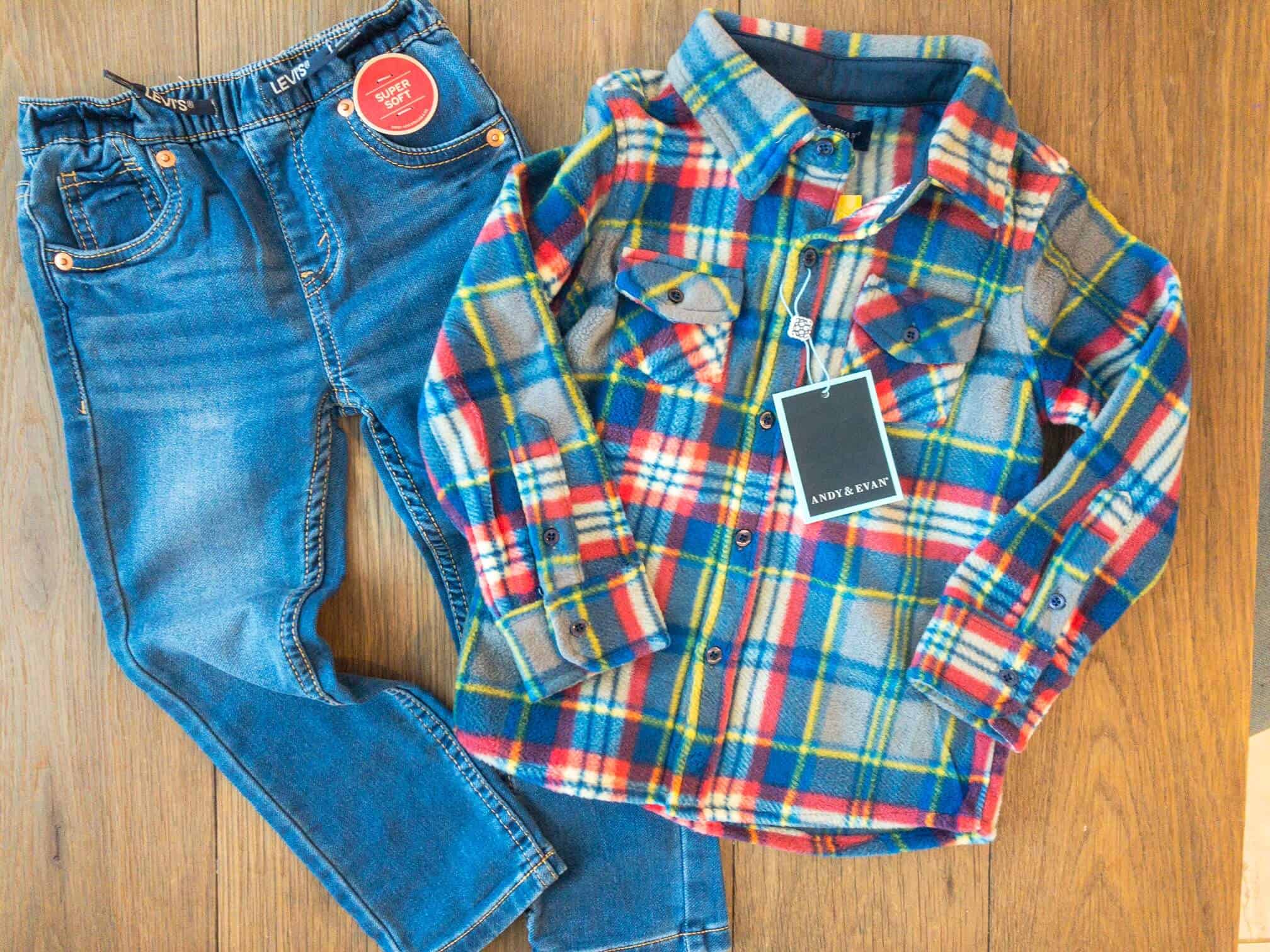 I'm totally obsessed with this one. Absolutely adorable. The Levi jeans are stretchy, with a comfortable waist, but still have the classic Levi pocket styling on the back. These are some of the cutest toddler jeans I've ever seen.
The flannel shacket is Andy & Evan, super on trend, while still being easy to mix and match. It's softer than soft and he totally loves it.
Outfit 3: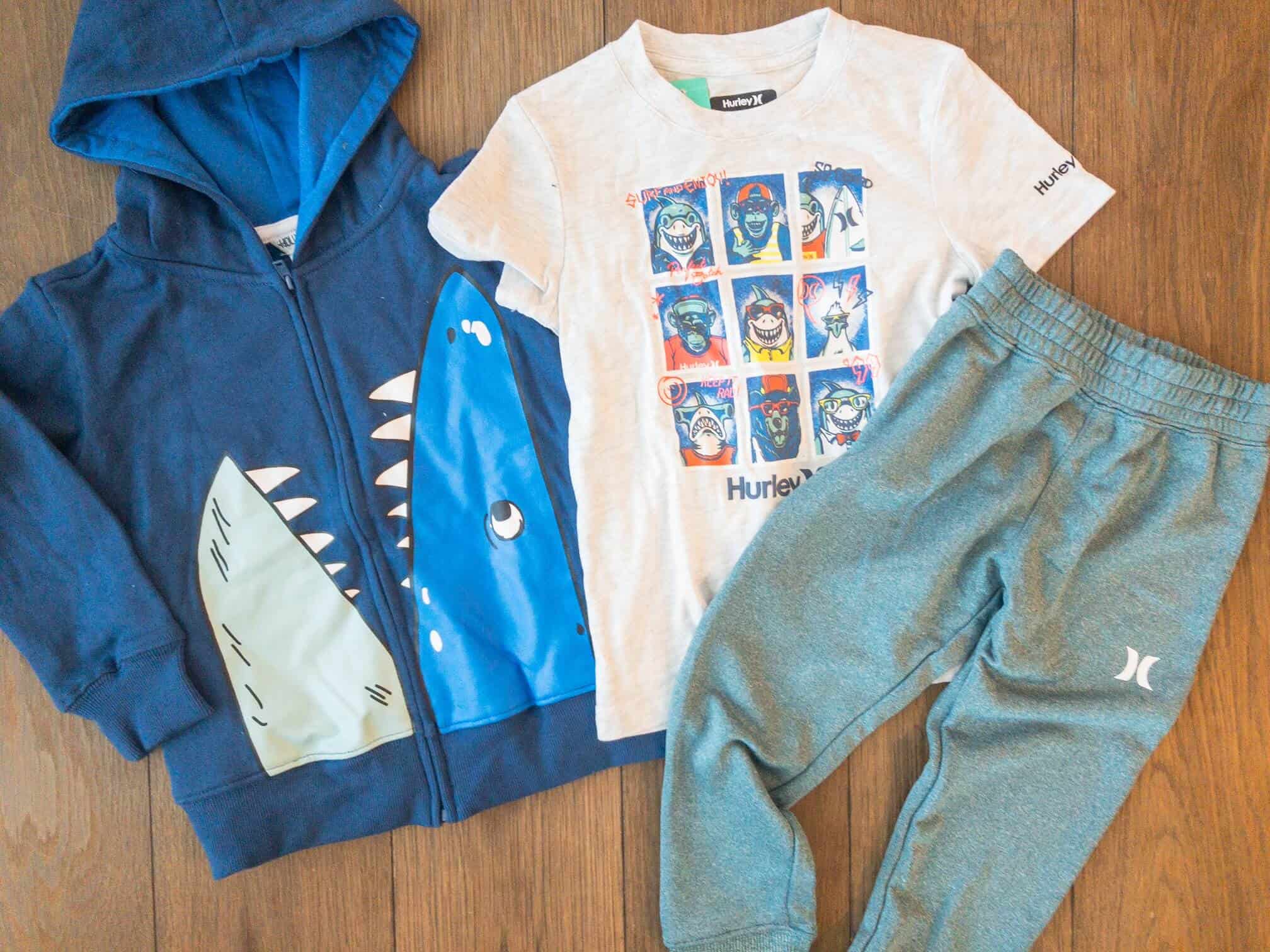 I think this two-piece Hurley outfit looks perfect with the zip-up shark hoodie. The shark pictures on the Hurley shirt are so funny and he cracks up when he sees them.
I have always loved kid jackets that have something fun, like this shark mouth hoodie. It makes it a lot easier to get them to put their jackets on in the morning, that's for sure (sidebar: why do kids hate jackets? Why?)
Outfit 4: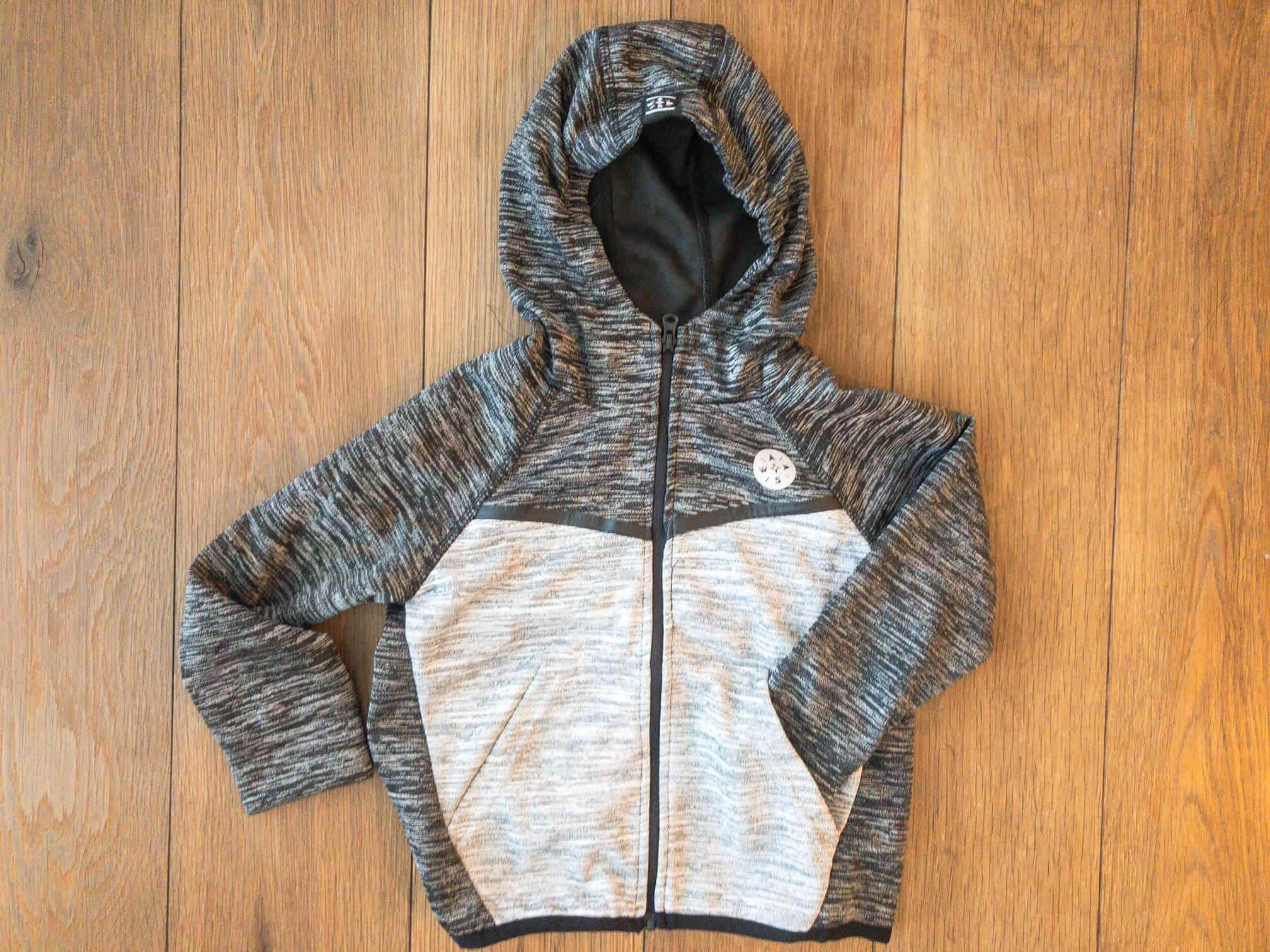 This activewear jacket could go with any of the pants and look great. It's lightweight, but still cozy, and has a cool design on the hood that helps it stay on.
The pockets are also larger and easier to get into for younger kids. Gotta love clothes designed for the age actually using them. Hurrah!
Outfit 5: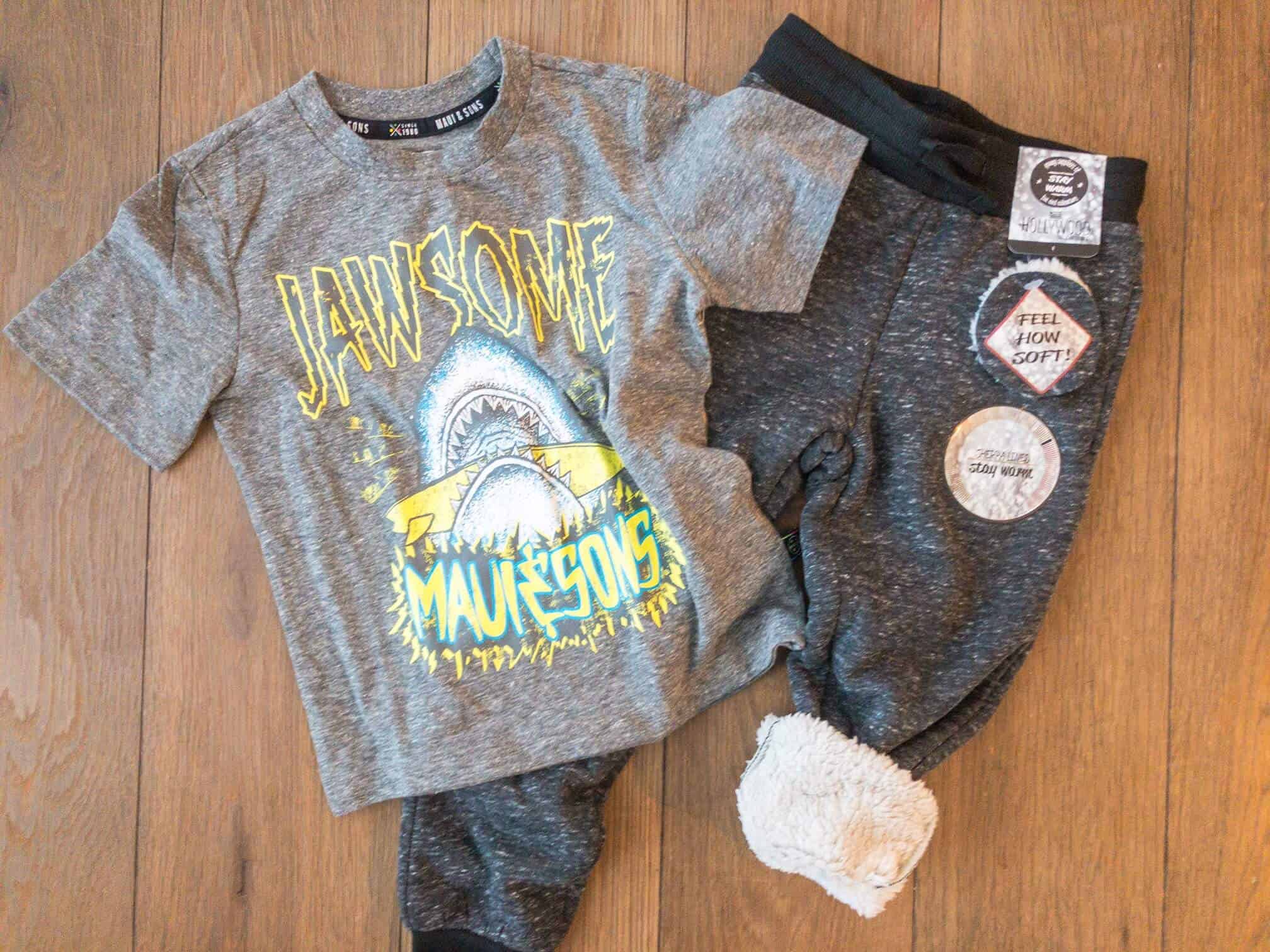 It was a shark-themed box – clearly! This graphic t-shirt can easily be mix and matched with anything, but I really loved it with these incredibly soft, shearling lined pants. I wish these pants were my size, because they are like wearing a fluffy blanket.
Shoes: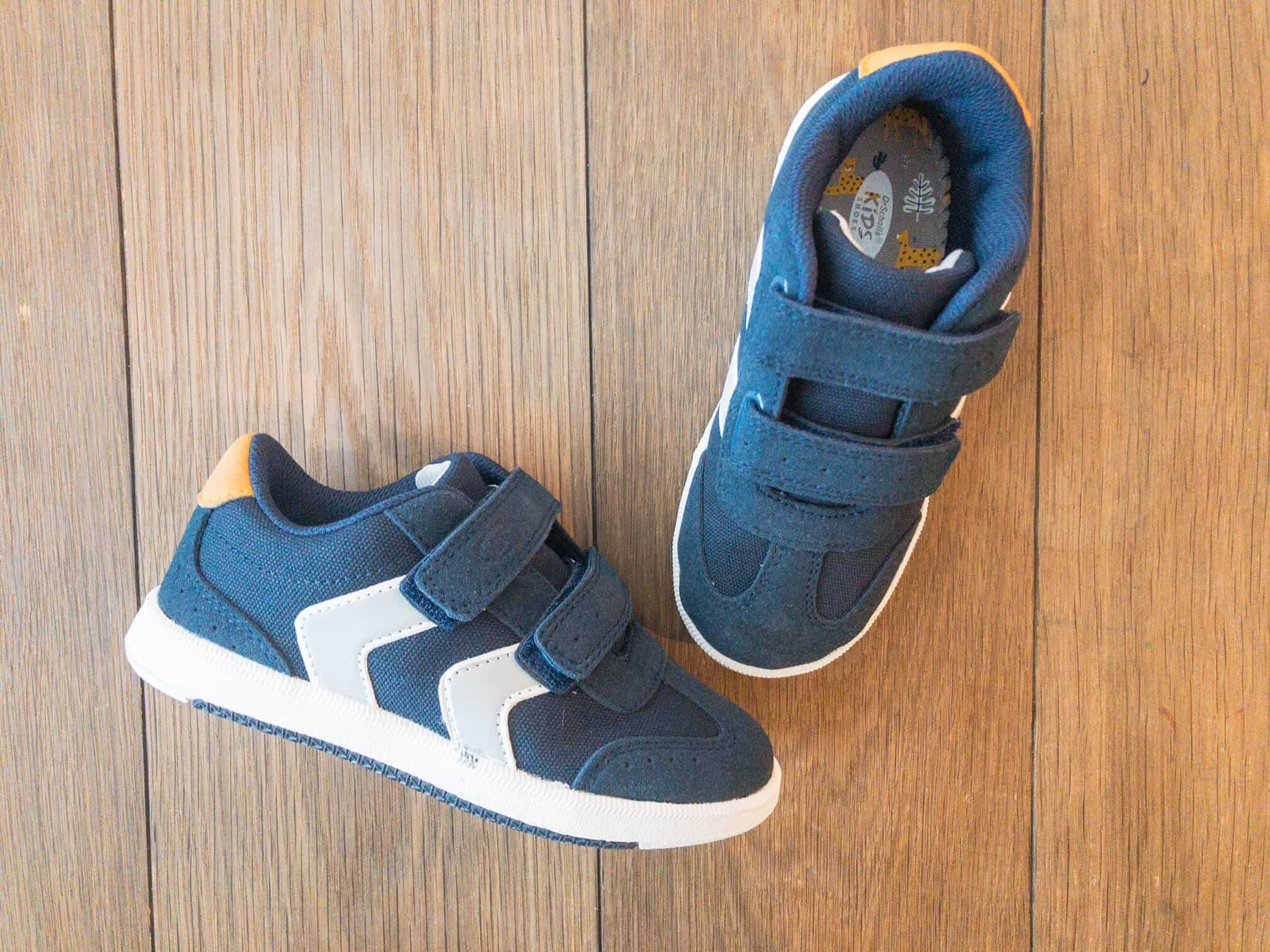 I've noticed that the Stitch Fix boxes come with a pair of shoes and they are always the best shoes ever. I don't know how they do it – because I feel like I am constantly shopping for shoes for my kids and I don't see the styles they send anywhere.
These Dr. Scholl's sneakers are just perfect. The blue and white design goes with anything and the little leather detailing on the back make them interesting. Velcro, of course, is a must for this age group.
*****
Once again, Stitch Fix Kids absolutely nailed this box. The stylist really paid attention to what I asked for and so I decided to keep everything, which got us a 25% discount!
The grand total for all of these items was around $175. Could I have found this number of items on my own and bargain shopped to spend less than that? Probably. But, time is money, friends. And, there are items here I haven't seen anywhere I shop – which is part of what I love about these clothing subscription boxes. They do the hard work and ship it right to my door. My kids look snazzy and I can check it off my to-do list.
Have you tried Stitch Fix kids? Feel free to use my referral code if you'd like to check it out.
Or, another one of my absolute FAVORITE kid boxes is Rockets of Awesome. I reviewed the girls box here and the boy box here.
Let me know if you decide to try it! It's a super easy , stress-free way to dress your kids.
Have a fabulous day,
E