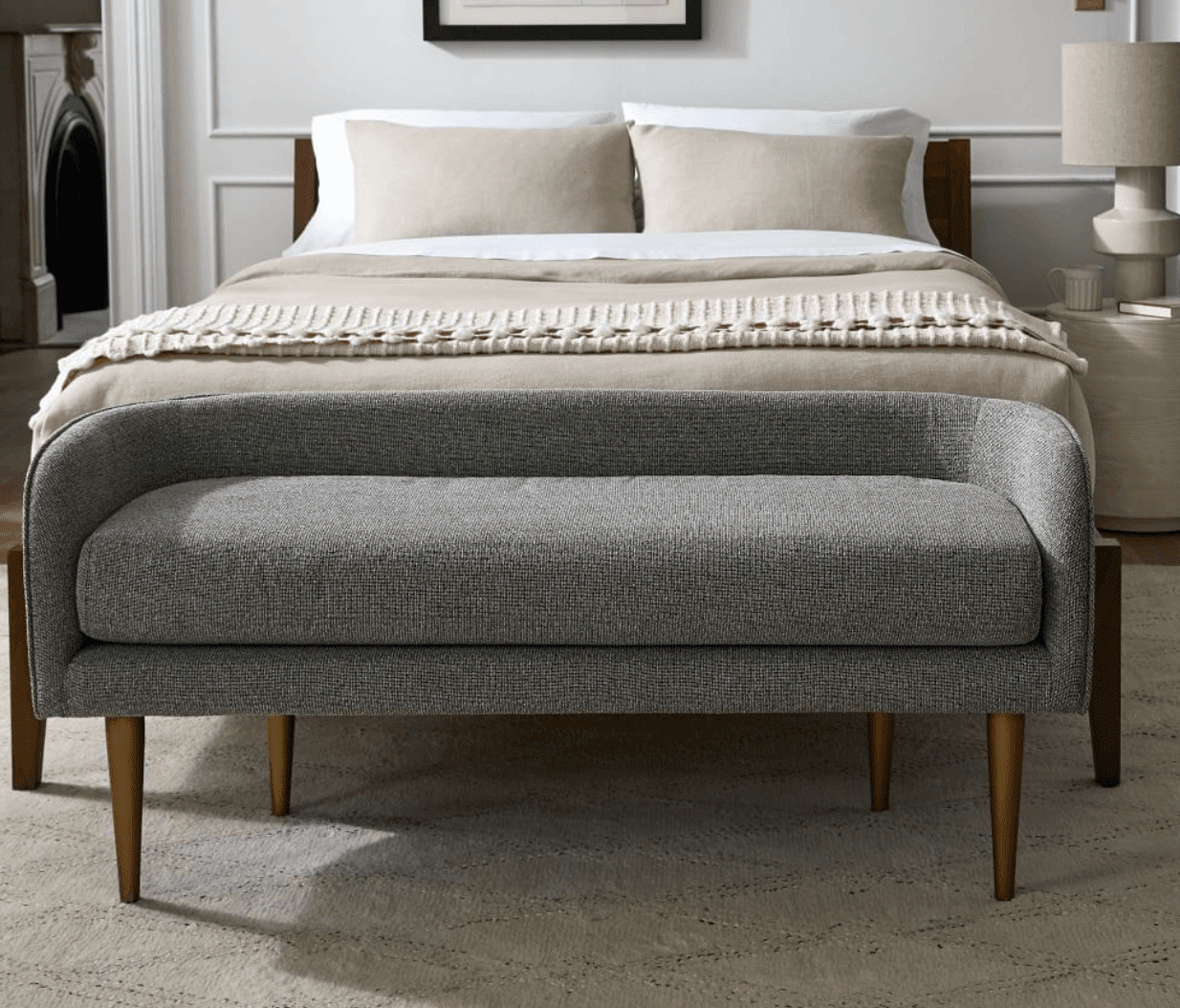 I love the end-of-bed bench look. It can really finish a space, while also providing an extra place to sit or put things, without putting them on top of your bed.
The other adult in my house didn't totally understand the need for the bench, but now that we have had one for awhile, I think they have really come around.
And, honestly, how could you not? I snatched up this distressed leather and metal bench for a steal – and it adds so much texture, warmth and utility to our room. What's not to love?
So, in honor of my deep, enduring love for my end-of-bed bench, I decided to round up my favorite benches of the moment so you can find your perfect bench, too.
How To Pick The Best End-of-Bed Bench:
If you're looking to add this piece of furniture to your room, I say go for it! Don't worry too much about what kind of bench you "should" get and just find one that inspires you and you want to look at it everyday!
There are a couple of things to think about, in terms of balance, that can help it fit your space better (but I've seen people break these rules and it still looks fab, so take these with a grain of salt).
For one thing, I typically prefer the bench to be more narrow than the bed frame. There isn't an exact rule to follow here, but I would just say have the bench fall in between the legs of the bed.
Then, I usually like to see the bench sit a bit lower than the top of the bed. I like a clear line of sight to the bed with all it's glorious bedding and pillows. Why block out that beautiful sight at the end of a long day?
But, I've also seen people put little settees at the end of the bed that did come up higher than the foot of the bed and this can look really chic, too.
So, with that said, here are my favorite benches that would be perfect in a variety of bedrooms. Also, know that affiliate links are used below, which means that at no cost to you, I may receive a commission if you make a purchase from my links!
The Best Benches To Put At the End Of Your Bed: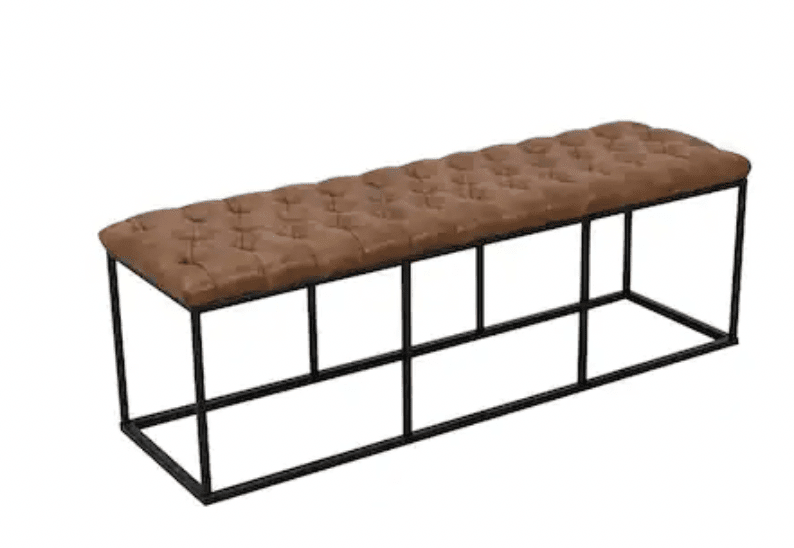 Oh, heyyyyy! This beauty looks familiar! Absolutely love our version of this bench, also from Overstock. Paid under $200 for it, too, and it's still in excellent shape after several years of use. We have a Cal King sized bed, so we needed a larger bench for the space and this was perfect.
Price: $139 at time of posting
This one is so chic and could also be a great coffee table. There's a big home decor Instagrammer who keeps sharing this as a coffee table, so it sells out often and then comes back in stock again. Keep an eye on it if you're interested and snag it when it's available.
Price: $272 at time of posting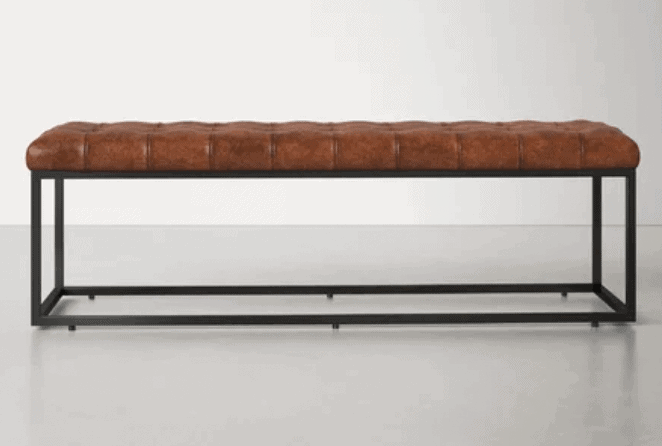 Another leather, tufted bench with a simper frame for a more modern look. Would be great for a smaller bed size.
Price: $371 at time of posting

Crate & Barrel is so good. I share their wishbone counter stools here and super lounge-y, cloud-like sofas in this post. Oh, and don't forget their gorgeous cabinet in this post. We have their Axis sofa in our living room and it's been the best couch we have ever had.
Price: $549 at time of posting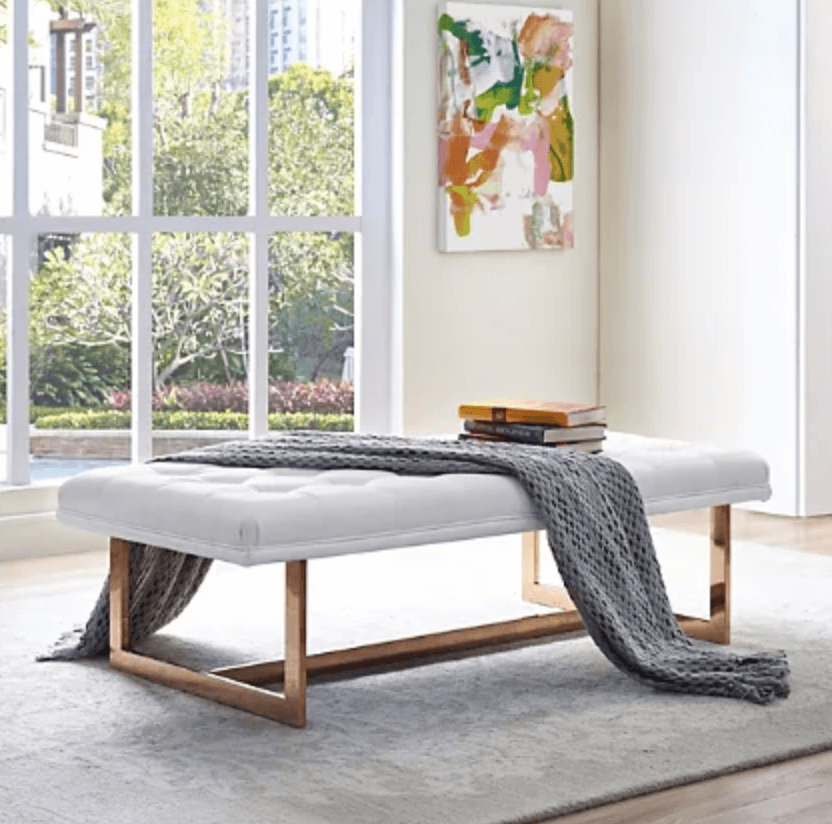 This bench is such a winner. It comes with a white or black tufted, upholstered leather top.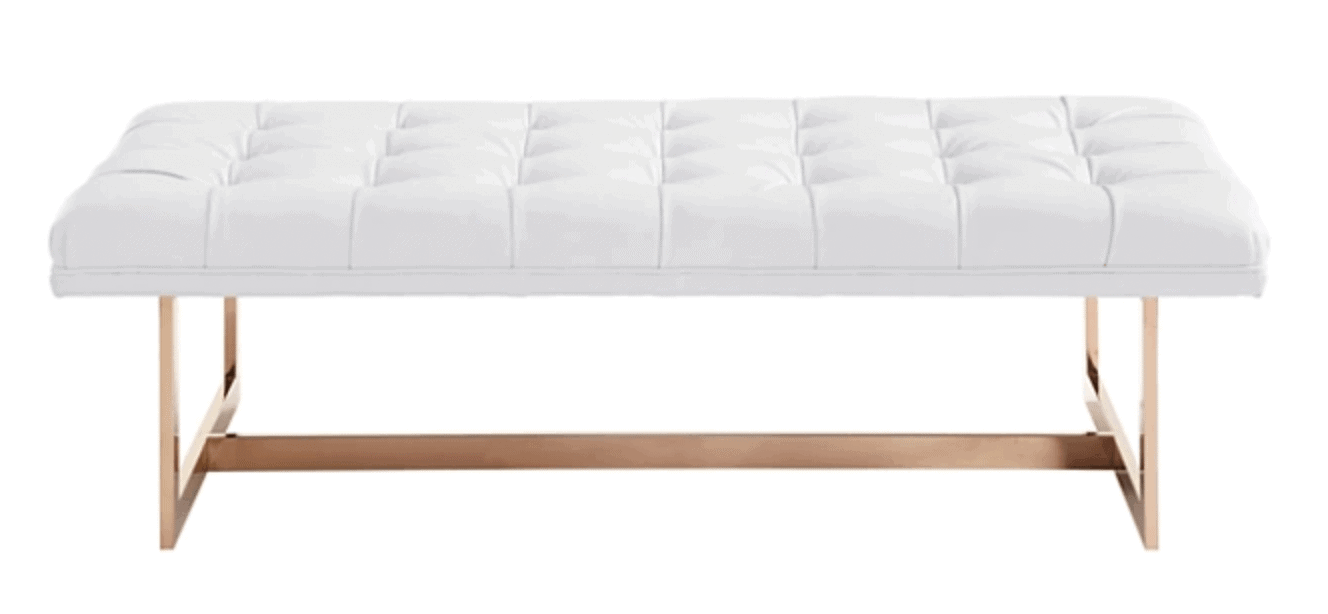 Price: $425 at time of posting
The padded, but not tufted, leather top has a more minimalistic, clean line to it. The x-base on the bottom also adds a little extra design. Available in three colors and so, so good. An easy style that will go with a lot of home decor, too.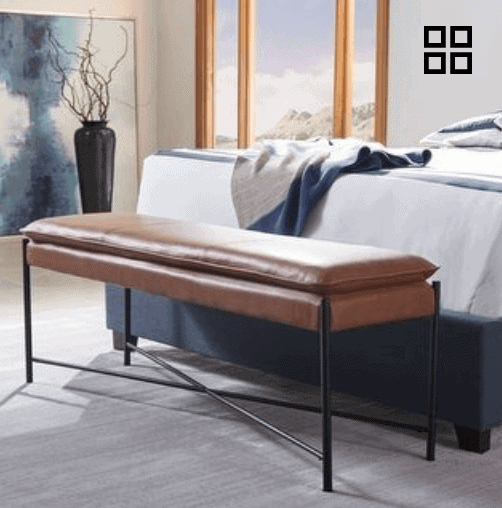 Price: $148 at time of posting
Oooooooh girl. This one is STUNNING. Please buy this and then rub it in my face that you stare at this glorious piece every day. IT'S SO GOOD.

Also, comes in this gorgeous smokey blue with brushed metal frame: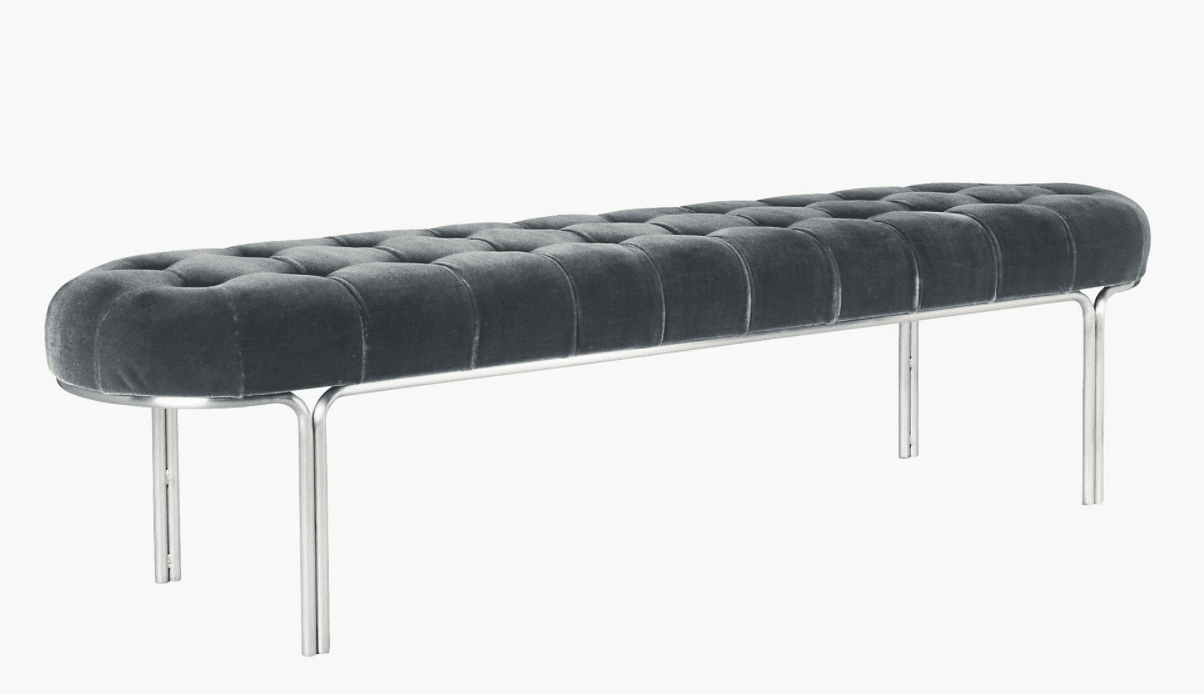 I love so much at CB2. I share their gorgeous counter stools in this post.
Price; $799 at time of posting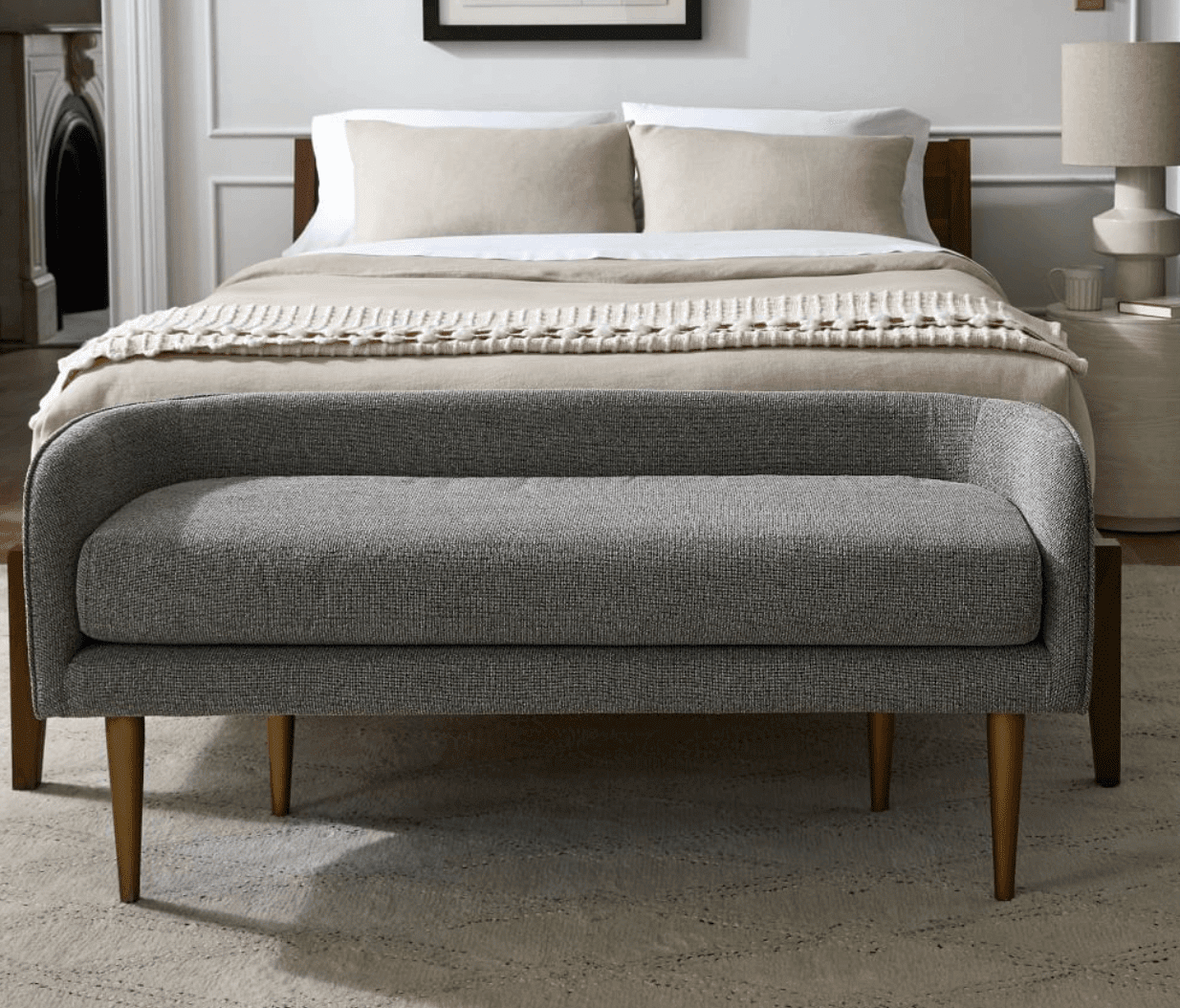 Love this look, too. It's softer than a bench and creates a bit more of a settee look, without the high back. West Elm products are really solid and I've been super happy with everything I've gotten from there.
Price: $599 at time of posting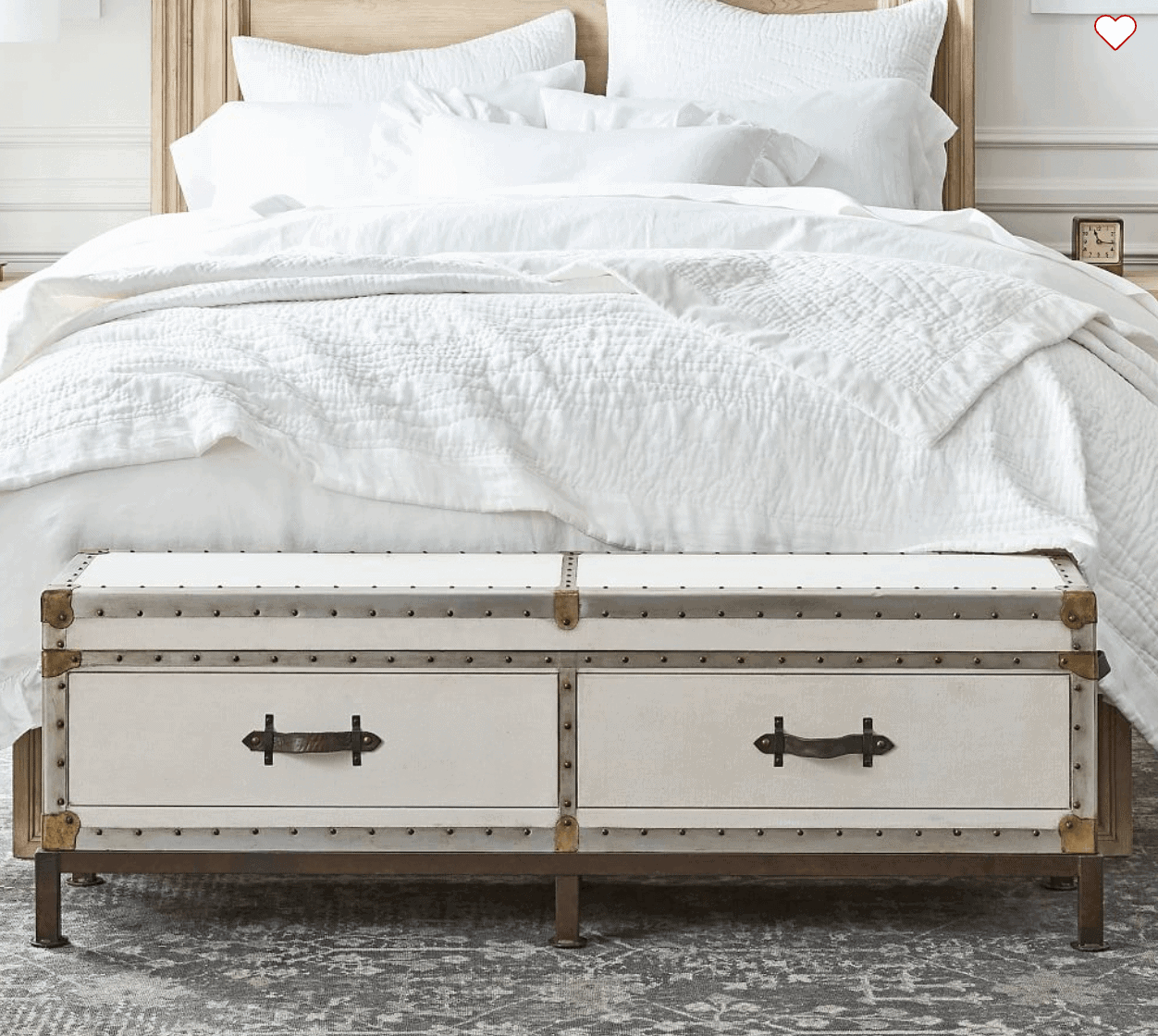 Need more storage? Who doesn't! This trunk bench can store all of those extra blankets and pillows! Plus, it's so, so chic. I've been super happy with everything I've bought from PB and their customer service is top notch.
I share the PB Lorraine coffee table in this post and dupe their marble table, their rattan pendant light and their striped drapes, too.
Price: $999 at time of posting
****
What do you think of the end-of-bed bench? Are you a fan? Also, due to supply shortages, some of these may be in or out of stock depending on when you check. With anything right now, just bookmark it or click to be notified when it comes back in stock. I'm seeing things coming in and out of stock all the time, so don't wait if something you want is available. You never know how many they have and how long it may be until they get more.
Have a fabulous day,
E