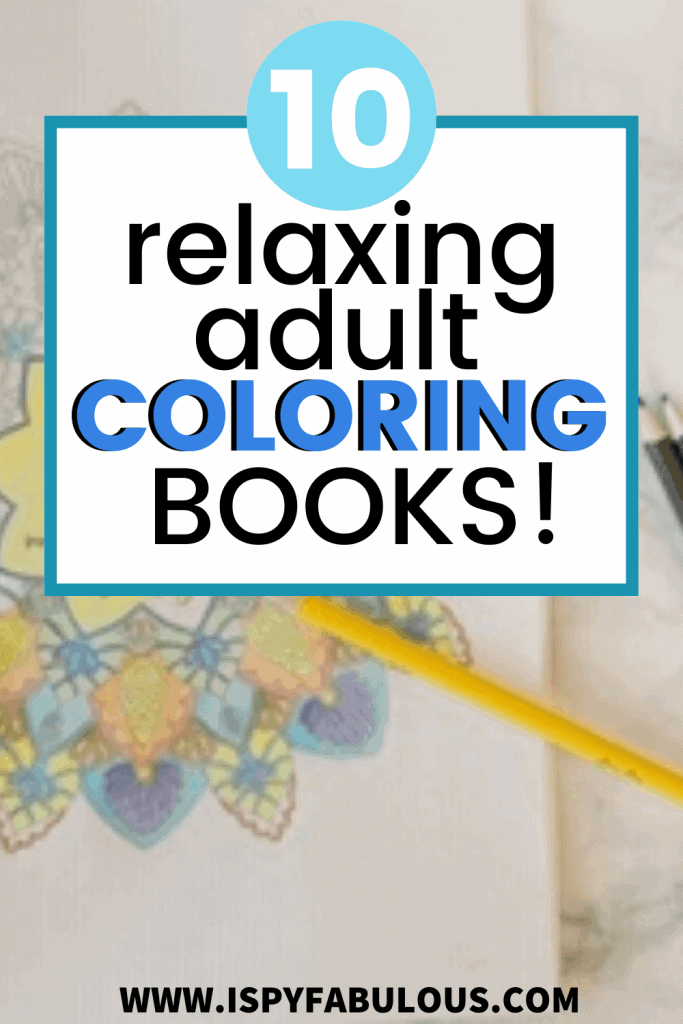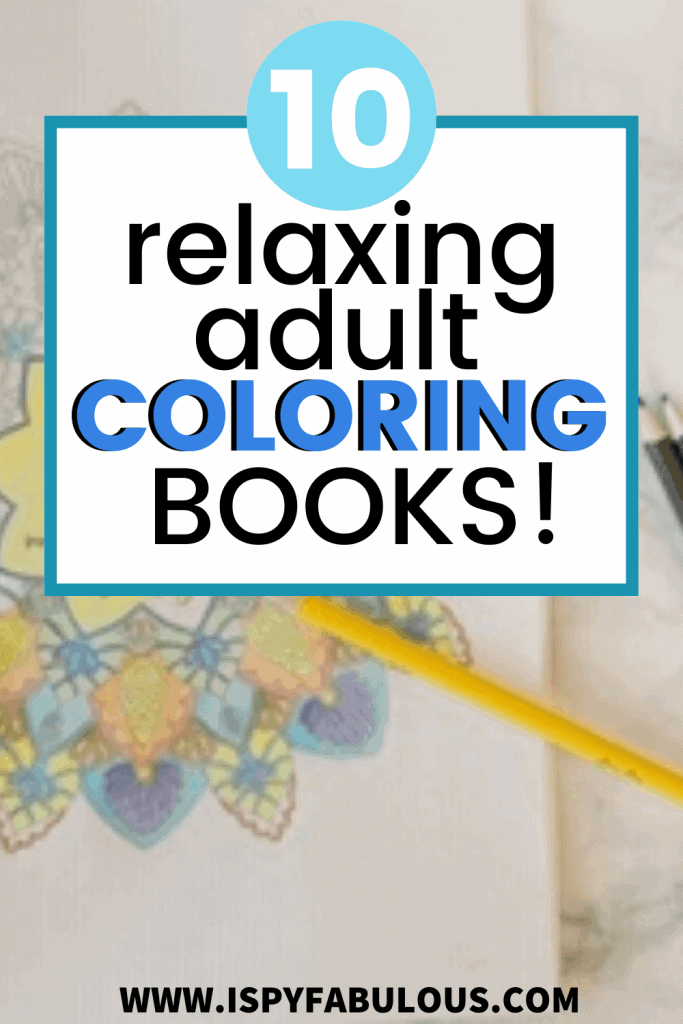 I loved coloring as a child. From choosing a coloring book to a fresh new box of crayons, I found the whole process… therapeutic.
Of course, I didn't know then that art therapy is an actual thing with real benefits for not just kids, but adults, too.
Those things that lulled us into a sense of calm as kids work even now as adults.
That's probably why we've seen a big surge of adult coloring books in recent years.
While I haven't had the time to color anything more than along with my kids in the past, this new homebound lifestyle has led me to order some new adult coloring books for myself.
So, now, while my kids color Hot Wheels and Unicorns, I get to zone out to my favorite mandala coloring book or get a little boost from an inspirational sayings coloring book for adults.
Today I am sharing 10 adult coloring books that will help you get all zen and allow your brain to shut off for just a few moments for a much needed break:
Best Adult Coloring Books for 2020:

I was drawn to the beautiful watercolor color of this mandala coloring book. I like mandalas because they don't inspire any trains of thought or memories that other images and scenes can for me. When I color, I like to completely zone out.
Then, I read that there are also quotes on inner peace from thought leaders like Buddha, Dalai Lama and more and I was sold.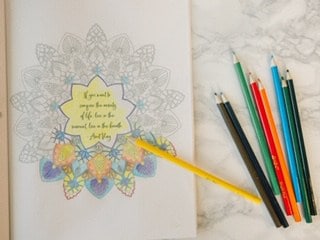 Y'all know my love for quotes runs deep – which is why I've written quote posts including these girl power quotes and best quotes on love.
So, quotes and mandalas? Yes, please!
Turns out, it's a good one. Plus, I love the whole vibe of the publisher, Good Vibes Publishing Co. I feel like we can all use some good vibes right now, you feel me?
After buying this mandala coloring book, they released a geometric pattern coloring book I want now, too. Rather than mandalas, it's full page mandala and geometric patterns that are single-sided.


Score.
UPDATE: After this post published, Good Vibes reached out and offered some free coloring pages. Check out this post with 3 free coloring pages from the geometric patterns book!

This big book of animal mandalas has some inspiring images, like this elephant, that I really like to look it. I love the peacefulness of animal mandalas – the butterflies, the horses, the scenes from nature.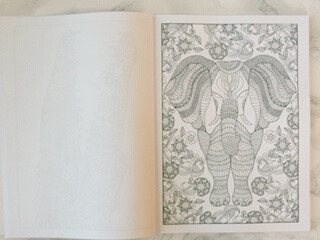 While some of the images have too much shading or thick black lines for my taste, there are still more than enough animals in here to keep me busy for a really long time.
You may want some fine tip markers for this book as there are some really small spaces that even a freshly sharpened color pencil may not be able to do.


If you prefer to color things, instead of geometric patterns, this coffee coloring book is adorable. I am a huge coffee fan (no surprise, there) and I have loved writing posts on 15 best iced coffee recipes and our favorite, super affordable iced coffee recipe we make at home.
This coffee coloring book has some recipes in it, too, along with cute coffee and pet themed imagery.

This is designed for the snarky, sarcastic mom. It's certainly not a sweet look at the touching moments of motherhood, so know what you're getting with this one.
With images like "Tub Poop Coloring" scenes and "I look so peaceful when my kids are sleeping", this one will probably invoke a laugh or two while we are all enjoying a lot more "quality" family time.
This is a hilarious coloring book for the party lovers. They might be stuck indoors, but they can still drink a cosmo while they color the page with a giant giraffe and a cranberry cosmopolitan recipe.
With dozens of recipes, funny drinking animals and more, this makes a great gift for the mixologist in your life. Also, lots of reviews say it's great as a gift or white elephant gift, so once we are back to enjoying each other's company again face-to-face, you can revisit this coloring book then, too.
Gotta love coloring books by the uber-talented Johanna Basford.
Her intricate scenes are beautiful and relaxing. But, you should know, these are detailed scenes that will take awhile to color and if you are struggling with any kind of hand/wrist fatigue or pain, you may not make it through some of these in one sitting.
Still, like a beautiful puzzle, they are worth the effort to pluck away at them a few minutes here and there as you can.

Growing up, my father fell in love with paintings by Thomas Kinkade. He worked really hard for everything he has and as I got older, he invested in a few of his favorite pieces from his favorite artist.
So, when I saw this coloring book, I immediately thought of him, the beautiful Kinkade paintings in his house, and even the little Thomas Kinkade shop I used to visit in Carmel.
This coloring book is a partnership with Disney, as well, to show Kinkade's take on scenes from famous Disney movies.
I am a fan of inspirational coloring books like this. That's why I wrote an empowering activity book for girls and even a comic book themed inspirational coloring book for boys.
This one is an excellent choice for adults who want the same idea for themselves!
If you want some free pages for your young girls and boys, check out my posts with free printables:
Hey, whatever floats your boat, right? This motivating swear word coloring book is certainly not for children, but can be a great gift for the woman stuck-at-home and needing a little inspiration.
10. 100 Best Places to Visit Coloring Book

The Lonely Planet created this traveling color book and what better time than now to feel like you can experience these incredible places from the comfort of your home?
Through these page, you can visit the Great Barrier Reef, experience Machu Picchu, relax on the beaches of Greece, and stare up at the Eiffel Tower.
Combine with all of the cool virtual museum tours you can do online, and you've got the most affordable vacation ever.
*****
Art therapy is a real thing – and we all can use a little rest from overthinking, stress and anxiety.
If you're looking for even more de-stressing, check out my post on breathing exercises and apps for anxiety and how to practice mindfulness.
Got kids? Don't miss my post on 40+ ways to keep them busy at home.
Stay safe. Stay healthy. Stay sane.
Have a fabulous day,
E