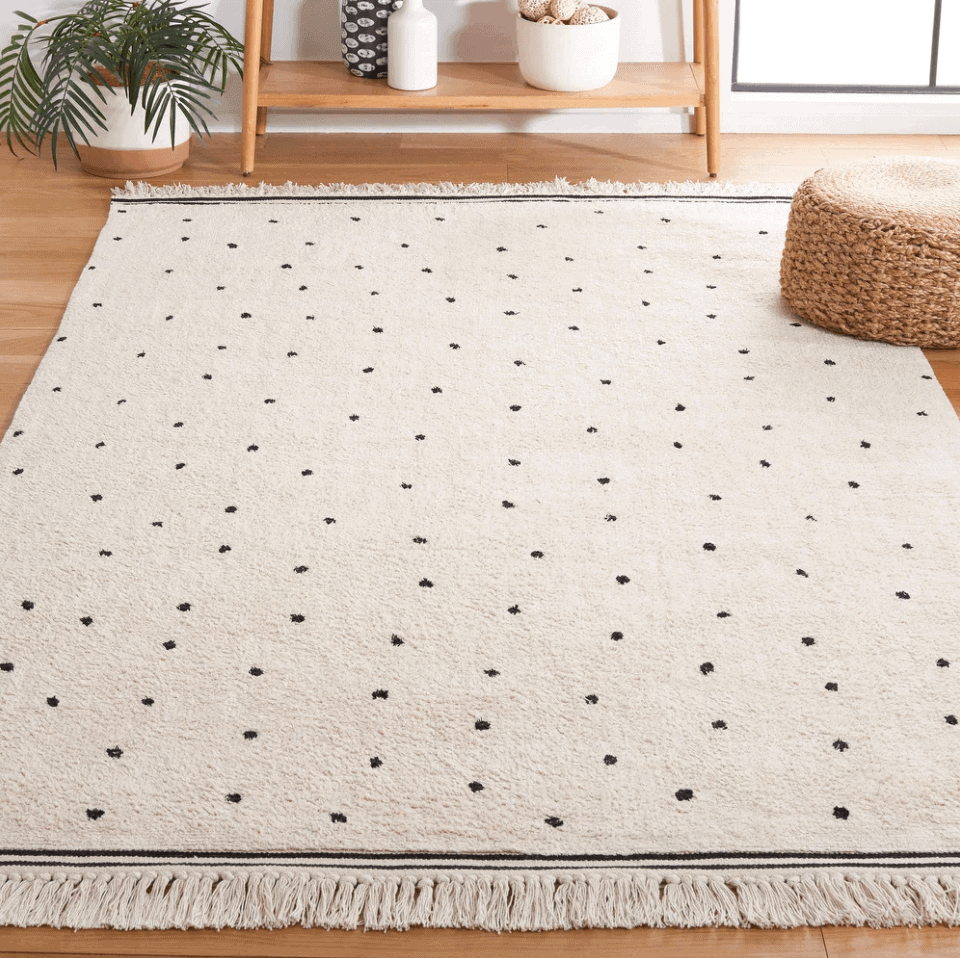 A lot of the designers I follow on social media have something in common: they love using a black and white color palette with pops of gold or a single color. While my own house looks quite different, (lots of blues, Persian rugs, rich reds and definitely some pops of black, too), I am really drawn to the monochromatic look. Maybe someday, or in another life, I will have a black and white house with pops of green.
One way I can bring some of that punchy, modern look to my home is by using area rugs with geometric designs. Black and white area rugs are a great foundational neutral that can be used with pretty much any style. You can switch out the colors and furniture all you want, but that rug is still going to work. It's a great base, especially for indecisive designers who like to change things often or with the seasons.
While I was searching for the perfect geometric black and white rug for our loft, I decided to create a round-up of the best black and white rugs I found, in case it'll help you find the right one for your space. And, bonus points for most of these rugs being insanely affordable.
9 Best Black and White Area Rugs: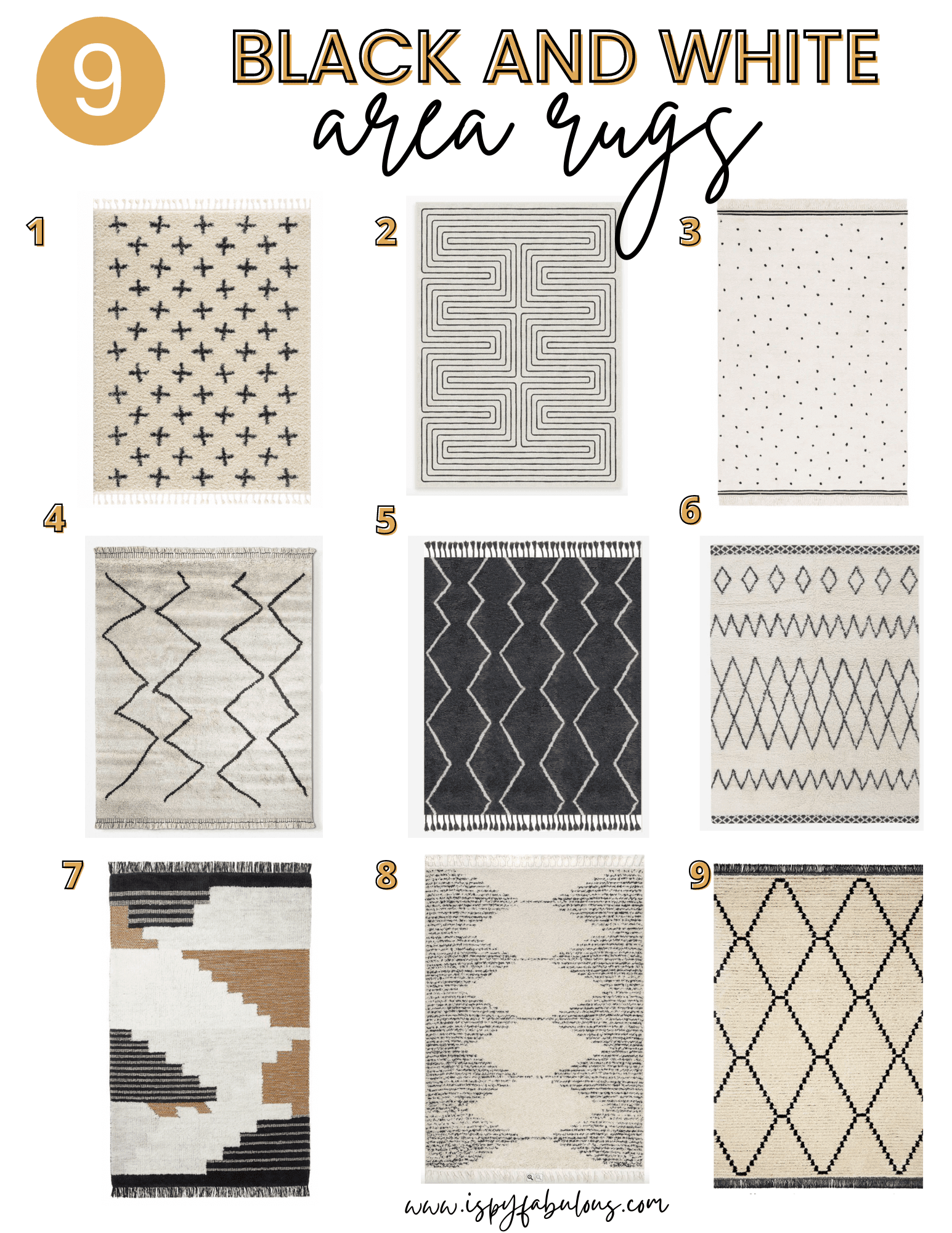 *Affiliate links are used below, which means at no cost to you, I may receive a commission if you make a purchase through my links. Thanks!
This is a very popular rug on the blog, after it was featured in a post comparing it to a bestselling Anthropologie rug. The Anthropologie rug reads a little bit more dark plum, so it's not a true black, whereas this one is a black cross. Either one is fantastic. See the full comparison in this post.
Loving this geometric design and the fact that Ruggable rugs can literally go in the washing machine. I have several of them and I like that they are washable and that you can switch out the tops and reuse the sticky rug pad that comes with it. Makes it nice if you have a destructive dog like mine that targets area rugs. For more washable rug ideas, check out this post.
I'm obsessed with this one and might even grab it for my daughter's room. It has a light polka dot print and then fringe on the ends. I'm a huge fringe fan when it comes to rugs. You won't believe the price on this one, either.
This rug is practically an institution. It's used in a lot of Lulu & Georgia's marketing photos and it's in so many designer spaces. It's a soft, neutral, modern shag that is going to add depth and texture in a space, without competing with any of the other decor. You can take it modern, boho, traditional, farmhouse, whatever you want. I found a similar tube for less, but it is more ivory than gray. Check it out here.
The Soul Wool rug is a bestselling rug. It's soft, has a great, chunky fringe on the ends, and comes in three super neutral colors. I love this dark slate/grey almost black color. It's different and it would pair beautifully with lighter furniture and wood tons. There's a great dupe for the Wool Soul, but it doesn't come in this grey color. Check it out here.
The Kasbah gives you the soft, shag, wool rug look with a different vibe. The trimmed out edges give it a more finished look and would pair very well in a room where you are layering the rug over a flat weave rug for more depth. Plus, the design is less consistent, more random, which draws the eye and offers more visual interest.
The Colca rug is one of my favorites ever. The combination of the goldish brown color and the almost Aztec design is so refreshing different. The plush version, though, adds the extra dimension of softness to the rug. I am always down with a soft rug. For me, if it's not soft underfoot, I don't care how cute it is. The Colca checks all the boxes.
Hundreds of rugs on the blog at this point and this is one of the bestsellers. It's certainly the most clicked on rug, for sure. Easy to understand why. The combination of the pattern, colors, price, and fringe design make it look very high end for a super affordable price.
There are four versions for the pattern of this rug, but they all have the cream and black neutral palette and the thing I love most about these rugs: black fringe. You definitely don't see black fringe on rugs very often and I absolutely love it. Add in that these are soft, super affordable, and can be shipped through Amazon – and you've got a winner.
*****
Did you find the perfect rug for your space? If not, there are a ton more rug posts here on the blog. Check them out!
Have a fabulous day,
E