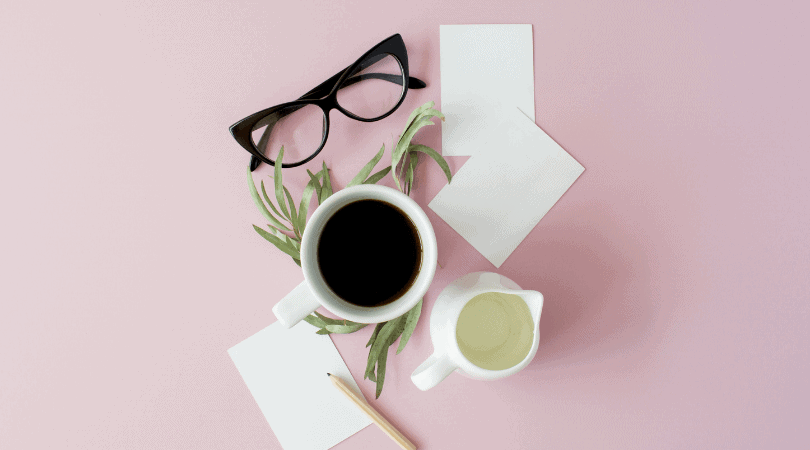 I love wearing glasses. I know that sounds strange, but I feel like they are jewelry for the face. Of course, I didn't always feel this way. I was in my 20s before I actually needed glasses, so there was definitely a bit of an adjustment to get on board.
But, thanks to Lisa Loeb and Tina Fey, glasses are cool (and even a little sexy), so if you're looking for a great, affordable way to add to your prescription glasses collection – read on, friends!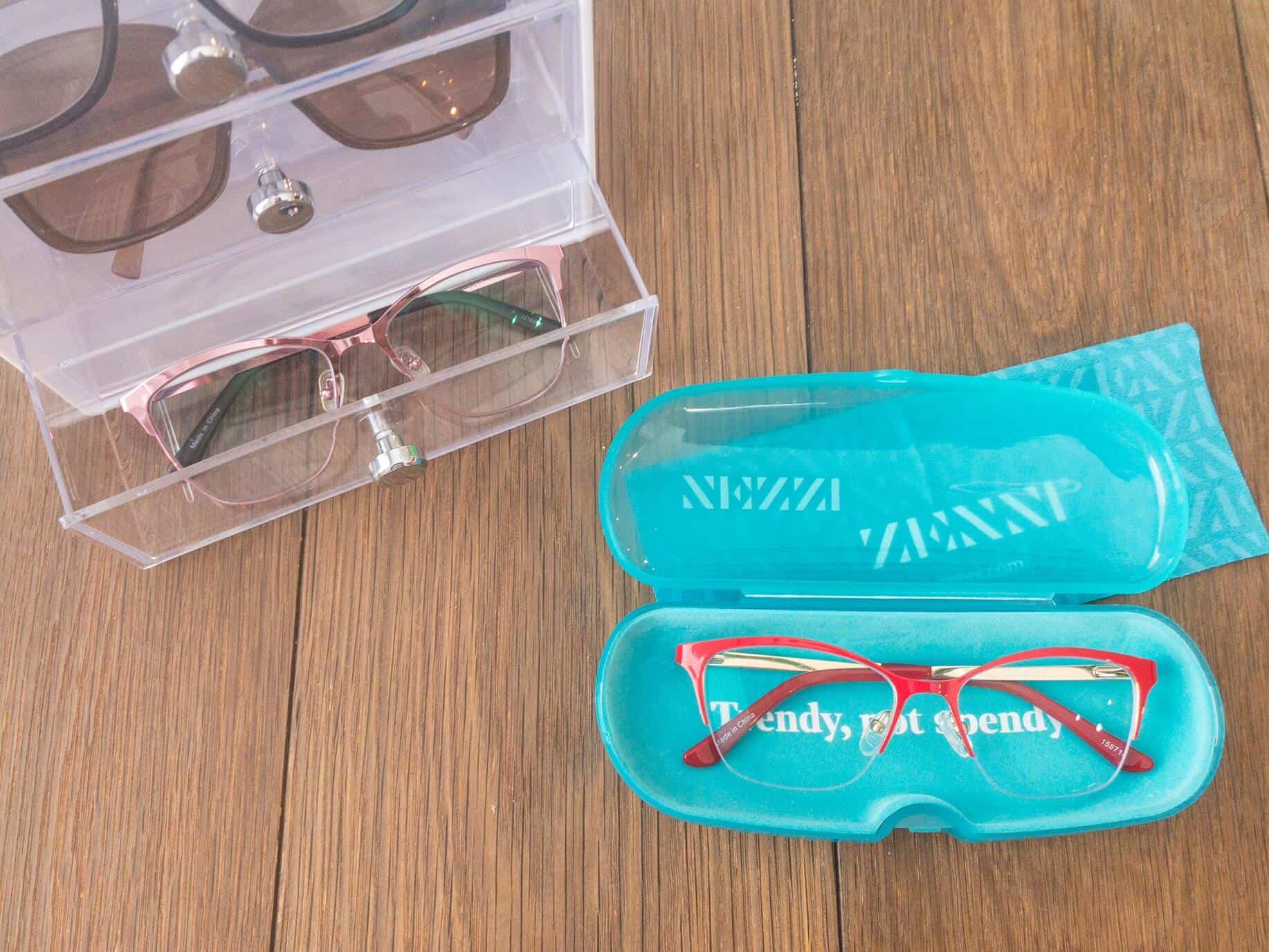 Since I started wearing glasses many years ago, I only ever bought them at places like Lenscrafters or wherever I got my eye exam. For a long time this was the only way to get custom glasses.
When tons of online, affordable eyewear companies started popping up, I didn't even think about trying them. I got my one pair of free glasses included with my insurance a year and that was pretty much it.
Then, I was talking a friend a couple months ago and she asked me why I don't buy more pairs online. Fact is, I hadn't even considered it.
I started paying attention to all the eyewear companies popping up – Eyewear Direct, Hipoptical, Zenni Optical, EyeBuy Direct… there was a lot of them! I started looking around and couldn't believe all the options! But, I wondered – are they the same quality? Will the prescription be accurate?
Skeptical, but curious, I placed my first order with Zenni. Oh, and just so you know, I paid full price for these glasses of my own accord. Zenni did not sponsor this post. After falling in love with them, I did join their affiliate program, which means if you choose to try Zenni through one of my links, I may receive a commission at no cost to you.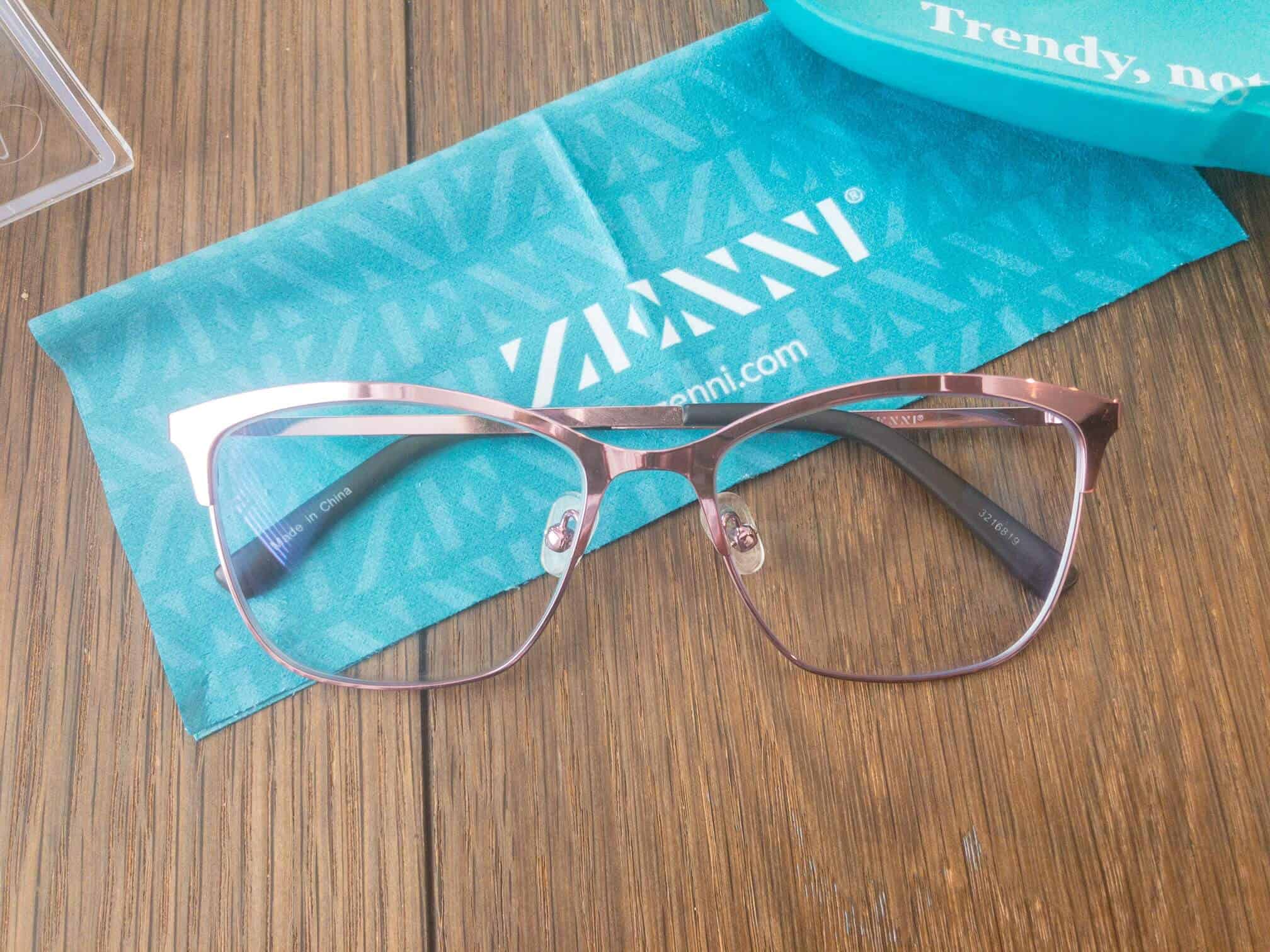 The buying process with Zenni was super easy. I just calculated my PD using the printable measuring tape and then was off to the races searching for glasses in that size range. This made it really easy to narrow down what would work on my face.
Then, when I ordered, I was able to put in my prescription and select lenses that had blue light protection. As a writer, this is big for me and protecting my eyes from fatigue, reducing headaches, and helping my body maintain a natural circadian rhythm (read: sleep better).
Zenni had a great tracking process that sent a couple of update emails to keep me in the loop and then they arrived in an adorable blue case with a matching lens cleaner.
Most importantly – my first pair of glasses – a cute red cat eye – were so cute and fit my face perfectly! I am actually super impressed with these glasses for a number of reasons:
They are super lightweight! I can barely even feel them on my face and they don't press into my ears as much at all.
They are super easy to keep clean. My previous glasses were a PAIN to keep clean and it was a huge mess.
They seem to be more fog proof! We are still masking where I live – so this is a HUGE PLUS.
The design is gorgeous! I get so many compliments on these and I can see why – the design has so many thoughtful details, even a gold trim on the interior that is so fun.
In fact, I loved them SO MUCH, I went back online during the Memorial Day sale and ordered another pair – these rose gold beauties!
You could say I'm addicted, because I just ordered my third pair. I couldn't resist these tortoise cat-eye frames!
With all of these new glasses, I was going to need a way to organize them. I read some reviews and decided to pick up this adorable little storage holder for my glasses. It holds up to 9 pairs perfectly, sunglasses fit, too!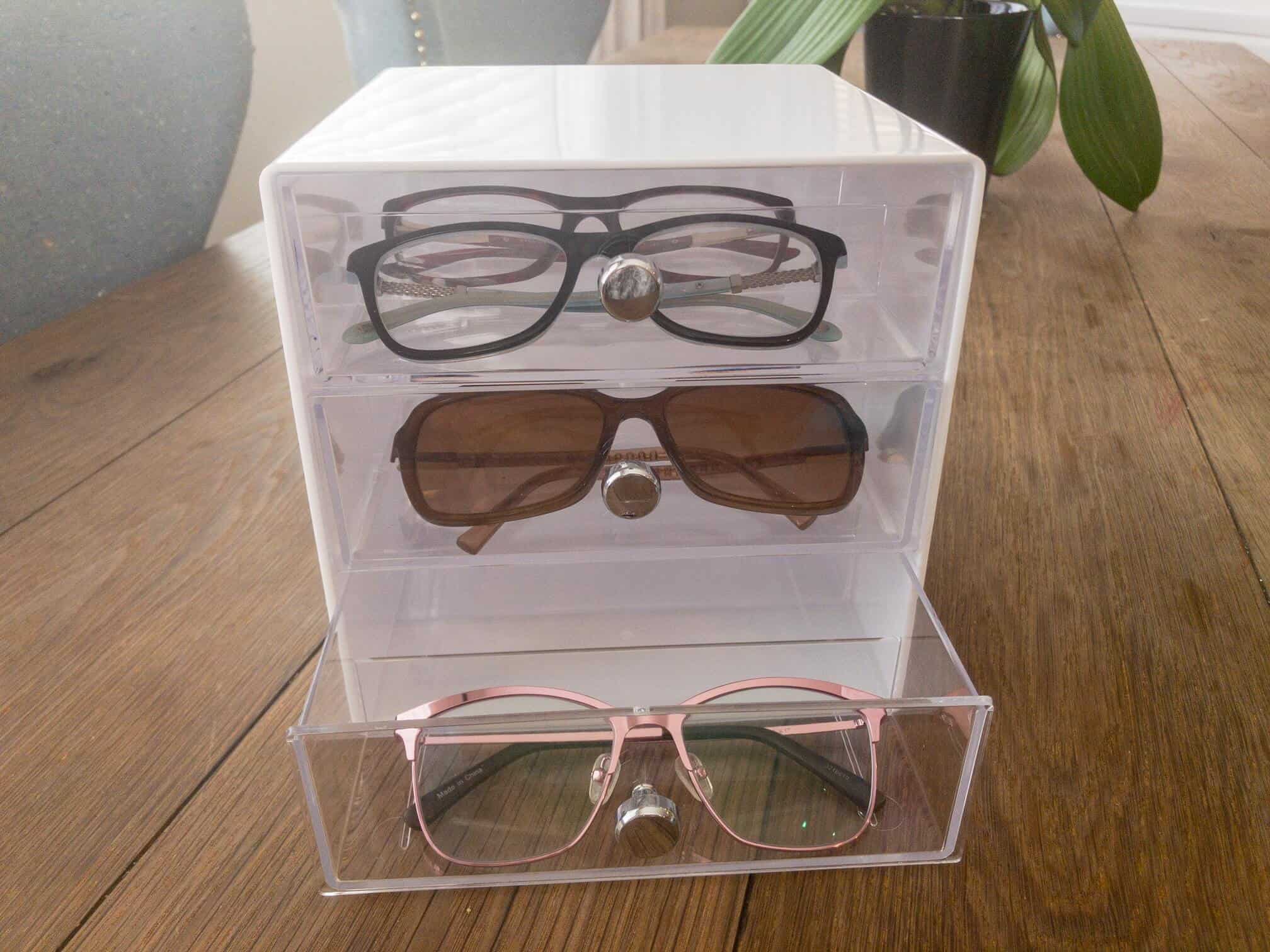 Overall, I am seriously impressed with the quality and service at Zenni. I'm a huge fan now. I can't believe I didn't try online eyewear before! And, since I've been paying for glasses from Tiffany's, Kate Spade, Coach, Prada and more for years – I am also shocked that the quality is right at the same level for a fraction of the price.
Tips For Buying Glasses Online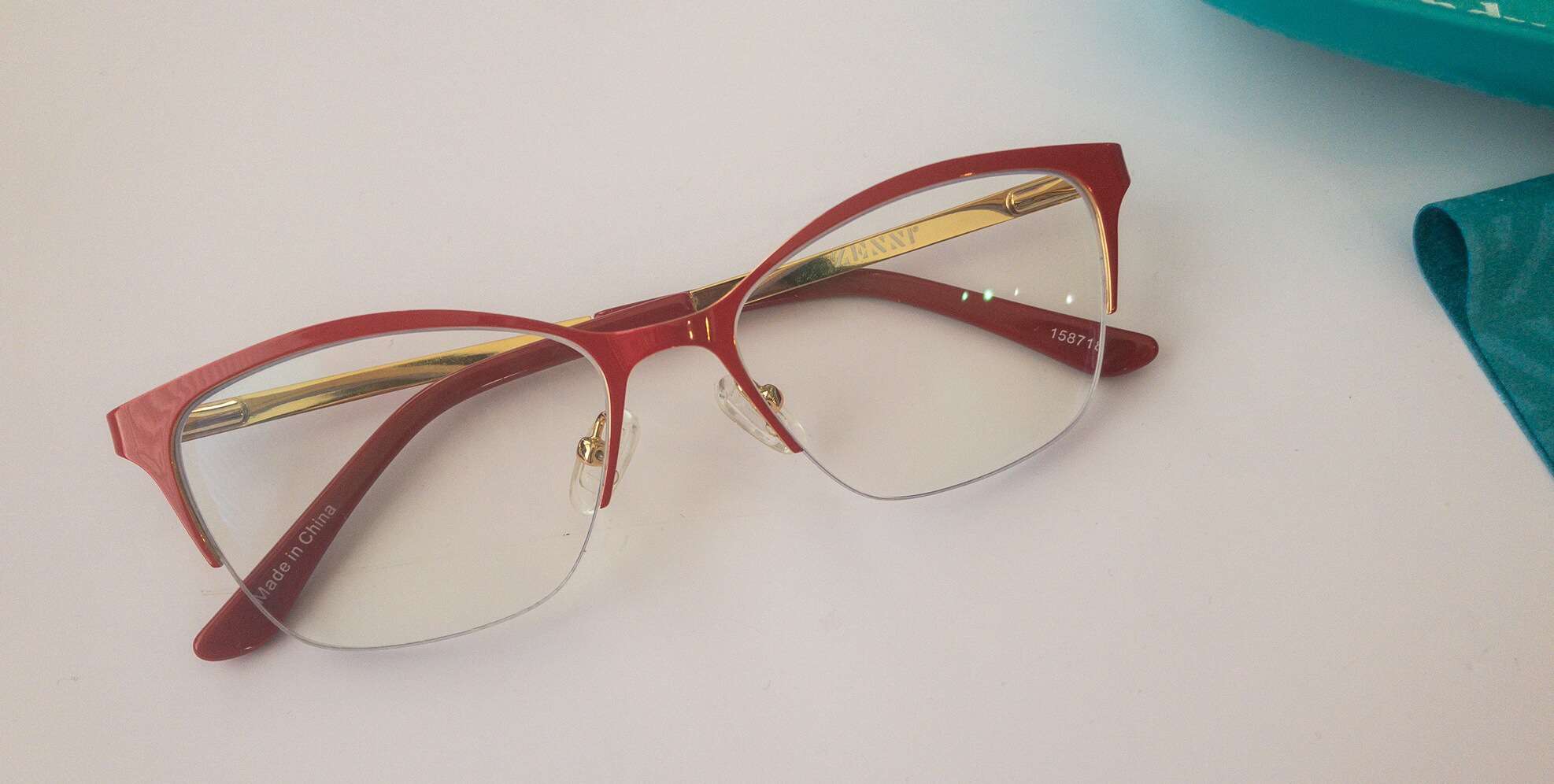 If you're thinking of buying glasses online, I wanted to share a few tips that were new to me and I think would be helpful if it's your first time, too!
Calculate your PD – This is just the distance between your pupils and it helps you pick a glass size that will work for your face. You can print a free PD measuring tape on Zenni or most eyewear sites.
Check your current frames – I had no idea that the size of my frames was printed on the inside of one of the arms. By checking that number, you can see what size range you should be in!
Check return policy – I ordered a few pairs from a company that did not fit my face at all. They had a great return policy and I had my money back in no time. Even though the glasses didn't work for me, I'd still recommend the company because the glasses were well-made, adorable and their customer service was stellar!
Give new glasses a minute – One pair I ordered was not an immediate win, but the more I wore them, the more I loved them. Now, they are part of my rotation and I am glad to have them as an option.
Add blue light protection – It may cost a bit more, but blue light from phones, tablets, computers and TV is so bad for our eyes. Add the blue light protection when available. Check out my post with more info on blue light glasses.
****
Have you ordered glasses online yet? Would you try it? I have ordered from three different ones now and have personally loved the Zenni frames best, but I think there are a lot of options out there.
I'm shocked at how great these glasses are, especially for the price. I think I averaged about $50 a pair of prescription glasses – what!!!! If you're looking to mix up your eyewear or just have more options, I would totally recommend Zenni.
I'd love to hear your favorite affordable eyewear online store in the comments below!
If you'd like to read about other online shops and subscription I've tried, check these out:
Have a fabulous day,
E