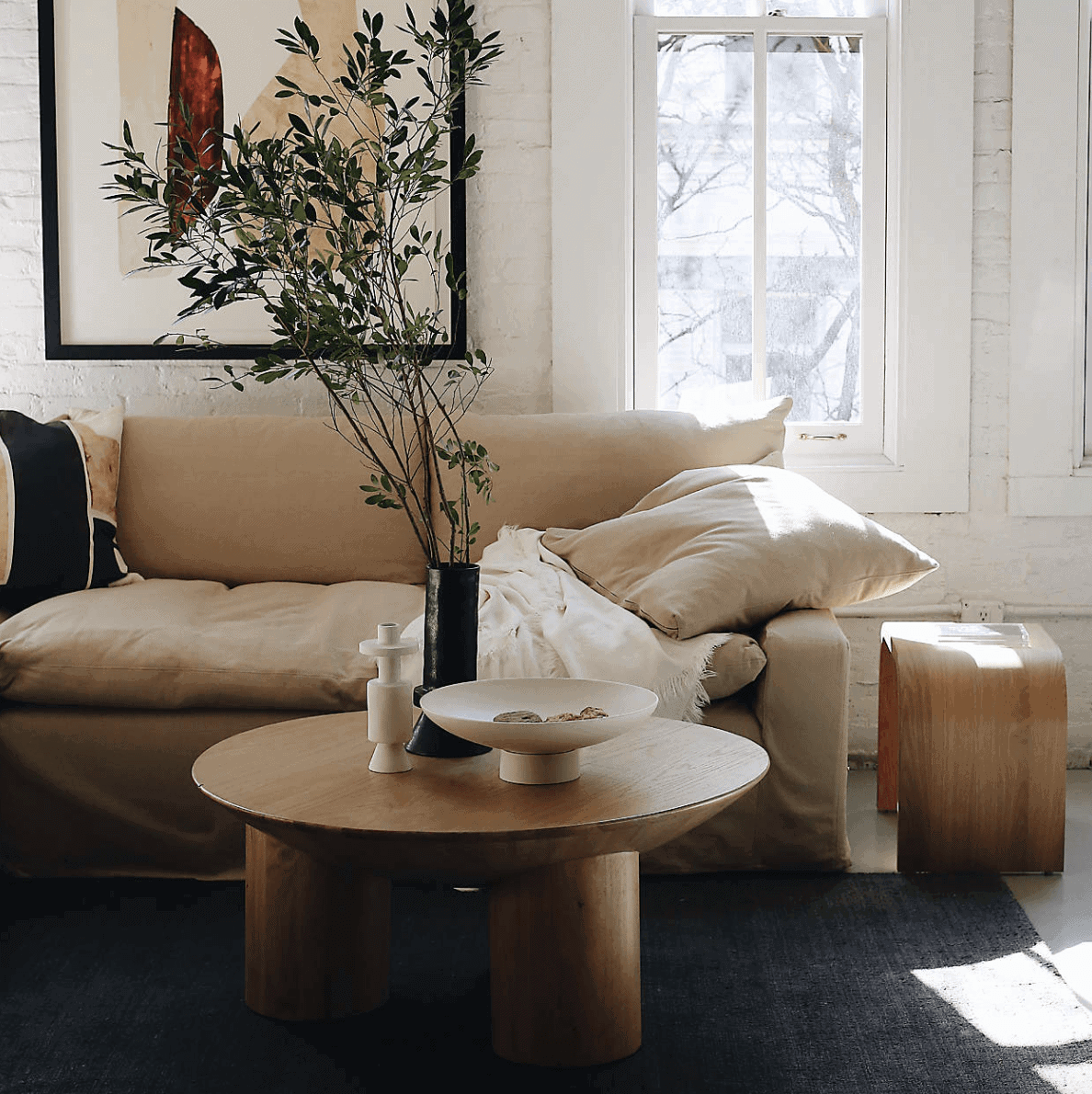 It's easy to understand the allure of the coveted Cloud Sofa by Restoration Hardware. It literally beckons you to sink into it for a much needed break from reality.
But, it may be difficult to enjoy those lush, down-filled pillows to their fullest if you're thinking about the major investment required. The Restoration Hardware Cloud Sofa rings in at around $10,000, depending on configuration, fabric, seat depth, and even color. That's not nothing.
Sure, the proud owners of the Cloud are most likely thrilled with their purchase (and they should – good for them!). But, if what is really drawing you in is wanting a couch so soft you can sink in and never want to get up – I have good news for you! You can absolutely get that look and feel for much less.
Let's take a look at the top contenders for Cloud sofa copycats! Also, know that affiliate links are used below, which means if you choose to make a purchase through one of my links, I may receive a small commission at no cost to you.
Mind blown! This is such a close dupe! This modular sectional is just huge and very similar to the full-blown RH Cloud sofa! You could really fill a living room with this big overstuffed sectional – and for half the price! Similar components at RH would start around $12k an only go up from there, so while the price may still seem steep – the comparison is where you really see the deal. This Soflex sectional will only set you back $6510.90.
Check out the Soflex Velvet Cloud Modular Down Filled Reversible Sectional here.
I am obsessed with this Lotus sectional. It's available in one stock fabric and four custom. You'll see much faster shipping with the stock fabric, but they're all gorgeous. I wish this Lotus had been around four years ago, when we took the plunge and snagged the Crate & Barrel Axis Sectional in Douglas Nickel after eyeing it for years. But, I have to say that we have no regrets for buying a Crate & Barrel sofa. This couch has held up much better than any other couch we have ever owned and still looks almost new! And, even though we didn't pick a performance fabric, spills just bead up and wash away. With kids and a dog, this couch should be much more worse for the wear and it isn't.
In addition to the couch, we've also picked up quite a few things for our kids from the formerly Land of Nod and now Crate & Kids collection. They have all been exceptionally well-made also. So, we would wholeheartedly recommend their furniture.
Oh, but probably most importantly, the Crate & Barrel Lotus sectional is a steal comparatively, priced at $4896!
Check out the Crate & Barrel Lotus Deep 4-Piece Reversible Sectional here.
I've been shopping CB2 for years. They just have such a great eye for unique spaces that are still timeless. The quality and customer service have always been top notch as well. This couch looks just delicious. I want to jump right in, grab a super cozy blanket and settle in with a good book.
And, bonus points that this one is priced more affordably at $3596. So, grab some of their great throw pillows while you're at it – because they are super well made and will last you a long time.
Check out the CB2 Lumin White Linen Sectional Sofa here.
This comfy couch looks like the perfect spot for a nap! And, as a great dupe for the bench seat cloud sofa, you'll love this look for less. The RH version rings in around $4000, if you're a member, while this incredible lookalike from World Market starts at $1199! Yes, that's what we are talking about!
I have a lot of pieces in my home from Cost Plus an have been very happy with it. I share their marble side table in this post, their stunning cabinet in this one, and the upholstered counter stools we bought in this one!
Check out the Cost Plus World Market Ivory Feather Filled Brynn Sofa here.
Another big win from Crate & Barrel. I can't sing their praises enough. We have bought a number of pieces from them over the years and they are all some of our favorites. They have an incredible wedding registry, too, which we used as well, so most of our dishes and kitchen items are from there.
This Ever slipcovered sofa is just dreamy! Priced about half of the RH bench seat version, but has just as much charm and comfort. This one will only set you back around $2299.
Check out the Crate & Barrel Ever Slipcovered Sofa here.
****
Don't you just want to sink in to all of these sofas? So many high quality options here that will give you the same look and feel as the RH Cloud sofa for a more affordable price. For the Cloud, you have so many options for configurations and fabrics, which is certainly amazing, but if you don't need to have as many choices, you might be just as thrilled with the CB2 or C&B versions here.
Which one is your favorite? Are you a fan of any of these couches?
If you're looking for more fab deal$, check out these awesome deals:
Have a fabulous day,
E