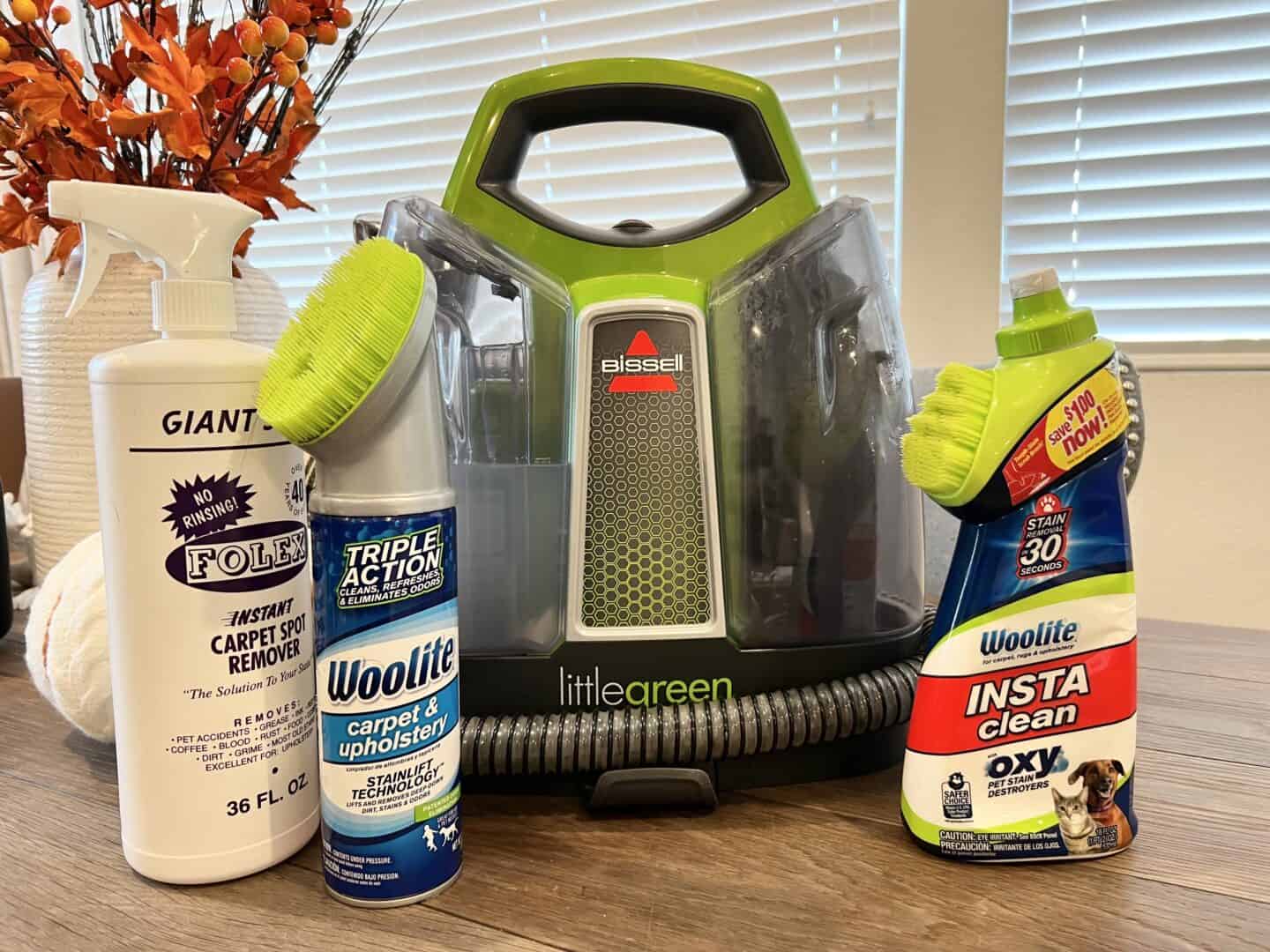 I didn't grow up with pets, so I had no idea how often you may have to clean up after those adorable little furbabies. When they're puppies and potty training, you think, "Once they're potty trained, there won't be any more accidents."
But, then you realize that is not the case. Pet accidents happen for a variety of reasons, such as anxiety, illness, or being left inside too long.
Then, when pets get older, they can sometimes start to have incontinence issues, too. My older lab, Zoey, is a sweetheart, but she has major incontinence issues now. I've even considered putting her in diapers! We have her on the meds recommended by our vet and continue to monitor that for her health, but she still occasionally has accidents.
So, this all translates to my little arsenal of carpet cleaners that help me take care of any pet messes. Each of these serves a purpose and I'll sometimes use a couple of them.
Best Carpet Cleaners for Pets:
*Affiliate links are used below for pet cleaners I buy with my own money and use. If you do make a purchase through my links, I may receive a commission at no cost to you. Cheers!
1. Bissell Pet Carpet Cleaner:
This portable carpet cleaner is always filled and ready to go over here. It's lightweight and easy to carry to any spot. Just plug it in, hit power, and you're ready to go. You need to have access to an outlet to power it. It'll spray solution, scrub and suck out the cleaning solution from any spot. This works really great for cleaning, disinfecting and also removing the awful smell.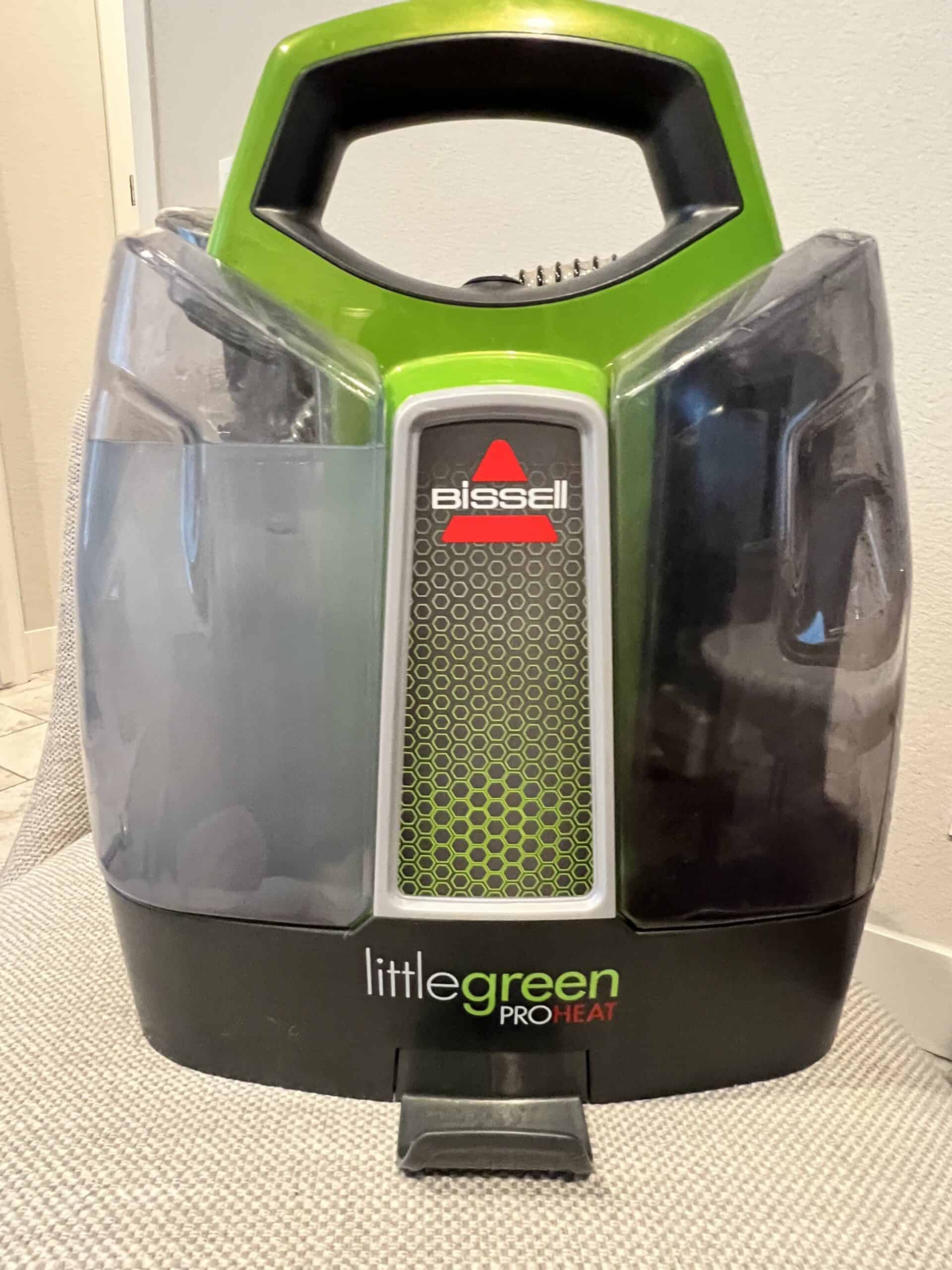 But, if you're noticing a small stain or smell left behind, keep reading, because you can combine this with one of the sprays below for a pet cleaning duo no pet accident stands a chance against.
When we go out of town and have pet sitters, I just sit this thing on the counter with one of the other cleaners and let them know to use it if there is an accident. I use this all the time actually – in fact, I just used it to clean up a mess from a broken snow globe that left like a gooey watery gel all over the carpet. Looks and smells like new now.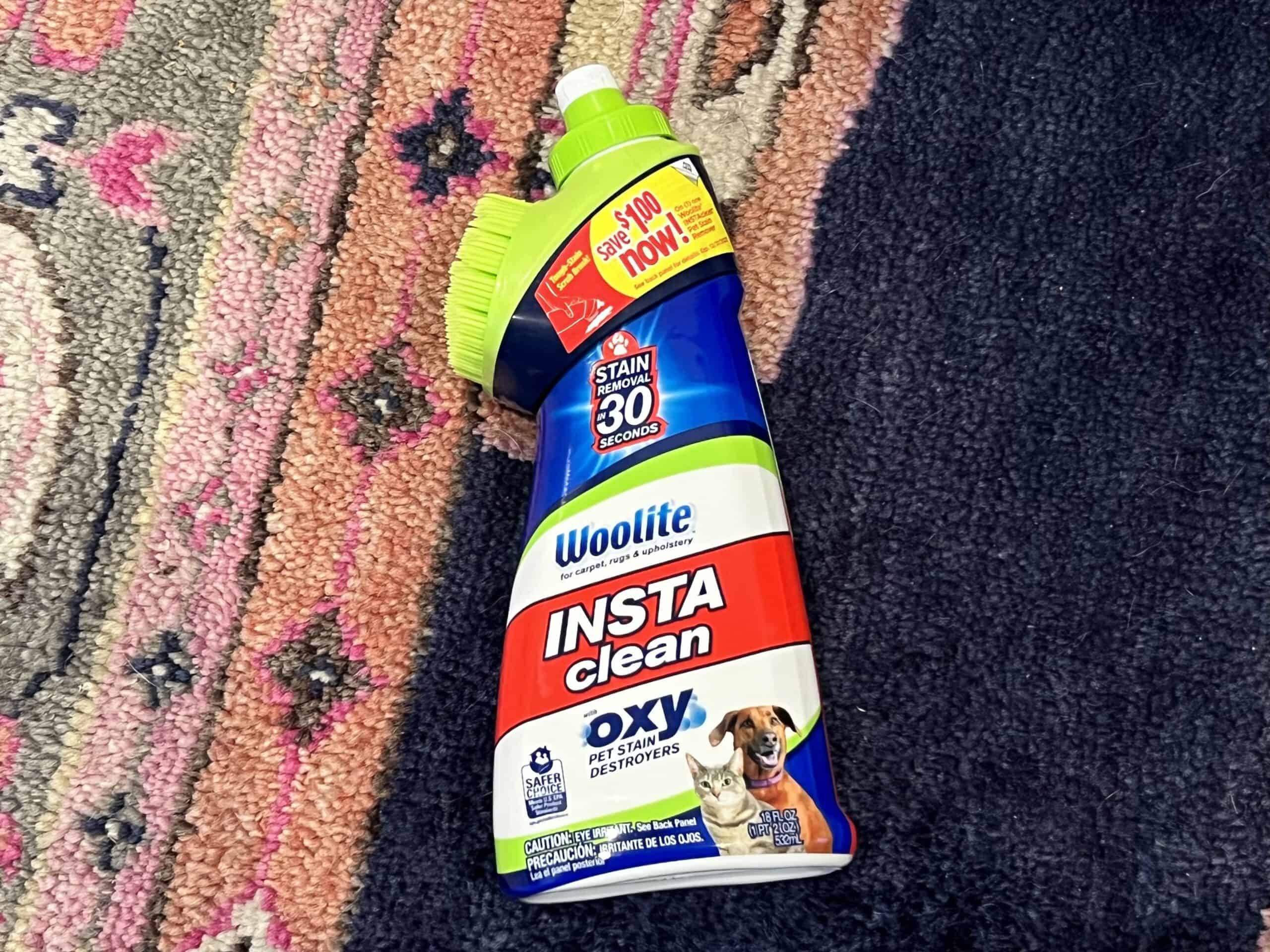 This is the best pet cleaner I've found by far. It has almost magic powers. You just spray it on the area and almost immediately you'll see the stain lightening and the smell going away. I use this on accidents after the Bissell, because then even my dogs can't sniff out the spot.
It's super affordable and works great. We keep one upstairs and one downstairs for easy grabbing. The little attached scrubber is also a great way to work the solution into the carpet or furniture you're cleaning.
3. Woolite: Best Carpet Cleaner Scrubber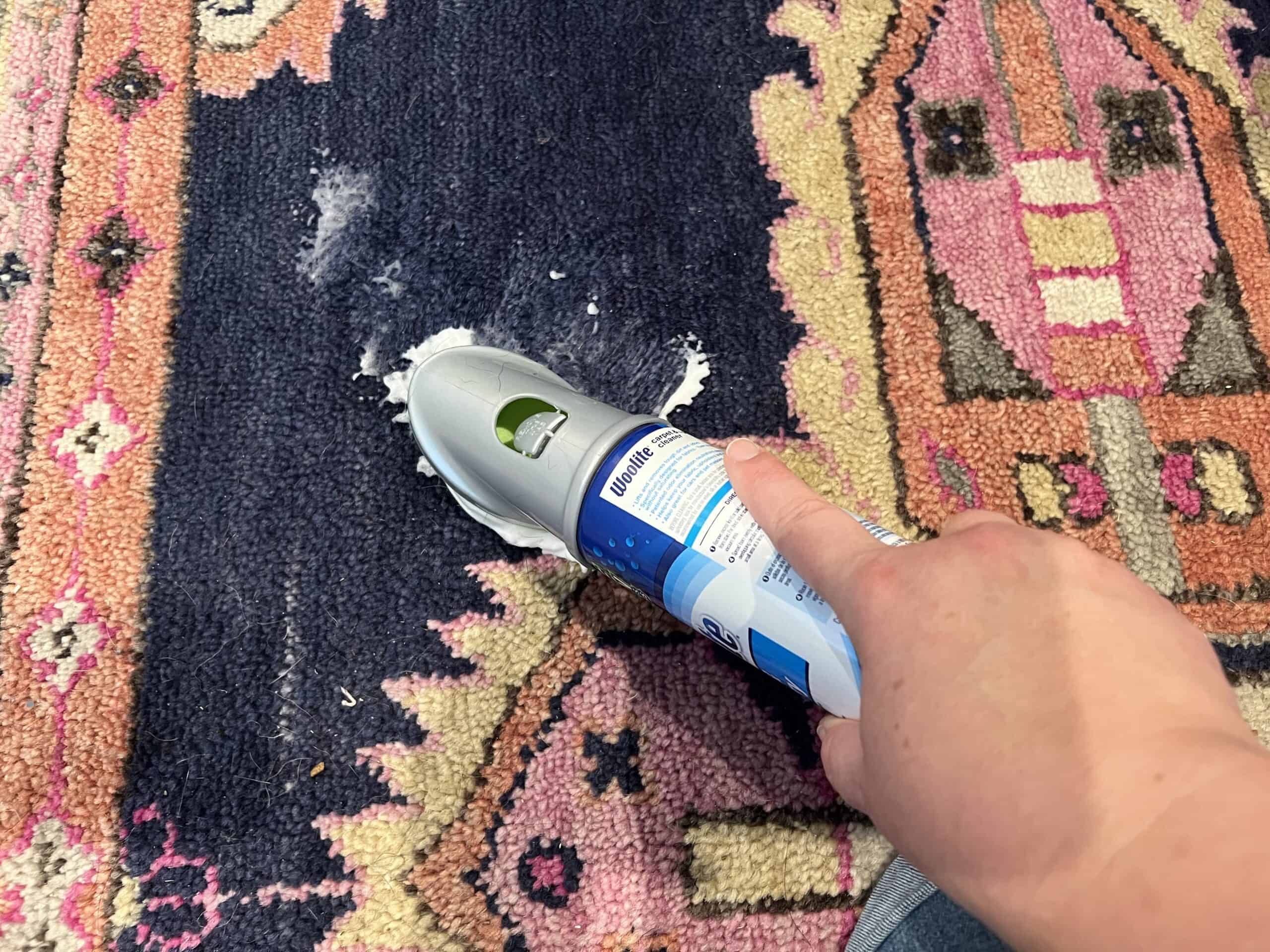 A classic that we use for all sorts of carpet cleaning messes, the Woolite has a foaming cleanser that you spray from the scrubber head and then you use the scrubber to scrub it out. It's super convenient and you don't need another scrubber or cleaner with you.
I find it works well on small accidents and also messes from kids. I don't find that it works as well on the smell by itself, so I've combined this with the other cleaner to create a little scrubbing, cleaning, smell removing action that works great when I don't want to get out the carpet cleaner.
4. Folex: Best Pet Stain Remover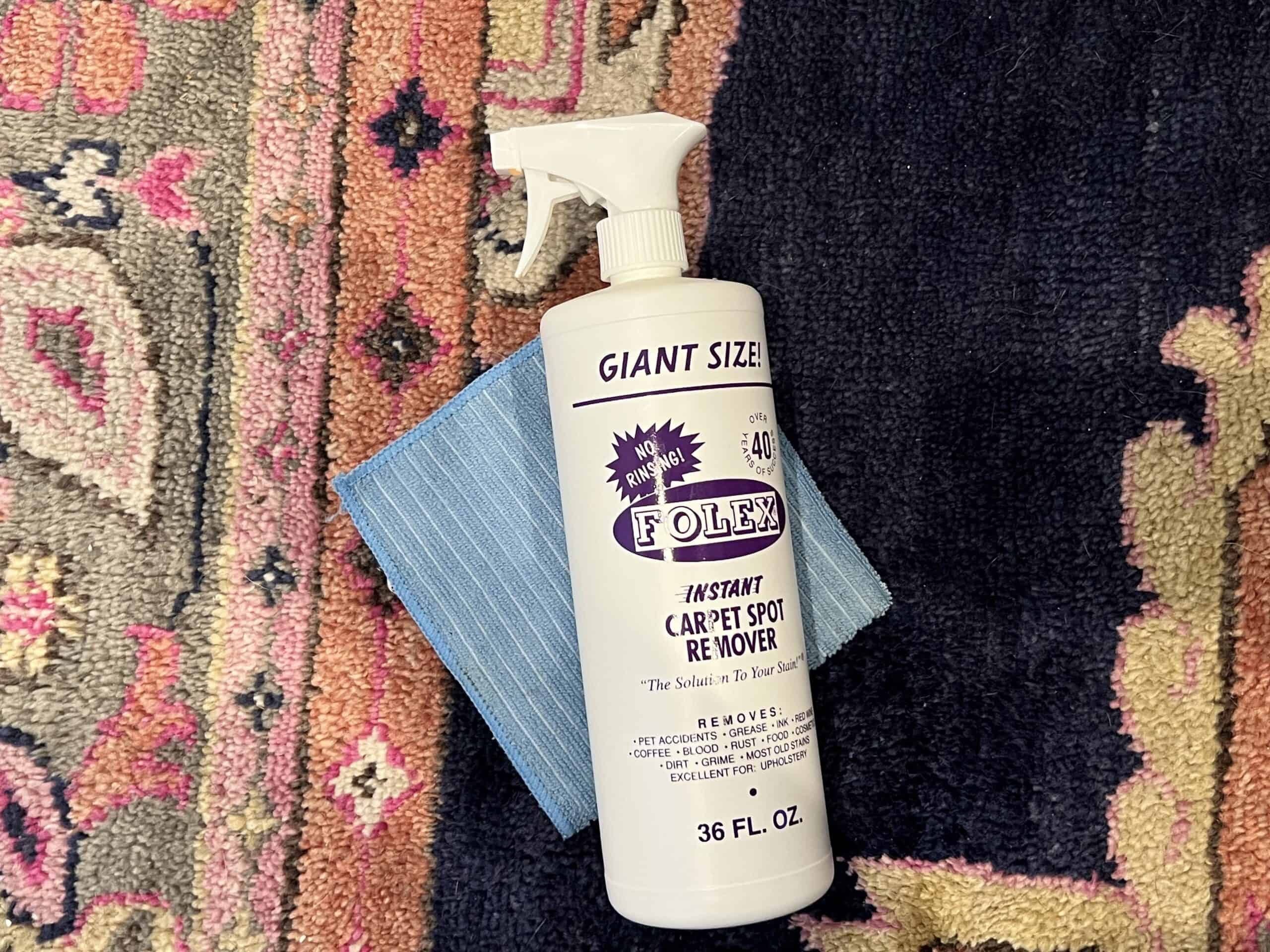 The ultimate in stain removal spray, Folex will blow your mind with the kinds of stains it can get out. You spray and dab, while watching the stain go away. I have even used this on older stains that I forgot to clean up right away.
Just a solid cleaner to have on hand all the time and to use for tough stains nothing else will work on.
5. Pet Blankets: Best Pet Blankets To Protect Your Couch or Furniture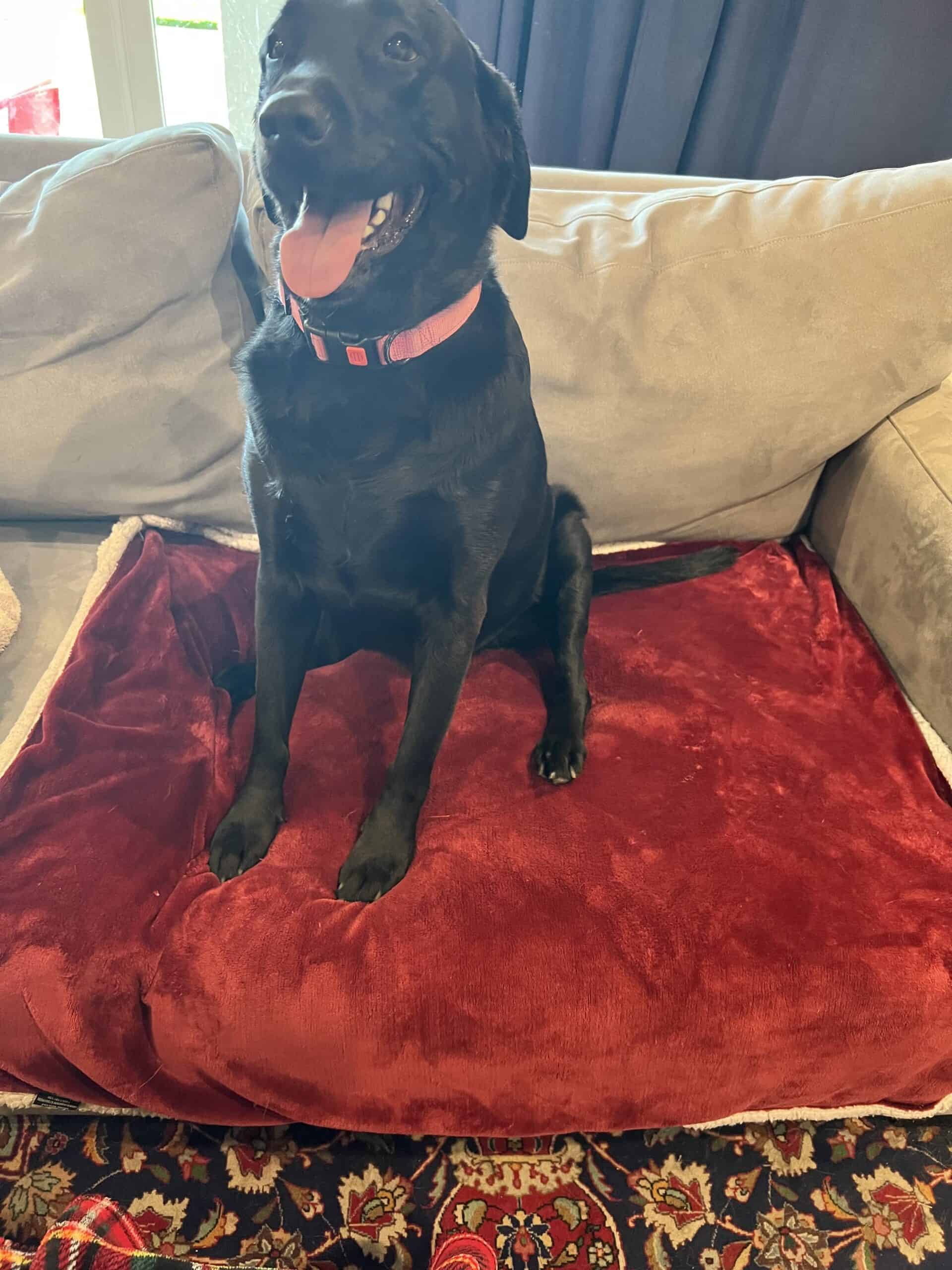 My dogs lay on the couch. It's just life over here. But, with an older dog with incontinence issues, that's not something I am going to mess around with. I like my furniture to stay in good condition and not smell.
So, I found these pet blankets that soak up any messes and doesn't let them go through to the sofa. Then, you can throw them in the washer and get them all clean again. There's a lot of colors and styles, so you can find what matches your home.
I have also laid these on top of carpets, although it's more difficult to get the dogs to always lay on them. With a little bit of treat training, you'll make the blanket a great spot for dogs to lay down and keep your furniture nice and clean.
More Pet Posts: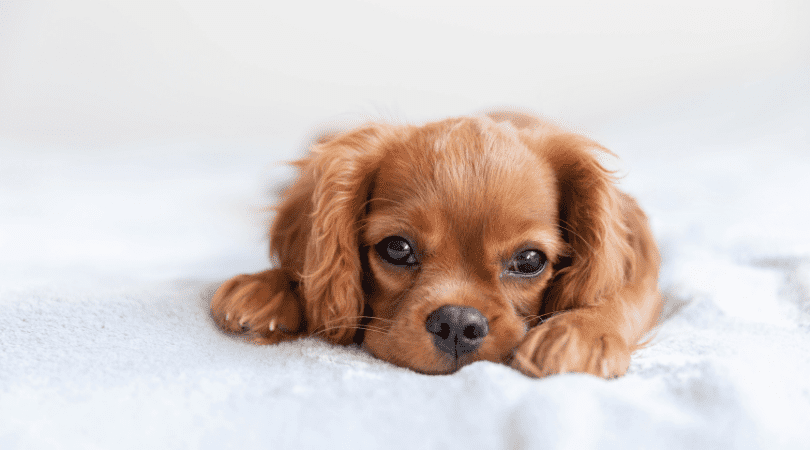 If you're bringing home a new puppy, you'll want to have some basic supplies and plan for the transition. I wrote a fun post with easy tips for bringing them home and getting started with your new pup. Check it out here.
And, for our favorite dog products and supplies, you may like this post.
Also, if you're looking for gift ideas for an animal lover, you won't want to miss this post.
Pet Name Posts:
Looking for the best pet name ever? Look no further!
***
Hope you found what you needed today!
Have a fabulous day,
E