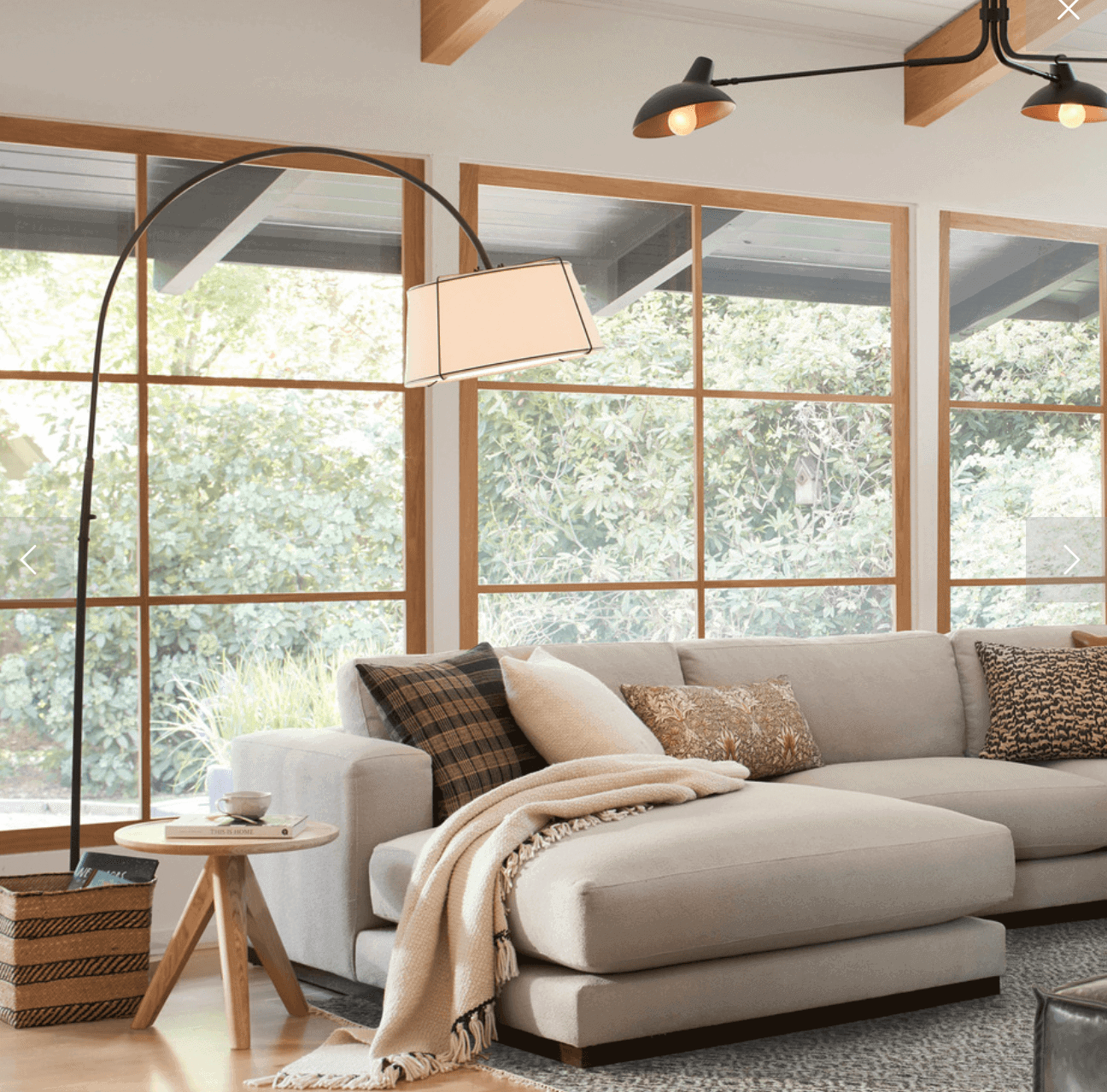 Well, it's official. After five years with our affordable Ikea sectional in our loft, we are looking to upgrade to a bigger lounge sectional that will be the perfect spot for movie nights. Our kids are getting bigger (not smaller – imagine that) and taking up more real estate on said sofa, leaving us all squished when it's time to relax in the loft.
So, I've been doing extensive research and testing (tough work, I tell you) to find the most comfortable sectional sofas on the market. Here are the ones that have made it to the top of my list of options.
While most of these are an investment, I have found a couch is not something to save on, unless you're comfortable having to replace it fairly regularly. Since we are hoping to have this piece for a long time, we are willing to invest a bit more for something that will retain its shape, hold up to a kid and dog household, and actually look good, too.
What Is a Lounge Sectional Sofa:
A sectional is simply a couch that has different configurations, such as:
U Shaped Sectional
Modular Sectional
Sectional with Chaise
Sectional with Recliner
Leather Sectional
Some sectionals have set options that you can choose from and some can be completely customized to fit what you need in your space.
Lounge refers to the depth and feel of the seat cushions. Usually a lounge sectional is going to have deeper, softer seats that give you a feeling of sinking in to the couch. This is the perfect choice for movie rooms, lofts, cozy living rooms or any space where you want to nap, watch movies or relax.
Best Lounge Sectional Sofas: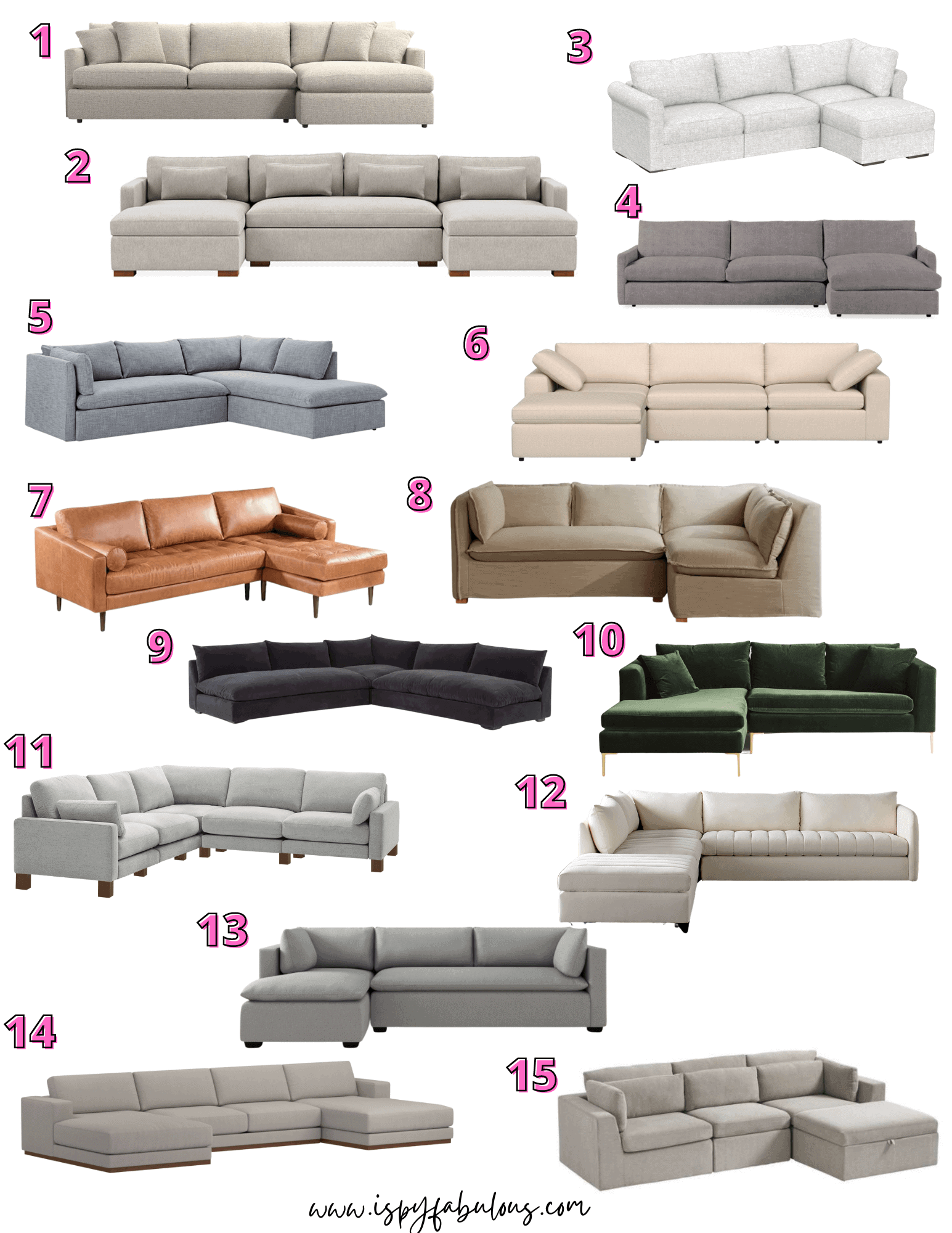 Tons of fabric options. Sit on them in Crate & Barrel stores to try them out for yourself. Different configurations to fit your space. Deep, comfy seats. People rave about this one. We have the Crate & Barrel Axis Sectional in our downstairs living room and it's the best couch we have ever owned. It's really great and we are looking at the Lounge for our loft.
Designed by home decor bloggers Chris Love Julia, the Charly is made for relaxing. Offered in tons of fabric options, too. You can order free swatches to try them in your home. Plus, you can customize a lot of details or don't – depending on what you're looking for. With plenty of configurations, you can surely find the Charly that fits your space. Personally, I love all the fun color options as well as the cozy bench seats. Those are perfect for cuddling.
Washable, changeable, reconfigureable. This is one modular sofa with tons of options. Talk about kid and pet-friendly. You can really make this couch your own and you can update it down the road with different covers instead of replacing the whole sofa.
This is the design that I would likely get if I went with LoveSac.
You've probably spied this one on someone's Instagram, because the Arhaus Kipton Sectional is a fan favorite. There are several configurations of this ultra-loungey sectional and you can choose if you want the deep or standard seats. Lots of fabric options allow you to further customize your new favorite sofa. Plus, with the Kipton, you can get style and comfort.
The Shelter couch is one of those iconic sofas, because it comes in a variety of styles, but they all feature the luxuriously cozy Shelter bench cushion design. This sectional looks like something I could really take a nap on. I love all the fabric choices with West Elm, plus they have good sales, too. One thing to know about West Elm furniture, it seems made for shorter people. My husband is 6'4 and he says he feels like a giant in West Elm. I am 5'4 and I feel like Goldilocks in there. Everything is just right.
We stayed in a little cottage in Carmel Beach this summer and they had the most dreamy couches there. We all agreed that they deserved an A++. In fact, we loved them so much, I unzipped one of the cushions looking for a tag – and waddya know – they were all slipcovered Pottery Barn sofas. Not too much of a surprise for those of us that have walked the Pottery Barn stores and tested all of the couches. They are supremely comfortable. This Dream Sectional is one of their newer designs and already a bestseller because of the loungey quality of the seats. I love the modern look and lines of the sofa, too.
If you are in the market for a leather sectional, you are going to fall in love with this one from Poly & Bark. I'll be super honest with you, I've been eyeballing this couch from Poly & Bark for a long time. It's not large enough for what we need, but I hope I can pick one of these up (or the sofa without a chaise) for when I turn the play room into an office. It's so good.
Urban Outfitter's home collection is tiny but mighty. They have incredible pieces that are so unique, such as their take on the arched cabinet (this is a major bestseller). This sectional has the seams out, for a less finished, cozier look that has a little bohemian charm to it. Available in four colors, including a beautiful green, a terracotta color and a mustard color mid-century modern lovers will die for.
Honestly, it was really difficult to pick just one from Lulu & Georgia's bestselling sofa collection. There are so many that I want to curl up on and read a good book. But, this grayish blue really grabbed me – so it won out in the end. I loved the armless design – whether it's set up against a wall or you just don't want armrests, this has such an inviting feel to it. Cozy velvet in 4 colors says, "Yes, you can take a nap. Come to me." The pictures of how people have styled this are going to win you over. Promise.
Rich forest green velvet and gold legs? Yes, please! Obsessed with this vintage looking creation from the good people at Anthropologie. This one can be ordered in quick ship options (including this green velvet #GIMME), but also can be customized by fabric choice, four leg options and more. One thing is for sure with this couch – nobody will think you picked it for the comfort factor, because the style is on point!
The combo of refined gray upholstery and chunkier oak finish legs has my heart. Just a great pairing made even more attractive because of the Burrow fall sales event going on right now. Me loves a good deal. Burrow has a lot of sectional sofa options, but the Union drew me in with the beckoning, big stuffed cushions. Choose from several colors and 2 leg options or browse any of the other couch options to find your favorite.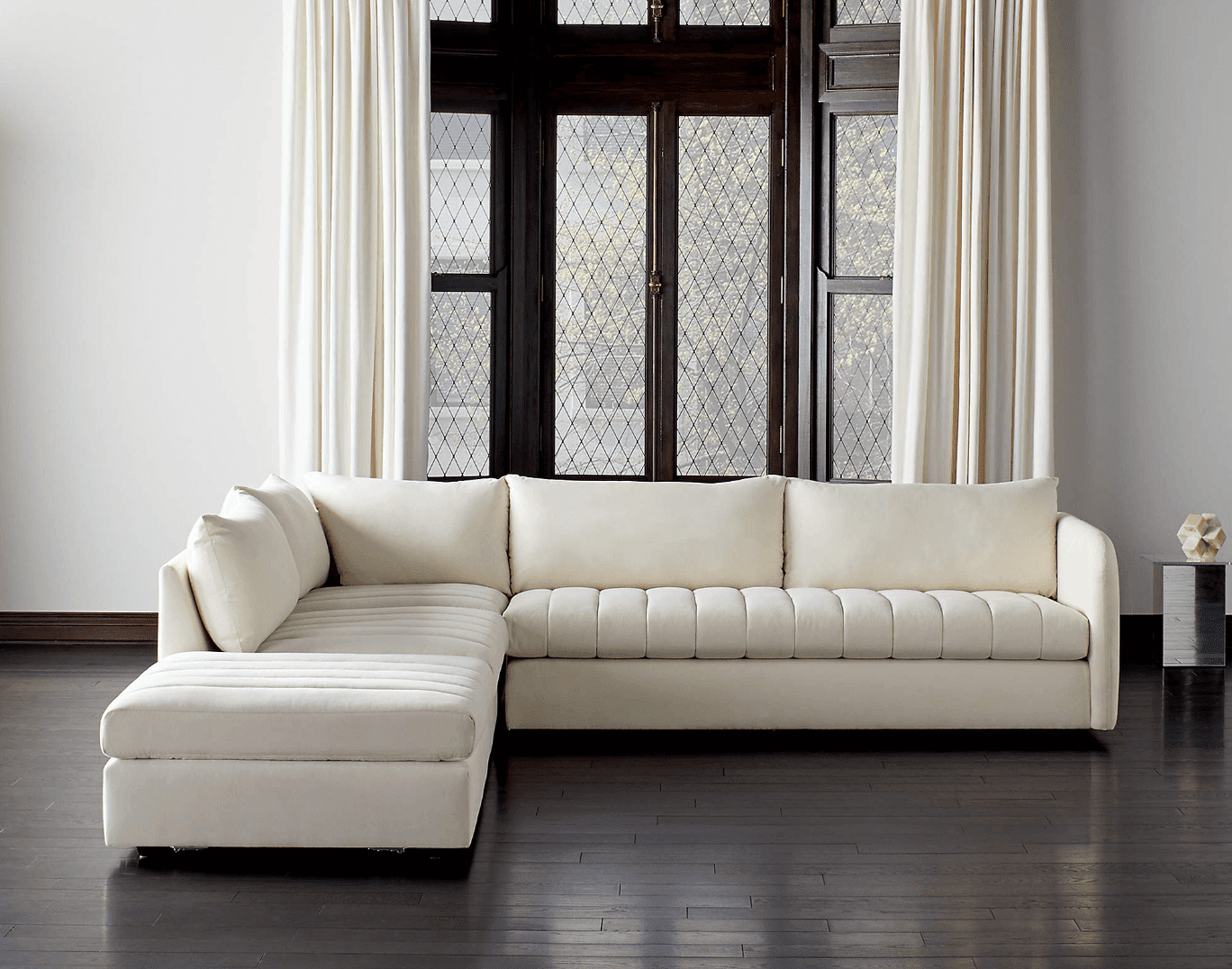 I regularly turn to CB2 when I need style inspo. Even back when I was living in an apartment on a teacher's salary, I would save up for certain pieces from CB2 that were just always statement makers. A little goes a long way when it comes to high style. This channel stitched sectional is kind of blowing my my mind right now. Sure, the ivory is chic – but look at the other color options for even more impact. Teal blue microfiber? Charcoal Linen Weave? I'm dying right now.
Back when we bought our home, we splurged on some campaign style nightstands from Williams Sonoma, before a bunch of more affordable dupes came out. They are some of the most well-made pieces we have ever invested in. Years later and they still look totally brand new. They have some weight to them, too. They're not easily moved, so thank god we won't be moving anytime soon. My point is – it's made me a major Williams Sonoma Home fan and this Laguna bench seat sectional looks divine. There are all sorts of customization options here: chaise side, fabric, seat depth and more, so you can make it your own.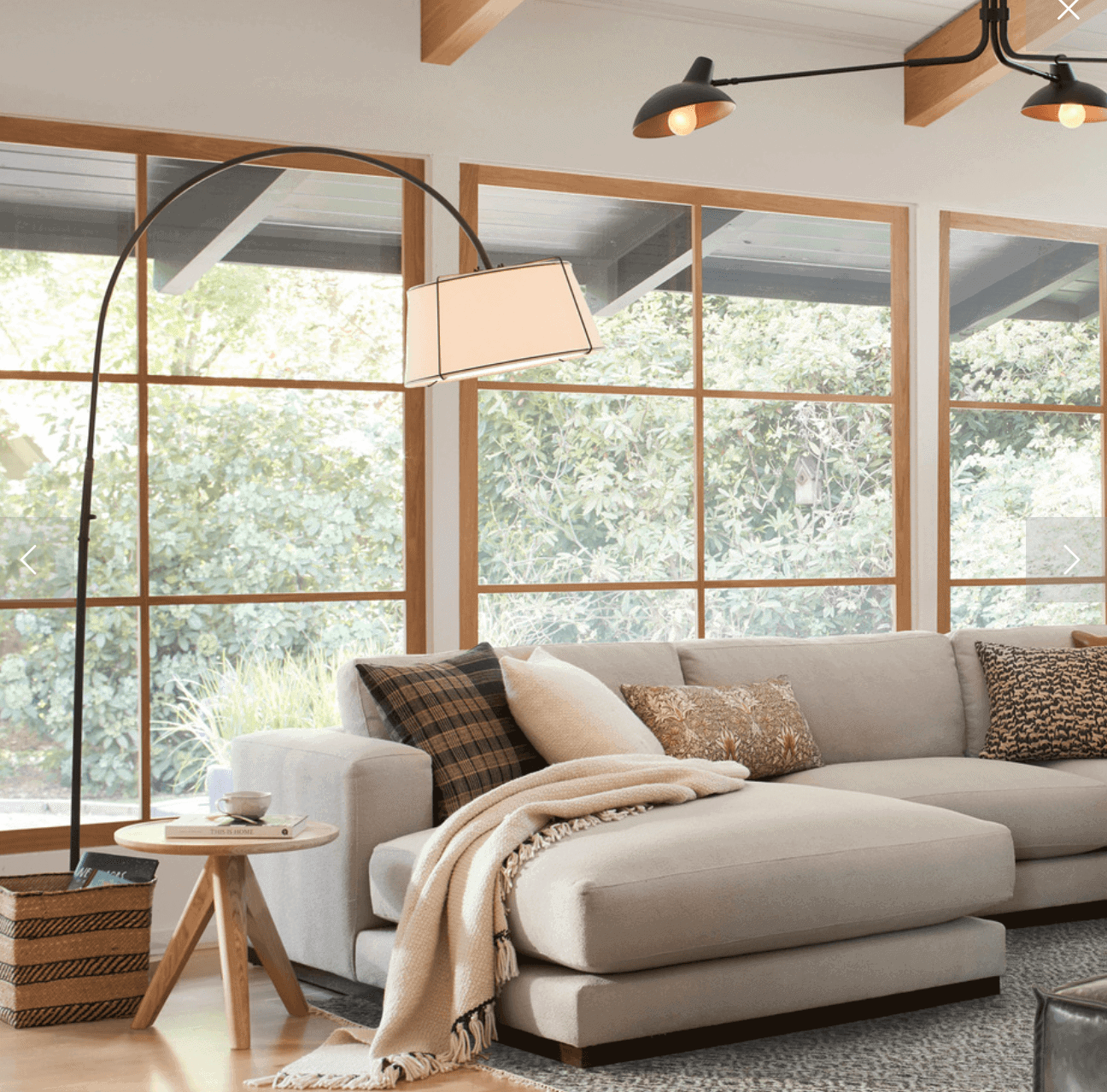 The double chaise is where it's at. The low profile of the Sauvie is also where it's at (read: no toys can go underneath!). Plus, there's something extra lounge-y about being closer to the floor. The Sauvie really has the movie room vibe and the way they've styled it in their photos makes it look amaaaaaaazing. Lots of configurations, fabric choices and more, so you can design up a storm – or just order the double chaise in performance flannel felton in cashmere and call it a day (and a very good day at that!).
The plush and luxurious Emmett modular sectional brings custom comfort to your living space. The Emmett pieces have been set into a perfect sofa arrangement in this complete four-piece set. With soft, yet durable gray upholstery, deep seat cushions and lumbar pillows for extra support, you'll be ready for movie night. The ottoman opens smoothly with a hydraulic mechanism to reveal impressive storage underneath to stash all those blankets you'll want to cuddle up with.
******
Did you find the couch of your dreams? Which one is on your wish list? For more round-ups that might help make your home decor shopping easier than ever, check these out:
Have a fabulous day,
E