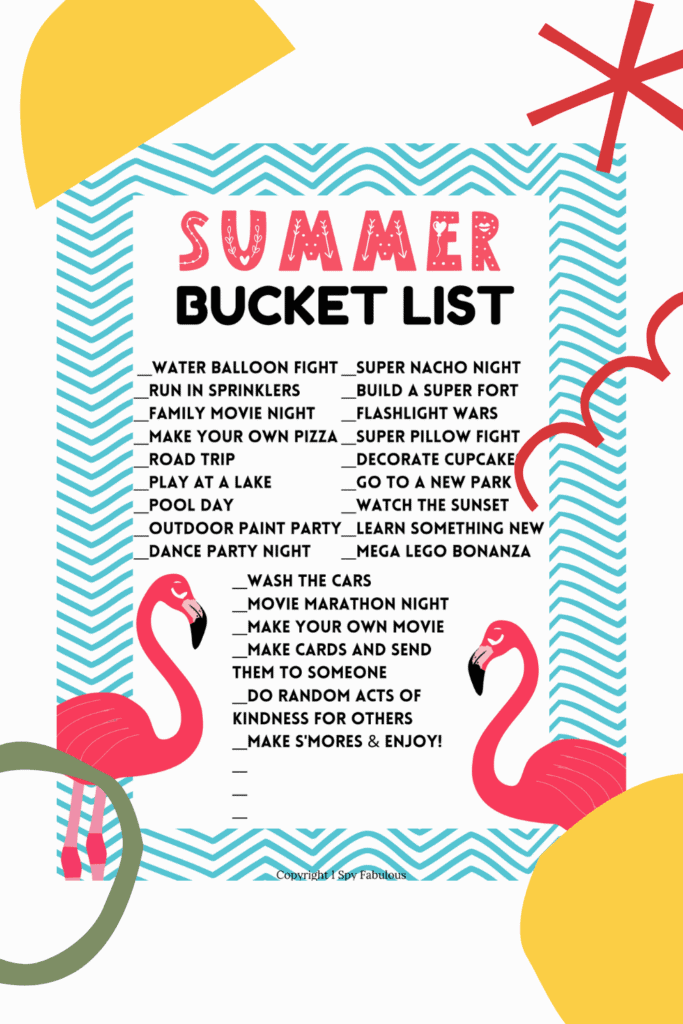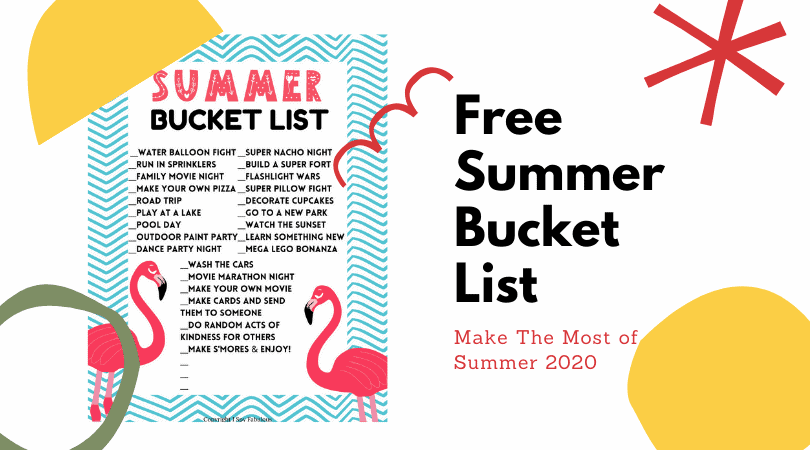 Summer is here! Except… it doesn't feel a whole lot different from the last few months. Depending on where you live, life still may not be back to "normal". And, even if things are opened back up, you may not feel 100% comfortable with the usual summer plans.
So, I thought I would share my own easy summer bucket list for kids with you!
This one takes into account the likelihood of more days at home, less grand adventures, and limited access to activities, places, pools, etc.
Summer Might Be Different This Year…
For some, neighborhood pools are opening back up – but at limited capacity and higher restrictions. This might mean the occasional pool day is something you'll really need to plan for and make the most of. That's why you'll only see a couple of pool and water days on the list.
Also, I wanted to think of some fun ways to make memories at home – such as flashlight wars, giant fort making and super lego bonanzas.
Most of these are self-explanatory, but if they're not – make them your own. What does a mega lego bonanza mean to YOU? Go for it.
Or, if that's not interesting to your crew – switch it out. Make it a laser tag war in the backyard with these glow-in-the-dark laser tag sets that are uh-mazing.
You know – get creative.
Download the Free Summer Bucket List:
This is free to use for private use. Go ahead and click on the image below to open the summer bucket list in a new window and print!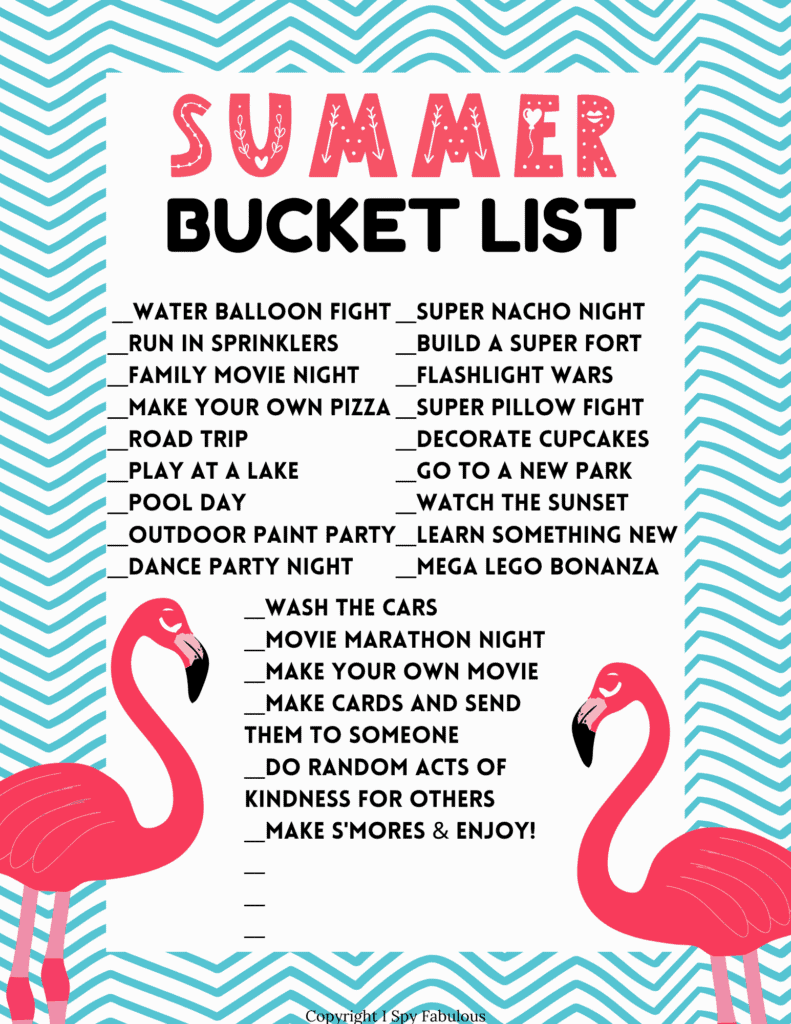 Hang it on your fridge, check things off as you do them, feel free to add your own to the list, and make memories this summer – even if it looks a little different than other years.
Or, use this to inspire you and your crew to sit down and come up with your own list of bucket list ideas that work in your area with what you have available.
I know some summer bucket lists have just tons and tons of ideas, but with small kids – I find that overwhelming. It's easier for me to hone in on specific ideas that I know are really doable for us, so create the bucket list that works best for you and your kids.
What matters most is just being intentional about creating those moments that you'll all look back on and say … wow, those were the days.
Because even though 2020 is kind of kicking our butts right now, I still want my kids and our family to be able to look back on this time with some positives.
Like, how we bought this incredible inflatable outdoor waterslide pool for our kids – affectionately dubbed, "Ocean Park".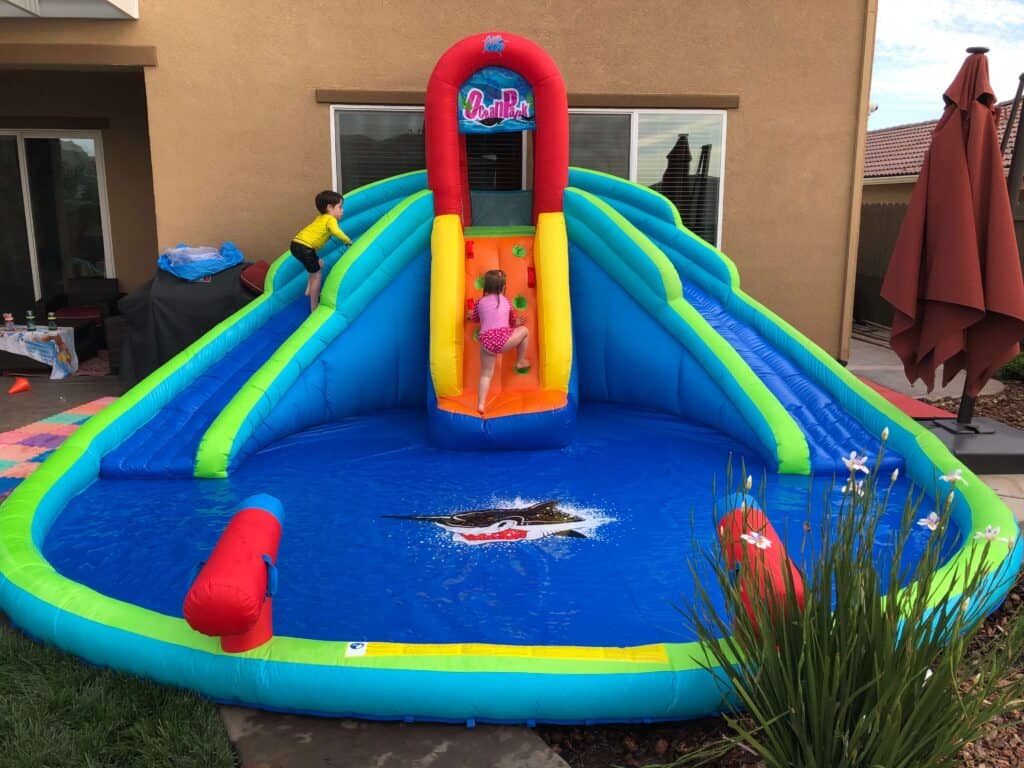 Yeah, they love it. And, they have only asked once when our neighborhood pool is going to open up.
#SCORE
So, Ocean Park may not be on this bucket list – but rest assured, we're going to clock a lot of hours on this bad boy this summer.
*****
Make it a summer to remember, for reasons other than giant hornets and mutating viruses.
And, if you're looking for more fun freebies, check these out, too:
Have a fabulous day,
E