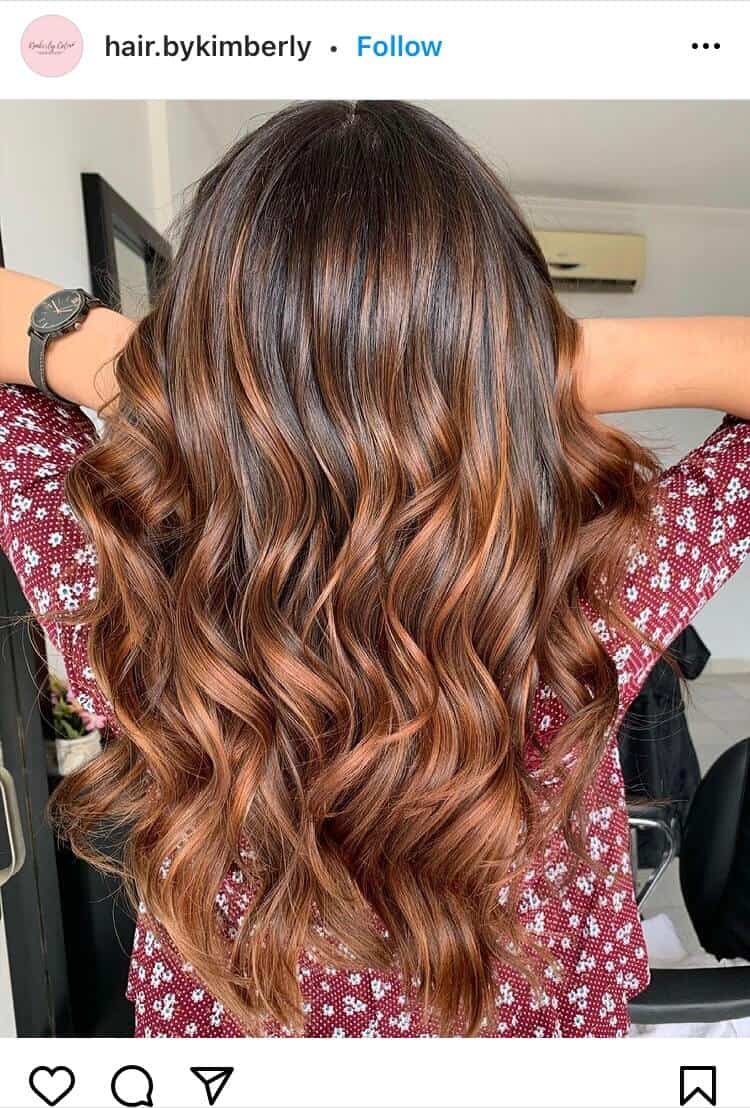 I've been around long enough to see hair trends come and go (we're looking at you Sun-In!) – but one thing has remained the same: we are still in pursuit of that effortless, lived in, sun lightened hair. But, since most of us are not born with sunkissed, mermaid hair, we spend tons of time and money with our stylist trying to bring that look to life.
Balayage hair color is one of the newest hair techniques for achieving this goal, with hand-painted highlights and lowlights that blend more softly and have a less noticeable starting point than techniques like ombre or highlights.
Today, in honor of this gorgeous hair trend that looks good on pretty much everybody, we're going to answer all your burning questions about balayage and give you tons of hair inspo that will send you running to your stylist.
What is Balayage?
Balayage – pronounced "bah-lee-ahge"- comes from the French word that means "sweeping". This term applies to how the color is applied, since stylists paint the hair in a sweeping motion. The placement of the color is designed to create a more natural, graduated effect in color.
By adding lighter and darker colors, balayage gives your hair gorgeous depth and pops of brightness for great contrast. This dimension is also incredibly flattering for your face and can make your hair appear thicker and fuller.
Stylists also love that balayage gives them a lot more control over which pieces to color, where, and how much. This is why it's also been dubbed – hair painting. They are very much artists and your hair is the canvas.
The result? Softer, more natural looking sunkissed hair that grows out better, with less jarring roots, for hair color that lasts longer and blends better.
What's the difference between balayage and ombre?
I love how this hair artist shows the process of taking this client from the over-processed color on the bottom right to the lived in, glowing color on the left. The picture on the top shows placement of the color and you can see that the color goes almost to the root. Plus, the color is scattered throughout to soften the starting point of the color.
In contrast, ombre color has an all dark root that slowly fades lighter to the ends. The change in color is more stark and almost looks like you are growing out a lighter color. Ombre actually means "shades from dark to light" and that's what it looks like. Rather than individual strands that are lightened, all of the hair is saturated in color for a more solid finish. Some ombres were softened more than others, but the general idea was that the darker roots went much longer than in balayage or highlighting and then got progressively lighter to the ends.
What's the difference between balayage and highlights?
I've been adding highlights on and off since I was in high school and so I was riveted when I sat in the chair and asked for balayage. The stylist I worked with used techniques I hadn't seen before, like backcombing, and cotton strips instead of foil to keep hair separated. I noticed they were sectioning my hair in a v formation, too, as opposed to straight across like highlighting.
All of these techniques are designed to achieve the goals of balayage: ideal placement of color and blending to create a softer, more natural look. Well done balayage should blend seamlessly, without the harsh lines seen in other types of hair color.
I mean – just look at this one. I call it: Cinnamon Creme Brulee.
In contrast, highlights are created by sectioning strips of hair that is then separated into smaller pieces. Foil is laid underneath and color is applied from the root to the tip. Foil keeps the color from bleeding onto surrounding hair, so the color separation will be crisp. Plus, foil helps the color develop more quickly, which is why foil can also be used for balayage pieces when they need to be lightened faster.
The result with highlighting is beautiful, piecey color that goes as close to the root as you can get it. A great colorist can vary the size of the highlights and use highlights and lowlights to get some of the benefits of balayage. This is ideal for clients like me that love the balayage look, but need that color up to the root (thanks gray hair!).
What does balayage look like?
This is balayage, friends. I think this is one of my all-time favorite hair color pics. It doesn't hurt that she clearly has thick, beautiful hair to begin with, but the combination of colors, with artfully placed lighter pieces, and the warm depth underneath, is just perfection.
Ultimately, every balayage creation will be unique – as the hair artist should be taking into account what look you'd like to achieve, what colors will blend best, where to apply color to flatter your facial structure and more. No two balayage looks will be the same.
So, if your balayage turned out streaky or clumpy – you may need to get it color corrected by a stylist with a bit more color experience.
Blonde balayage is my favorite kind of blonde coloring right now. It really softens and adds depth to it that is so good for your skin tone.
While I typically prefer more depth to my own hair color, I loved the blonde balayage look so much, I did it for a whole year. It was really fun and it didn't wash out my complexion the way lighter hair had in the past.
Unfortunately, it eventually started damaging my hair and I had to go dark for a year. I write about it in this post.
I wrote a whole post with my absolute favorite examples of blonde balayage. Read it here.
Is your hair damaged? Consider going for a darker balayage like this incredible brown balayage transformation! Look how shiny and healthy her hair looks!
Balayage on brown and dark hair is so chic. You can add dimension with colors like caramel, honey, cinnamon and nutmeg. Why do hair colors immediately make me think of food? Idk.
Either way, you'll definitely want to check out my post with gorgeous brown balayage inspo here. There's tons of gorgeous brown and dark haired balayage looks you'll love.
Red hair gives off such confidence and sass. I have always loved going red, even though it does require more maintenance to keep the color from fading. You can use red as the balayage on darker hair, for a very cool look that will fade nicely over time – like this one: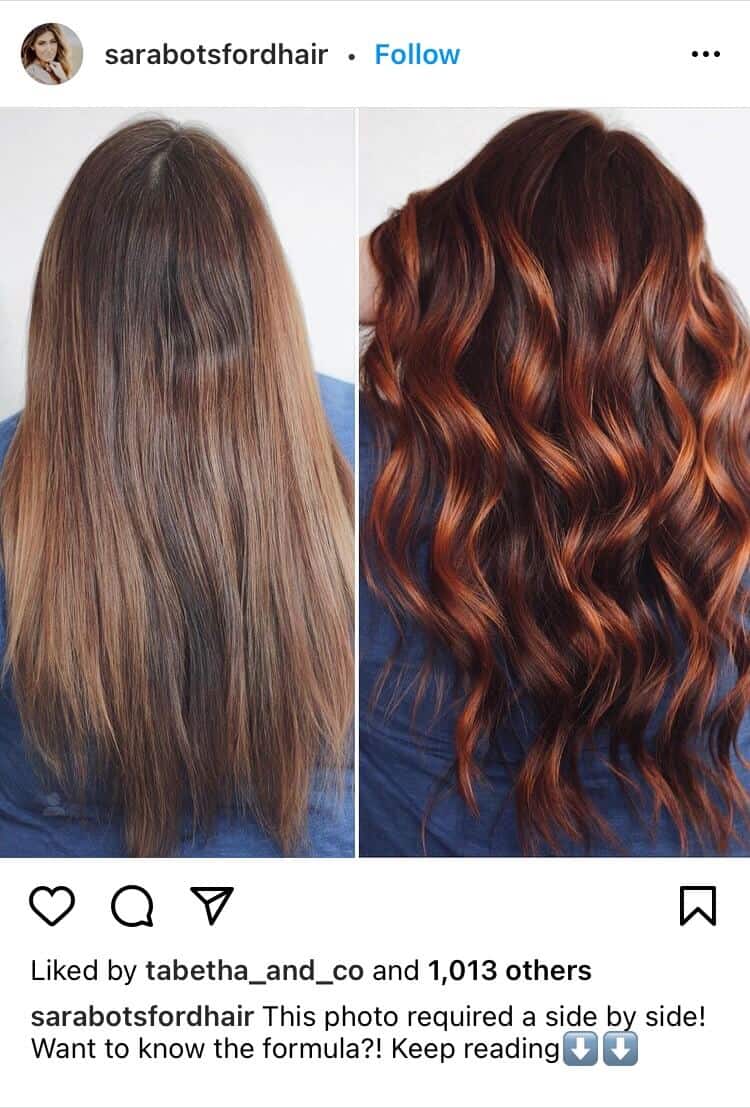 Just look at how much oomph the addition of red and warmth gave her hair! Truly sh0cking! So many people do not want to play with reds at all – but as soon as I started embracing the reds, it did amazing things for my complexion.
If you're looking for some serious red hair balayage inspo and maybe some motivation to warm it up, I got you! I wrote a whole post with dozens of spicy reds you'll love. Check out here.
How long does balayage last?
This will totally depend on how comfortable you are with outgrowth and how well you take care of your color. You may find that balayage growth doesn't bother you as much and you can let it go 3-6 months, as opposed to coloring every couple of months. I know a lot of people who prefer balayage because they can extend their color out much longer. You can even go in for a quick tone if your color starts getting brassy to extend it even longer.
Although, if you're uncomfortable with it looking more ombre than balayage, you may find yourself unwilling to stretch it out 6 months. The picture above shows such a well blended balayage, she could probably extend this out as far as she wanted to before coloring again.
Why is balayage so expensive?
In my experience, the placement and technique of balayage requires a bit more thought and expertise than traditional coloring techniques. But, also, balayage lasts longer – which means less trips to the salon. Your stylist may charge more for a service that will last 6 months instead of 8 weeks.
Plus, you're also paying for the expertise of the artist. I love this funny quote on how much to charge for your services. It shows a fake bill from an electrician to a client:
Hours: 1 = $100
Knowing which wire to cut: $900
Sometimes you're not just paying for time, you're paying for the years of practice, education and experience of the person you're working with.
Does balayage work on every type of hair?
It should! There are gorgeous examples of balayage on all types and colors of hair. The only person who may not be comfortable with balayage is someone who is going gray and wants to cover those roots. Once my grays started coming in, I wanted to switch back to highlighting, so I can get the color all the way to the root (or super close). I felt the balayage didn't cover it up as much as I wanted.
Can you do balayage at home?
Probably not, unless you have a friend with some experience painting hair who can help. If you're looking to dye your hair at home, check out my post with the custom at-home hair color I used for awhile to help restore my hair from color damage. The color was vibrant and beautiful and I got a ton of compliments on it! I would definitely do it again, but for now – since I'm lightening again – I go to a professional.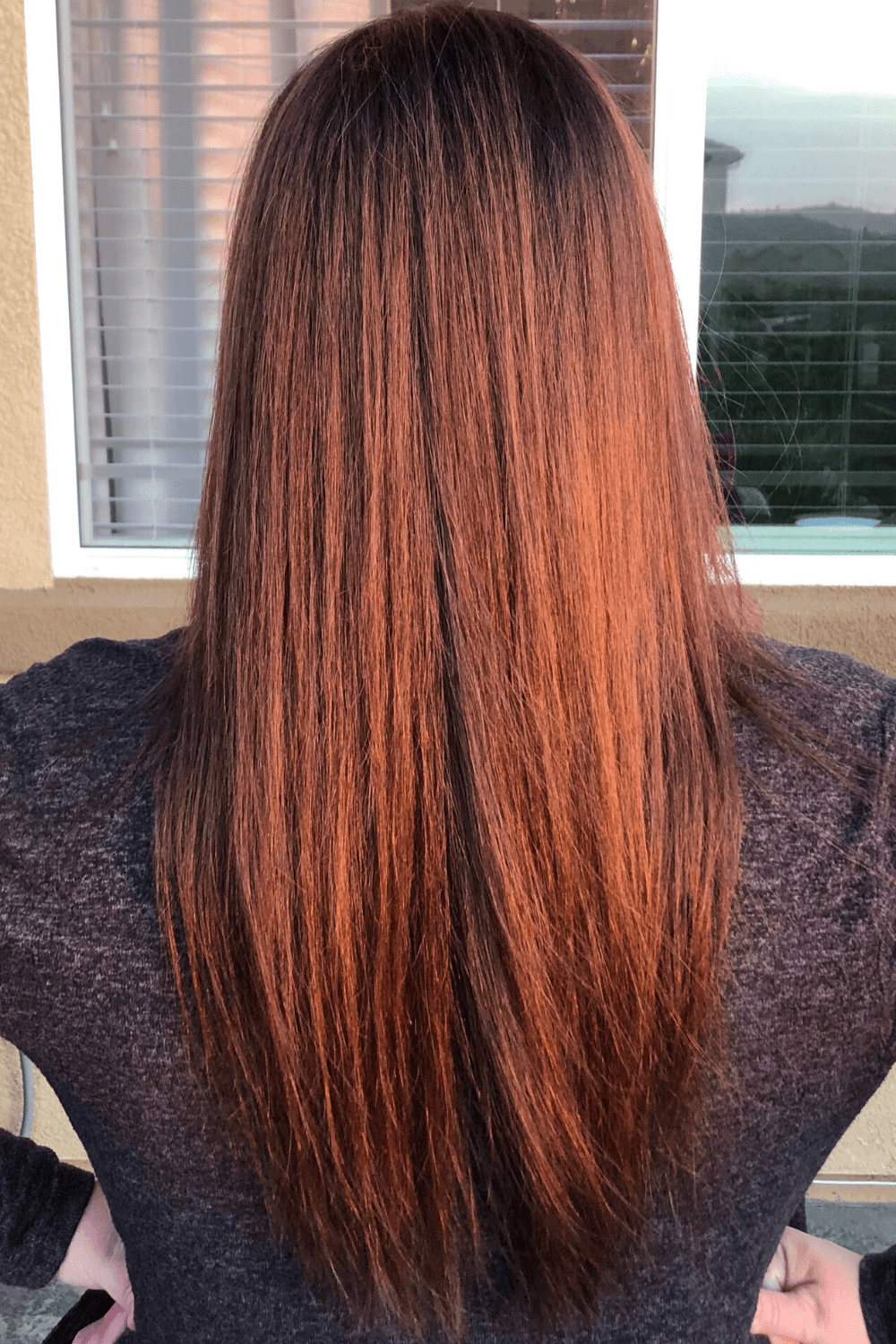 How To Take Care of Balayage Color:
Like any hair color, you'll want to use products that will keep your color from fading, hydrate your locks and protect your hair while styling. I've gotten pretty picky about what products I'll use as I've gotten older. My hair has changed and gotten more dry and prone to damage, so I blame it on my age. Affiliate links are used below for products I use and love. This means that at no cost to you, I may receive a commission if you purchase through my links. Cheers!
I also make sure to do hair masks about once a week. I've tried a number of different brands and really like this one.
Although, this super affordable set is also so good and has hydrating ingredients like avocado and coconut.
******
I hope this guide answered all of your questions about balayage! If you have more questions, let me know in the comments below and I'll answer them in a future post!
Have a fabulous day,
E