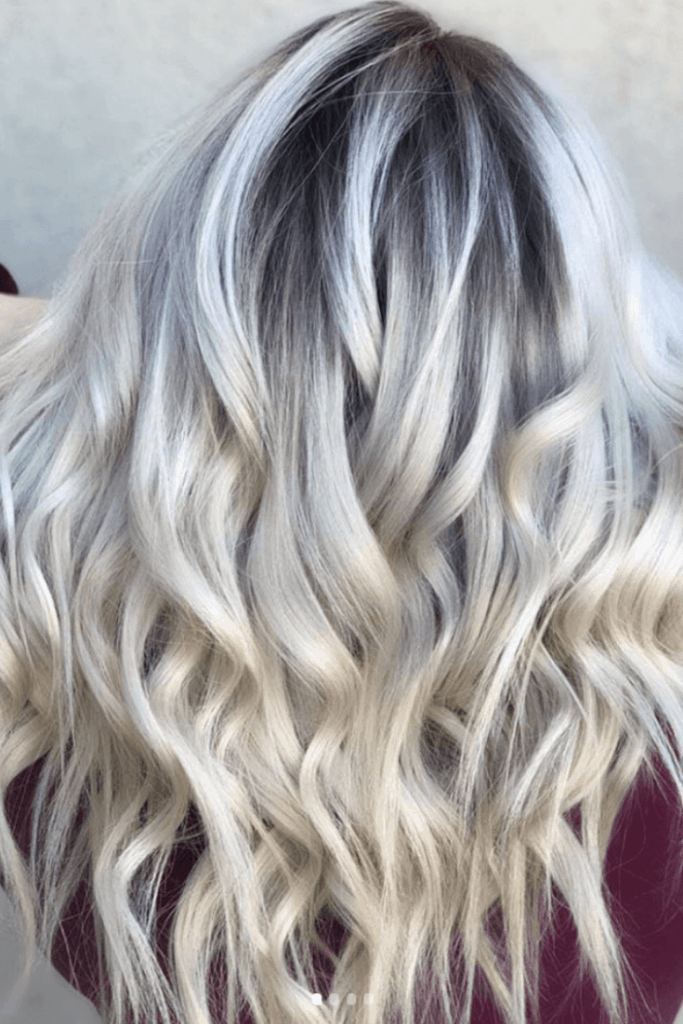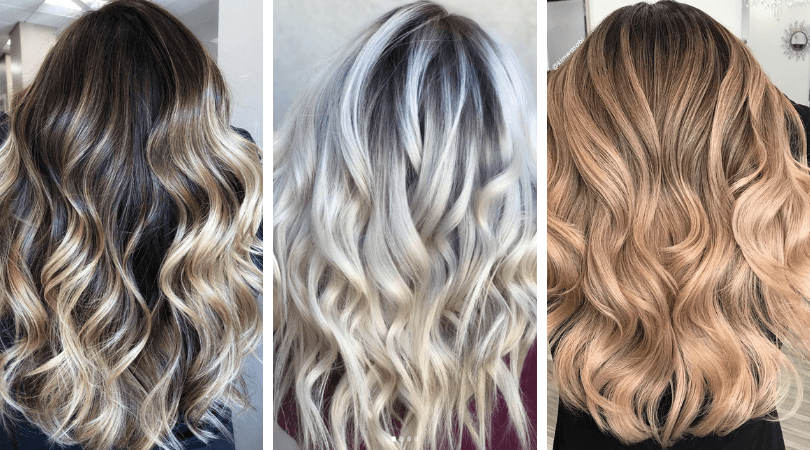 I'm a sucker for gorgeous hair color.
I've been regularly coloring my hair since I was 16. In fact, it's been so long now, I'm not even sure what my natural color looks like. And I'm okay with that.
I'm also a bit schizophrenic when it comes to my hair. I change it often and appreciate the transformative quality of a fresh new hair color.
In fact, I'm convinced that there's not many problems in life a trip to the hair salon can't fix:

The Blonde Balayage Movement:
When the blonde balayage color movement took off, it was only a matter of time before I was sitting in the chair saying, "Lighten me up!"
It takes a brave, talented stylist and a trusting client to take someone from brown to an icy blonde – but the incredible stylists featured here are masters of their trade. Any person would be lucky to sit in their chairs.
Are you knew to the idea of balayage? You may want to pop over to this post and read my ultimate guide that answers all your questions about balayage first.
Take a stroll through these inspirational blonde balayage, babylight and foiyalage looks for inspo. And, if you love one, be sure to click over to their Instagram page and tell them.
All of these stylists were so kind when I asked to use their photos in this post. All photos are used with their permission – so give them a follow if you love their work as much as I do.
Also, here's a video with the looks, too – if you're into that sort of thing:

1. Pearly Blonde Balayage:
Owner & Stylist at Excellent Hair Salon in Newark, @KimWasabi is a master of color.Her perfectly blended hair application transforms her client's hair into shimmering masterpieces.
I also feature some of Kim's work in my post with 25 brown balayage hair looks you'll love! Check it out!
2. Icy Pearl Babylights Blonde Balayage:
I'd never heard of pearl babylights – and suddenly I am very interested in them.
This color is cool without being ashy and warm without being brassy.
Both beautiful and memorable.
3. Naked Blonde Balayage:
This color is called "naked blonde".
I love how it has an almost rose gold color to it.
The warmth of the blonde tone is a breath of fresh hair in a sea of icy blondes.
@KimWasabi = genius.
If you love a little more warmth in your hair – you've got to see the 20 fiery red hot balayage looks in this post!
4. Blonde Transformation Blonde Balayage:
@CatherineLovesColor is an award-winning colorist and balayage educator, and the talent behind this gorgeous before and after.
Her work is flawless. She knows exactly where to apply the color to achieve the perfect result.
Probably also explains why celebrities are lining up at her door.
#STUNNING
5. Handpainted Blonde Balayage:
I have to admit that this one right here is my favorite.
The variety in color, depth, and dimension is gorgeous.
A work of wearable art.
6. Brunette with Blonde Balayage:
Another winner by Catherine with even darker roots and thicker, more piecey, blonde balayage.
7. Cool Tone Blonde Balayage:
The dimension here kills me.
From the darker roots to the cool toned blonde highlights, this one is both intricate and effortless.
8. Blonde Babylights Balayage:
@Tabetha_and_co is the stylist, educator and coach behind this gorgeous look.
Her Instagram feed is just inspiration on inspiration on inspiration for the hair lover and stylist.
Plus, her posts come with a nice dose of honesty where she will share how long it really took to get that color without their hair falling out.
I appreciate that sort of thing – particularly because I much prefer my hair stay on my head.
9. Icy Blonde Balayage: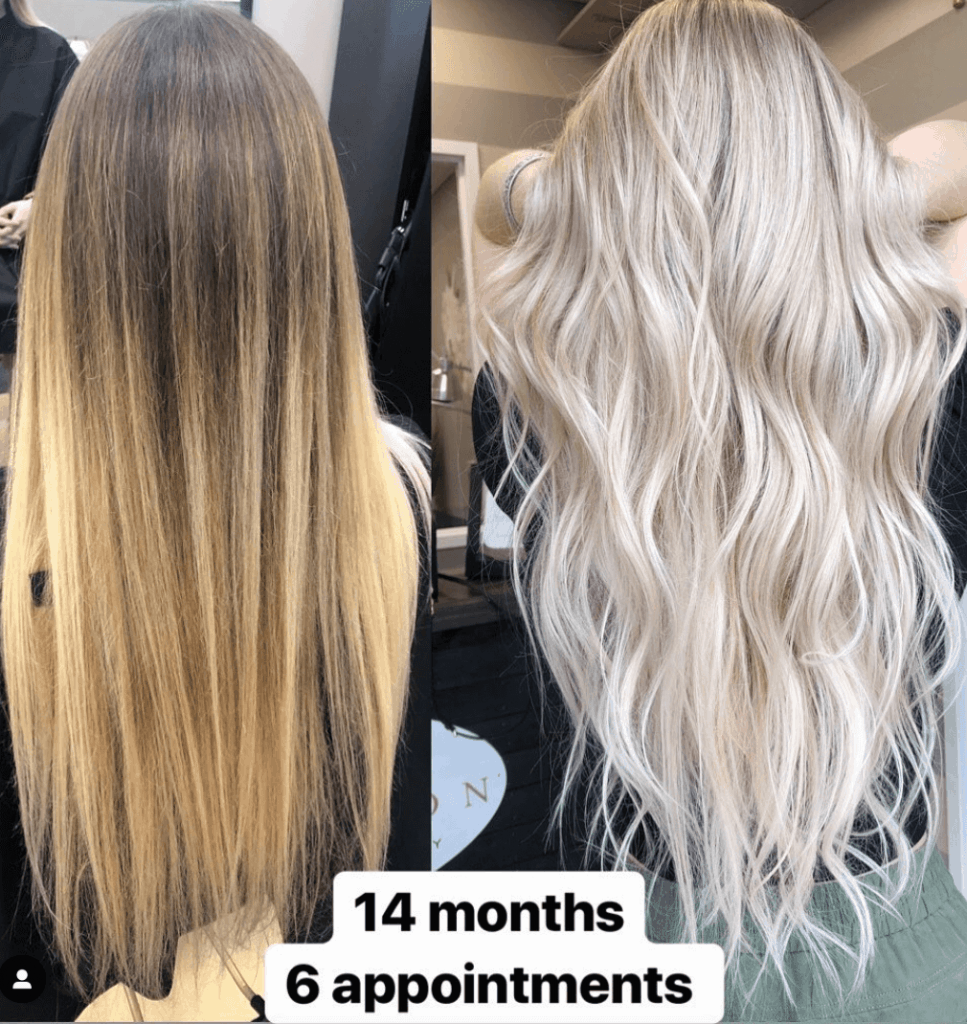 @Tabetha_and_co
Wow, this incredible transformation took over a year and 6 appointments!
Most before and afters don't let you know the journey that it took, which could lead you running to your stylist only to be told that you won't leave with the perfect icy blonde of your dreams or attempt to get it for you and you leave looking like a pumpkin.
But, however long it takes, this incredible icy blonde is #GOALS.
10. Root Drop Foiyalage:
The color placement here is so good, it almost looks like she just spent a lot of time at the beach for awhile.
Plus, the contrast between the natural roots and the blonde is gorgeous.
11. Blonde Transformation:
Another color story courtesy of @Tabetha_and_co.
She shares that this took 7 months of toner and treatments.
In the post description, she goes into more detail that the original condition of her hair was just too damaged and by the time they reached this cool blonde, her hair was restored and in better condition than when they started.
Now that's a bomb stylist right there.
#TALENT
12. Straight vs. Wavy Balayage:
I love how she shows in this post the difference that hair styling can make in how the color looks!
The straight hair looks a bit more monotone – still beautiful – but the waves show the dimension in the color and lift some of the darker layers to the top.
Really, you can't go wrong with either look.
13. Blonde Balayage:
This beauty is courtesy of my very own stylist – Alyssa!
She never shies away from a color challenge and uses a variety of techniques to create dimension.
Check out her Instagram to see the before of this hair. A truly jaw-dropping transformation.
14. Blonde Balayage on Brunette Hair:
For this one, she shares that her client wanted something that looked a bit more natural and would grow out well.
The darker root here is beautifully blended with the blonde balayage to create a shimmery, stunning look that will age very well.
I can attest to how well these grow out – because I don't think I've ever gone so long between coloring with my hair still looking great!
15. Backcombed Balayage with Bricklay Technique:
I love, love, love this one.
Another beautiful balayage that is making me rethink going red soon. #HMMM
CARING FOR YOUR BLONDE BALAYAGE:
Remember to keep your hair healthy when coloring. I've been coloring my hair for many, many years and I've learned a thing or two about how to keep hair healthy or restore it once it has become damaged. Here are my favorite products (affiliate links used):
MORE BALAYAGE HAIR COLOR:
Looking for even more stunning balayage hair color? You might like these posts:
*****
Gorgeous, right?
Hair is important; find a stylist you love and who knows how to achieve the look you want.
If you love reading about hair, check out some of my other posts on hair products and hairstyles:
Hairstyles:
Products:
…. and more!
Thanks for being here. Make sure to comment below with which one is your fave!
Have a fabulous day,
E