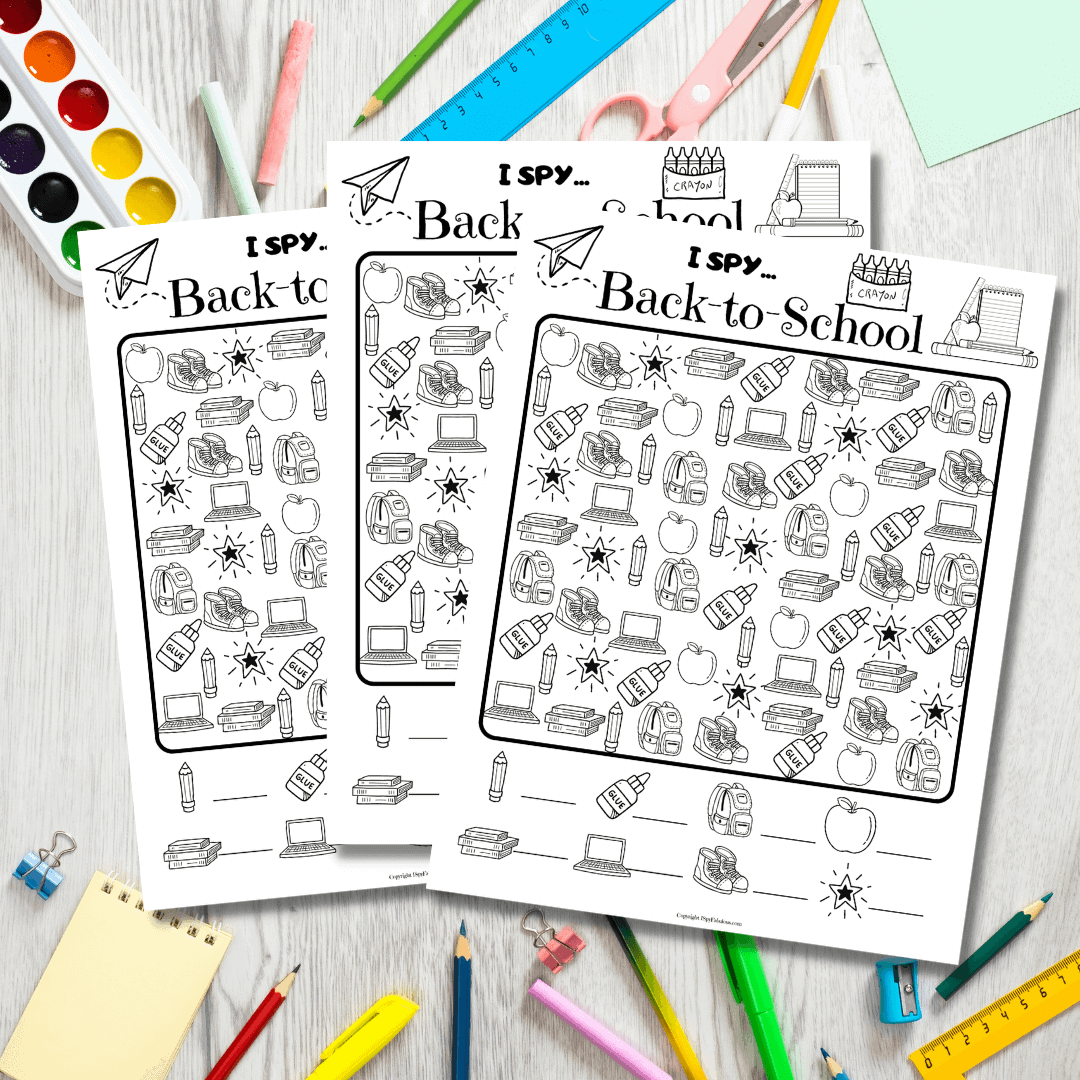 Are you getting ready to go back to school? We've got the clothes, the shoes, the backpacks, the supply lists, and now it's just the countdown until we're all back to a schedule.
This year, I'm looking at three different pick-up times, so I'll also be setting up a mobile office in my car so I can maximize waiting time. We do what we gotta do, am I right?
I've also been having fun creating some back to school inspired printables, like this easy goal setting activity for kids. And, of course, I wanted to add to my collection of I Spy activities with a back to school I Spy printable!
Let's take a look at this easy to use, back to school activity.
Free Back To School I Spy Printable: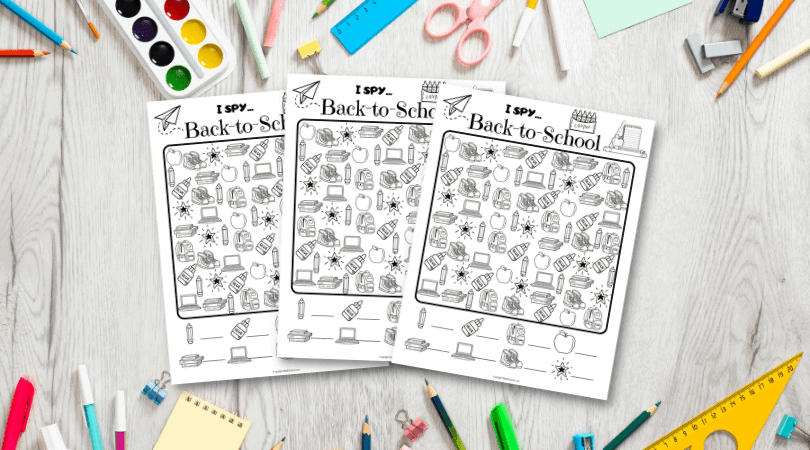 I love these because they are kind of like a Where's Waldo for kids of all ages. For my younger kiddos, they can just color them and try to count them. My older kid can do the whole thing on his own without any direction from me at all. It's nice to have around when you just need something to entertain them for a few minutes that isn't a tablet (not that I'm against tablets – we love technology here).
These kinds of activities are great filler for homeschools and classrooms, too. Print some and have them ready for kids that finish early, need more to do, or to use on a day when everyone just needs a break to do something easy and fun (but still involves learning).
Here are a few things I Spy activities are good for:
Practicing counting by looking for each item on the list
Writing numbers for each of the items
Fine motor schools for coloring
Helps develop visual discrimination – or the ability to recognize visual details in a picture
If you use a color key, such as "use red for the apple", then they will also be practicing colors
If you allow kids to work together, it'll also encourage collaboration and teamwork
I love using games and activities as much as possible to encourage learning. I even wrote a post on our favorite math games to make learning math fun. Check that out here.
Download the Free I Spy Printable:
Ready to download the free printable? It's a PDF that you can download from my shop for free. I use my shop, because it allows me to offer this for free without paying for additional hosting.
To download, just click on the image below: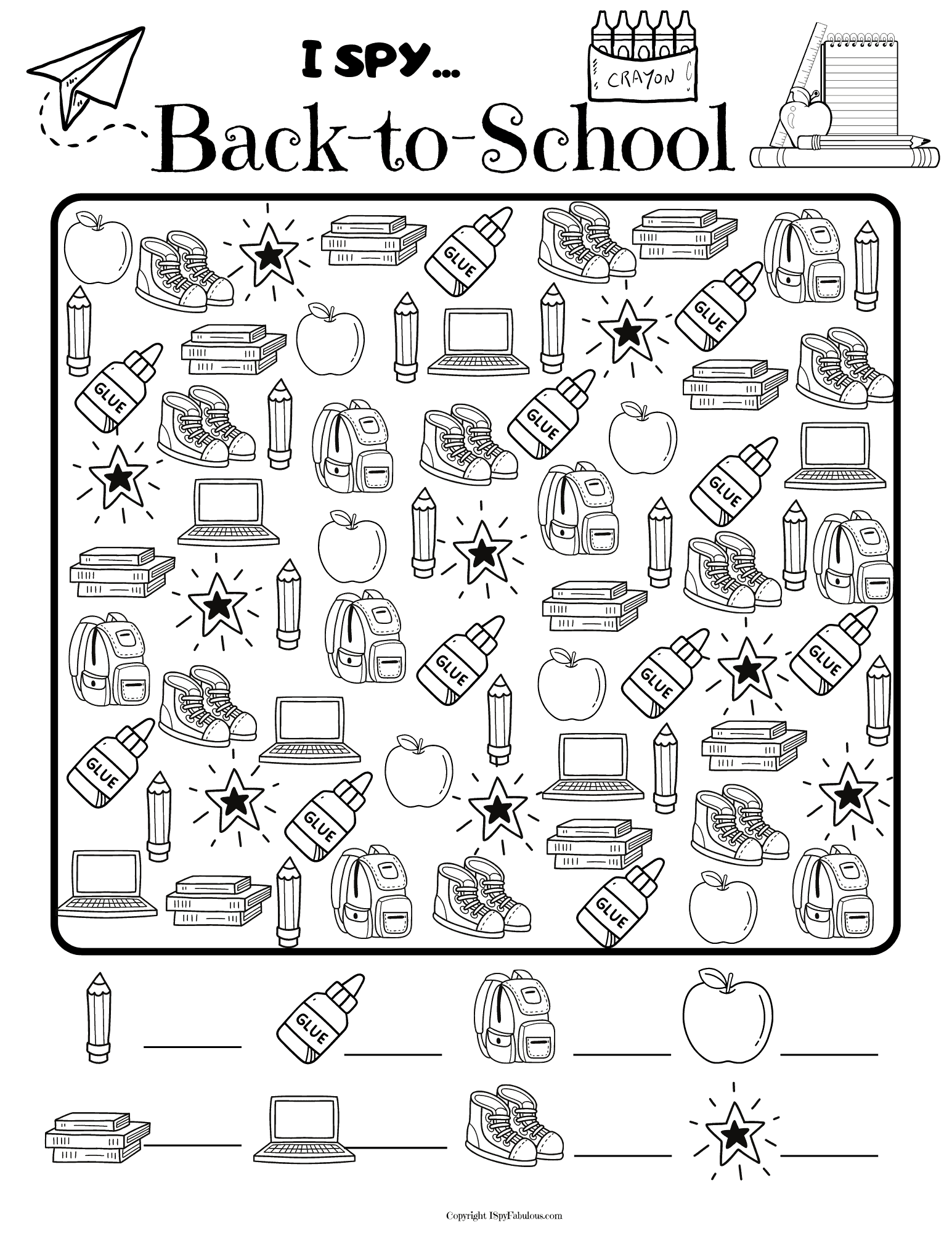 If the link isn't working, click on this link right here:
Free Back-To-School I Spy Printable
More I Spy Printables:
Love these as much as we do? There are a bunch more for free on the blog. Check these ones out:
More Educational Printables:
There's even more great materials here on the blog, from blank comic book pages and empowering coloring pages. Check them out here:
****
Thanks for reading! I hope you found something fun to use this school year.
Have a fabulous day,
E