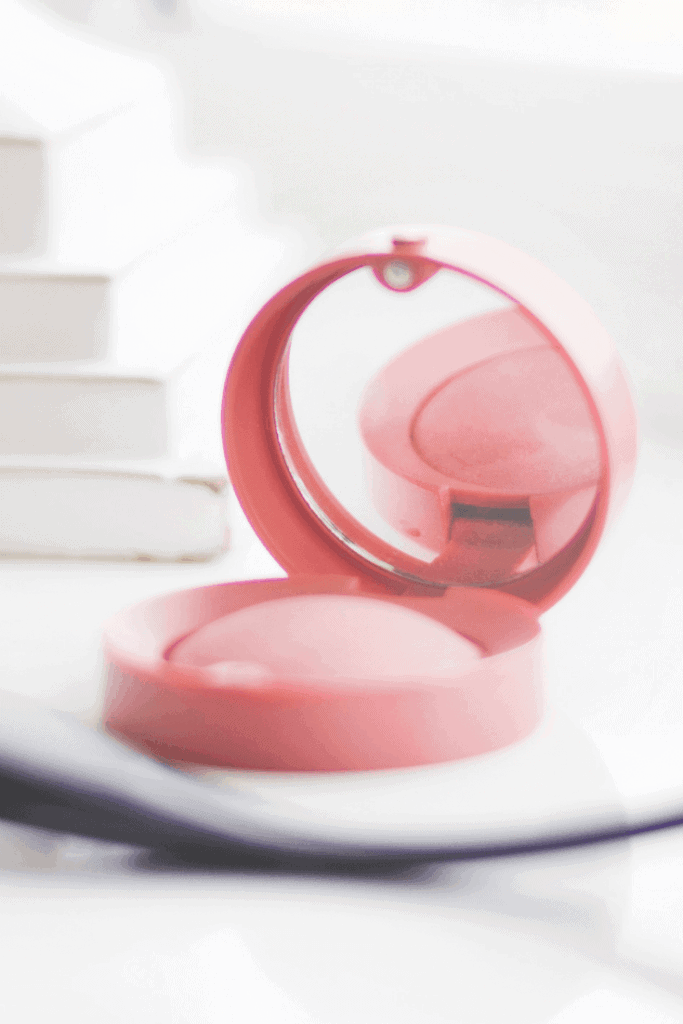 I am the first to admit that there is something very alluring about shopping for makeup at Sephora, with the music pumping, and the gorgeous makeup displays.
They make shopping for makeup a luxurious experience and the dizzying array of options is almost hypnotizing.
But, just one purchase in your cart can set you back more than what a full-face of drugstore makeup could cost you – and the end result may not look that much different.
Drugstore makeup has come a long way, baby.
In fact, there are some products I just prefer over anything else – and they won't cost me a second mortgage to replace.
The Must-Have Drugstore Makeup:
That's why, after years of makeup exploration, I am here to share the must-have drugstore makeup that I am regularly buying and recommending.
In fact, I recently opened up my makeup drawer and started sharing my faves on Instagram stories.
They were some of my most watched stories to date.
We are friends on Instagram, yes?
Anyway, that inspired this post and I hope you'll find some new faves here that you can grab for less and still have money leftover for your weekly coffee.
Hurrah.
For the record, affiliate links are used in some places here. All opinions are my own.
I recently wrote an entire post on the top 12 Sweatproof Drugstore Foundations that was a big hit.
But, there is one that stands out from the pack. At least for me.
I am a classic case of combination skin – with a more oily, breakout prone T-zone and dryer cheeks and chin.
It's a delightful combination and can make finding a good foundation less than pleasant.
Luckily, this one gets the job done – very, very well.
It soaks in, gives your skin that lovely, glassy look we are all after, and stays put – even when you're, shall we say, moist.
This is a clean beauty alternate that is going to be a little less sticky when the sweating starts, but will give you a similar glassy complexion:
This is pretty much the main eyeliner that I use. I have it in black, brown and gray. I use it almost every day. I hope it never goes away. You should try it out today.
#POETRY
It's less than $10, it stays in place really well all day and it doesn't irritate my eyes – which get irritated by absolutely everything, because I have Sjogren's Syndrome.
So, if you're looking for a great drugstore eyeliner pencil that identifies as a high-end eyeliner – here you go.
I just picked this up because I wanted to find a great drugstore concealer and kept striking out. I tried a few from popular brands that said they were safe for sensitive eyes, but they just made my eyes burn and water until I gave up and washed my face.
This one has blown me away.
It has the perfect texture where it isn't too dry and it isn't too watered down.
I have had no issues at all with it irritating my eyes.
It doesn't settle into creases and make you look 3 times older by lunchtime.
The formula blends in seamlessly with whatever face makeup you are (or aren't) wearing. I've even just worn it with a powder veil over and been just fine. It has a nice matte finish, so it won't reflect light in any weird way.
Overall, at this point, I can't imagine paying 3x the price for the one I was using before. In fact, I need to update my post on the Best Concealers and add this one to it as my top pick.
4. Best Drugstore Nighttime Face Moisturizer – Neutrogena HydroBoost:
This was another CVS grab when I was running low o
n my favorite gel nighttime moisturizer with hyaluronic acid and needed a replacement.
I can't believe the value with this moisturizer. The size alone is incredible and lasts a loooong time. I see the same results with this one as the higher end one.
Sure, the texture is a little bit more runny, which just means more filler ingredients (typical), but for 1/3 of the price? SIGN. ME. UP.
Perfect for skin prone to breakouts, because the light, gel texture won't suffocate your pores.
Use this. Wake up looking refreshed.
I've used this highly pigmented eyeshadow from L'oreal for years.
I have two favorite colors that I always keep stocked and that's it. Many of the colors are not my jam, but you don't need 15 great colors, do you? You really need a few really really great colors that you use a lot.
I have a lot of other palettes that I also use, but this is my top pick for drugstore eyeshadow.
My favorite colors are the bronzed taupe and silver sky.
In fact, I picked up the silver a couple years ago when I read about it in People magazine in a makeup feature. It was so refreshing and soft for summer when just used a little in the inner eyes and on the lid to brighten it up.
So, there you go – at least two makeup artists recommend this to you.
I still love this BB Cream. I would've never thought I'd find a clean beauty, drugstore BB cream that I liked as much as the infamous Laura Mercier.
Now, I won't go as far as to say it's a dupe for LM, because I literally wore LM on my wedding day, it's that good.
However, for a regular day hanging out with my kids or working, the Burt's Bees BB Cream is bomb.com.
So affordable, less garbage chemicals, great color selection, and looks super natural when applied with a beauty blender sponge.
I will never forget when I worked at a bank – many years ago – and this girl had the absolute perfect, flushed cheeks.
It almost didn't look like makeup.
Of course, I knew it was, so I had to ask her and was shocked when she said it was this.
Now, of course, everyone loves this and it's on all the best blush lists.
If you haven't tried this cult favorite blush, now is your chance. And, at this price, there really is no risk.
You know what, I used Bobbi Brown and Laura Mercier powder to set my makeup for years.
And, those are fantastic choices that are also worthy of the investment.
But, again, for everyday – chasing my kids and buying coffees- life, do I need to be wearing that? Or, having my daughter play with it and break it into a million pieces yet again?
No, the answer is no.
So, I use this one. The mineral powder is a bit healthier for your skin and the coverage is soft, even and stays put.
The packaging always breaks well before I've finished using it and that's just the price you pay sometimes with cheaper makeup.
Otherwise, a solid choice.
Confession: I do not like gel nail polish at nail salons.
It looks really great for 3 weeks, and the when it's removed, my nails are thin and brittle and take forever to grow out.
So, I stopped using it and deal with the fact that my nail trips wouldn't last as long.
Then, I saw this gel polish from Essie.
Could this be – the best of both worlds?
A little more solid nail polish that would last longer, but come off without damaging my nails?
Why yes, yes it is.
Winner, winner, chicken dinner!
Can you get a gorgeous, glossy, buttery lip gloss that doesn't taste gross and stick to everything for under FIVE BUCKS?
Yes. Yes, you can.
And, with 12 beautiful shades and delicious names like Creme Brulee and Angel Food Cake, plus backed by thousands of great reviews, NYX once again proves that you can have your cake and eat it, too.
Or, wear it 😉
I'll admit, I've used Benefit's Hoola Bronzer exclusively – for years.
When I find what works, I find I go back to it again and again.
So, stepping outside my bronzer comfort zone was a risk – particularly because I am very fair.
But, the reviews on this one don't lie.
There's a reason people go crazy over it.
This bronzer is so creamy, easily blendable, and doesn't get patchy.
Plus, you get all the benefits of the Physician's Formula line, which is more sensitive and safer than most.
This NYX Liquid Liner has earned a fleet of raving fans, including high profile makeup artists and YouTube Beauty Vloggers who say they can't live without it.
That's saying a lot from an audience that could use any liquid liner they wanted.
But, that's just how NYX rolls – they produce extremely high quality cosmetics without the high price tag – oh, and they're cruelty-free, too.
If you struggle to apply liquid eyeliner, you may like this other one that I get on Amazon (I haven't found it in a drugstore yet).
Even though this has been a bestseller for years, I didn't try it until a sample of it came in my monthly Allure Beauty Box.
Now, I have no idea how I ever lived without it.
This is that perfect product you are looking for when you've just styled your hair or are trying to stretch out your 2nd or 3rd day hair and need a smoothing cream that will tone down frizz, keep pesky short hairs in place and not look greasy or heavy.
With great ingredients like avocado oil and a price tag under $10, it's just a no-brainer.
I've written about this before, but I still love it.
I use it almost every day. It's my top pick in one of my most popular posts on The Best Sunscreens for Your Face.
It's under $20, glides on your skin, gives a perfect canvas for makeup, doesn't break you out, and soothes redness.
What else are you looking for? You know what I mean?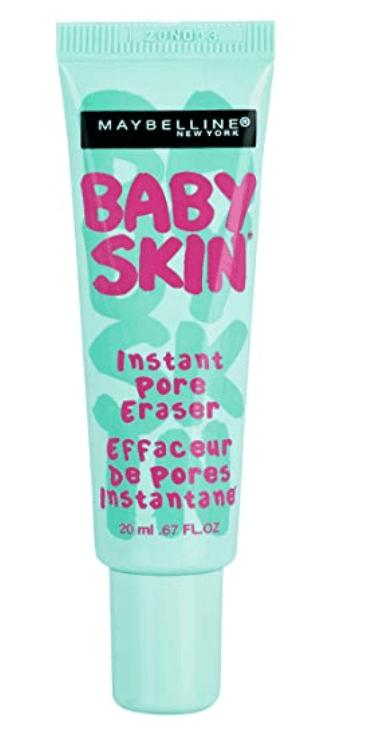 While I can't link to the direct product for you, the picture will guide your way.
This super affordable face primer has a cult following.
If you're wondering why to use a primer – basically, it creates a perfect, blank canvas for your makeup to sit on top of.
This keeps the foundation from sinking into pores, fine lines, or other skin imperfections throughout the day and actually highlighting, rather than covering, them.
Primer actually extends the life of your makeup and helps it last longer and look better.
I don't use primer every day on my face, but I do use an eyelid primer that is not from the drugstore every time I wear eye makeup. It saves time and product and helps it look better.
This face primer has great reviews, so if you're into that sort of thing – you might love it.
I will share that I personally feel I break out more when I regularly use face primer under foundation. I feel I get similar results by using a face lotion first, like the La Roche Posay lotion above.
****
Wow, did you know you could get such incredible makeup for your whole face – and even your hair – at the drugstore and for these prices?
Pretty amazing!
Just goes to show you never have to spend a million bucks to look like it 😉
If you like this sort of thing, check out my other drugstore posts:
Do you have a favorite drugstore product I don't mention? Share it in the comments below.
Have a fabulous day,
E