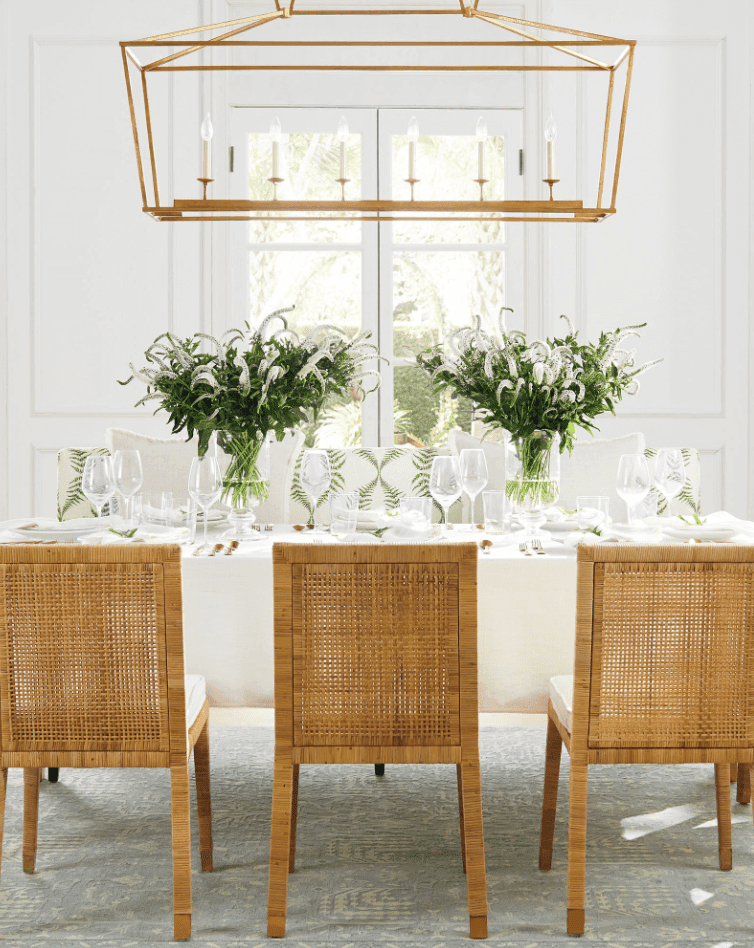 I love shopping for lighting. I think it's one of the easiest, most affordable ways to make big changes in the look and feel of your home environment. Currently, I am looking to change out the light over our dining table.
I've had a gorgeous Pottery Barn chandelier over it for years, but I've decided that the space would look much more balanced with a linear pendant. That means I get to move my beautiful chandelier somewhere else. I'm not mad about it.
So, after a quick Google search, I fell in love with everything about the chic, architectural Serena & Lily Kentfield Pendant. What's not to love? With a nod to traditional styling, but a more modern look – it's cool and interesting without being overwhelming. Let's take a look at this beauty.
Also, know that affiliate links are used below, which means that at no cost to you, I may receive a commission if you make a purchase through my links.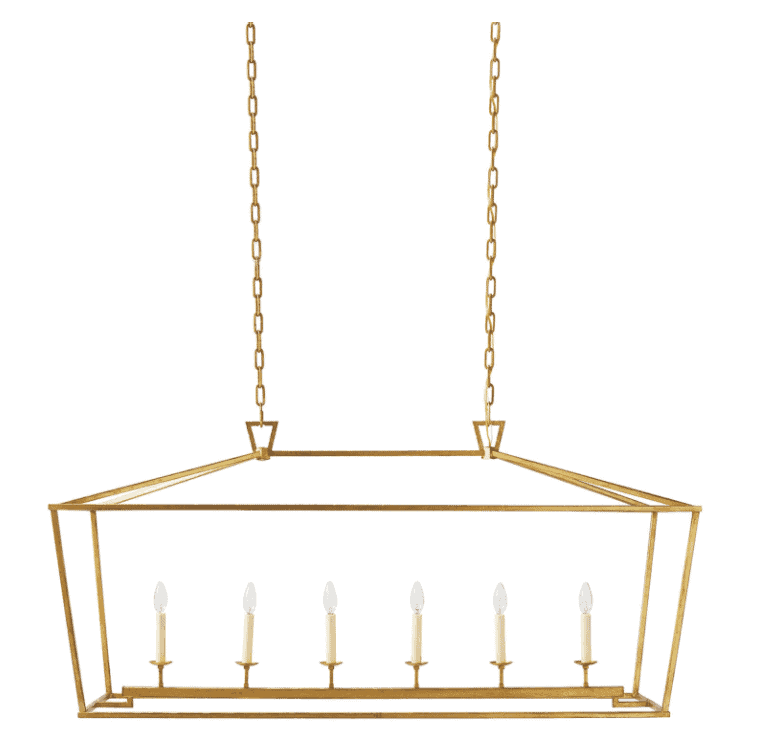 This light is so good! It combines a nod to traditional candlestick lighting with an open cage (with no glass) for a more modern look. A gilded finish adds a touch of polish.
Priced at $1698, it's a piece of functional art that will last for many years to come. Like all of Serena & Lily's designs, it is chic, while still seeming effortless. The price, however, may not be effortless. Luckily, there are a lot of gorgeous gold linear pendants that will get you the look for less.
But, if you want the original, it's currently 25% off.
Shop the Serena & Lily Kentfield Pendant here.
4 Serena & Lily Kentfield Pendant Dupes:
For the rest of us, let's look at some seriously jaw-dropping lookalikes, starting with this one by Jonathan V.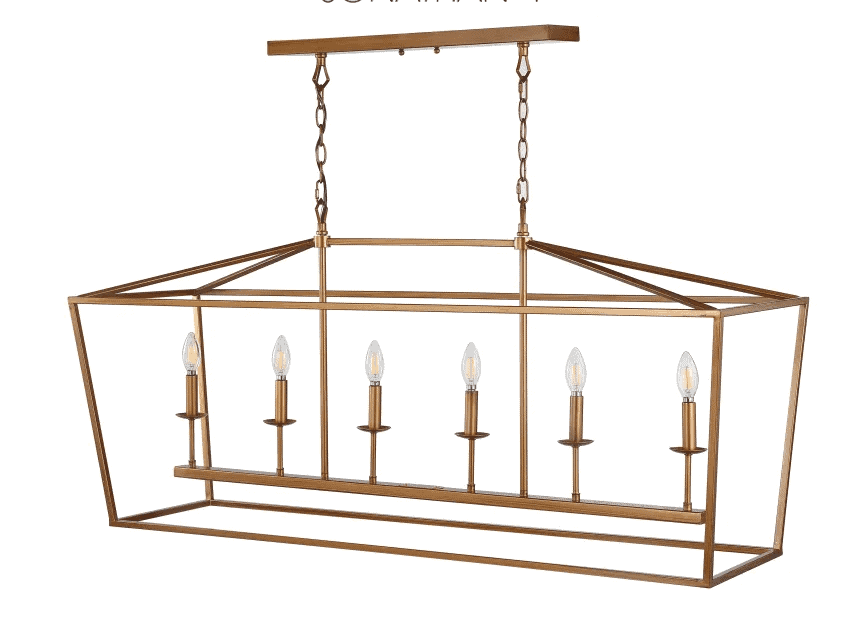 Okay. Say it with me:
This is so similar! They have it in a variety of colors and styles, so if you want this look, you want to select the 49 inch in antique gold.
At time of posting, it was super affordable. I also found the Jonathan light on other sites like Overstock, Home Depot, and Bed, Bath & Beyond for around $200, but they were all out of stock. I've linked them all, though, in case they restock when you find this post 🙂
It's really difficult to justify the price when you can score this one for so much less.
Get the Jonathan V Pagoda Pendant from Amazon here.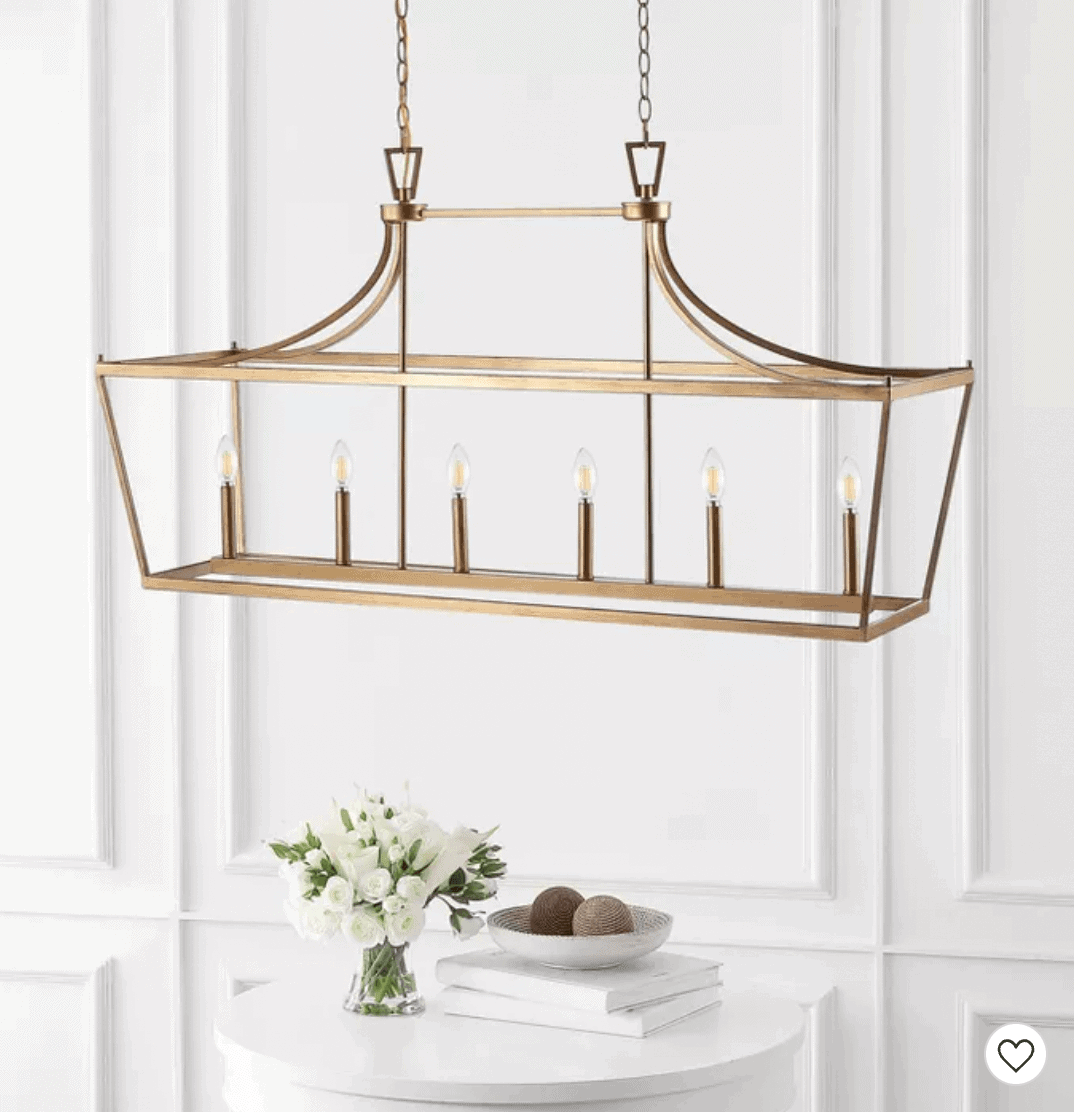 I really love this one and how it has a unique spin on the same style. You are getting a similar look, but it's not an exact dupe, which is fun, too.
$325 on sale, which is a real steal for this 6 light chandelier made from iron.
Shop the Safavieh Aroris Pendant here.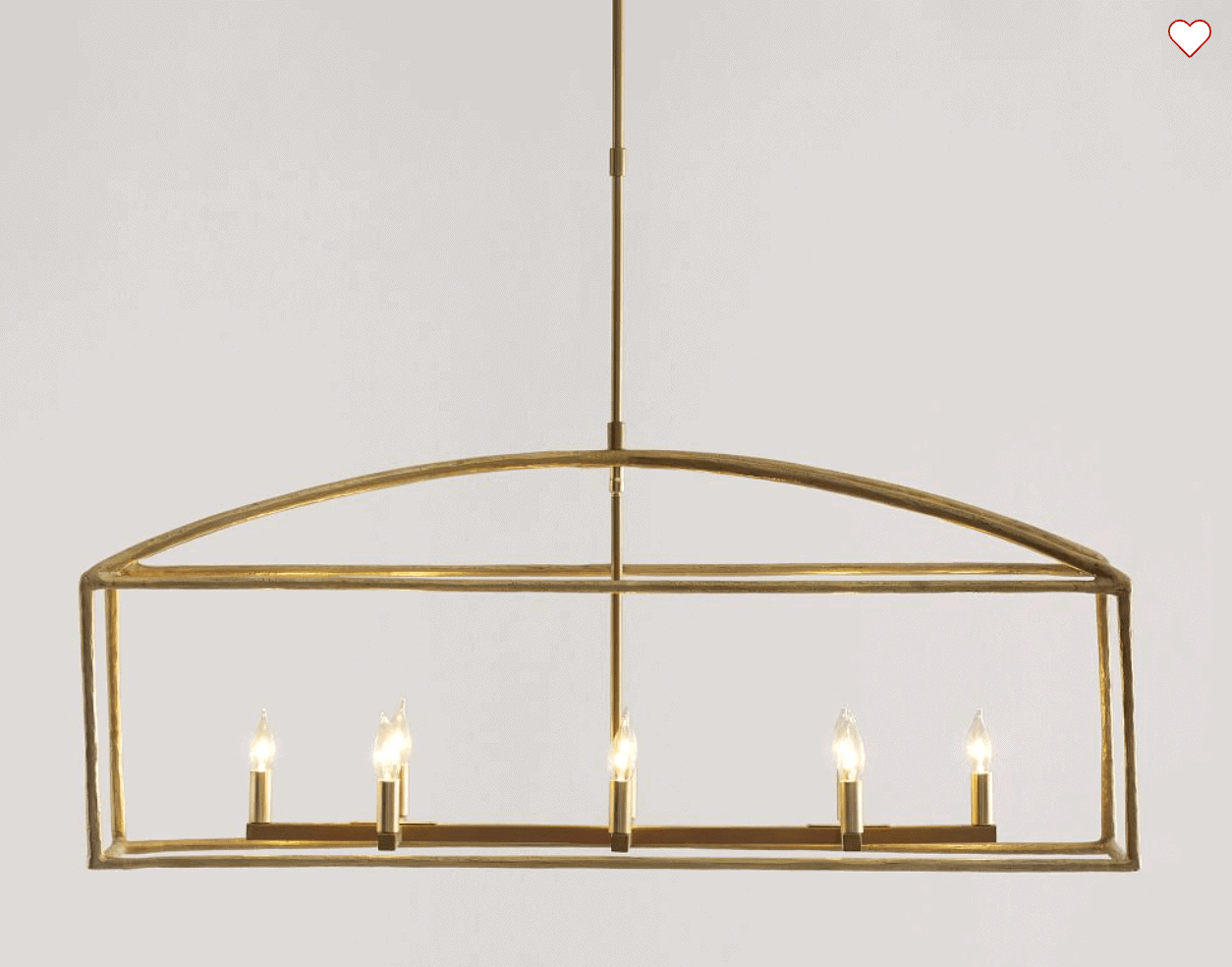 Big fan of Pottery Barn here. I have several of their lights in my house and they are all excellent quality and have aged beautifully. They are a bit pricier than some of these other options, but still more affordable than a S&L light.
Their version of the linear chandelier has more depth, with bulbs in a variety of lines and more curves to the cage. It creates a piece that has more interest, which might be more your style than the minimalistic Kentfield. You can see it here in this picture of the black one: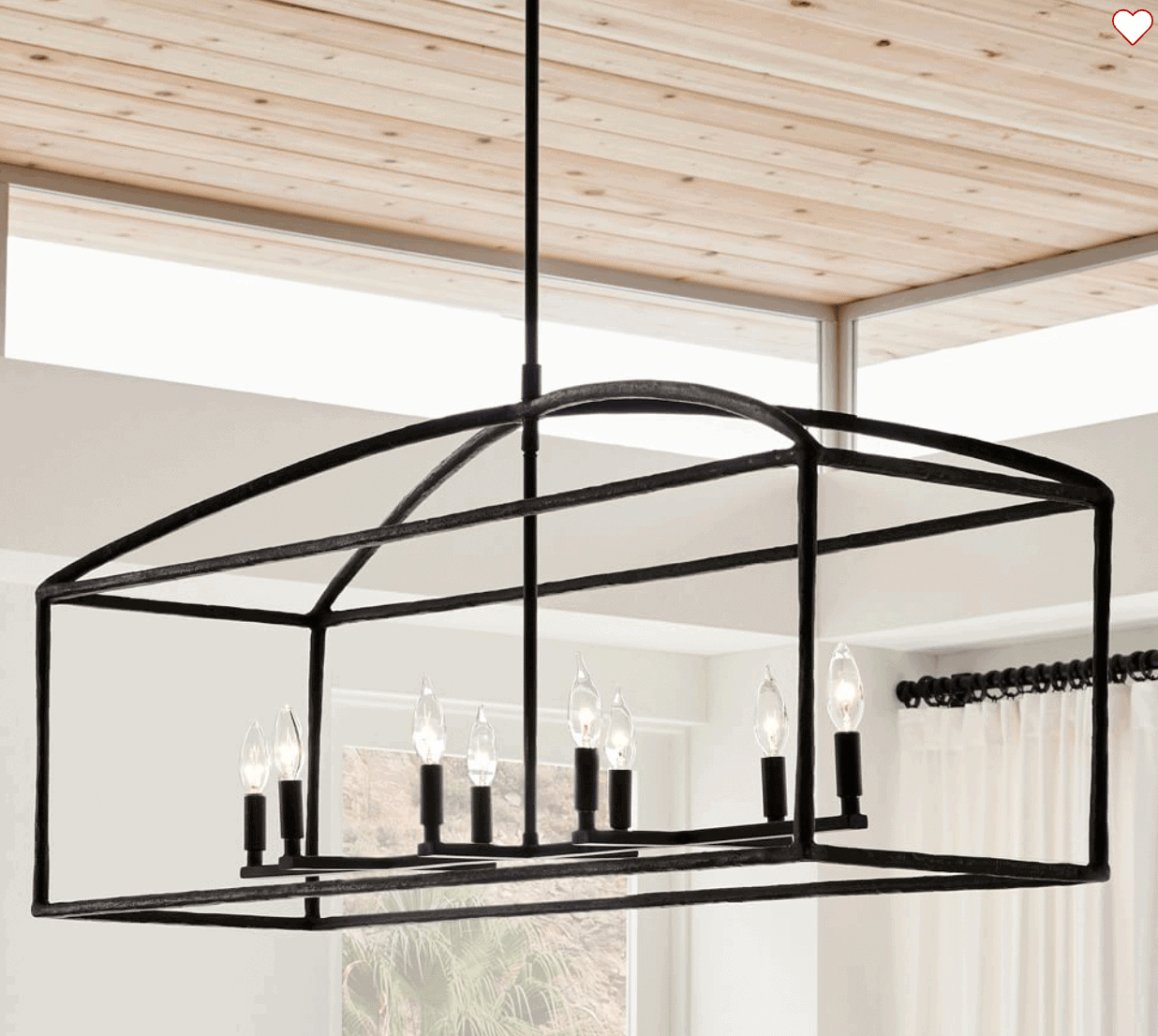 Plus, it's available in 3 colors and made at their Fair Trade Certified Factory. Yeehaw.
Priced at $
599, it's still a good price.
Shop the Pottery Barn Fallon Chandelier here.
For more Pottery Barn dupes, check out these posts.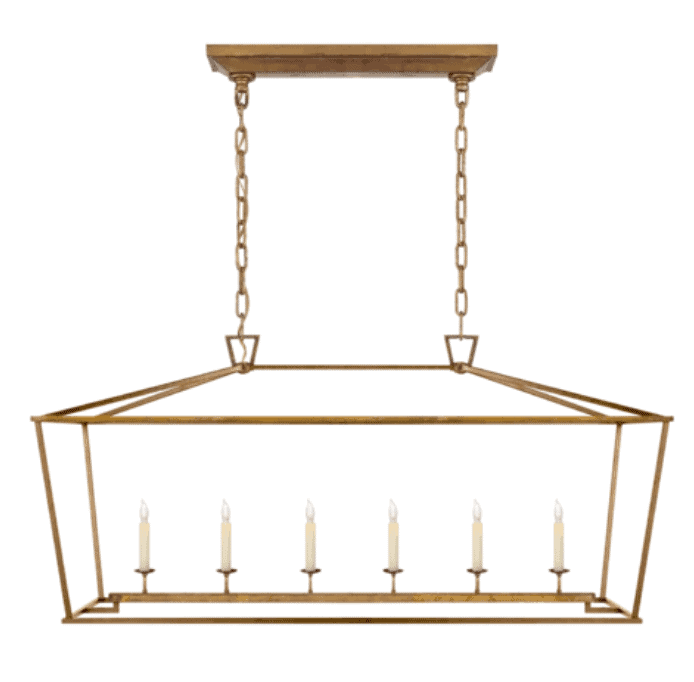 A gorgeous piece by Visual Comfort in Golden Iron. Currently on sale for $1047, otherwise it's a similar price to the S&L light. Visual Comfort has gorgeous and unique lighting, such as the popular chandelier I duped in this post.
Shop the Darlana chandelier here.
*****
Seriously, I love all of these gold linear pendants. There are slight differences to each that may blend more or less with your home vibe, but don't feel like you have to drop almost $2k on the Serena & Lily one unless it's exactly what you want.
For more awesome dupes, check out these posts:
Have a fabulous day,
E